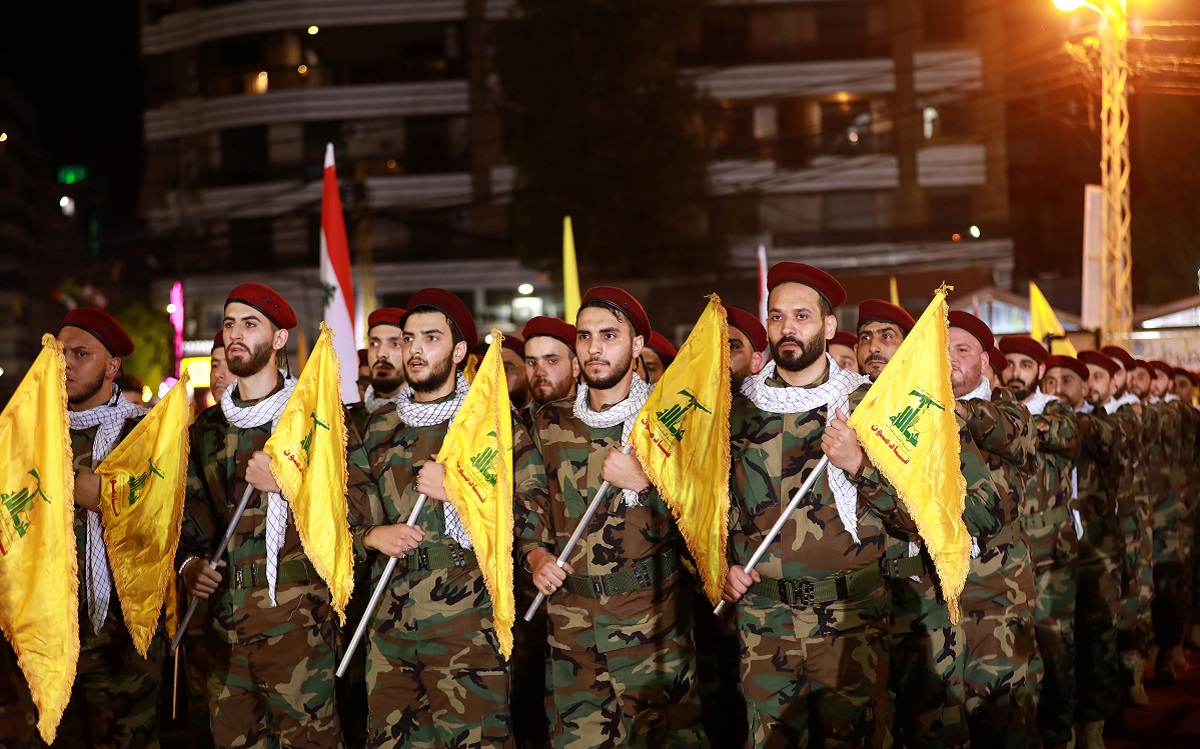 photo taken on May 31, 2019 shows fighters with the Lebanese Shiite Hezbollah party, carrying flags as they parade in a southern suburb of the capital Beirut, to mark the al-Quds (Jerusalem) International Day. Photo: Anwar Amro, AFP.
Australia announced on Tuesday that it has designated Hezbollah in its entirety as a terrorist organization after having designated its military wing as such nearly two decades ago.
The Australian Home Affairs Minister Karen Andrews announced the new designation, along with that of the white supremacist group, The Base, saying that this was meant to counter the growing threat of terrorism around the globe.
"We know there is a threat of terrorism here in Australia and that there is a threat of terrorism right across the world," Andrews stated.
"The Government has zero tolerance for violence, and there is no cause – religious or ideological – that can justify killing innocent people," she later added.
Israeli Prime Minister Neftali Bennet thanked Australia for the move.
Hezbollah issued a statement on Wednesday strongly condemning the Australian authorities' decision. The statement said that the Lebanese group "considers it servile submission to American and Zionist dictates and blindly engaging in serving Israel's interests and its policy based on terrorism, murder and massacres."
"This decision and similar decisions made by some Western countries that are biased against the peoples of this region and their just issues and their right to liberation and independence will not affect the morale of our loyal people in Lebanon, nor the morale of the free and honorable people in the whole world, nor the position of Hezbollah. God and his natural right to resist, defend his country and people, and support the resistance movements against the Zionist occupation and aggression," Hezbollah said in the statement released to the Lebanese media. 
In Lebanon, the announcement has been met with silence, with very few exceptions.   Politician Bahaa Hariri, former Lebanese Prime Minister Rafik Hariri's eldest son, expressed his support for Australia's decision, calling it "a positive step for Lebanon's salvation from the militia that monopolizes the decision of peace and war, and isolates it from the world and cuts it apart."
One more country
Australia, home to around 230,000 Lebanese or people of Lebanese descent, had banned Hezbollah's External Security Organization in 2003.

However, the United Kingdom expanded its proscription of Hezbollah from just the military wing to include the whole organization in March 2019, and called on both Australia and New Zealand – which also has blacklisted the military wing in 2010 – to follow suit.

Hezbollah's financial, political and military activities have also been under scrutiny in the past months in the region.

Australia's announcement comes a month after Saudi Arabia named the Hezbollah-affiliated Qard al-Hassan Bank as a terrorist organization. 
Earlier this month, Kuwait detained 18 people that the country says are suspected of helping to finance Hezbollah. The individuals are currently in detention for 21 days while they are being investigated by Kuwaiti authorities for "membership in a prohibited party, money laundering and spying."
Lebanon is in the midst of a diplomatic crisis with several Arab Gulf countries, including Kuwait, over the continually expanding role and power that Hezbollah has in Lebanon.
The US has also continued to impose sanctions on Hezbollah-affiliated businessmen, a process that went into overdrive under former President Donald Trump's "maximum pressure" campaign against Iran.
The US Department of Treasury has imposed sanctions against nearly 1,000 people or entities linked to Hezbollah in and outside of Lebanon. Most recently, in October, the US sanctioned MP Jamil Sayyed and two other businesspeople who have close ties to Hezbollah were sanctioned after accusations of corruption and undermining rule of law in Lebanon.
In September, the US sanctioned businessman Morteza Minaye Hashemi for supporting the Quds Force, a secretive group within the Iranian Revolutionary Guard Corps and major backer of Hezbollah, and Chinese nationals Yan Su Xuan and Song Jing for their aiding of Hashemi.
Symbolic moves
Middle East independent analyst Bachar el-Halabi says that this action by Australia is purely symbolic and will have little impact on the Lebanese group. 
"Australia is insignificant for Hezbollah's global network of financiers and supporters and such designation from the Australian side is more political than legal," Halabi told NOW.
He argued that one of the most important designations that might have really impacted Hezbollah was by Germany in April 2020, when the European nation banned all activity of the Lebanese group on German soil following pressure from Israel and the United States.
The European Union as a whole banned Hezbollah's military wing in July 2013, also after intense lobbying by both the Israeli and US governments. 
According to Halabi, Germany has a large Lebanese Shiite community, with a significant portion throwing their support behind Hezbollah. 
In the German capital of Berlin and in other parts of the country, Hezbollah flags have been openly displayed on windows and balconies, he said. 
In addition to this, according to the German government, Hezbollah had several NGOs that were linked to the group, which they used to "send money and support the party."
Halabi also pointed out how Hezbollah and Germany, historically, "enjoyed really good diplomatic relations". Germany played an important role in mediating prisoner swaps between Hezbollah and Israel in 2008. 
Designations and sanctions against Hezbollah might have an impact internationally, Halabi says, but locally, they are unlikely to impact the group's power and image, mainly due to Iran's unwavering support and the financial and military backing of the organization.
"In Lebanon, nothing will impact Hezbollah's standing as long as it has the weapons and as long as the regime in Tehran remains in power," Halabi stated.
Hezbollah's leader, Hassan Nasrallah, is set to give a speech on Friday, where many expect that he will mention the recent designation by Australia.
"I think he would brush it off," Halabi said. "Or [he may] use it as part of his conspiracy rhetoric about the world punishing Lebanon because of Hezbollah."
Nicholas Frakes is a multimedia journalist with @NOW_leb. He tweets @nicfrakesjourno.