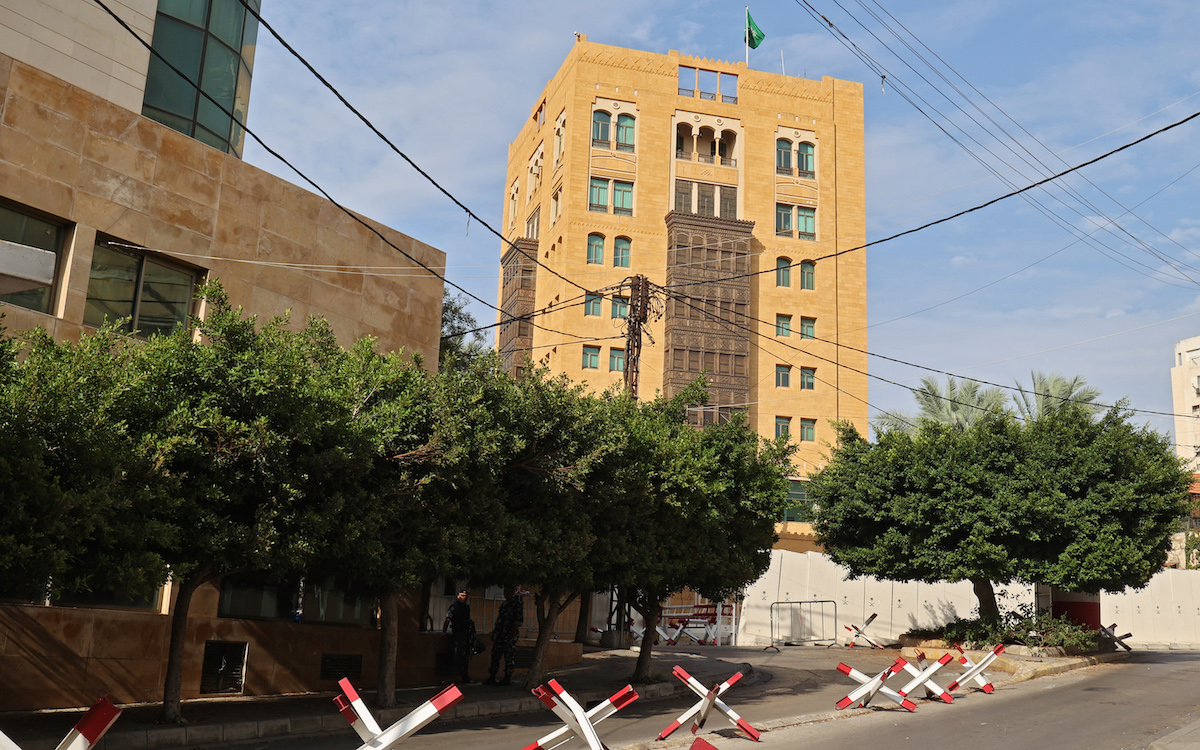 A picture shows the Embassy of Saudi Arabia in the Lebanese capital Beirut on October 30, 2021. Photo: Anwar Amro, AFP.
In recent days, it has been revealed that the Saudi embassy in Beirut was directly threatened with violence, with Saudi Arabia's ambassador to Lebanon sharing a recording containing the threats on his Twitter page.
Lebanon's caretaker Interior Minister Bassam Mawlawi asked for the security authorities to run investigations into the threats against the Saudi Embassy, but, as is usually the case in Lebanon, this will likely lead nowhere.
The person who threatened the embassy is alleged to be a Saudi national. He is said to be wanted by the Saudi Arabian government and has been active in Beirut's Hezbollah-dominated southern suburbs. He is currently alleged to be in Syria.
It also does not bode well for the idea that the Gulf countries might normalize their relations with Lebanon any time soon, which have been severely strained since last October, with some positive developments since then, but little movement.
Hezbollah, the most dominant political and military entity in Lebanon, has consistently antagonized Saudi Arabia and the Gulf as a whole.
In addition to verbal and symbolic taunts, the Captagon trade, which is strongly associated with Hezbollah and Iran, has been a serious thorn in the Gulf's side.
On the other hand, it is unclear if the Gulf's withdrawal from Lebanon has actually furthered its interests in the country.
As Lebanon continues its slow disintegration, Iran and Hezbollah's authority over the resulting rubble has only been strengthened.
The Party of God's allies may have lost some seats in parliament in the May elections, but it is still Lebanon's clandestine ruler.
Some bad words
In recent years, tensions between Lebanon and the Gulf countries have steadily escalated.
As far back as 2019, Gebran Bassil, the leader of the Free Patriotic Movement (FPM) which is allied with Hezbollah, refused to condemn an attack on Saudi Arabia's primary oil and gas company, Aramco.
In May 2021, Charbel Wehbe, Lebanon's former Foreign Minister, claimed during a television interview that Gulf states had supported the rise of the Islamic State (IS), among other disparaging comments, for which he then resigned from his post.
Though these tensions had been building for some time, the straw that broke the camel's back was comments made by George Kordahi in an interview made public on October 25, 2021.
Kordahi criticized the war in Yemen and Saudi Arabia's involvement in said war.
Though Hezbollah General Secretary Hassan Nasrallah has been relatively straightforward about the group's involvement in Yemen, admitting that Hezbollah had taken casualties in the country in a 2019 speech, Kordahi's comments were simply too much.
By the end of the month, Saudi Arabia, Bahrain, Kuwait, and the UAE pulled their ambassadors from the country, some even barred their citizens from visiting, and enacted a blanket ban on Lebanese imports.
Saudi Arabia had already banned Lebanese fruits and vegetables in April due to their use in Captagon smuggling, but the blanket ban essentially cut Lebanon off from formally trading with the Gulf.
Then in January 2022, Nasrallah referred to Saudi Arabia's king as a terrorist and said the country was the primary exporter of IS's ideology.
Najib Mikati, Lebanon's current caretaker Prime Minister, criticized Nasrallah's comments, saying that they did not serve Lebanon's national interest or represent the country's official position.
Not long after, Saad Hariri, the leader of the Future Movement, declared that he would not be running in the May 15 elections and was suspending his political career.
The Future Movement had essentially been Saudi Arabia's main vehicle in Lebanese politics, as the party largely represents Lebanon's Sunni community.
Since then, the Gulf has largely maintained its cold posture toward Lebanon, save for Saudi Arabia returning its ambassador to Lebanon in April.
Going nowhere fast
Hezbollah and its allies are now stronger than ever, as the largest anti-Hezbollah block in parliament, the Lebanese Forces (LF), is politically isolated.
Though Samir Geagea, the leader of the LF, championed the party's relative success in the May elections, he has few friends.
His party has consistently been at odds with its supposed allies, such as the newly-elected independent MPs, and Walid Jumblatt, the leader of the Progressive Socialist Party (PSP) and the LF's nominal March 14 ally, has recently courted Hezbollah, with Jumblatt meeting with Hezbollah officials earlier this month.
This does not necessarily mean that Jumblatt and the PSP are going to abruptly switch sides, but it does not bode well for the LF and its supporters, who are staunchly anti-Hezbollah.
On the international front, these recent threats, though attributed to a wanted Saudi national, are already being associated with the Party of God, as it fits into its general posture toward the Saudis.
Perhaps Nasrallah simply does not know that he should quit while he's ahead.
The Gulf states, as well as Western countries like the United States and France, need to be engaged in Lebanon for the situation to improve, but Hezbollah's aggressive rhetorical posture continues to complicate things.
Besides just general regional engagement and trade, the economies of Lebanon and the Gulf countries are intertwined on a personal level, as there is a large Lebanese diaspora working in the Gulf, particularly Saudi Arabia.
The Gulf countries provide opportunities for Lebanese to make good salaries, especially compared to the current wages in their crisis-stricken homeland. They also send remittances back home to help support their families, which indirectly keep large segments of the country afloat.
Without this strong economic relationship regarding the diaspora, the Lebanese people would be in an even worse position than they already are.
As of now, the Americans are busy finalizing a nuclear deal with Iran, which could potentially spell even more disengagement from Lebanon. France has already shown that it's willing to engage with Hezbollah, but it does want to see the Lebanese government make some concessions and enact reforms.
It seems that Lebanon is feeling quite lonely right now, and it is unclear if the situation can be remedied in the short term.
Nasrallah's rhetoric and Hezbollah's preparations for another war with Israel, though unlikely, have only made things worse.
Hezbollah officials have recently said that if war does break out, they will liberate all of Palestine, though that probably is not going to happen any time soon.
Lebanon might get an alright deal regarding its maritime border, but the country's regional and international isolation seems to be relatively certain, at least for now.