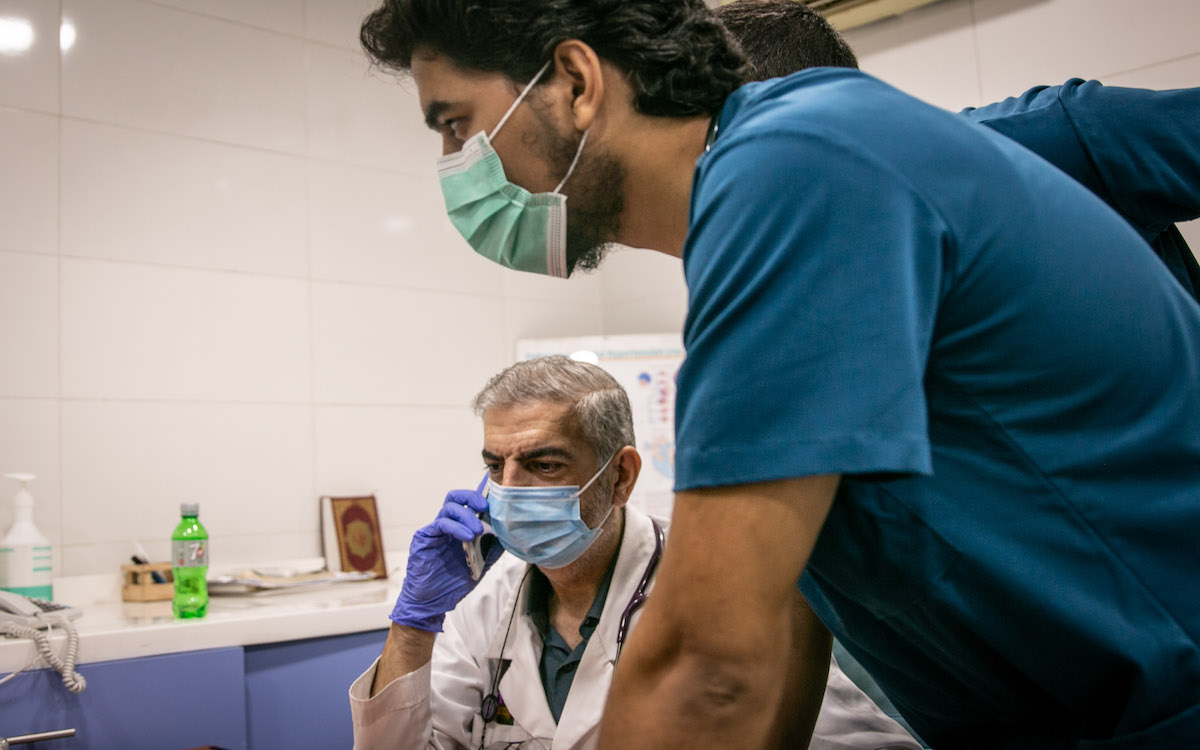 Pneumologist Dr. Kifah el Kasser, mayor of Bebnine, speaks on the phone with the Minister of Health, Dr. Firas Abiad, while tending to patients in al-Amin essential health center. Photo: Philippe Pernot, NOW
Is Lebanon's cholera outbreak under control? Recent signs seem encouraging and could indicate that the situation may stabilize. 
This week, almost twice as few cases (787), both confirmed and suspected, were recorded by the Ministry of Public Health (MOPH) as the week before (1342). Infections peaked on November 2 at 363 daily confirmed and suspected cases before starting to decrease. 
Similarly, hospital beds occupied by cholera patients throughout Lebanon decreased from 96 to 82 in one week, the ministry reported.
The death toll (18) has also stagnated for a week, indicating a respite in mortality.
"Thankfully, the situation now is better than before. There are ups and downs, but we are in control of the new cases," Dr Kiffah el Kasser, Bebnine's mayor and doctor at the Iman Essential Health Center told NOW. 
Optimism prevails in Bebnine
"We have sufficient medication and beds to treat all patients, thanks to the government and international organizations," Dr. Kasser added. "People in Bebnine now feel optimistic about the outbreak, especially since our water is being treated again".
The doctor has been on the frontline since the outbreak began, as Bebnine has witnessed the huge majority of nationwide cases. Located in the northern Akkar governorate, it is the outbreak's eye of the storm. 
The ministry measured a nationwide total of 3,042 confirmed and suspected cases, including 108 new patients on Wednesday. But this number could be underreported by tenfold, Kasser believes.
He affirmed he had treated around 3,000 patients in his clinic alone since the beginning of the outbreak on October 5, a much larger number than what has been announced by the MOPH. 
Most infections occurred in Lebanon's 2,000 Syrian refugee camps, which lack proper sanitation and clean water. Many toilets are a single hole in the ground, which quickly overflow into neighboring fields and rivers.
Located close to the border, both Akkar and the Bekaa valley experienced cholera's spread from neighboring Syria, where a similar outbreak is ongoing. There, 92 people have died and more than 35,000 have been infected.
Vaccination campaign in full swing
Since the start of the cholera outbreak, the MOPH has scrambled to contain its deadly spread. Reacting swiftly to the first announced cases, caretaker Health Minister Firas Abiad went on numerous tours in the affected regions and pledged to assure structural change.
The MOPH has opened a field hospital in Halba and augmented hospital bed capacity to almost 100.
We all feel better now and there have been no new cases in the camp since then. Cholera is diminishing now, inshallah.
A vaccination campaign is also in full swing, as 4,000 prison inmates and officials have already been vaccinated. 600,000 doses should be distributed in the next three weeks, Abiad announced Tuesday during a press conference.
Abiad said that the campaign will allow the vaccination of "70 percent of the targeted population in the most vulnerable areas", including citizens of all "nationalities."
Lebanon received 13,444 doses from France last week, another 27 tons of medical equipment from Egypt on Wednesday, and the UNHCR has pledged 600,000 vaccines which arrived to Lebanon on Thursday.
International aid 
Foreign aid and international organizations have been crucial in combating the epidemic, as Lebanon is experiencing the world's worst economic crisis since 1850. Its medical sector is on the brink of collapse, as thousands of doctors and nurses leave the country – and many hospitals are unable to even ensure sufficient electricity.
Together with the government, international organizations coordinated and imported all the necessary equipment: IVs, vaccines, rehydration kits, chlorine tablets and even fuel.
In a report, UNICEF says it distributed 118,703 liters of fuel to water establishments in the North and the Bekaa so as to reactivate water pumping stations and waste treatment facilities. They had been unable to fulfill their duties for two years, leading to the pollution of 100 percent of the bodies of water in Akkar with waste and sewage.
UNICEF further stated it had handed out 1,191 Chlorine Family Hygiene Kits to support 7,146 people, as well as organized hundreds of cholera awareness sessions, among many other actions. But they came at a cost: $36 million are necessary to continue its operations while the agency only received $700,000.
Similarly, the UNHCR has assisted 120,000 Syrian refugee families with clean water, health kits, and awareness campaigns. It also covers the hospitalization costs of all Syrian patients, whereas the Lebanese government pledged to pay for all Lebanese nationals. The UNHCR estimated its cholera response to cost $8.5 million.
Relief in the camps
Many inhabitants of Akkar reported having received aid and survived thanks to the swift response by national and international health agencies.
Fatima Ibrahim, a Syrian refugee living in Bebnine, told NOW that she fell ill two weeks ago, together with her children and many neighbors. 
They were hospitalized at Akkar's only governmental hospital in Halba because of severe diarrhea and vomiting. 
"Alhamdullah (thank god), the situation is better in our camp now," she told NOW.
"We all feel better now and there have been no new cases in the camp since then," she told NOW. "Cholera is diminishing now, inshallah," Ibrahim sighed in relief.
The humanitarian, crisis-focused approach will not affect these long-standing structural issues, caused by marginalization by the centralized state.
Although the hospitalization was paid for by UNHCR, they reported having to pay 300,000LL for tests and 500,000LL for IV drips from doctors – a fortune for many, as Lebanon's minimum wage now stands at 700,000LL.
Some of her neighbors were even refused access to the hospital because they were unable to pay and were treated at home by local doctors, Ibrahim told NOW.
The cost of medication and fear of being deported back to Syria was one big reason for refugees not seeking treatment. One family NOW talked to only could afford one treatment, so that the seven other ill family members were left untreated.
Structural causes for cholera's spread not addressed
Despite the recent stabilization in infections, many other obstacles still hinder a full recovery. Abiad warned that cholera might become "endemic" if not addressed properly.
Numerous camp dwellers in Bebnine and Mhammara told NOW that they had repeatedly asked UNHCR and other NGOs for cleaner sanitation – but had received no help before the outbreak started. 
In an email response, Paula Barrachina, Head of Communications at UNHCR Lebanon, answered that the refugee agency did provide "chlorination, and provision of clean water where needed; provide supplies for maintaining and improving hygiene in collective shelters, and for fumigation where a case is identified". 
Yet, she did not mention any structural improvements to the actual toilet system in many of the smaller informal settlements, nor if it provided real toilets to those without any proper sanitation – thus leaving cholera's main spreader intact. 
"We have received aid only once," Ibrahim stated. The only thing that has changed is that she now buys filtered water in gallons.
Akkar is Lebanon's historically most disenfranchised region, with a 92 percent poverty rate and records in unemployment, water contamination, and lack of electricity and other basic services, Nadine Sabah, founder of the Akkar Network for Development in Halba, told NOW.
"The humanitarian, crisis-focused approach will not affect these long-standing structural issues, caused by marginalization by the centralized state," Sabah explained.  
As such, cholera's spread was mainly caused by Lebanon's high levels of inequality and degraded infrastructure. As long as this situation remains untreated, cholera is unlikely to disappear from the country. 
Philippe Pernot is a journalist and photographer with NOW Lebanon. He studied political science in France and Germany, and he focuses his work on social movements such as feminism, ecology and anarchism, as well as on minority rights and discrimination. Follow him on Instagram.