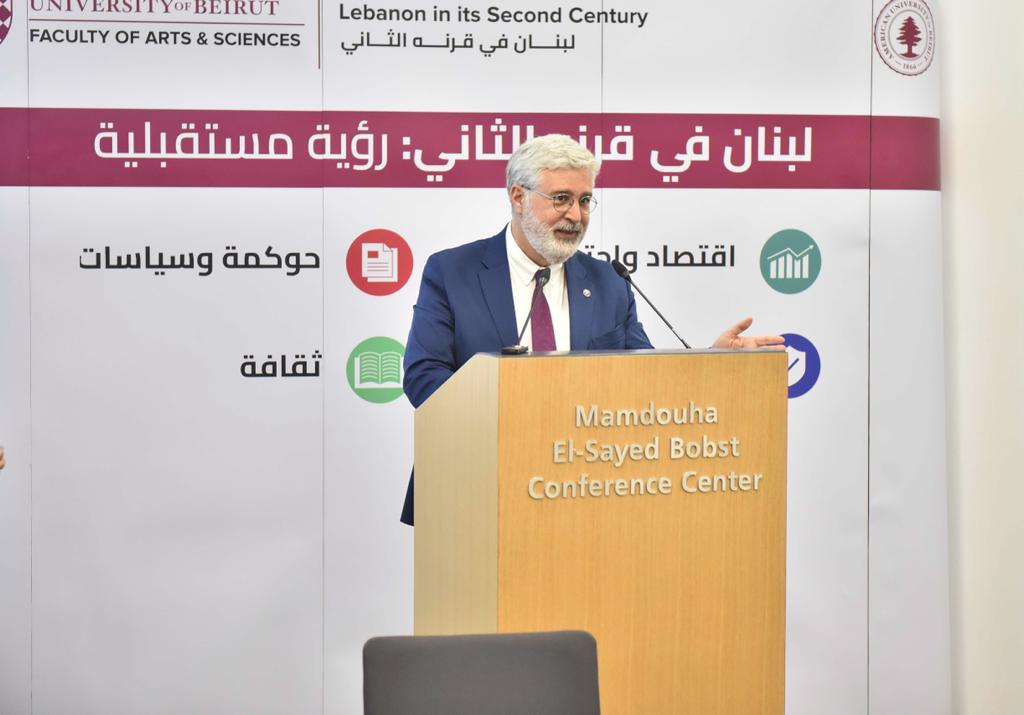 The American University of Beirut has initiated a series of discussions aimed at reimagining the future of Lebanon. Titled "Lebanon in its Second Century: A Forward Vision," the discussions began on November 1.
The conversation commenced with a moment of silence to honor the martyrs of Gaza who have lost their lives due to Israeli aggressions on the Gaza Strip, as well as Issam Abdallah, a Lebanese video journalist working for Reuters who was killed by an Israeli missile in southern Lebanon on October 13, 2023.
With a glimmer of hope, the discussion emphasized that Lebanon's second century can witness tangible progress, moving beyond the narrative of failure and bridging the divides that have impacted Lebanon's unity.
The focus is now on solutions rather than dwelling on the past.
A portion of the discussion revolved around Palestine and its people's rightful pursuit of a decent life and an independent state. It also delved into Lebanon's history and the era of General Gouraud.
The quoted speech mentioned by General Gouraud goes back to the declaration of Greater Lebanon, who, despite his racist and supremacist tendencies, alerted the Lebanese to care for the newly found country.
The Lebanese, in their own right, take pride in their political and social experience, tracing it back to the Emirate and Shihabism, the era of Mutassarifia. Other enthusiasts of archeology and legends trace it back to ancient Phoenicia and its cities such as Jbeil and Tyre. 
The Lebanese, to this day, cannot find solace in unity. Many continue to draw from various backgrounds and narratives to define their identity and sense of belonging.
The present state of Lebanon was described as fractured, lacking unity, and plagued by corruption. An example of this division and political failures was the civil war that spanned over a decade, leading to more conflicts and a lack of social cohesion.
Lebanon has been characterized by a relentless pursuit of power, often fueled by politicians who have maintained their presence for decades. This has occasionally involved highlighting divisions among sects and religions.
Following the civil war, many Lebanese believed that the lack of a unifying identity was the core issue and attempted to bring different factions of society together. The emphasis now is on looking forward, fostering a sense of national unity, heritage, and a shared future rather than merely focusing on geographical boundaries.
A tribute to the late activist Lokman Slim was given by Coordinator and Lecturer of History at AUB and NOW's managing editor, Makram Rabbah, who noted that Slim had proposed such activity two years before his assassination.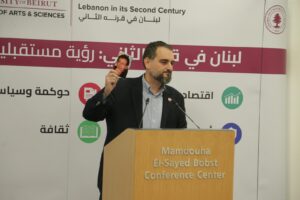 "To this day, Slim dreams of a country that works for all of us and believes in a future made by us, not one that is dictated to us," Rabbah said.
President of AUB, Dr Fadel Khoury was the second to speak, stating that Lebanon's history from 1976 to 1990 is a complex chapter, and from 1990 to 2023, it became more of a dim situation. Lebanon's example of democracy is not the only one tainted in a bloody civil war, as the US was also involved in one.
He pointed out that while sectarianism poisons Lebanese society, other countries have deep-set and ongoing problems of racism and discrimination as well.
Khoury then states that as Lebanon enters its second century, it is important to explore solutions with a longer shelf life than those currently proposed. It is essential to address the difficult questions, but the difficulties do not signify that Lebanon is reaching its final phase as a country; it's a mid-life phase for the nation.
He said it is his wish for the Lebanese to find more common ground than the issues that give rise to their hyphenated identities. The round table offered in these series of discussions should serve as an incubator for different opinions and an enabler of constructive discussions.

Journalist and media professional Dianna Mukalled, the coordinator of the culture track of the project, discussed the challenges of living in the region, particularly in terms of freedom of speech. The Palestinian perspective emphasized the problem of censorship and suppression and the media's role in handling this issue. Those advocating for the Palestinian cause or the preservation of freedoms have often faced oppression.
Mukalled also explored the concept of Lebanon in the coming millennium, highlighting the importance of culture and the freedoms it represents. She stressed the significance of spaces for discussing various aspects of freedom of speech and their contribution to Lebanon's evolving landscape.
Lebanon, once a beacon of freedom in the region, is facing challenges in this regard.
These discussions provide a platform for examining various aspects of freedom within the context of Lebanon. Engaging the younger generation, especially those hesitant to voice their opinions, is encouraged.
Governance and Politics Coordinator Sam Mansa discussed the detrimental politics in Lebanon and outlined the political objectives of this series. He emphasized his role as the organizer of the political aspects of these discussions, using various media channels to craft a vision for Lebanon's future. These discussions will address critical issues and require a long-term commitment. They will commence with a focus on Syrian refugees in Lebanon and the challenges this issue faces. 
Security and Defense Coordinator Naji Malaheb discussed Lebanon's security situation, highlighting the need to prevent any single political group from controlling arms in Lebanon, as this undermines unity. He also highlighted the importance of decentralization, especially considering Lebanon's diverse factions and religious groups.
Coordinator of Economy and Society Ziad Abdel Samad addressed how these discussions would explore the socioeconomic landscape in Lebanon, which has been severely impacted by the economic crisis in 2019 and ongoing tensions.
'Lebanon in its Second Century: A Forward Vision' presents a significant initiative to address Lebanon's pressing challenges and foster unity among its diverse communities.  As the series unfolds over the next six months, it aims to contribute to a more hopeful and shared vision for the nation's future.