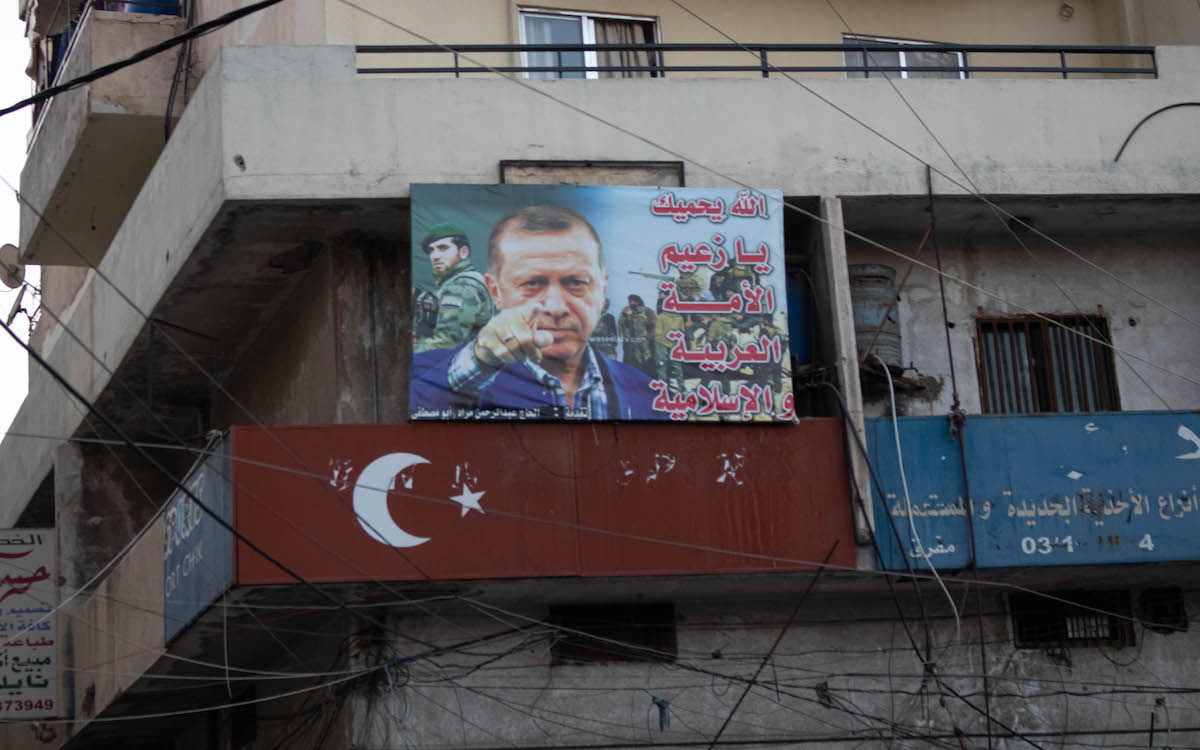 A poster depicting Turkish President Recep Tayyip Erdogan hangs at the end of a road with the caption praising the president as the defender of Arabs and Muslims. Photo credit: Nicholas Frakes, NOW.
A poster of Turkey's President Recep Tayyip Erdogan pointed forcefully at anyone that happened to be walking by.
"May God protect the leader [Erdogan] of the Arab and Islamic nation," the poster said.
This poster, like many others in the Zahrieh neighborhood of Tripoli, was put up by Omar Mrad, 41, and his family.
When Saudi Arabia, Bahrain, United Arab Emirates, Kuwait and Yemen announced at the end of October that they ceased diplomatic and trade relations with Lebanon, Mrad celebrated the announcement. He sees it as a golden opportunity for Turkey to swoop in and save the day.
"Personally, Saudi Arabia does not represent me," he explained. "Today when the person just takes concern in his or her own area, he or she will not consider other areas, like other countries. This is a type of person you cannot believe in or depend on them," he told NOW, hinting at the Gulf countries. 
Turkish flags and pictures of President Erdogan are showing up more and more on the streets of the northern Lebanese town of Tripoli, but while some supporters cheer for Ankara's increased involvement as a patron of the Sunni community, local politicians and analysts doubt that it would have the interest and the resources to fill the gap left behind by the Gulf states. 
Rabih Dandachli, head of the Beirut-based Recode think tank, is skeptical.
"This is the time for them to intervene or show their interest," Dandachli told NOW. "But what we see on the ground now, we don't see any political interest, we don't see any intentions to interfere, we don't see any statements from here or there, we don't even see any additional role being played by those [Turkish-affiliated] NGOs."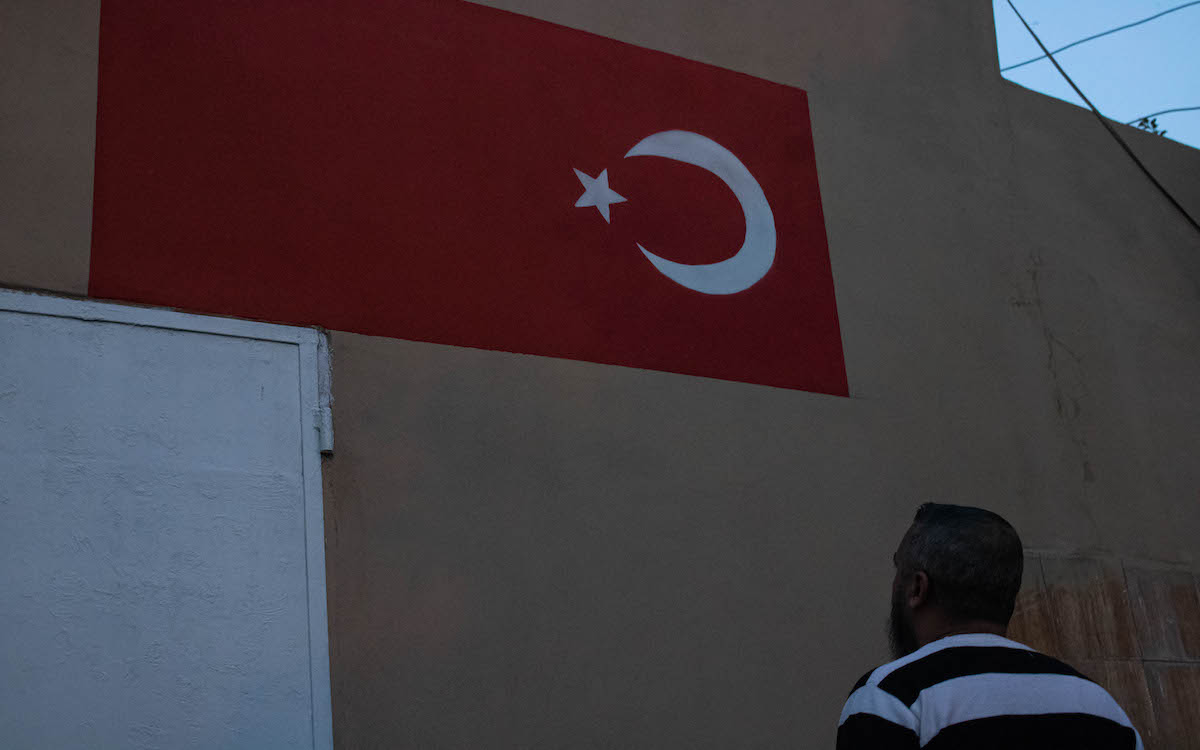 The red flag of Turkey
According to Mrad, his family has a long history with Turkey, with his great ancestors immigrating to Turkey, making their fortune and returning to Tripoli, Lebanon. 
While he does not currently possess a Turkish passport, he says that he is working towards gaining citizenship there.
It is this family history with Turkey and the fact that "Turkey is a country close to Tripoli [historically]" that powers his love for the country and its leader.
Tripoli itself still boasts many monuments and structures, such as the clock tower in Tal, that were built by the Ottomans when Lebanon was part of the empire until the end of World War 1.
"Lebanon has the eastern identity and belongs to ancient civilizations," Abu Ali, a 41-year-old owner of a kiosk in Tal Square, told NOW. 
With Lebanon's economic crisis crippling the country for the last two years, the lack of a major role by Turkey in Lebanon infuriated Mrad. He blamed the country's politicians for this.
"The politicians call for supporting Lebanon but the politicians refused the Turkish help," Mrad exclaimed. "[Erdogan] is a person who is willing to face everyone in defense of what is right. He made Turkey great again. They do not need anything from abroad anymore. They are the new China."
After the diplomatic crisis between Lebanon and the Gulf began following an interview with Lebanese Information Minister George Kordahi from August, prior to his appointment to the government, that had him claiming that the Iran-backed Houthis were simply defending themselves against Saudi aggression, Mrad was not surprised by the Gulf's response.
"They are just the idea of putting money and investing," he said. "Today, with the accusations against Kordahi, they just gave up on Lebanon, and are thinking of ways in order to kick out Lebanese people."
Mrad hopes that the lack of support from the Gulf will force the Lebanese government to accept any help offered by Turkey, especially if it meant that Turkey's role in Lebanon would drastically increase.
For Abu Ali, it does not matter where the help comes from as long as it means that Lebanon is receiving some help that would pull the country, at least somewhat, out of the economic crisis that the World Bank described as one of the worst in 150 years.
"We as Lebanese, we don't want problems or war or anything, we just need help from KSA, USA, Turkey or any country to end this misery that Hezbollah is causing," he stated. "We are open and understanding citizens who accept any country that is willing to help."
He added that an increase in relations with Turkey could make things more complicated given its history with Lebanon as an occupying power, and the complicated relationship that Turkey has with the Gulf.
"The situation is really bad. Turkey is not on good terms with the Gulf countries; therefore, I don't know if it can help Lebanon, especially that it occupied Lebanon in the past."
But Mrad insists that Turkey should be the one to help Lebanon, and even went a step further, arguing that it would not necessarily be a bad thing if Turkey completely took over Lebanon and would actually be in the country's benefit.
Mrad's justification for Turkey being the best option for Lebanon has to do not only with his faith in Erdogan, but also the fact that it allows Lebanese to enter its borders without requiring a visa, a policy put in place in 2010. Turkey, he said, is a primary destination for Lebanese seeking job opportunities.
"In my opinion, as a Tripolitan, we wish that Turkey would take over again," he said. "Let Turkey take what they want and give us insurance. Even with everything that has happened in the past, it had to happen in order to spread Islam. At least, when Turkey was here, they helped build a lot in Lebanon."
But is the Turkish government interested in replacing the Gulf's role in Lebanon?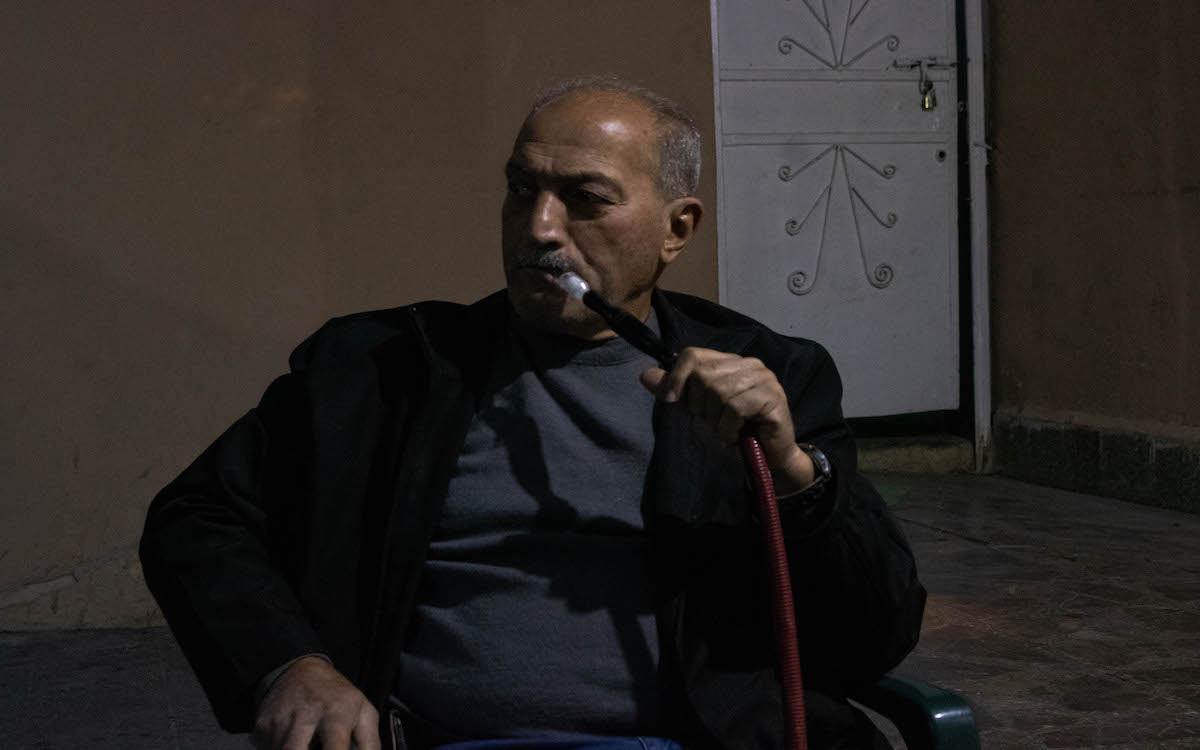 No interest
Following the August 4 Beirut port explosion, Turkey was quick to offer a helping hand.
The Turkish health minister, Fahrettin Koca, said that his country would send 20 physicians to help treat the wounded.
In addition to that, Turkish Culture and Tourism Minister Mehmet Nuri Ersoy said that "Turkey has extended a helping hand to Lebanon, which lost most of the wheat storages in the explosion in Beirut. TIKA [Turkish Cooperation and Coordination Agency] will deliver about 400 tons of wheat to the Lebanese authorities."
TIKA, a government department within the prime minister's office, is Turkey's main arm that provides assistance to developing countries, specifically to Turkish communities in these countries.
But since the Beirut blast, Turkey has not been very active when it comes to its involvement in Lebanon, despite efforts by individuals and communities that have been trying to push for deeper relations between the two countries, especially after the diplomatic crisis with the Gulf.
"We don't see that Turkey is serious about filling this gap in Tripoli or in north Lebanon or in the Sunni areas," Moustafa Alloush, a former MP for Tripoli, told NOW.
"For some time, the traditional Turkish community in Tripoli and in north Lebanon have been trying to build real connections with Turkey, specifically now."
Both Alloush and Dandachli agree that making a move in Lebanon is not in the interest of Erdogan, given Turkey's own economic woes and the upcoming presidential elections that are threatening to remove Erdogan from power for the first time in 19 years.
"Erdogan has his own business to take care of. He has an upcoming election that he needs to win. To me, if he doesn't win, then that's an issue and he knows that," Dandachli explained. 
This does not mean that Erdogan does not have ambitions to expand Turkey's influence in the region and beyond. Turkey has been active in Syria, where it occupies part of the North, Libya and Nagorno-Karabakh where Turkey sent Syrian militias to fight on their behalf. It has also pushed for the past decade to increase its influence over some Balkan countries, especially Bosnia and Herzegovina, Albania and Kosovo. 
"Definitely Erdogan has that ambition [of regional expansion]," Alloush said. "They would love to, but the economic situation which is not as Erdogan is hoping for and the constraints concerning its capabilities and [the disagreements with] the international community major powers will prevent Turkey from being a major player [in Lebanon]."
According to Dandachli, the Saudis themselves might be preventing Turkey from making any big, decisive move.
"If Turkey came, it would appear that Turkey is coming to inherit them. The vacancy that the Saudis are leaving, they are not leaving it for someone to fill," he stated. "The Gulf does not want to come back to find someone sitting in their seat."
Since Turkey is also a predominantly Sunni country, it is likely that the majority of its focus, if it became involved in Lebanon,  would be the Sunni communities in areas like the north of the country and Sidon, south of Beirut, where they would be more positively received. 
Even in this context, the Gulf states have always taken the lead over Turkey in terms of influence, with Saudi Arabia playing the largest role when it comes to Sunni politics in Lebanon, and other Gulf countries, such as the UAE, having far more social impact on a practical, humanitarian level.
"When you talk about the parliamentary representatives of Sunnis, you will rarely find someone who is in favor of Turkey," Dandachli said. "On the other hand, you will find that all of them fall under the influence of Saudi Arabia and the Gulf."
"Turks support local entities in some Turkmen areas and in some historic heritage [sites] of the Ottomans. But last year, the UAE distributed 80,000 vouchers for Coop [markets in Tripoli]. It will be much higher in impact and spread than renovating an old Sufi worship place."
None of this deters Mrad.
Despite the lack of action by Turkey to fill the gap left by the Gulf, he continues to say that he would fight for Turkey if it came down to it.
And even as Lebanon's crisis continues to worsen by the day, he remains hopeful that Erdogan will pull Lebanon out of its deepening hole.
"If there comes any war, and they need support, we will be the first ones fighting in Turkey's favor," Mrad stated.
Rayanne Tawil contributed translations to this report.
Nicholas Frakes is a multimedia journalist with @NOW_leb. He tweets @nicfrakesjourno.