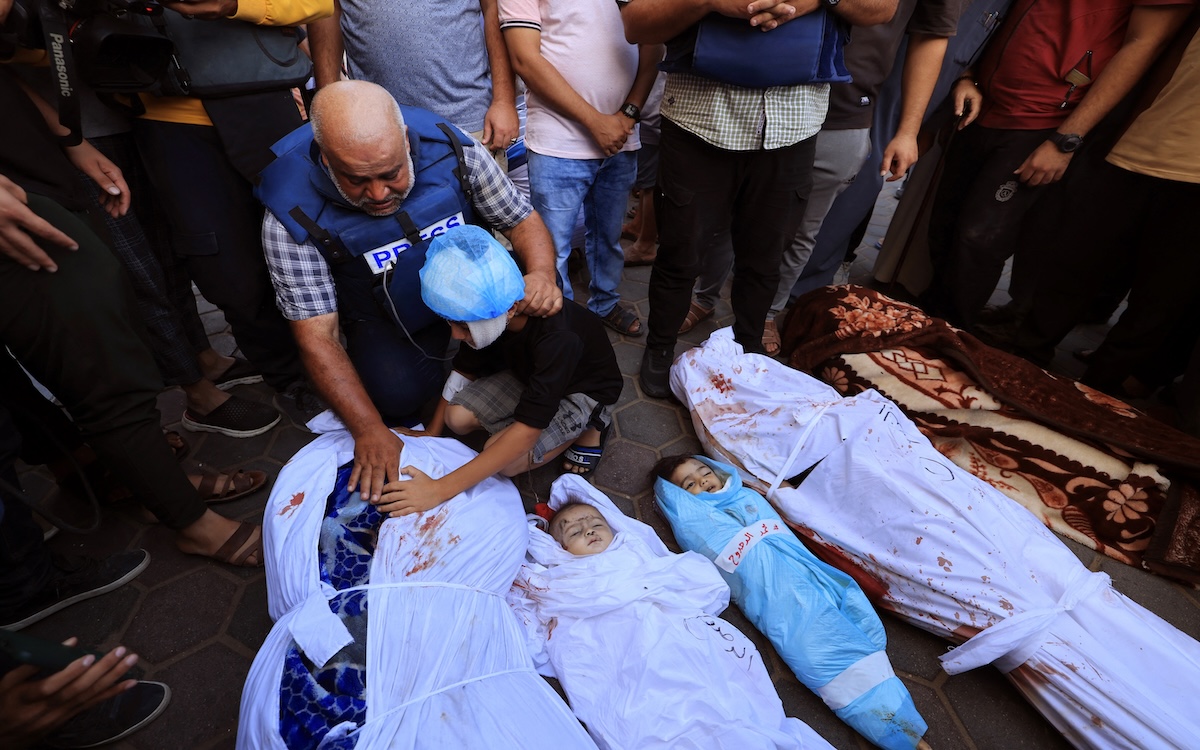 Al-Jazeera correspondent Wael Al-Dahdouh mourns over the body of family members killed the day before in an Israeli strike on the Nuseirat camp, prior to being taken for burial from Al-Aqsa hospital in Deir Al-Balah, in the southern Gaza Strip, on October 26, 2023. The family of the Al Jazeera journalist was killed in an Israeli strike on Gaza, the Qatar-based network said in a statement on October 25, as war rages between Israel and Hamas. Al Jazeera said the wife and two children of its Arabic-language channel's Gaza correspondent Wael Al-Dahdouh were killed in a strike on the Nuseirat refugee camp in the Gaza Strip. Photo: Mahmud Hams, AFP
At least four members of Al Jazeera Gaza Bureau Chief Wael al-Dahdouh's family were killed on Wednesday, in an Israeli airstrike on the Nuseirat refugee camp in central Gaza, where they had been sheltering.
Footage from Al Jazeera showed Al-Dahdouh entering the Al-Aqsa Martyrs' Hospital in Deir al-Balah to see his dead loved ones in the morgue. These included his 15-year-old son Mahmoud, who aspired to follow his father into journalism, and his 6-year-old daughter Sham.
An Al Jazeera journalist just lost several family members to an Israeli airstrike.

Wael Al Dahdouh lost his wife, son and daughter while they sheltered in what Israel designated as a "safe area." pic.twitter.com/NmxrsjvTIQ

— AJ+ (@ajplus) October 25, 2023
Al-Dahdouh spoke to Al Jazeera as he left the hospital, saying: "What happened is clear. This is a series of targeted attacks on children, women and civilians. I was just reporting from Yarmouk about such an attack, and the Israeli raids have targeted many areas, including Nuseirat."
"We had our doubts that the Israeli occupation would not let these people go without punishing them," he continued. "Sadly, that is what happened. This is the 'safe' area that the occupation army spoke of."
Other members of Al-Dahdouh's family, including his toddler granddaughter, survived the attack on the house they were staying in at the Nuseirat refugee camp, south of Wadi Gaza.
Al Jazeera Media Network released a statement, in which it called the attack an "indiscriminate assault by the Israeli occupation forces" which had resulted in the "tragic loss" of Al-Dahdouh's wife, son and daughter, who had taken refuge at the Nuseirat camp after Israel called for civilians to move south.
Regarded as the voice of Palestinians in Gaza by his colleagues, Wael al-Dahdouh had spent the previous days of war reporting from within the Gaza Strip, frequently surrounded by the destruction caused by Israel's sustained attacks against the Palestinians.
Many other journalists and their families have been killed in the Israeli war on Gaza, which many international experts have condemned as collective punishment, ethnic cleansing and genocide.
Robert McKelvey is a multimedia journalist with @NOW_leb. He tweets @RCMcKelvey.