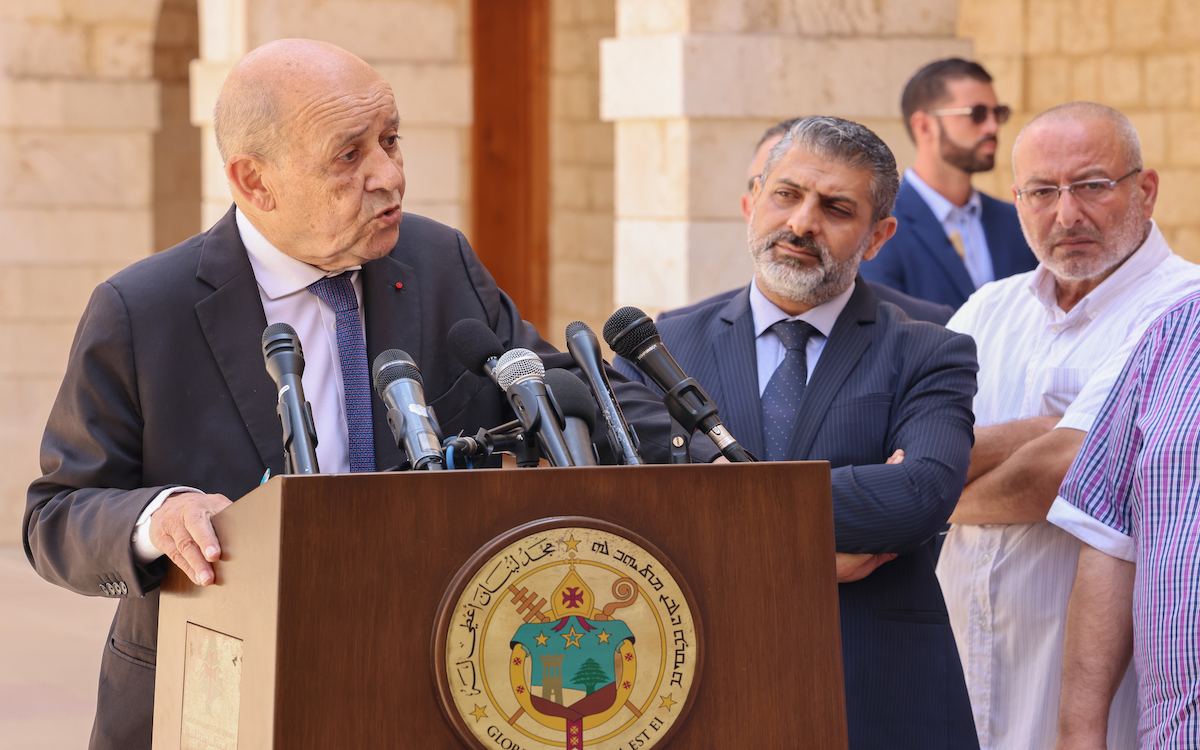 France's new special envoy for Lebanon Jean-Yves Le Drian delivers a press statement after meeting with Lebanon's Christian Maronite Patriarch, in Bkerke on June 22, 2023. France's new special envoy for Lebanon arrived in Beirut on June 21 for talks with Lebanese leaders, state media reported, as bitter divisions continue to plague the crisis-hit country. Photo Joseph Eid, AFP
Speaking words of wisdom, France's solution has always been let it be, let it be.

And in Lebanon's darkest hour, following the Beirut explosion in the summer of 2020, French President Emmanuel Macron stood by Lebanon again, speaking words of wisdom, "Vous les avez votez," he told the Lebanese. 
Well, President Macron, there have been many examples of democracy gone wrong under occupation. The Germans also voted for Hitler! 
If we take a look at France's involvement in Lebanon 2001, we can map out a timeline of failed French initiatives. 
Paris I  was held in February 2001. It included the World Bank, European Investment Bank (EIB), and the European Commission.  The conference raised 500 million Euros for Lebanon, which went mainly into infrastructure projects, with no structural or institutional reforms attached to the aid package.
In November 2002, the Paris II conference took place at the request of the Lebanese government. It was attended by 23 countries and international institutions, including the heads of governments of Belgium, Canada, Denmark, Germany, Italy, Lebanon, Malaysia, Qatar, and Spain, as well as the President of the European Commission. 
The IMF showered recognition at the then-Lebanese government for enacting financial reforms and reducing public debt by introducing a new tax regime that included VAT.
Some structural reform laws were passed to satisfy the conference requirements that year, notably the Telecom Sector Governance Law 431, the Electricity Sector Governance Law 362 and the Civil Aviation Law 481, all of which aimed at independently regulating, corporatizing, then privatizing the sectors. But those reforms remain largely unimplemented until today.
A commitment of €4.4 billion was announced at the conference, comprising of €3.1 billion in Financial aid and €1.3 billion in project aid for Lebanon. 
The aid package was not fully deployed due to a lack of structural reforms and the inability of the government to execute projects.
In December, in lieu of the war in the summer of 2006 in which Israel launched a wide attack war on Lebanese infrastructure after provocation from Hezbollah, a Paris III conference was held for Lebanon at the request of the Lebanese government. 
The objectives included: 
Strengthen the government to exercise its sovereignty over its entire territory. 

Address sectorial, economic and social needs.

Implement financial reforms and debt management.
This was a continuation of the work initiated by the "Friends of Lebanon" group established in the Stockholm conference held in 2005 after the assassination of Prime Minister Rafik Hariri and the Syrian army's exit from Lebanon.
The new loans committed at that conference stood at $7.6 billion, with the same reform promises as Paris II, five years later.  36 countries and eight global financial institutions participated.  
In April 2018, a month before the general elections, The CEDRE conference was held in Paris. $11 billion was pledged to Lebanon based on an infrastructure capital investment program and a reform plan which had a lot of similarities to the one presented 16 years earlier.  However, this time, funds were not deployed because of the failure to execute reforms – including setting up a "follow-up joint committee" to monitor deployment and reforms 
On August 6, 2020, two days after the explosion, President Macron visited Lebanon and stood amongst the people in a broken and shattered city.  He expressed the need for a new political order in Lebanon, calmed the brewing public backlash at the political system,
and convened a round table of political leaders for discussion.  The round table launched a list of reforms that were largely re-iterated from the CEDRE conference reform list.   
None of the reforms listed were addressed by the Lebanese government in a sign of contempt to President Macron and his efforts.  
In April 2021, a Conference to Support Lebanon was held in Paris to address the economic crisis that followed the default. It was attended by 50 countries and raised $370 million in aid. 
Funding that was already available from various donors was re-declared in many of these conferences. However, France has failed to act as a guarantor of reform execution. 
These milestones of Chirac-Macron initiatives cannot amount to a French policy on Lebanon. By looking at more than twenty years of engagement, French involvement has been limited to launching conferences and initiatives and gathering pledges of financial support and aid packages. And we are much grateful! Merci La France! "And of Love there is that which killed".
A detrimental role
The international community, predominantly the US the EU and the Gulf states, have given France a role in coordinating these initiatives given its historical ties with Lebanon. However, it is time this community puts to question the role of France and whether it has been constructive – or a contributor to the deteriorating situation in Lebanon.
Financial support for Lebanon brokered by France in the last twenty years has led to a reluctance in the subsequent governments to execute any reforms. More recently, the support that was tied to reforms was driven by donors unwilling to entertain France anymore and contribute more money to Lebanon without results. France has failed to guarantee reform actions and was faced by the duality of a corrupt political class supported by an armed militia that benefited from a weak state.
Now, Lebanon is going through an economic and financial collapse.  Old remedies no longer seem to work. The many attempts at agreeing to an IMF program have all failed so far. Only a staff-level agreement has been reached. 
It is clear from the historical pattern that funding pledges and reform requests are insufficient to address the issues of Lebanon. Compensating bad behavior with new money does not amount to nation-building. 
The French approach so far has considered all political parties to be equal. Hezbollah, backed by an arsenal of 100 thousand missiles and several thousand trained soldiers is treated as equal to the democratically elected parties on all sides of the political spectrum. Vous les avez votez, we were told! 
No French position has been taken against the anti-constitutional position of Hezbollah being an armed militia within a state, while the group continues to derail efforts for reform either directly or indirectly through its allies.
By blocking the principles of structural reforms in electricity and telecommunications, the country accumulated massive losses and piled up debt over the last twenty years in tens of billions of dollars. Hezbollah and its allies stood against the formation of regulatory authorities, corporatization, and privatization of the public sector.  French initiatives are failing to recognize that a militia that thrives off of weak state institutions is not an equal partner to other parties. 
On the contrary, France seems to be doubling down on its failed policies. Their latest position backed the Hezbollah presidential candidate Suleiman Frangieh, who was Minister of Interior when PM Hariri was assassinated, and his representative in the government was none other than the  Minister of Public Works Youssef Fenianos, who had been in charge of the Port of Beirut in 2020, when the explosion occurred. 
Frangieh is currently a partner in Hezbollah's cash economy through the company WHISH Money, with its links to a Syrian businessman fronting for Bashar al Assad. 
No action has been taken to limit the interference and influence of Hezbollah in political, economic and judiciary life. On the contrary, France seems to want to reward the group. 
Hezbollah has directly interfered with the investigation into the port explosion by threatening the investigating judge, blocking high court appointments to derail the investigation on a technical basis, and protecting accused politicians and officials – but even this has not stirred any action from France.
Skewed intentions
Suspicion towards France's intentions is growing within public opinion, short of accusing the country of colonial behavior. 
French companies have been benefiting from the French government's "look the other way" approach in Lebanon.   
Total is the main player in the gas concessions. CMA CGM, a French company, has two port terminal management concessions, and more recently, the management of postal services. French contracts for the electricity infrastructure are being eyed, and French consultancy for the Electricite Du Liban has been ongoing for many years. 
While none of these events are clearly linked to deliberate acts of influence, the circumstantial evidence is starting to suggest that France may not be the right entity to take the lead on a potential solution for Lebanon, having failed to do so in the last twenty years, and may have very well contributed to the collapse indirectly. 
Some evidence of that can be listed:
– Support for former PM Rafik Hariri's policies, which led to high debt due to exchange rate subsidies.
– Support for funding without a heavy hand in reforms and the role of Hezbollah in Lebanon.
– Support for Saad Hariri following his resignation from Riyadh, and pressure on Saudi Arabia to soften its stance towards anti-Hezbollah policies in Lebanon. 
– Holding the CEDRE conference a few months after that incident and one month before the general elections to support better results for Hariri.   
– Failure to guarantee or enforce pre-collapse reforms after the CEDRE conference. 
– Failure to impose any sanctions or take any action against any corrupt or militarized entity in Lebanon, while the US and KSA have done so.
– President Macron's visit after the port explosion is now seen as an act that deflated the public reaction against the politicians, including Hezbollah and its ally, former President Michel Aoun, which could have been a turning point in the Lebanese uprisings.  
– According to an investigative documentary on French television, much of the illicit activities of Hezbollah's flow from Latin America through France – who has done little to stop it. 
It is time for other influential countries to step in and take a lead before Lebanon ends up as a rogue state after more than twenty years of failed French initiatives. The US, other EU countries such as Germany, and regional powers such as Saudi Arabia, are well positioned to take action and salvage what is left of Lebanon by taking a strong stance against Hezbollah and its allies, who are at the epicenter of the disintegration of this tiny country on the eastern shores of the Mediterranean.
Samara Azzi is a Lebanese investment banker based in Geneva. She can be reached on Twitter.
The opinions expressed are those of the author only and do not necessarily reflect the views of NOW.