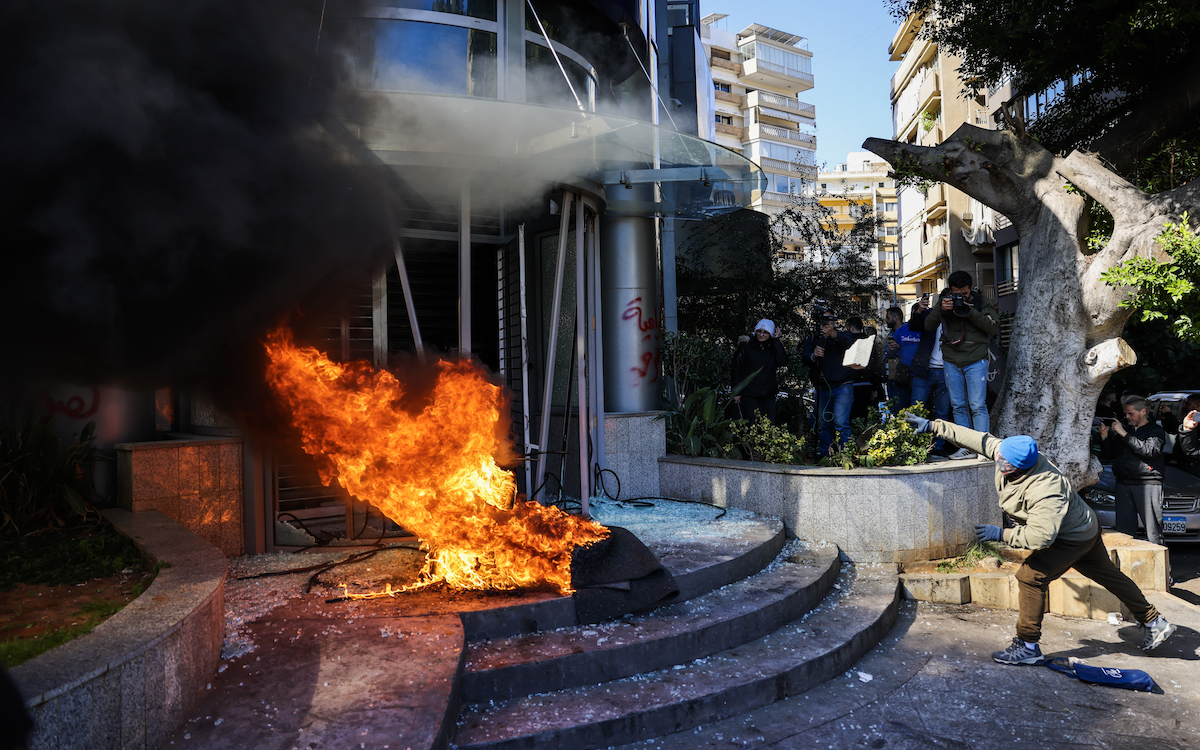 A protester throws a brick at a bank after setting fire to tires during a demonstration in Beirut on February 16, 2023. Dozens of angry Lebanese demonstrators attacked several banks on February 16 after the local currency dropped in value to a record low as part of a deepening economic crisis, AFP photographers said. Photo: Joseph EID, AFP
As banks continue their strike and shut down operations inside their branches, several dozen Lebanese protestors set fire to commercial banks in a Beirut neighborhood early today.
Protestors blocked roads, threw rocks at the windows, and set one branch in the Badaro neighborhood ablaze. This comes at a time when the dollar is reaching unprecedented heights of 80,000 to $1.
Why this matters, since 2019, Lebanese banks have denied depositors access to their funds deposited in dollars or Lebanese pound. Laws never outlined these restrictions, which led to lawsuits and bank holdups as means of seeking justice for depositors and retrieving some of their blocked funds.
Since the collapse of the nation's financial system in 2019, the Lebanese pound has lost more than 98 percent of its value. On Thursday, the dollar was trading at about 80,000 pounds per dollar, down from 70,000 pounds just two days earlier.
The Banks' Association in Lebanon (ABL) issued a short statement denying reports that operations would resume soon, stating that the strike would last until further notice.
The decision follows the verdict by Mount Lebanon Public Prosecutor Judge Ghada Aoun to prosecute Bank Audi, Bank Audi Group CEO Samir Hanna, and Deputy Group CEO Tamer Ghazaleh for money laundering.
ABL seems to be attempting a tactic to compel the government to absolve the banks of all legal responsibility.
Yes, but as the dollar rate keeps skyrocketing with no solution in sight, people will once again, take matters into their own hands. 
In Badaro, Byblos, BBAC, and Credit Bank branches have been vandalized by protesters.
As tensions rise with the government's decision to allow supermarkets to dollarize their products, the trend is unlikely to die down in the upcoming days. This puts the country at risk of a potential social implosion that has been anticipated for years.
In conclusion, security measures have already been implemented to maintain the situation and "guard" the banks against further riots, but it is unlikely that the people will settle down anytime soon.
Unprecedented circumstances are currently unfolding in Lebanon, with the government remaining unresponsive as usual.
Regardless of how things unfold, the Lebanese deserve a respite from the pain that the banks have been causing them.
Dana Hourany is a multimedia journalist with @NOW_leb. She is on Instagram @danahourany and Twitter @danahourany.