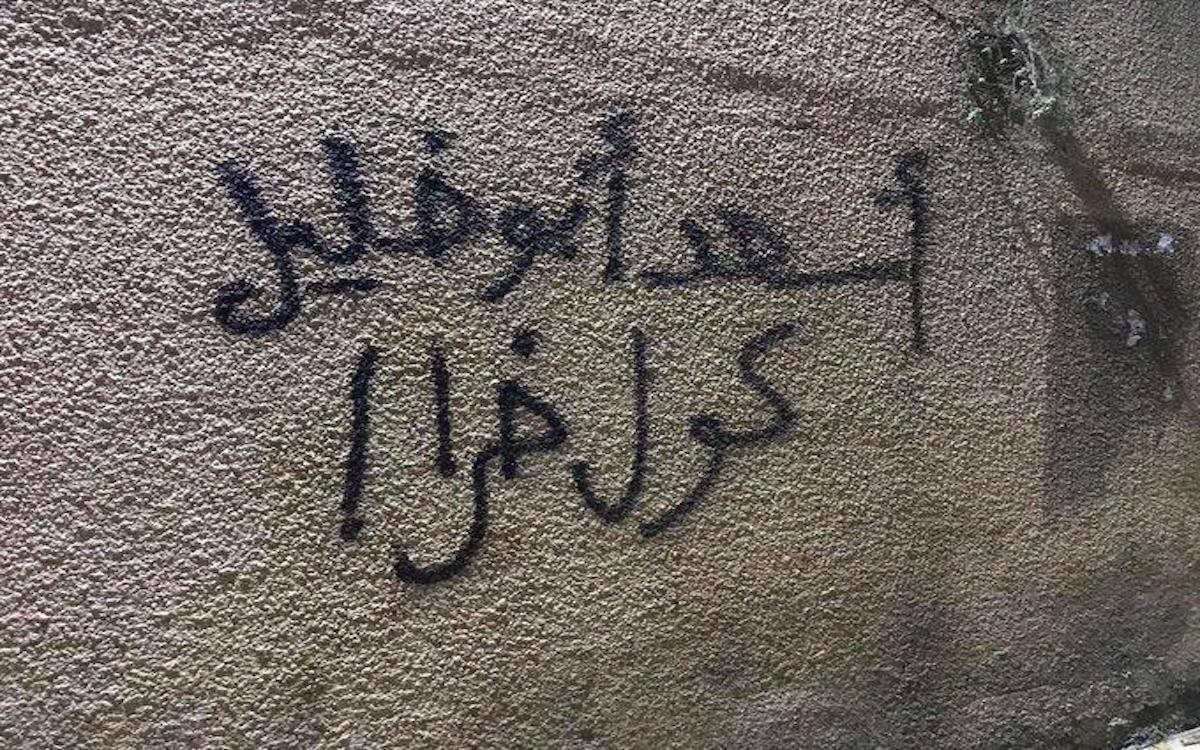 Assad Abu Khalil found himself in the crosshairs on Twitter over the weekend, facing a mountain of criticism.
Over the weekend, the Lebanese Twittersphere was trending with a somewhat weird yet humorous hashtag #اسعد_ابو_خليل_كول_خرا which roughly translates to Assad Abu Khalil eat shit. The hashtag references the Lebanese-American scholar and pundit Assad Abu Khalil, a self-styled revolutionary whose activism and political commentary essentially ends up as whitewashing the pro-Iran and Hezbollah axis or what is commonly referred to as the anti-US axis. 
Abu Khalil, Professor of Political science at University of California at Stanislaus — which many confuse for the other more prestigious UC campuses — is ranked as 501/600 and his academic publications, few as they are, attest to the mediocrity of his scholarly contributions to the field of Middle Eastern studies. Assad, the son of Ihsan Abu Khalil, the former Director-General of the Lebanese parliament during the tenure of the right-wing speaker Kamil al-Assad, got his education at the prestigious Georgetown University, where it is alleged that Kamil al-Assad, who facilitated the election of the infamous Bashir Gemayel, paid his way. Kamil al-Assad's largesse did not prevent Assad Abu Khalil from rebuking the veteran politician when he passed away in 2010, demonstrating what kind of person Abu Khalil really is.
The general public was first introduced to Abu Khalil over his blog which he called the Angry Arab News Agency, a platform which he used to promote his supposed pro-Palestinian views which echoed those of many of the totalitarian regimes of the region. He defended the likes of Bashar al-Assad and the killing of Syrian civilians and tried to justify the corruption and crimes of Hezbollah, which is accused of a number of political assassinations, such as the late primer Rafik al-Hariri and most recently, Lokman Slim, an ardent opponent of Hezbollah and an outspoken champion of freedom of expression.
Abu Khalil, who since then has migrated to Twitter and to writing regularly for the pro-Iran Lebanese daily al-Akhbar, soon turned into a posterchild for the Iran axis as this barrel-bomb intellectual would lead the cyber armies of Hezbollah and their leftist allies against anyone who dares stand up to their crimes and transgressions, all under his false claim of liberating Palestine.
Consequently, anyone who challenges the bullying of Abu Khalil is soon met with hundreds of Twitter accounts bearing the pictures of deceased Hezbollah fighters, most of which died fighting alongside the Assad regime in Syria, who then proceed to defame you and accuse you of pushing a pro-zionist agenda.
The recent attack on Abu Khalil originally came in the form of graffiti which appeared during the October 2019 uprisings on a wall in the Lebanese capital of Beirut. The slur comes as a response to Abu Khalil's constant accusation that the protest movement was pushing a pro-western, Zionist agenda.
This doodle was soon followed by a parody Twitter account @asaadakkol5ara which used humor and memes to challenge many of the false assumptions of the California-based "scholar".
NOW contacted the handler of the account, who requested anonymity, asking for comments on the reason for the hashtag, which is trending and being shared widely by many.
Would you please tell us a bit about the parody account you are managing, what was the main reason for setting it up, and was there anything specific that triggered it?
First, it was just for fun. But then I realized Assad's harmful role in spreading fake news and whitewashing Hezbollah's ( and their allies') image at the expense of poor people and their interests.
I felt that he was a horn that benefits from these regimes while gaslighting people in distress until they elect against their interests, I felt that I had to expose the hypocrisy behind it.
Moreover, I noticed a very dangerous fact, that he himself was leading a group and promoting a number of fake social media accounts that incite and distort the images of people opposed to the party.
What Abu Khalil and his army of bullies do is to use tracers, meaning tagging anyone who contradicts their worldview, a gesture which is followed by a full-scale assault by fake bots and accounts baring the pictures of Khamenei, Nasrallah, Imad Mughniyeh and other criminals, who then proceed to rain insults on anyone who criticizes Hezbollah or the Syrian regime.
Noticeable is the fact that Abu Khalil also tweets under an assortment of different names and coordinates his attacks with similar accounts that are part of something they call Wahmmedia, which is a platform that promotes a number of former al-Akhbar Iranian apologists.
Grim, for example, is an account Abu Khalil uses and it shares many of his mannerism and style of writing.
Have you ever met him, or have you ever interacted with him over social media? Did you ever engage him in any serious political debate or did you use parody as a weapon to expose him directly?
I never met him, I discovered him after the 17 October revolution. He was that journalist who is always spreading fake news and misinformation
I tried to have debates with him many times but he didn't respond. But based on the debates I witnessed between him and other people with the same political views as me, it's a waste of time to try and convince him of something. He is always running away from answers, cherry-picking the events he wants, and gaslighting in general.
When he can't attack you for the things you say, he will try and attack you for the things you don't.
For example, few days ago, he was attacking Omar al-Shoghre, the Syrian dissident and human rights activist, who was giving a testimony in front of the UN security council, because he was speaking to the UN about the crimes of the Syrian regime, whereas Abu Khalil wanted Shoghre to only talk about Palestine.
When someone is criticizing the Free Patriotic Movement and the corruption of its leader Gebran Bassil, he asks them to criticize others, if you criticize Hezbollah, he will invent 100 excuses to shift the blame from them.
To what extent do you think he is influential over the sphere? Can what he does be seen as lobbying for a set of "values," or purely whitewashing Iran and co? Regarding his recent comment in support of the LGBT community – was this out of conviction or just to give some credibility to himself?
I think he is just whitewashing Iran, and each once in a while he is allowed to criticize softly something about the axis of resistance in order to gain credibility that he will use to defend them on more serious matters. I think he doesn't have a set of values; he is just whitewashing Iran and co.
He clearly doesn't care about LGBT rights because he wants Hezbollah (a religious party) to rule Lebanon.
It's easy to say I support LGBT  and work against their interest
Do you think his way works? Are people too afraid to speak because of the tracing and bullying tactics he uses?
Yes, I realized that he is tracing many journalists and activists, mainly the Daraj and Megaphone teams.
He quotes tweets from them so his followers start the cyber attack.
Asaad has his way to rally up people and slide them into your comment section knowing he has a huge following. They'd be harassing you and saying the meanest things to you, whilst he'd be smiling behind the screen. Today of all days:  #اسعد_ابو_خليل_كول_خرا
More viciously he waters down any cyber-attack by Hezbollah against their critics. This is what he did when Wafic Safa, Hezbollah director of intelligence, attacked Judge Bitar who was investigating the August 4 Beirut port blast.
What's your response to the claim that your attacks are sponsored by Israel and the CIA, and did you put any money to spread the hashtag or was it fully organic?
Accusing people of treason is an approach they [Hezbollah] adopt to distort the image of every person from outside their axis. Knowing that I am not in the hands of any party or axis, and I am not affiliated with anyone, I didn't pay a penny. It's all organic. People like my content.
Certainly, Abu Khalil will not tell his fans that there are people who are not affiliated with anyone against him. In the event that the accusation of Israel is attached to everyone who criticizes him. I never liked someone who called me a Zionist because I deceived him with a parody post.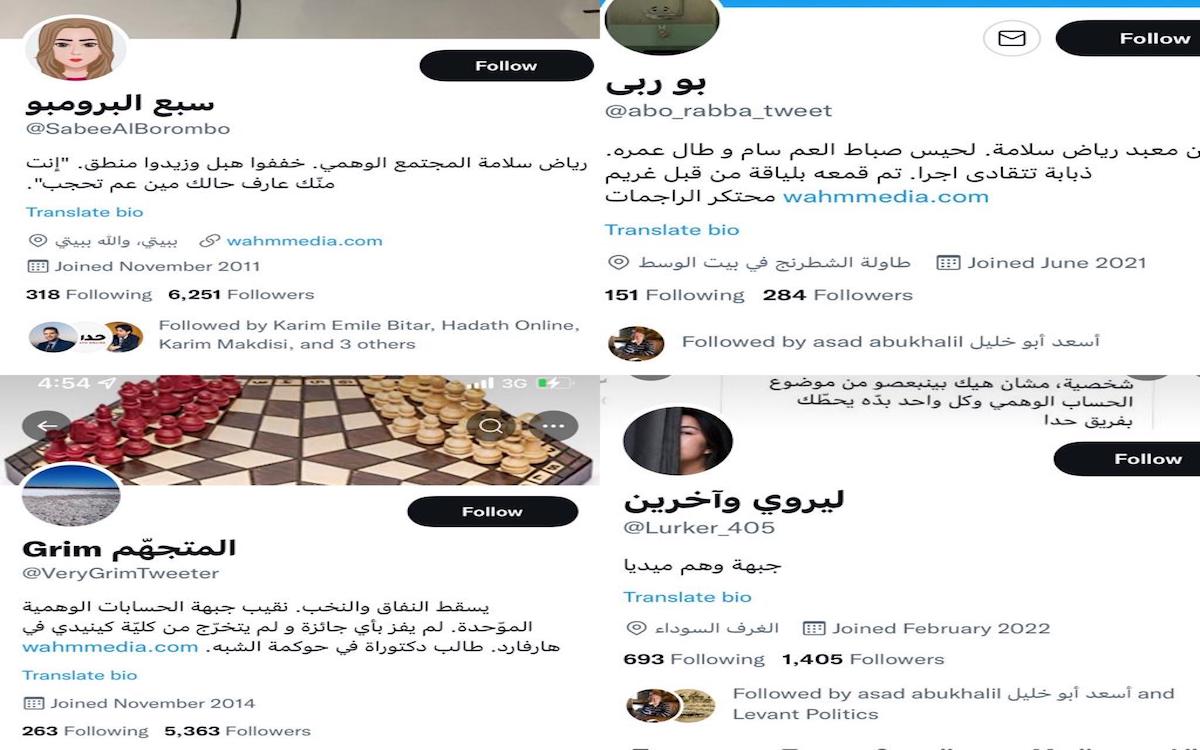 These fake accounts usually complain about using curse words and profanity while they have previously attacked Dima Sadek, as well as the death of Lokman Slim and how they tried to demonize him and thus justify his murder. 
Yes and they started a racist discrimination campaign against Dalia Ahmad, the Sudanese-Lebanese journalist, accusing her of being an Israeli agent and commenting on the color of her skin. 
The double standards are absurd; therefore, the hashtag translates to Assad shut up. It means Assad stop lying. 
And the difference between my campaign and theirs is that I'm having fun and I never put someone in danger, while they have many times
And the funny thing is that they accuse me of taking money from the CIA while they openly take money from Iran and co. 
Where does Al Akhbar and the Iran media come into the picture?
They started campaigns many years ago.
Like شيعة السفارة.
And with Lokman Slim, before his assassination. 
And with the fake news about the 17 October revolution that led to its failure, many other journalists who work for al Akhbar and al Mayadeen have the same goals as Asaad but different roles.
Can we say that your own political activism started with 17 October, and that you yourself have no fascination with the March 8/March 14 standoff? 
Yes exactly, I started taking Lebanese politics seriously after 17 October.
And I have no fascination with either 8 or 14.
Is your profession related to media or politics?
No, it's not related at all. I'm just a regular citizen with a sense of humor.
What can you tell me about his hypocrisy in his personal life?
One time someone mentioned his wife's Twitter account and I was shocked! She was a Trump supporter and she wants to deport immigrants and build a wall with Mexico. She is pro-Bashar al Assad and posted a photo of him in 2013 when he was murdering his own people. She is pro-US army, yet she has no problem supporting those who have killed US servicemen.
Not to mention that Abu Khalil keeps on attacking the oil-rich Gulf states, while his sister Mirvat works for a state-sponsored Qatari thinktank.
In conclusion, what do you have to say to people who are afraid of the likes of Assad and do you think that his academic standing helps him to bully people?
He is not a serious academic, he has no serious published research. He spends his entire time on social media and obviously does nothing productive. All he does is tattletale and spread hate while pretending to be polite. He obviously hides behind his academic credentials to mask his sectarianism and hypocrisy while making money on the side working for a totalitarian regime. I can understand why some people are afraid of him and the cyber army behind him. I advise them not to take him seriously and argue with him from fake accounts to sidestep his cyber harassment strategy and his tiring bad faith arguments.
Prof Abu Khalil was contacted by one of our staff members but he refrained from commenting.
The opinions expressed are those of the author only and do not necessarily reflect the views of NOW.