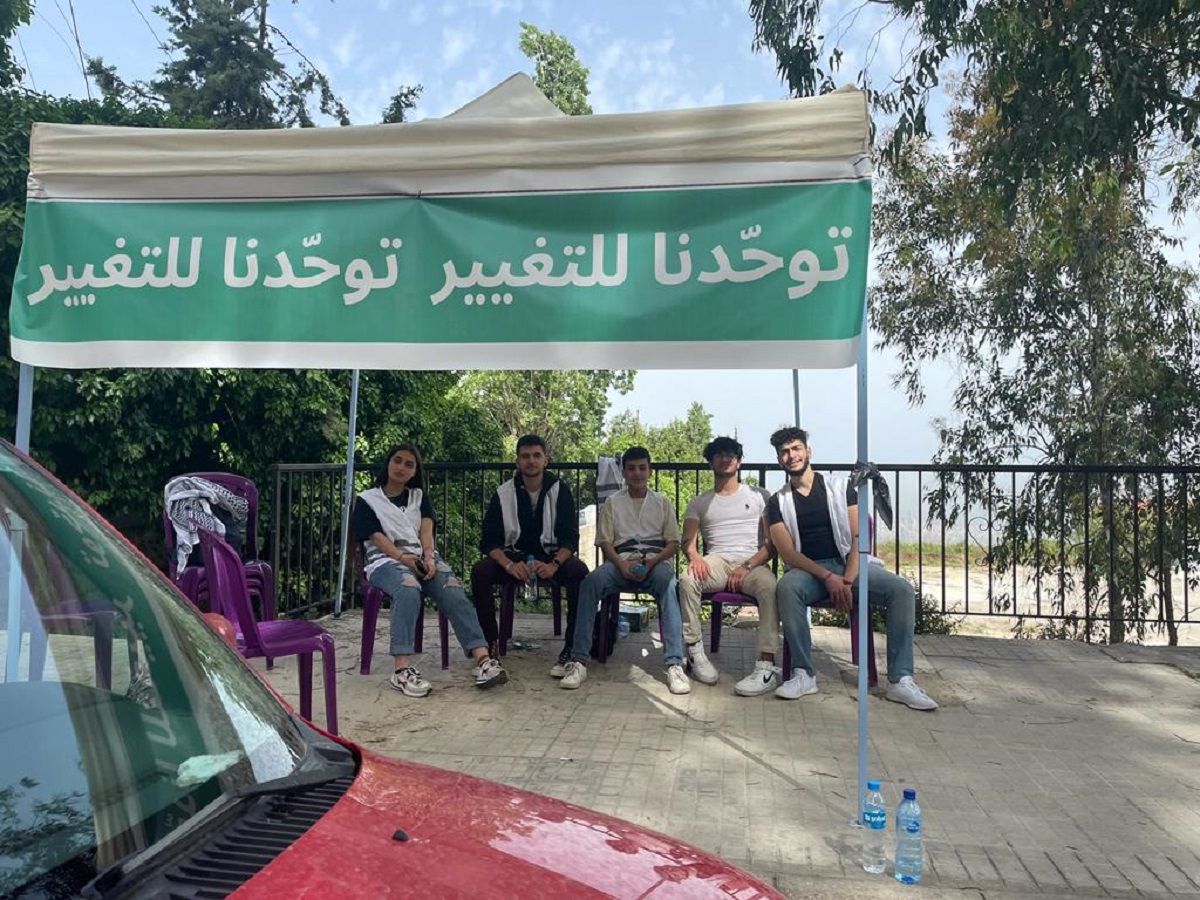 Supporters of the Progressive Socialist Party in Aley. Photo: David Isaly, NOW.
The final results are out. Mark Daou, Taqqadoum's candidate who ran on the United for Change list, has captured the establishment's Talal Arslan's seat in Aley.
Much like other parts of the country, the parliamentarian race in Aley was a battleground between the establishment and the opposition derived from the October 17 uprisings, but there was also competition within the establishment itself.
The PSP and the Lebanese Forces (LF) squared off against Arslan's Lebanese Democratic Party (LDP) and the Free Patriotic Movement (FPM), both of which are members of the pro-Hezbollah March 8 coalition. The opposition fielded a number of lists, with the most prominent being United for Change (Twahadna Lil Taghyir).
United for Change was composed of candidates from a variety of parties and backgrounds, mainly pulling from groups that took part during protest movements in 2015 and 2019.
Daou's victory in Aley occurred due to a variety of factors, but it is important to focus on three crucial points: his appeal to a wide swath of Aley's electorate (especially among the diaspora), the general unpopularity of his opponents on both the right and left, and the tacit support he received from the PSP and LF.
From Ottoman feudalism to a modern Lebanon
Where Ottoman generals once sat and gazed upon Beirut, Aley has always been a religiously diverse hub for trade and commerce. The city is now predominantly Druze, but it is also home to a large Christian and Sunni population.
Historically, the Arslan family was the most politically prominent family in Aley since the 1800s, with Majid Arslan playing a crucial role in the founding of Lebanon as a state in the first half of the 20th century. Though the Arslans dominated Druze politics following independence, their power was quickly usurped by Kamal Jumblatt and his establishment of the PSP in 1949.
As Nizar Ghanem, the director of research and co-founder of Triangle Consulting, put it, Kamal Jumblatt was simply a more dynamic and charismatic leader than Arslan was, allowing him to gain the support of prominent Druze families in Aley, such as the Chehayebs, by the 1960s and 1970s.
Jumblatt, who would meet soviet leaders and was friendly with Egypt's Gamal Abdul Nasser, presented himself as a modern Druze leader, taking hold of the era's zeitgeist and sidelining the more traditional Arslan. He managed to sustain the Druze community but gave it a way out of traditional society.
"There was a new narrative of what the Druze would be," Ghanem told NOW.
Jumblatt's leadership and charisma made him an almost natural choice as the leader of the Lebanese National Movement in the 1970s, which would eventually go to war with Lebanon's right-wing in 1975.
[The opposition] are very annoying for Jumblatt, because they don't strike on his right, they strike on his left. Historically, Jumblatt would rule the left.
This momentum, however, was crushed in 1977, when Kamal was assassinated, and his son, Walid, took control of the PSP.
Walid proved to be an effective political and military leader, winning the Mountain War against the Lebanese government and Lebanese Forces militia following Israel's withdrawal from the Chouf district in 1983.
Since then, the Jumblatt-Arslan rivalry has continued in a new form. After Syria's withdrawal from Lebanon in 2005, Lebanon's political alliances yet again shuffled, with the PSP, which had been allied with Syria, becoming part of the anti-Hezbollah/Syria March 14 coalition.
Talal Arslan founded the LDP in 2001, and it became part of the March 8 coalition, allying itself with Michel Aoun's FPM and Hezbollah.
Mark Daou's victory
An AUB alum, Mark Daou helped found the Taqqadoum party, which means progress in English, in November 2019 following the October 17 Revolution. A political activist since his time in university, he has generally focused on democracy, pluralism, environmental issues, individual liberties, and secularism.
He has worked with many civil and environmental rights initiatives, such as the Lebanese Association for Democratic Elections and Samir Kassir Association. On top of all this, he is a lecturer at AUB, and he also founded the Rawat PR, a public relations consulting company, in 2010.
Mark Daou managed to attract voters from a variety of backgrounds due to his long history in opposition politics and his connections throughout Aley. Even supporters of Arslan's LDP conceded that he was a hard worker and well connected.
Almost everyone agreed that Daou "knows everybody," giving him a wide appeal.
Critically, Mark Daou, as well as Najat Aoun Saliba, did well with diaspora voters, with voters in Dubai, for instance, mostly voting for protest movements in Mount Lebanon.
Indeed, segments of the Druze community, which is an essential element of Aley's electorate, directly participated in the October 17 uprisings. Largely led by the youth, a shifting tide swept Lebanon in 2019, and this tide also encompassed Aley, even with its deeply entrenched political establishment.
On election day, it was clear that Daou's biggest supporters were young people, who were tired of witnessing the establishment rivalry between Jumblatt and Arslan. The visible supporters of the PSP, LDP, and LF were generally people at least above the age of 30, if not older, whereas almost all the supporters for United for Change were young people, with one of their tents being manned by a group of 17 and 18-year-olds.
Another aspect that helped push Daou across the finish line was the general unpopularity of his opponents on both the political right and left, such as the LDP and Citizens in a State (MMFD).
Supporters of the LDP visibly lacked confidence that they were going to win, with one younger supporter saying that their chances were not looking good. Another LDP supporter spoke very negatively about Daou, but conceded that he was well connected and had a good shot of taking Arslan's seat.
He will lose the Arslans, and that will be a shift… because all of a sudden the center of Druze politics has just shifted to the left… All of a sudden Jumblatt is the more traditional voice.
Marwan Imad, a candidate for MMFD in Aley, also spoke negatively about Daou, saying that he was connected to Kataeb and the PSP, but acknowledged that MMFD likely had a better chance of winning in other districts and not in Aley.
The United for Change list was the strongest opposition list in Mount Lebanon IV, as the other lists either did not have much appeal to voters, such as MMFD's Qadreen list, or the candidates on said lists were not associated with actual political movements and were less well known. It is difficult to build support for a candidate when their affiliations and political positions are unclear, such as the candidates on the Mountain Revolts list (Al Jabal Yantafed) and the Sovereignty of a Nation list (Siyedet Watan).
It was difficult to find supporters of these other opposition lists as well, and the only opposition tents present in Aley seemed to be United for Change.
Likely one of the most crucial elements of Daou's victory was the tacit support he received from the PSP and LF. Supporters of both parties showed weariness regarding the opposition broadly speaking, saying that it had been "infiltrated." However, they only had good things to say about Daou, with many calling him a "good guy" and a "hard worker." 
Considering that his candidacy only really threatened Talal Arslan, it makes sense that neither the PSP or LF saw Daou as a real threat.
Interestingly, in late April, a few weeks before the election, members of the PSP tore down a picture of Rania Ghaith, another candidate on the United for Change list in Chouf, and damaged a campaign vehicle for MMFD's list, Kadrin. Rania Ghaith, who also ran in 2018, would have threatened the PSP's two Druze seats in Chouf, whereas Daou only threatened Arslan's seat.
Mark Daou's relative popularity with the diaspora and young people, as well as the PSP's approval of his candidacy, are the most important aspects of his victory. Regardless of whether he won or not, Druze politics, and consequently Aley's politics, are fundamentally different now, and this will present a real challenge to Jumblatt and the PSP.
The future of the PSP
It is important to note that Arslan represented a somewhat controlled opposition to Jumblatt's hegemony over Druze politics. The Jumblatts, and the Druze community more broadly, have always seen themselves as being a progressive community opposed to the status quo.
If not Walid, Teymour will have to do it, will have to have a new discourse in politics, or else he will lose everything. The signs are on the wall.
If Walid Jumblatt had really wanted to, he could have completely removed Arslan and taken his seat in Aley. However, it was more politically useful for Jumblatt to keep Arslan, as he represented opposition from the right, which allowed Jumblatt to portray himself to the Druze community as the more progressive option.
However, as Ghanem pointed out, the new opposition presents a real challenge to Jumblatt, as it comes from the left and not the right.
 "[The opposition] are very annoying for Jumblatt, because they don't strike on his right, they strike on his left. Historically, Jumblatt would rule the left," Ghanem told NOW
It is likely unfair to say that the PSP allowed Daou to win. As Ghanem pointed out, his victory might lead to the ultimate demise of the Arslan family in mainstream electoral politics, which puts Jumblatt and the PSP in a difficult position.
"He will lose the Arslans, and that will be a shift… because all of a sudden the center of Druze politics has just shifted to the left… All of a sudden Jumblatt is the more traditional voice," Ghanem told NOW.
The PSP could have done more to prevent Daou's victory, but chose not to, and this likely indicates Jumblatt's tacit acceptance that the nature of Lebanese politics, at least in Aley and Chouf, is changing.
Though Walid may not be the one to kickstart a transformation within the PSP, it will have to change to survive.
"If not Walid, Teymour will have to do it, will have to have a new discourse in politics, or else he will lose everything. The signs are on the wall," Ghanem pronounced.
Mark Daou likely does not represent the 21st century's Kamal Jumblatt, but his victory is a clear sign that the Druze community is in need of another political transformation like the one it experienced in the 1960s and 1970s.
The PSP has come to a crossroads, and Daou's victory only furthers its now tenuous position. The party will have to shift to the left, but in the long-run, the party's survival may only be salvageable if the Jumblatt political dynasty comes to an end.
David Isaly is a journalist and researcher with @NOW_leb. He tweets @DEyesalli.