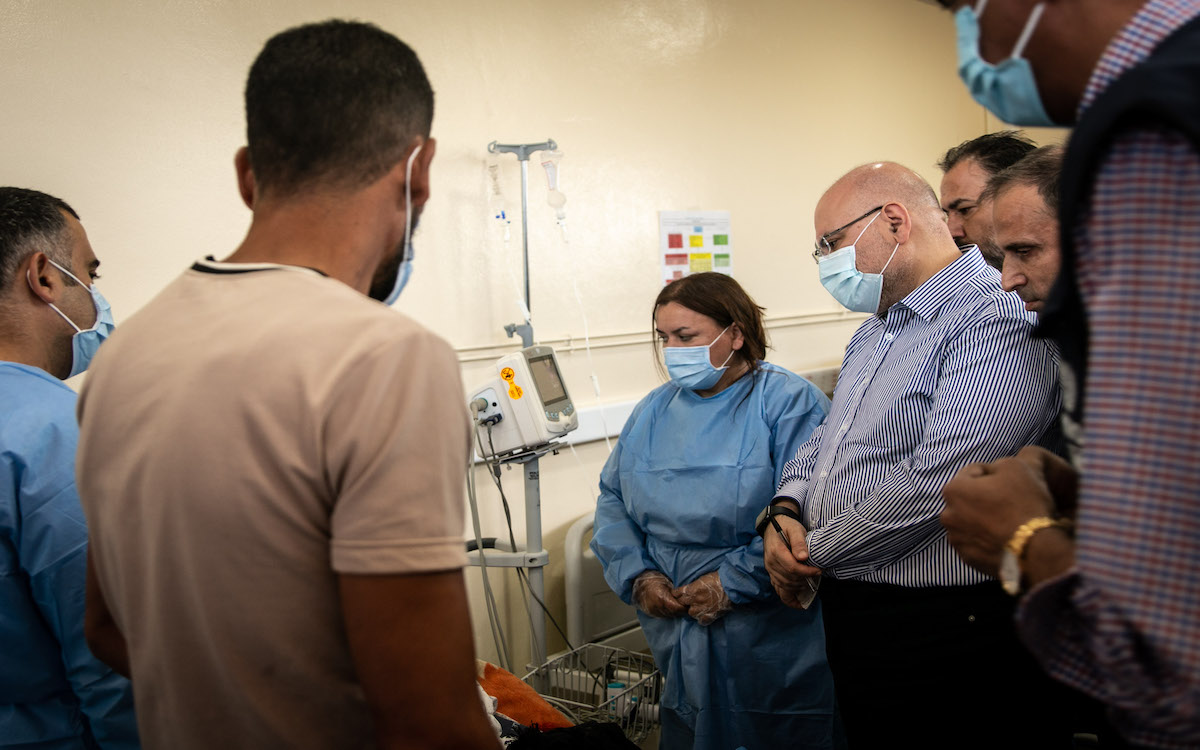 Lebanon's situation is going from bad to worse as Cholera continues to spread across the country, with cases now being reported in nearly all regions of the country, including the capital Beirut and the northern city of Tripoli. The Ministry of Health has registered a total of 718 suspected and confirmed cases and 11 deaths, as vibrio cholerae continues to infect water sources and food.
Akkar, Lebanon's northernmost region, has been particularly impacted. Since the first patient was hospitalized on October 1 in Halba's governmental hospital, most cases have been found there, along the Nahr el Bared River. Yet, their numbers may have been underestimated by the hundreds or even thousands, according to health officials and local NGOs. 
Bebnine, a city of 60,000 inhabitants, is at the epicenter of the outbreak. 
"We treated 200 cases yesterday in our center alone," Kifah el Kasser, the town's mayor and pneumonic doctor at the al-Iman health center, told NOW on Tuesday, October 25. 
He received NOW in his consultation room, surrounded by nurses and doctors, while the clinic was cast into darkness by an electricity cut. Al-Iman is the largest of thirteen public clinics in Bebnine. Its hallways were filled with patients waiting to receive treatment. 
"Thankfully, we get sufficient supplies from NGOs and the UNHCR," the doctor-mayor said.
Bebnine counted at least 1,200 patients for the last week alone, far more than the 44 local cases reported by the health ministry. 
"If you add the clinics of other regions of Lebanon and all those patients who don't get any treatment, there could be thousands of actual cases," Kifah explained.
"Only 10-15 percent of them are reported to the ministry, because we don't have the time and resources to do so," he added. The Health Ministry's numbers only account for hospitalizations and some tests done in water and stool samples.
Costly healthcare
Most patients go to local doctors, pharmacies, and clinics (moustawsaf). These cases may not be recorded by the government. And many more of the infected do not even leave their houses, anticipating high medical fees. 
"Seven members of my family fell ill, including all of my children and myself, but I could only afford to send my wife to the hospital," said Mohammad Awad al Ibrahim, a 60-year-old Syrian refugee in Bebnine. There, refugee camps overlap with fields, greenhouses and decrepit residential buildings – all share the same contaminated water sources.
Most families we visited that day had numerous cases of Cholera in their midst. 
"In every tent and house around here, someone is sick," al Ibrahim said. In one single day, NOW encountered dozens of patients, young and old, Lebanese and Syrian, men and women alike.
Like many others, al Ibrahim suffered from severe diarrhea for ten days and preferred to stay at home. A visit to the doctor costs around 700,000LL (around $20) and admission to a public hospital's emergency service is around 500,000LL (around $14) – when most wages in Lebanon are around one to two million LL (around $30-60). 
"We can barely afford the rent for the tent," he muttered.
The sewage flows into the neighboring fields. I've asked UNHCR and the municipality to collect it, but they say it's too far away and won't come.
The health ministry pledged to pay for all Lebanese patients receiving treatment at governmental hospitals, along with the UNHCR which assured coverage for Syrian nationals. Yet, the rules and procedures remained quite unclear on the ground, and most patients NOW met were asked to pay sums of 200,000 to 700,000LL (around $5-20) for tests or admissions. 
Scenes of chaos unfolded at Halba's government hospital, the only one in Akkar. 
"I brought my sick wife to the emergency service, and some doctor told me I had to pay for it, even though I'm Syrian – but I can't" exclaimed Malek, a refugee NOW encountered in the hallway! "Should I go beg in the streets?"
"Don't worry, the UNHCR will pay for you, just go to the NextCare office at the entrance," replied a security guard.
 "My wife fell down and was shaking and I rushed here, so I forgot my papers at the camp!" Malek replied. Shouting ensued, with the security finally showing a panicked and angry Malek the way to the UN office.
Minister's visit 
Further down the same hallway, a group of people, Syrian and Lebanese alike, were waiting with their ill relatives in the emergency room. In one room, two men were laying down, weakened by hours of constant diarrhea and vomiting. 
"I don't know where I got this from, but when I arrived I was close to death," Mustafa Zabad from Bebnine told NOW. 
His skin had turned yellow, his eyes sunk into their pockets. "It's getting better now, but I haven't slept for 52 hours," he stated – as there was no space upstairs, Zabad was still in the emergency, two days after his admission.
In the next room, three women and one child were waiting for more IV fluid in a stench of vomit and stool. The child had not been given any diapers, so his mother tried to wrap him in medical cloth – they only stayed clean for a few minutes. After every new vomiting or defecation, she disinfected the bed with hand sanitizer, but the smell remained.
Outside, construction workers were drilling a wall. "I haven't been able to get any rest since I arrived last night, and I haven't even been given any food," one young patient, clearly exhausted, tried to yell, her eyes tearing up. 
One new patient arrived. "We were refused at many private hospitals before landing here, and Minnieh government hospital was full too," the relatives of Shadia, a 42-year-old Syrian refugee, told us.
All of a sudden, a huge commotion: Black SUVs parked in front of the hospital. Firas Abyad, Lebanon's caretaker health minister, entered the emergency room. Surrounded by bureaucrats and NGO personnel – UNICEF, WHO, UNHCR – he visited its patients. The child was moved upstairs, the room hastily tidied up and the drilling stopped. 
In a press conference, the minister pledged to provide five million chlorine tablets to inhabitants, as well as vaccine doses to the staff of Halba's hospital, which is "the first line of defense against the epidemic." He also called for better infrastructure to guarantee clean water to the region's inhabitants.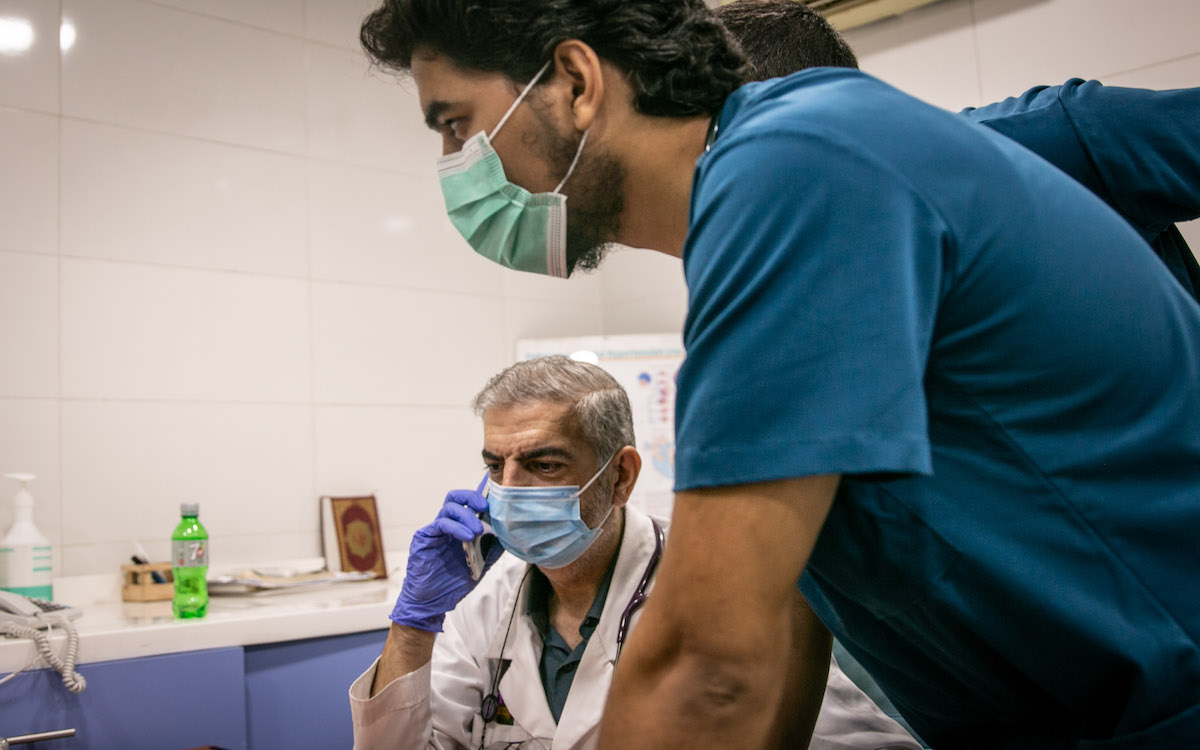 On the frontline
Halba's hospital is bearing the brunt of the most severe cases. Last Friday, it had admitted more than 120 patients to its emergency services. Mohammad Khadreen, the hospital's director, confirmed to NOW on Saturday, October 22 that three patients had died there because of cholera, out of eleven nationwide. 
"Until now, we have been able to expand our capacity and to keep up with supplies thanks to many NGOs helping us," he said, explaining that the hospital had added 20 beds to the existing 30 which had been requisitioned for cholera.
During NOW's visit on Saturday, both the emergency service and the first-floor rooms were filled with patients: 12 in emergency and at least 35 in intensive care. 
"Most arrive here in critical condition, with dramatic diarrhea, severe dehydration, under choc. We stabilize them with IV and rehydration solutions, most leave the hospital within a few hours," one nurse told NOW.
Sanitary conditions
Enas, 3, was not so lucky. The Syrian girl had been admitted on Wednesday afternoon and was transferred to a room on the first floor later that night. She had been there for three days now, her eyes pocketed and her body weak. 
"She still has diarrhea," her father, Khaled Jouda, told NOW. "They did two tests, but we don't have the results yet. I don't know what's taking them so long," he criticized. 
NOW met him in the hallways as he was trying to gather information about his daughter. Later, he returned to his tent made of UNHCR tarps and wood in Bebnine camp 018, where he has lived for a few months. "My other daughter also has cholera, but I cannot afford to bring her to the hospital – so I have to leave her alone for a few hours every time I visit Enas," he told NOW in his tent's living room.
They say they will help us, but in the end, all they want is to get money. They are liars and will never do anything for us.
He suspects that his water tanks are contaminated. "A guy comes with his tractor and fills them up, I don't know if his water is clean or not even though the UNHCR affirms so… I don't know what to believe anymore," he said with disbelief. 
Five of his relatives in neighboring camps had fallen sick as well, and he knew of fifteen other patients in the vicinity. "If you look at our toilets, you'll understand," he muttered while showing NOW his UNHCR latrines – a simple hole in the ground, four by five meters, underneath a small wooden shack. 
"The sewage flows into the neighboring fields. I've asked UNHCR and the municipality to collect it, but they say it's too far away and won't come," Jouda bemoaned. "No one helps us, really. My children have to collect plastic waste for a living since my back is hurt and I cannot work anymore," he told NOW.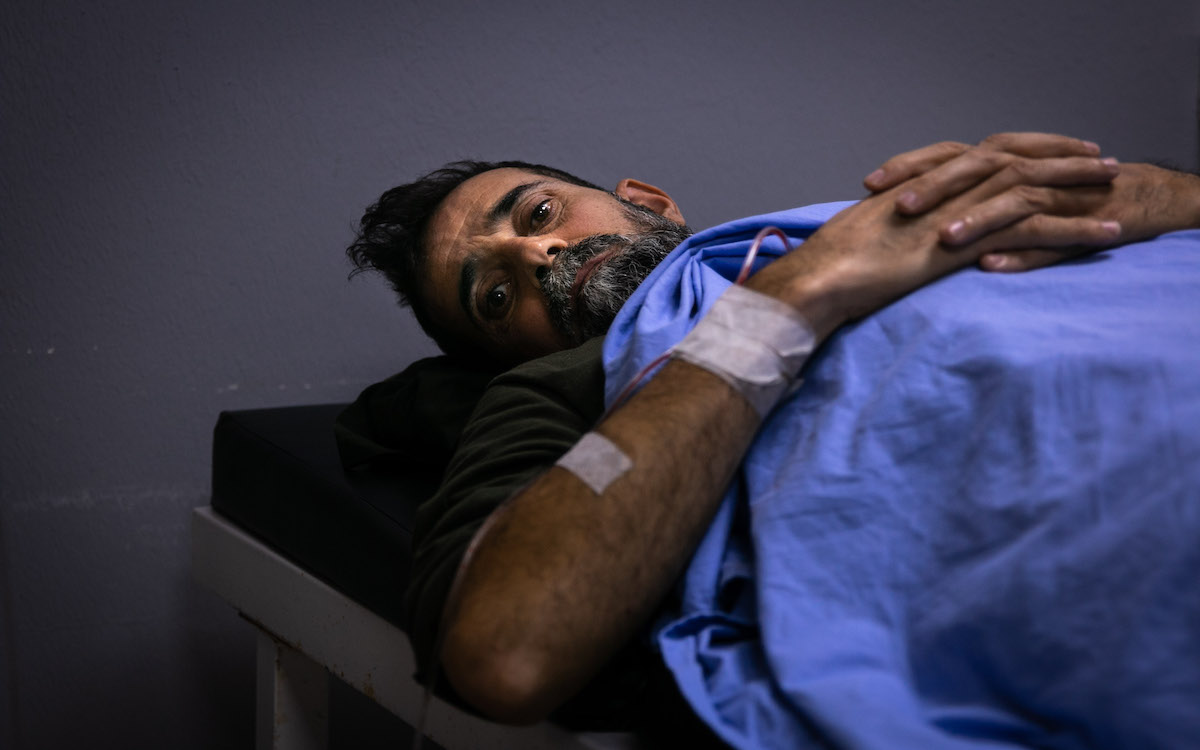 Combating cholera… on which front?
In the camps NOW visited, most Syrian refugees were painfully aware of what personal hygiene measures they could take to prevent cholera from spreading. Many told NOW they boiled their water for fifteen minutes, even if it meant spending a lot more on gas, and that they were afraid to eat fresh fruits and vegetables. 
This week, the government promised to reactivate Nahr el Bared's upstream pumping station, so as to provide clean water to inhabitants of the Bebnine area. All over the country, people reported getting instructions to clean their water and fresh food with chlorine drops, as the WHO, the Red Cross and local NGOs mobilize to raise awareness.
But it remains unclear how effective such measures will be in the absence of affordable medical healthcare and proper public infrastructure in a country plagued by the worst economic crisis in recent history. 
In Akkar, distrust towards the government and health institutions runs high due to the area's historic marginalization. 
"They say they will help us, but in the end, all they want is to get money. They are liars and will never do anything for us," one Lebanese patient at Halba hospital muttered as the minister walked past. 
"In Syria, cholera is spreading because of the war. Here, it is a war of the government against its people," said Qyada Ahmad Murrah, mother of Rawan, one hospitalized child. "My daughter almost died because of this," she added.
Akkar is known as one of Lebanon's most disenfranchised regions, with a 92 percent poverty rate, the country's highest unemployment rate, little to no  public electricity, and many houses remain without flowing water. 
As long as inequalities remain dramatically high between regions, and as long as no mechanism of redistribution from Beirut to the country's peripheries is put into place, epidemics such as Cholera may not be the worst plague that Akkar will have to face. 
Philippe Pernot is a journalist and photographer with NOW Lebanon. He studied political science in France and Germany, and he focuses his work on social movements such as feminism, ecology and anarchism, as well as on minority rights and discrimination. Follow him on Instagram.