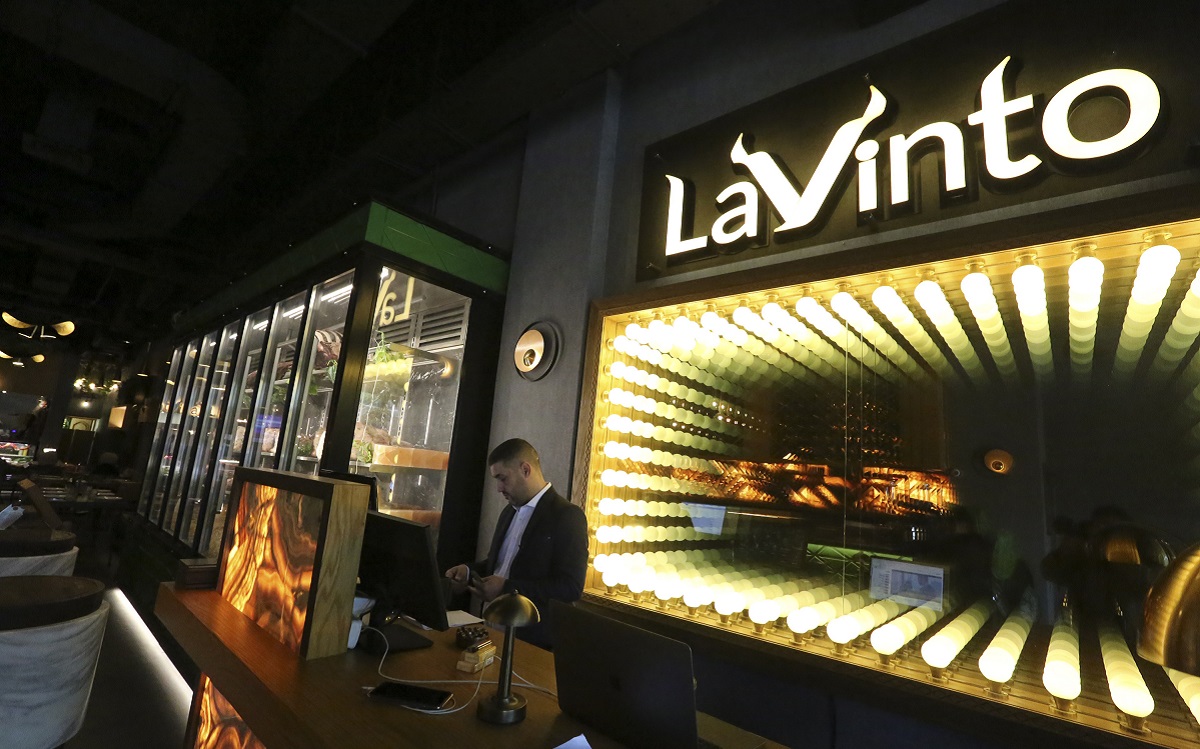 Lebanese restaurant owner Akram Johari works at his restaurant in the Iraqi capital Baghdad. Once synonymous with conflict and chaos, Iraq is becoming a land of opportunity for Lebanese expatriates fleeing a deep economic crisis back home Photo: Sabah Arar, AFP.
Right after NOW's Dana Hourany finished her long research on electoral campaigns and the lack of any consistent policy debate ahead of the May 15 elections noting that neither Hezbollah nor its ally the Free Patriotic Movement, had launched any campaigns, this happened.
Hezbollah started posting its electoral promises on social media on Friday, April 1. The Party of God shared posts of its political program as part of its online campaign "We're staying to protect and to build." The group has a well-done, serious social media strategy: some solid graphics and a good method to break down policies. If only the content wasn't …well, too unbelievable.  
The electoral program Hezbollah advertises promises to build a railway system, allow better access to healthcare, improve agriculture, and improve the economy and the judiciary. Hezbollah even says it aims at investigating the port blast case and the Tayyouneh clashes case. 
They also want to strengthen and develop the Lebanese University, encourage the youth to remain in Lebanon, and give women more rights – "especially in politics". 
It sounds like it was taken from the democratic socialist manual, doesn't it? Not quite.

If one looks at the Party of God's policies in its own "state with the state of Lebanon," it is very much obvious that their style of governance has nothing to do with rights, but more with loyalty. Hezbollah has been providing only for the loyal, and it doesn't tolerate criticism from inside the Shiite community. It was born, after all, as a Shiite Islamist organization, and that has nothing to do with democracy and protection of anyone's rights, despite the fact that it capitalized on the absence of those rights in the Shiite community back in the 1980s.

Yes, unlike the rest of the Lebanese parties, Hezbollah has a record of having rebuilt a neighborhood and much of the South, which was destroyed in the July 2006 war. But when one looks closer, none of the people affected by the war got to decide how their homes would look like. The Party decided for them: where to build and how to build. Its idea of urbanism was quite rooted in its security and control inclinations rather than providing for the people.

And beware of Hezbollah's definition of justice. We now mourn many of those who dared oppose the Party and its allies. 
Reactions: Hezbollah's "women's rights advocate" tweets were met with quite the disdain by many Lebanese Twitter users. 
"You guys waited for the elections to care about women? You've been in parliament for 30 years" one user wrote. 
Others were asking if the electoral Twitter account was a "parody" account. 
The Party also announced it had donated $18,169,990 for the people in South Lebanon and that it took care of waste management in the southern suburbs of Beirut. 
They also wanted to remind the voters in the Bekaa Valley that the Party has invested $883,190 in education in their region. Again, Twitter was not having it.
"It seems like it's true that your aid was just bribery for the elections," one user wrote.
Elections in the dark: The possibility that Lebanese electoral commissions will have to count votes at candlelight on May 15 is not farfetched. 
Lebanon's electricity company is charging $16 million to supply power on the day of the parliamentary polls. The amount exceeds the overall election budget by nearly 30 percent, Interior minister Bassam Mawlawi said.

The final lists are out: The Ministry of Interior published the final lists per electoral district. You can find them here, in Arabic. The deadline of registration was last night, at midnight, and 101 lists were registered. If you want to know more, your best shot is Murasha7i, an app that is also active in  Libya and Iraq, which has compiled aggregated lists of candidates per party, per sect and per district. We are not advertising it, but it is useful, it's free, and it's your best shot at making sense of Lebanon's electoral mess. 
Tough for the secular opposition: Negotiations were intense among the opposition's ranks and the struggle was real. The reason is that the Lebanese electoral system obliges one to abide by the sectarian quotas per district. In many districts, secular opposition lists were unable to find enough members of a certain sect, so they had to give up running for certain seats.
For instance, if an opposition group needs to run in the Chouf district, it needs to have a certain number of Druze and Christian candidates. If your secular group cannot find enough Druze candidates, it can register, but it will have to give up a number of seats reserved for the Druze sect.  
Unmaking lists: Lihaqqi, a left-wing group formed in 2018 and consolidated during the October 17, 2019 protest movement, decided on Monday, hours before the registration deadline, to withdraw their candidates from the lists running in Baalbek, Chouf-Aley and Beirut II. The reason, they say, is that their coalition partners are using "sulta" tactics in the campaign: clientelism, pushing women out of lists, personal benefits out of campaigns. The movement's candidates were running on an united opposition list in Baalbek, in Chouf and Aley together with Al Taghyir and in Beirut II together with Beirut Tokawem. 
Li Haqqi's candidates in 3 major districts in #Lebanon are stepping back [Baalbak, Al Shouf Aley and Beirut 2]. They will not be running with other newly made coalitions and explain that this is due to 'traditional tools' that members of the coalitions are using. https://t.co/YKjZZwXfDi

— Luna Safwan – لونا صفوان (@LunaSafwan) April 4, 2022
Justice
20 months: The families of those who perished in the Beirut blast marched through Beirut to mark 20 months since the disaster. The city of Beirut and its residents will bear the marks of the port blast for many years.
20 months later I am still treating patients traumatized by the Beirut explosion. Beyond the dead, injured and their relatives, there are thousands of victims with psychological consequences from that day. The lack of answers and justice is a factor in preventing their recovery.

— Joseph El-Khoury (@JEK_Psych) April 4, 2022
In other news
A much-expected visit: Pope Francis is set to arrive in Beirut in June. 
Emigrating to Baghdad: More than 20,000 Lebanese citizens arrived in Iraq between June 2021 and February 2022, excluding pilgrims visiting the Shiite holy cities of Najaf and Karbala, according to the Iraqi authorities, quoted by AFP.
Lebanon's ambassador in Baghdad, Ali Habhab, told the news agency that movement from Lebanon to Iraq "has recently multiplied". There are more than 900 Lebanese businesses now operating in Iraq, the majority of them in the restaurant trade, tourism and health, Habhab said.
In particular, there have been "dozens of Lebanese doctors who offer their services" in Iraqi hospitals, he said.
IMF visiting:  An International Monetary Fund (IMF) delegation kicked off talks in Beirut Wednesday as part of a two-week mission aimed at securing progress towards funding for Lebanon.
Capital control: Last Wednesday, the parliament finally adopted the Capital control law, but it is not what one may think, according to Megaphone. 
View this post on Instagram
Off the hook: Judge Ghada Aoun lifted travel bans against BLOM Bank and Audi Bank chairmen, Naharnet reported.

Fighting in Tripoli: Several people were killed and others wounded in a series of armed clashes in the neighborhood of Bab el Tabbaneh. L'Orient le Jour reported it was a family feud. 
Macron is back: French president Emmanuel Macron, the artisan of a failed plan for the recovery of Lebanon, told Le Monde in an interview that he did not give up on the country. "We need to continue to take action and invent solutions" he said. 
Lebanon+
Looking to the stars: Lebanese researcher Elias Aidi made history for his home country by being the first Lebanese to receive a NASA Hubble Fellowship so that he can further develop research after making a proposal to the American space agency.
33-year-old Aidi, originally from Tripoli but now teaches at Michigan State University, will look at the atomic and nuclear physics related to stellar explosions which would help to expand theories on atomic and nuclear physics, potentially applicable on Earth if the theories are proven.
Podcasts: For this week's iteration of The Beirut Banyan, Ronnie Chatah spoke with Minteshreen's Jana Massoud and Ghiya el-Assaad about the party, why they are only running in the local municipal elections, as well as divisions that have emerged amongst October 17 groups and parties.
Sarde After Dinner, or rather Sarde (After Iftar), saw Bilal Orfali, a scholar in Arabic literature, Quranic studies and Sufism, sit down and break down the mysteries of the mystical Sufi.
Many thanks to Nicholas Frakes. 
Till next Monday, follow NOW Lebanon on Twitter, Instagram, Facebook, and LinkedIn, and subscribe to our weekly newsletter. And stay safe.