Lebanese people sit with their laptops at a cafe in Beirut. The music is often hushed and the atmosphere studious -- for the patrons filling Beirut's cafes these days, the most important things are good lighting and stable wi-fi. That's because they now serve as substitute workplaces for people grappling with drastic electricity shortages and internet cuts stemming from Lebanon's unrelenting economic crisis. Photo: Joseph Eid, AFP.
It was an intense week on so many fronts. Elections are approaching, alliances are made, unmade, and remade. Some candidates have launched their campaigns, while others are struggling with internal fights.

In terms of elections, a lot has been happening on social media rather than in the mainstream outlets. Some candidates and parties get air time on television channels, mostly the more established sectarian ones. Others, mostly the opposition groups and emerging parties (registered or not), are announcing candidates, fending off internal differences, and reaching out to the diaspora voters especially on social media channels.

They have no other choice, in fact.

Social media platforms – especially Twitter and Instagram – are the environments where one finds a side of Lebanese society and its political expressions that are not really present in the mainstream media which prefers established, vetted and often patriarchal expert and political figures.
For anyone who is looking for a debate, the good stuff unfolds on socials. There are many, many in Lebanon who do not tune in to Twitter spaces, who do not seek debates, and who only worry about what they put on the table the next day. Those are the communities where the opposition groups have little access. 
And yes, it is a question of class. Progressive political movements – everywhere, not just in Lebanon – are overwhelmingly middle-class-generated currents. Even when they lean on the left side, they're still generated in the middle-class. That is where educated people who have the financial respiro to think about political changes, corruption, human rights and access to technology do generate change because they have the resources to think about change. That's the biggest challenge the opposition needs to face: to reach out to the disenfranchised and include them in their projects. 
Inevitably, young movements make mistakes, and that is basically a good thing. Especially when they accept scrutiny, when doubts are voiced without fear, when there is a process, a constant debate and proof can be brought to light and discussed freely. 
The embezzlement allegations that have surrounded Baytna Baytak, a humanitarian initiative linked to the Minteshreen political group, have definitely taken the spotlight of late. 
The initiative was born out of the need to secure accommodation for medical personnel during the early 2020 COVID-19 crisis, and later took on more humanitarian projects. But recently, two members of the organization's board resigned, accusing one of the other members of embezzling donor funds. 
The question of how ethical it is for political group members to also work or head nongovernmental organizations and charities also rose in the debates. Especially since for decades, sectarian political parties have used their charities to ensure votes. 
The debate continues. Follow Luna Safwan's Instagram account to keep the pace with the young politicians and activists. She went live with two activists accusing Beytna Baytak of embezzlement, questioning the relationship with Minteshreen and other NGOs of the same network. She also spoke to Minteshreen's secretary, Samer Makarem.
The exercise has been so far nothing like Lebanon has ever seen in a long time in terms of political debate, scrutiny, transparency. And that is a big deal. Beyond the normal quarrels, "new kids on the bloc" will not compromise on values and that is a relief for us, who will have to rely on them during our old age. This electorate is much more demanding, less willing to compromise, and it cannot be silenced. 
Elections are coming
No change among the elites: Hezbollah, the Free Patriotic Movement and the Amal Movement are going to the polls together, they made the official announcement over the weekend. NOW's Nic Frakes wrote a piece at the beginning of the year to explain why this should not surprise anyone, despite FPM leader Gebran Bassil picking on the Amal Movement and asking for a reassessment of the pact with Hezbollah.
Some opposition groups launched candidates:  Sahluna Wal Jabal coalition, an October 17 group, launched its electoral campaign in the western Bekaa and Rashaya. Beirut Tuqawem (Beirut resists) launched the campaign from the Corniche in the Lebanese capital on Sunday. 
(No) justice
No investigations into assassinations:  Human Rights Watch accused Lebanon on Thursday of "flawed" assassination probes, and urged donors to review millions of dollars in aid to security forces in a country where crimes often go unpunished.
The Beirut blast investigation: The families of the Beirut blast victims took once again to the streets on Monday to demand the unblocking of the investigation. 
Money
A serious plan: IMF Managing Director Kristalina Georgieva said last Thursday the fund would only support a "comprehensive program" for Lebanon that would tackle all the country's ills, including corruption.
She said the Washington-based crisis lender was negotiating over a budget proposal that would address Lebanon's banking sector and "reforms that the country needs including more transparency for what the government does."
A Twitter space:  On Sunday night financial journalist Omar Tamo hosted a twitter space together with analyst Mike Azar to discuss financial recovery and the central Bank dollar infusion into the economy that has brought the pound up to 20,000 LBP/$ from 30,000 LBP/$. Spoiler: the news is not good. 
France and Luxembourg investigating: Both countries have asked Lebanon for information on central bank governor Riad Salameh's accounts. Speaking from experience, they will probably wait for a long time to get that info. 
In other news
Back to Baghdad: Lebanon returned on Sunday 331 tablets bearing ancient cuneiform script back to Baghdad. The artifacts came from the Nabu Museum in northern Lebanon. The returned pieces came from private collections, most notably that of Jawad Adra, husband of former Lebanese defense minister Zeina Akar. His private collection includes some 2,000 pieces, according to the museum catalogue.
The bad, bad foreign NGOs: Particularly those foreign NGOs that "have an agenda" to infuse local communities with "subversive" liberal ideas related to political and economic emancipation, critical thinking and, God forbid, human rights, freedom of expression and access to information.

We're pretty familiar with the whole right-wing denigration campaign directed by right-wing governments and groups in Central and Eastern Europe against George Soros and Open Society Foundation a few years ago. It was partly based on Russian disinformation campaigns feeding conspiracies, and was taken to the mainstream by Hungarian PM Viktor Orban when he decided to close down Central European University and ban gender studies altogether because the university was funded by Soros and was teaching liberal democratic values like rule of law and anti-corruption.
The technique was quite simple: demonize a character and then associate everything you want to discredit with that character. 
It looks like it is Germany's turn to become the focus of this type of discourse that is disseminated in circles that are still tributary to Arab nationalism. Germany is, according to this particular series of articles in Al Akhbar, an ally of George Soros, working to spread liberal democratic values through the subversive ways of soft power. No, it is not a joke, neither sarcasm. This series of articles is mesmerizingly dadaist and could definitely be the subject of someone's master's thesis someday.

This article here says that Heinrich Boell Stiftung, for instance, has committed the capital sin of having sponsored or worked with the Legal Agenda, Megaphone and Daraj. The foundation also has social media accounts advertising its projects, the piece "reveals". 
Turkey in: Ankara decided to lift a ban on importing scrap metal from Lebanon during a visit of PM Najib Mikati to Turkey.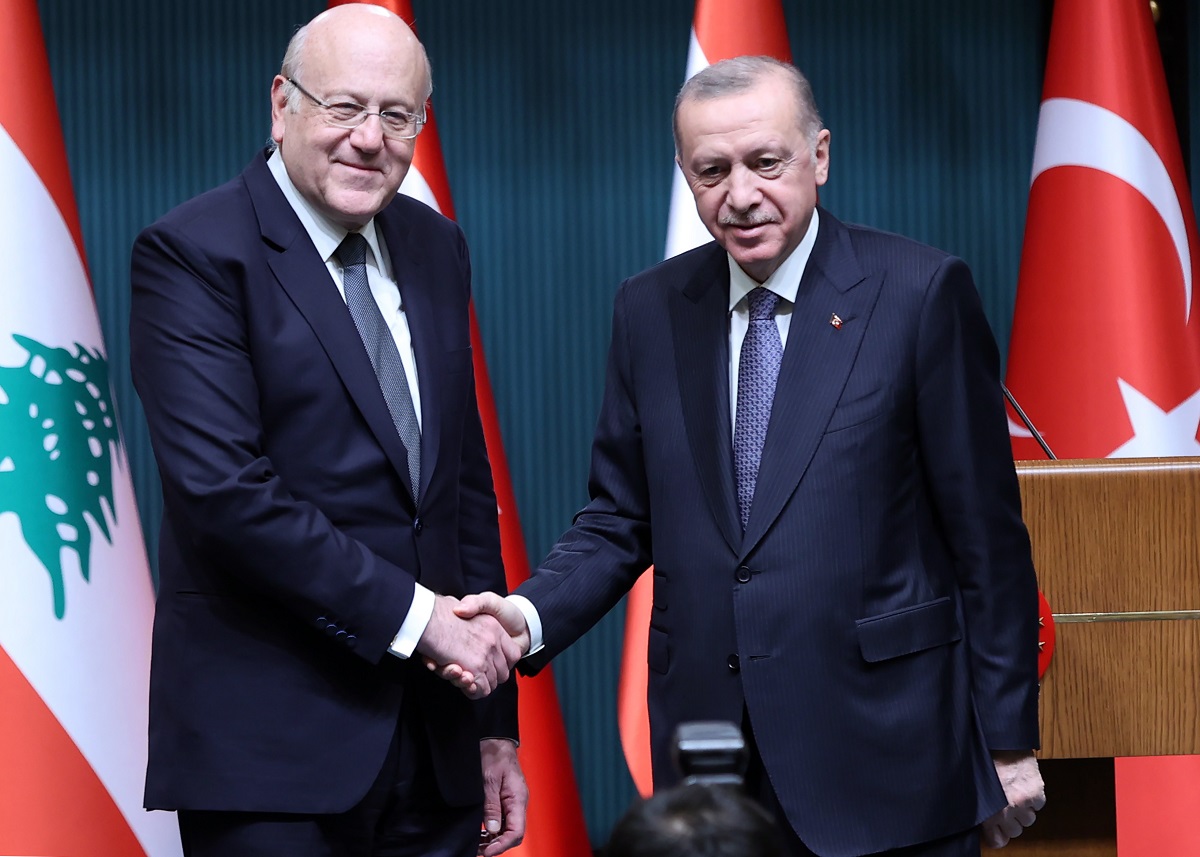 There is way more than meets the eye when it comes to Turkey and its soft power in Lebanon. Yes, I said soft power, although it is not a context Erdogan's Turkey is mentioned much. But when a large portion of the middle class is relocating in Istanbul because of the relaxed visa and residency regulations (to the extent that one entire neighborhood of the city becomes "little Beirut") and when most things you can still afford to buy in a Lebanese supermarket are made in Turkey, we gotta talk soft power, beyond the soap operas.

Turkey has had its strategy in the Balkan countries, also former Ottoman provinces where the cultural traces of the former empire are still deeply embedded in local societies. Read this good bird's eye view of what has been going on in the Western Balkans – and why alarmists were probably wrong – here.

(And it is funny that most people, when they talk about colonialism and cultural imperialism, only look at France and Britain, but never look at Turkey, a hegemon that has left far more cultural traces on all of us, from the Danube all the way to the Chouf.)

We'll keep an eye on Turkey and so should you. It may be far from taking over the world (or Lebanon), but there will definitely be some interesting dynamics developing from there. 
Speaking of France: Macron is flying to Moscow to try to solve the Ukraine crisis. As mentioned in quite a few other briefings, France is Lebanon's best chance at putting its plight on the international community's agenda, regardless of the past. Macron's push for a more active foreign policy and his attempts at spearheading the European Union's presence in international affairs has been quite obvious.
However, voices at home seem a bit distrustful of his plans and his chances to actually turn them into reality. In a most comprehensive and straight-to-the-point analysis, AFP's looks at Macron's foreign policy failures. And one of those failures is Lebanon. Read it here. 
Lebanon+
The talk of the social media town was for the past week the Baytna Baytak controversy. But one could not overlook the immense solidarity of the Lebanese social media sphere with the tragedy that took place last week in Morocco. There were also some really bitter conclusions:

In Morocco a kid fell in a hole and they literally carved a mountain trying to get to him while in Lebanon people were under rubble and they stopped for the night to continue in the morning. Ayre b hek balad khaye

— Danny Zahalan (@DannyZahalan) February 5, 2022

Podcasts:
Ronnie Chatah sat with Monika Borgmann, Rasha al Ameer, and Salma Mershak for an episode of The Beirut Banyan in the memory of assassinated intellectual Lokman Slim. Watch it here.
On Sarde after dinner, Medea Azouri and Mouin Jaber talk about the podcast, how they started at the beginning of the pandemic – during Covid Alfa, as Medea calls it – and accidentally record what seems to be a celebratory shooting in Beirut. Watch them here. (Disclaimer: Mouin is wearing sweatpants, which creates a very homely atmosphere, and Medea's son, Raphael, makes an appearance.)
Till next Monday, follow NOW Lebanon on Twitter, Instagram, Facebook, and LinkedIn, and subscribe to our weekly newsletter.