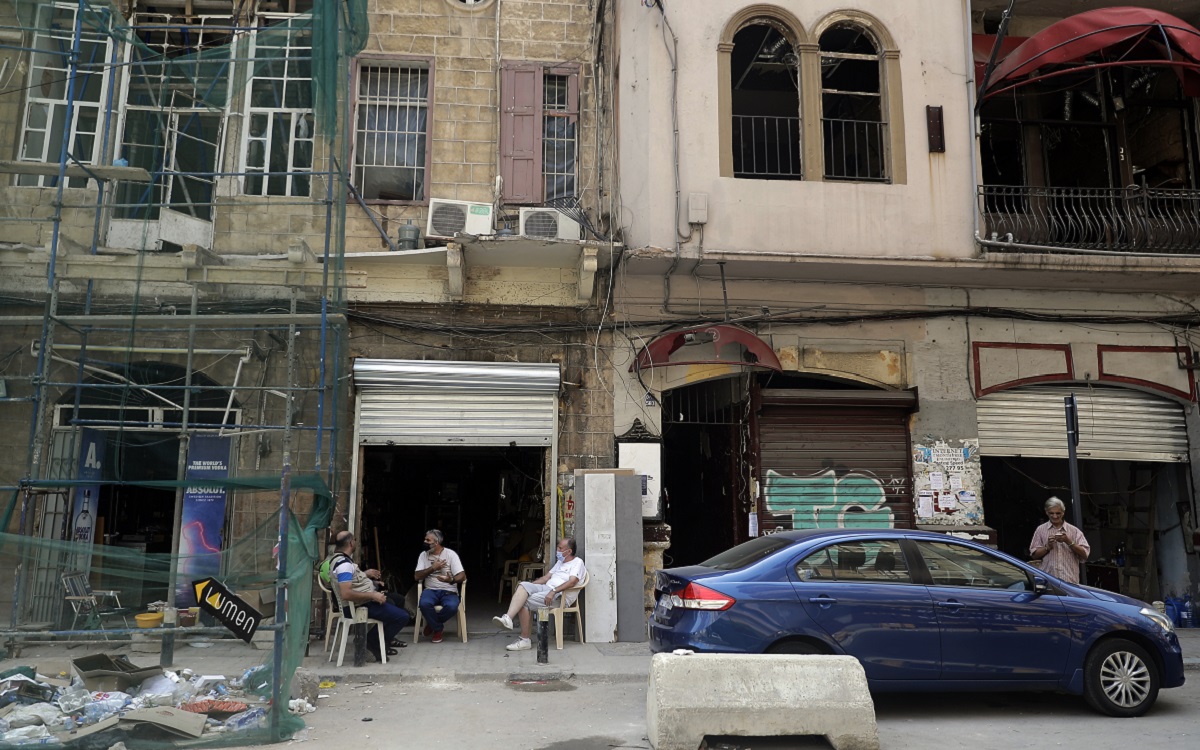 Lebanese men smoke water pipes as they sit at the entrance of their shop in Beirut's Gemmayzeh neighbourhood on September 3, 2020, a month after the August 4 port explosion that killed at least 191 people, wounded more than 6,500 others and ravaged swaths of Beirut. Photo: Joseph Eid, AFP.
More than a year and a half after the Beirut blast that was triggered by thousands of tonnes of improperly stored chemical explosives in the city's cargo port, situated only a few meters away from dense residential areas, many businesses continue to experience an array of obstacles.
Rising from ashes in the middle of one of the world's worst economic and financial crises in 150 years is admittedly not painless. 
But for the old small businesses in the country, those that have been open for years and managed to leave a footprint, the stakes were higher. They have been feeding the Lebanese market for ages, their customers equate them with family, and a generational legacy demands to live on.
"Every haircut is a story"
A shard of glass swept, like a sharp missile, past Antoine Akoury's neck that evening on August 4. It hurtled through the air and ripped through the shop's indoor barbershop sign which has been since replaced by a billboard-sized banner flashing the establishment's name "Hallak el-Shabab"—"The Youth's Barber"— and the words "every haircut is a story" on top of a mighty portrait of the "King of Rock and Roll", Elvis Presley.
"I could have died," Akoury said. 
It was not the first near-death experience for the 57-year-old ex-civil war combatant who said he defended his homeland during the 1970s and 1980s  "events" in Lebanon. The man, who reverted to the broad term "the events" to refer to the country's civil war, as many do in the country, fought on the predominantly Christian eastern Beirut front where he often put his barber skills to work and gave his fellow militants hairdos at the line of demarcation separating Muslim and Christian factions.
Akoury sits at his desk in the right corner of his humble hair salon that has been open since the last century in Mar Mkhayel, Beirut, and which offers haircuts and cosmetic services for both men and women. Antique tiles of color variations and patina that have an aged worn hue embellish both the floor and walls, two red retro barber chairs are nestled before, and reflected in, its mirrors. Bullets of various types and calibers, an assortment collected by the barber during the war, are displayed on one of the shop's shelves.
"I started working in this business in 1979," the barber said. "I was 14 years old at the time." 
Akoury's dad had died in 1973 followed by his mom in 1976, when a missile struck her in the head. Refusing to be a burden to his brothers, he decided to halt his studies and start working at the salon.
The business has been passed down from the grandfather to the father, and then to the son. It's where many of the surrounding residents met, made friends, and even negotiated business deals. They habitually huddle on the shop's sidewalk and have a coffee and a chat.
"The people that come here, they don't come as clients, they come here as friends," the barber asserted.
"I decided to reopen the hair salon because this shop has been here for decades, and many people know it," Akoury said. "I believe one should stick to the continuity of life. In the civil war we were soldiers defending our country, today we are soldiers in our persistence."
A whopping 85 percent of enterprises were functioning at a loss after the explosion as opposed to 28 percent prior to the blast, according to the latest report conducted by the U.N.'s International Labor Organization last August. Only 3 percent were generating profits and 14 percent had called it quits.
"We are currently working at a loss, if we close the shop, we're at a loss and if we open and work we are at a loss," Akoury said.
Photo, bomb
The only items that survived Beirut's largest ever explosion in Studio Fouad were the 1950s original negatives and a vintage camera from the same decade. 
"We lost everything… everything was gone," said Bandali Gharabi, the son of the studio's owner.
"The shop is the history of this family, it's the story of this family," Bandali's wife, Roula, asserted referring to the legacy of the over-60-year-old atelier. "A lot of sentiments are present, it's not just pure business for us, and everything blew up in seconds." 
Bandali's father, who first launched his business in Beirut's western central, later moved to the quaint neighborhood of Gemmeyze after the city's center shifted to the eastern flank where he gained the honor of being one of the very first dwellers and business owners in the area. 
He was hollowed out by grief when he saw the studio disfigured by the Beirut blast and couldn't utter a word for several days after. 
The darkroom on the second floor, where he used to develop his images and where he later stored his treasured archives and ancient camera, was, fortunately, the least affected, and he was able to salvage his life's work.
The historic studio is part of the Gholam cluster, which is a congregation of five residential buildings conceived during the Ottoman Empire and formerly named after the Gholam family more than a century ago. Framed black and white portraits taken by Gharabi, the father, of individuals and families, adorn one of the studio's walls from top to bottom.
The same photographs and others were exhibited in galleries in France, the French embassy in Beirut and Sursock museum. 
The precious '50s camera, which has an accordion-like, pleated expandable section and is mounted on a French oak easel, is now displayed at the entrance of the refurbished space, which retains its traditional features following reconstruction.
"We wanted to preserve the studio's heritage nature when we rebuilt, we have a strong sentimental relationship with the shop and that's the only reason that pushed us to reopen after the explosion and despite the circumstances," said Roula, who used to work as a bookshop manager but decided to quit her job and support her husband's ancient family business.
"I've become anchored to this place," she added.
Bandali, who was studying electrical engineering, decided, in the year 2000, to halt his studies, journey through his father's path and endeavor to keep the family business alive. 
First, he started with repairing cameras and later took up the art of photography. The hobby and technical skills were mainly passed down to him from his father.
"I photographed many weddings and worked with Layalena magazine, where I was the photography manager, as well as with Al Balad newspaper and I kept this studio running," 48-year-old Bandali said. 
A broken gem
To jewelry designer, Elaine Hayek, the ordeal felt like he had been toiling away at building a business for years so that something could just, "phwwwhht," Hayek whistled. "Destroy my life, my family's life and my business in seconds," 30-year-old Hayek added.
The designer, who is originally from Homs, Syria, moved to Lebanon ten years ago with "nothing". He ventured into making rings out of copper wires and sea glass he used to collect himself to generate a small income he could support himself and his family with. 
"I used to sell the items I made in expositions on the streets for five and 10 dollars apiece," Hayek said as he keenly retrieved a wooden box in which he saved some of the handmade accessories as a souvenir to remind himself "this is where I started."
It wasn't necessarily a hobby to him but when people started admiring his work, it encouraged him to improve.
His shop is loaded with uniquely-designed handmade jewelry: oval and round pendants, rings with birthstones, amber necklaces, bracelets and brooches of distinctive styles and colors, some with a twisted design and others meshwork. Surrounding the jewelry, is an assortment of random antique bronze and silver objects, such as utensils and old carving machines, that Hayek has been collecting over the years.
The main store area branches into a smaller nook-like space where the designer's workbench lies with all of his tools from pliers, gauges, polishers and compressors that help the marvelous creations come to life.
He buys old jewelry pieces, gold and silver, remodels and then resells them.  
Hayek was petrified and psychologically afflicted after the explosion. He felt apprehensive about returning to the shop as he feared a recurrence of the ravaging event.
The fact that he had some friends abroad who started consistently reaching out to him wondering when he would reopen the shop and start taking orders again gave him a push to get back on his feet.
He started visiting the store. He would open up the doors, sit at his desk and stare at the damage. The next day he would repeat the same thing, until he started picking up damaged items and fixing them, one by one.
"It took me a while to think about whether I wanted to come back and open the shop again or run [away from it]," Hayek said. 
"This shop is me and I couldn't give up on who I am."
Amid a grueling economic meltdown, where the country's currency lost over 90 percent of its value, around 22 hours of power cuts paralyzes the economy, and a record triple-digit year-on-year inflation rate slashed people's purchasing power, demand for goods and services keep experiencing a progressive cutback, and business owners remain in limbo.
Hayek would love to keep the business running for generations but he has a fear of birthing children into such a country.
"This shop has reopened not because I am stronger than the circumstances, but merely because we keep going because we have to," he said. "But to foresee a future for this business? I don't see a future."
"We are trying to contend with the situation as much as possible but it's unknown how long we can withstand if circumstances remain the same," Roula said.
Sally Abou AlJoud is a multimedia journalist with @NOW_Leb. She is on Twitter @JoudSally.

The videos were produced by Dana Hourany, multimedia journalist with @NOW_leb. She is on Instagram @danahourany and Twitter @danahourany.