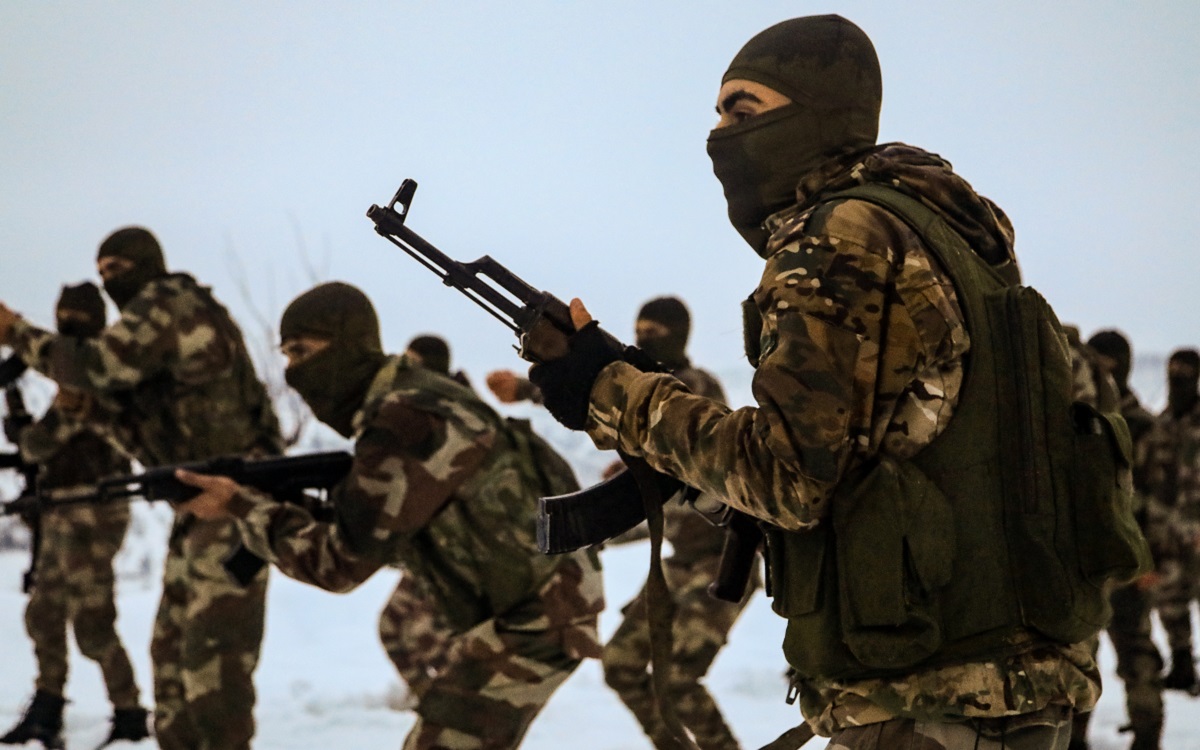 Turkey-backed Syrian fighters take part in military training at a snow-covered base in the Afrin region in the northwestern Aleppo province countryside, on January 26, 2022. Photo: Bakr Alkasem, AFP.
In recent years, a defining feature of conflicts in the Middle East has been the deployment of foreign mercenaries. In Syria, foreign fighters and mercenaries fought for all sides in the war, even in the early stages of the conflict. 
However, as the intensity of the war waned in 2018 after the government captured most of western Syria, Syrians themselves began to be recruited to fight in wars across the region. And now, given Russia's recent invasion of Ukraine, analysts believe that Syrians will be sent to fight and die in Ukraine as well.
It is important to draw a distinction between foreign fighters motivated by ideological or personal reasons and mercenaries. Mercenaries are a subset of foreign fighters who are motivated by financial incentives or coercion.
For example, foreigners who traveled to Syria for ideological reasons generally joined the opposition or the Islamic State. Mercenaries were more common in the ranks of pro-government or Kurdish forces. However, there were ideologically or politically motivated fighters present among these forces as well, such as Hezbollah or volunteers who fought with the Syrian Democratic Forces against ISIS.
There are already plenty of foreigners fighting for the Ukrainian side who are ideologically motivated, with many of them coming from North America or Europe.
But most Syrians who may travel to Ukraine are likely more financially motivated, analysts say, attracted by the prospects of a salary they can never get at home, where they face poverty, resource shortages, and an economic crisis that promises to deepen in 2022. 
In recent years, Syrians have been sent to two main theaters of conflict: Libya and Nagorno-Karabakh. In Libya, Syrians fought for both the Turkish-backed Government of National Accord (GNA) and the Russian-backed Libyan National Army (LNA), while in Nagorno-Karabakh they were only present on the Turkish-backed Azerbaijani side. In both conflicts, Russia and Turkey directly supported opposing sides, deploying Syrian fighters when they saw fit.
Indeed, the geopolitical competition between Russia and Turkey has been the primary driver of Syrians fighting on foreign soil.
Mercenaries in Libya and Nagorno-Karabakh
Libya has been divided by factional violence since 2014, following the violent overthrow of the country's longtime ruler, Muammar Gaddafi, in 2011. In the spring of 2019, Khalifa Haftar's Libyan National Army (LNA) launched a major offensive to capture the Libyan capital, Tripoli, from the U.N.-backed Government of National Accord (GNA) in a bid to take over the entire country.
The LNA, backed by Russia, France, Egypt, and the UAE, quickly advanced to the gate's of Tripoli. However, Haftar's forces faced stiff resistance when they attempted to enter the city, as the GNA managed to rally Tripoli's militias against them. A stalemate ensued for nearly a year, until January 2020, when Turkey decided to directly intervene in the conflict on the side of the GNA.
Russian mercenaries, most notably the Wagner Group, had already been present alongside the LNA before the Tripoli offensive, but with the entrance of the Turkish military, both sides began to recruit Syrians to bolster their respective forces.
Russia recruited pro-government fighters and former rebels who had reconciled with the government, while Turkey recruited from the areas it controlled in northern Syria, including fighters from the Syrian National Army (SNA), which it had helped establish and organize.
Syrian fighters from both the pro-government and rebel camps found themselves fighting each other again, now in the Libyan desert. The GNA, fully supported by the Turkish military, pushed Haftar's forces away from Tripoli, towards Sirte and al-Jufra by the summer of 2020. A ceasefire was soon signed, and the conflict has been on pause since then.
However, around the same time, tensions exploded in another theater of conflict, with Russia and Turkey again supporting opposing sides. In late September, Azerbaijan, a Turkish ally, began a major offensive to capture Nagorno-Karabakh, a territory that had been controlled by Armenia since the early 1990s.
With the technical support of the Turkish military and Syrian mercenaries from northern Syria, Azerbaijan made quick work of the Armenian defenders, capturing most of the region within six weeks. Russia finally enforced a ceasefire, deploying peacekeepers to the region's capital, Stepanakert.
In both Libya and Nagorno-Karabakh, Syrians were used as cannon fodder, especially in Nagorno-Karabakh. In Libya, however, the experience that Syrian fighters had was more readily transferable to the Libyan battlefield than the mountains of the Caucasus. Also in Libya, Syrian fighters engaged what were largely poorly armed and trained militiamen, while in Nagorno-Karabakh they were fighting against an organized national military.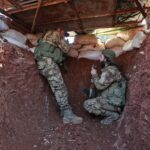 To go or not to go to Ukraine
There has been a lot of media buzz claiming that Syrians have already started signing up to go to Ukraine to fight for either side. However, most of this information is hard to verify and, in many instances, comes from somewhat unreliable sources.
Syrian opposition and Ukrainian outlets have reported that Syrians in Russian-backed units have already signed contracts to travel to Syria, but the details of this are unclear and unverified. Opposition fighters have also posted on social media to show their desire to travel to Ukraine to fight the Russians.
Most notably, Suheil Mahmoud Muhammad, most commonly known as Abu TOW, has been very vocal about his desire to fight in Ukraine. Abu TOW gets his nickname for his proficiency in using the US-made anti-tank BGM-71 TOW missile, which he has used against Syrian government forces.
There are clear financial incentives for Syrians to fight in Ukraine, as the Syrian economy has been in shambles for years due to the war and sanctions. The only way for many Syrians to make money is to fight. There are also fighters that feel some personal loyalty to Russia, informing their decision-making.
Fighters from rebel-held territory also feel these financial pressures, but they too have personal reasons to go to Ukraine. Many of these fighters, like Abu TOW, despise Russia for its actions in Syria, and desire to continue fighting the Russians.
"Syrian fighters who go to Ukraine to fight for Russia would likely be small groups acting as soldiers for hire, most likely with a wink and nod agreement from Assad," Newlines Institute's Nicholas A. Heras told NOW. 
He pointed out that these fighters would be recruited by Russian private security firms, such as the Wagner Group, which also managed the export of Syrian fighters to Libya.
On the other hand, Danny Makki, a non-resident scholar at the Middle East Institute, disagreed, telling NOW that Syrian fighters would be dealt with by the Russian military officially as opposed to Wagner.
"If Syrians actually get to Ukraine, it would be an alien country to them, one where they do not know the language, or the terrain, or almost anything apart from where it might be on a map," Makki said.
In terms of definitive evidence that Syrians will fight in Ukraine, both Heras and Makki indicated that it would happen sooner or later. Russian President Vladimir Putin himself said on March 11 that Russian forces would accept Syrian volunteer fighters.
On the battlefield, "Syrian fighters would likely be used in the battlespace in coordination with other Russian auxiliaries, such as Chechen forces loyal to Kadyrov," Heras explained.
Makki also indicated that the role of Syrian fighters would be "an offensive one when the situation gets trickier in large city centers with irregular warfare and heavily built areas".
"This is the type of environment Syrians have been mainly fighting in around Aleppo, Damascus and Homs," he added.
It is still, however, unclear whether Syrian fighters would be able to navigate the differences in urban terrain between Syrian and Ukrainian cities.
Where Heras and Makki disagreed was with how Syrians would be deployed as the conflict develops.
"Syrian fighters would be useful for occupation duty… That is how Iran deploys Hezbollah militia forces in Syria… Syrian fighters in support of other Russian auxiliaries would be useful for Russia," Heras said.
"Occupation duty would probably require some 'basket' of forces that would include local pro-Russian Ukrainians, Russian units like Kadyrov forces, some Russian national guard, PMCs, and mercenaries," he added.
However, Makki pointed out that "Syrians will be a shock and awe weapon to fight on the frontlines as they have no real business being occupation forces. They come from a completely different culture and continent. Their chief role will be to man the front lines and take the hits that were necessary if the Russian forces become stretched thin."
Regarding opposition groups fighting for Ukraine, it is still unclear if and how rebel fighters would reach the country.
"Turkey has shown a willingness to deploy Syrian fighters in multiple theaters, including in Libya and Nagorno-Karabakh. These fighters are organized by Turkish private security companies working directly for the Turkish military and supported by Turkish intelligence. It is quite possible that Turkish-organized Syrian veterans could make their way to Ukraine and fight as part of the foreign volunteer forces that have been organized by the Ukrainian government," Heras told NOW.
"The Syrian fighters would most likely be transiting under the supervision of Turkish intelligence, and would join the international brigades established by the Ukrainian military," he added.
Makki was more skeptical of Turkish-backed fighters traveling to Ukraine. So far, Turkey has been more interested in mediating the conflict between Ukraine and Russia, with Ankara's chief diplomat Mevlut Cavusoglu facilitating negotiations between Russian counterpart Sergei Lavrov and Ukrainian Foreign Minister Dmytro Kuleba in Antalya on March 10. Cavusoglu has insisted on Turkey's role as mediator.
"Turkey tends to prioritize and arrange its policies to suit its interests in more than one area where it retains a sphere of influence. I doubt Turkey will make a general call for mobilization of its Syrian allied mercenaries, as it won't want to provoke Russia too much. Remember a fragile ceasefire exists over Idlib and the last time in 2020 that the fighting took place, it was brutal and dozens of Turkish soldiers lost their lives," he said.
David Isaly is a journalist and researcher with @NOW_leb. He tweets @DEyesalli.