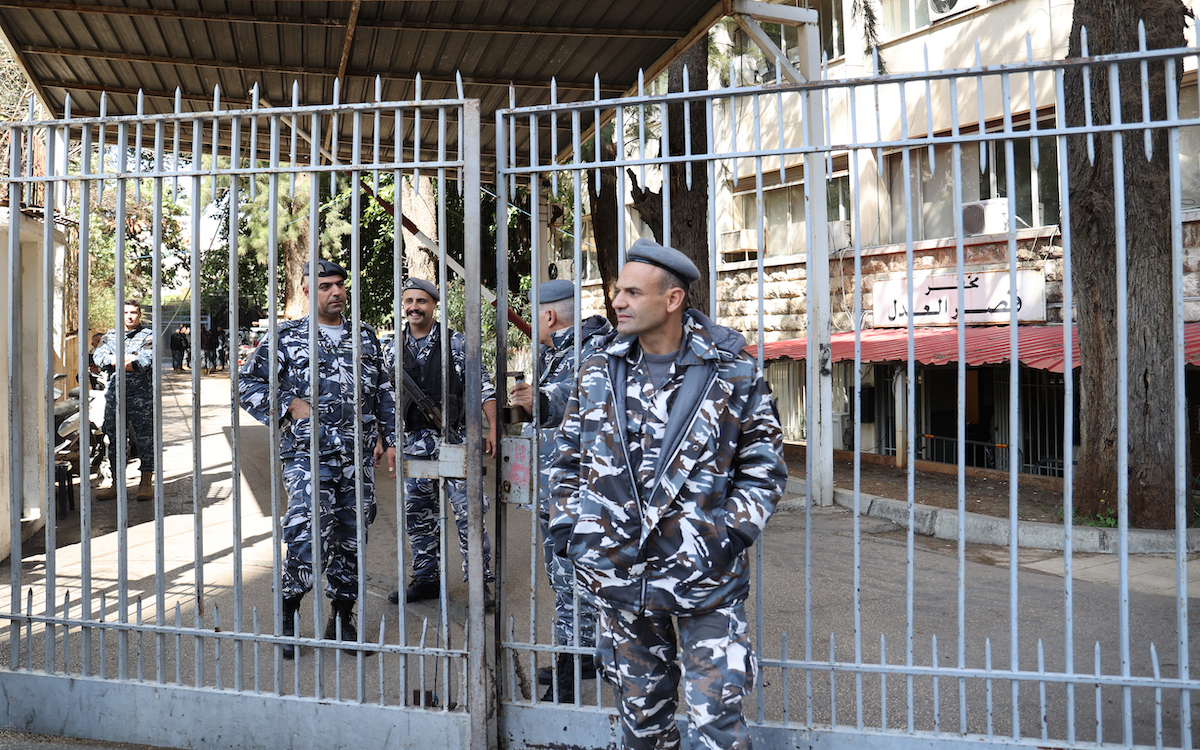 Journalists Jean Kassir and Lara Bitar were called in for questioning at the Ministry of Justice in Beirut sparking condemnation for what many considered to be an attempt to crack down on press freedom in Lebanon. Photo: Anwar Amro, AFP
On Thursday morning, around 50 people came to show their support for journalist Lara Bitar outside the Office for the Fight against Cybercrime in Beirut. This was prompted by a complaint by the Lebanese Forces (LF) surrounding an investigative piece written by Bitar. The demonstration was organized in order to express solidarity with her and defend freedom of speech. 
Lara Bitar, editor-in-chief of investigative journalism outlet Public Source recently received a request from Lebanon's Cybercrime Bureau due to a complaint filed by Samir Geagea's party. Allegations against Bitar state she published an article in August 2022 about purported ecological violations committed by LF forces during and following Lebanon's civil war.
Why this matters, In Lebanon, infringements on freedom of the press are far too common. Not only do they threaten the right to express and investigate, but also  put independent journalism in jeopardy. Online and offline, journalists, activists, and members of the public have all fought to uphold these freedoms in such a situation.
On Monday April 3, people had gathered at the Beirut courthouse gates in response to a call from the Megaphone News platform. The summons of journalist and co-founder of the platform Jean Kassir by State Security was strongly denounced. This move is said to be linked to Megaphone's publication "Lebanon governed by officials wanted by justice," which was published back on March 1st and contained mention of Ghassan Oueidate, Attorney General and Cassation Court authority.
Caretaker Minister of Information, Ziad Al-Makary, reached out to Bitar and Kassir to make it known that he is committed to upholding freedom of opinion and expression which is enshrined in the Lebanese constitution, advocating for addressing any matters arising from it through appropriate legal steps and facing trial in a court setting. He further announced that the two summons will be closely monitored to provide transparency.
However, Bitar refused to attend the interrogation and instead declared that they would be pushing to take this matter before the Court of Publications. This particular court is one which has authority when it comes to hearing out grievances against people in the media and journalism fields.
Bitar later announced on Twitter that their lawyer received news that the Cybercrime Bureau proposed that they take down the article for which the publication was summoned. Their answer, however, was an emphatic no.
Important to note, It is essential to safeguard independent media outlets like Megaphone and Public Source in Lebanon, where reporting is largely shaped by politics. The news shared via Megaphone and the thorough investigations conducted by Public Source bring Lebanese readers information they would otherwise be unaware of. Thus, it is vitally important to protect such freedoms and defend the courageous journalists who courageously sacrifice their well-being and career for the truth. 

Dana Hourany is a multimedia journalist with @NOW_leb. She is on Instagram @danahourany and Twitter @danahourany.