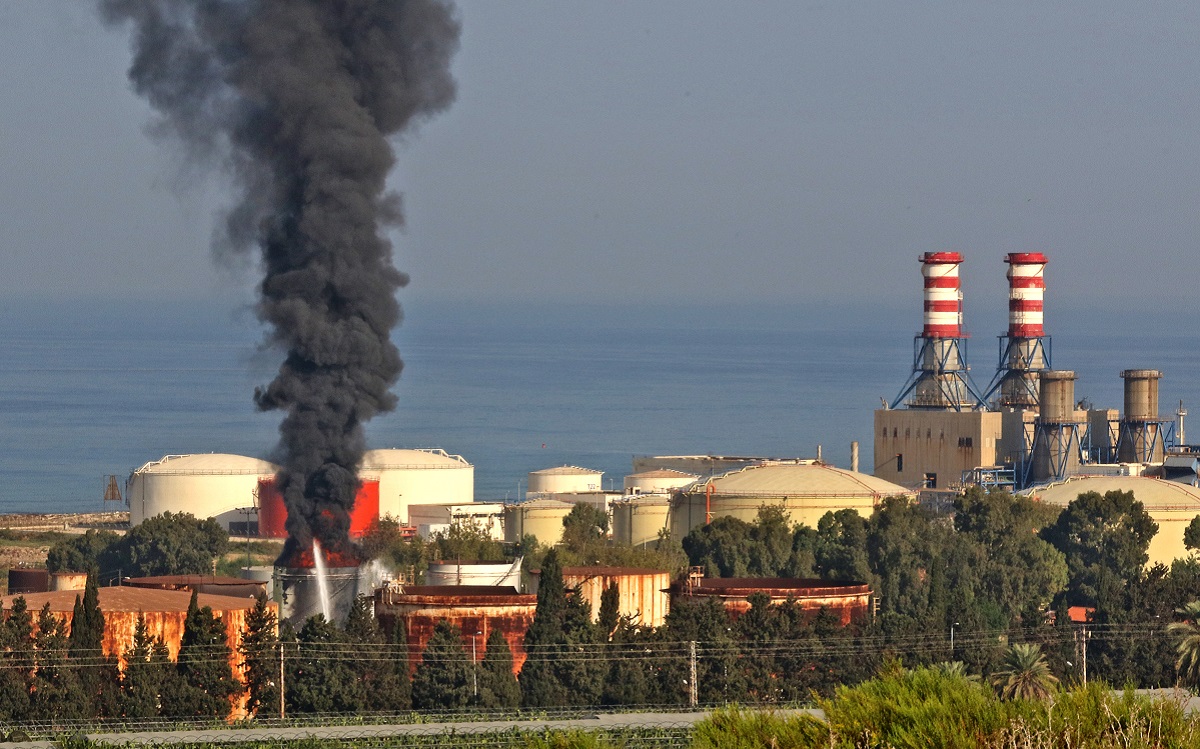 Fuel depot burning in Zahrani power plant on October 11, 2021. Photo: Mahmoud Zayyat, AFP.
A crippling energy crisis exacerbated by a plummeting national currency and a defective power grid. Sky-high year-on-year inflation rates. A shrinking economy without respite. A dearth of sustainable solutions. And a global energy crisis with the potential to intensify Lebanon's compounded crises looming on the horizon. 
The world is gripped by an energy crunch, rooted in the pains to recover from the COVID-19 pandemic. The easing of coronavirus-related travel restrictions and the reopening of economies spurred the demand for energy which exceeded supply, resulting in soaring natural gas and oil prices manifested in higher utility bills, threats to power supply and sticker shock products around the world.
Tormented by its own energy crunch characterized by paralyzing fuel shortages and round-the-clock power cuts, Lebanon endured endless queues at gas stations this summer, astronomical fuel prices and utility bills, and an interannual consumer price inflation rate that rose to 144.1 percent last month. 
Swelled-up costs of natural gas rose more than 250 percent in Europe and 175 percent in Asia, propelling oil prices to close above $80 a barrel for the first time since 2014. 
The impact of rising energy prices will seep into Lebanon, experts say, as the country's economy is highly contingent on imports and fossil fuel supply security. 
"Rising prices of energy products will translate to higher inflation [rates] and being an importing country, Lebanon will be importing further inflation from abroad," said Danielle Hatem, a financial advisor who untangles the complicated business world and Lebanon's acute crises on her Instagram page.
The country might experience a shortage in food production, factories can be expected to shut down, and foodstuffs costs will soar even higher, not only due to the currency crash but also as a consequence of the global rising energy prices, Hatem added.
Since the inception of the financial crisis in 2019, Lebanon has been massively reliant on the central bank's fuel subsidy system, which drained its foreign reserves and incentivized fuel-hoarding and smuggling to war-torn Syria.
As of the beginning of summer, government funds allotted for fuel diminished, and petroleum prices gradually skyrocketed reaching a 12-fold increase through last week.
Fuel prices paid by the Lebanese are now squarely tied to the international market and the global energy crisis is only going to fan the flames.
"Prices of fuel and gas are going to increase and this happens at times when there's a kind of elimination of subsidies without any safety nets to citizens," independent energy policy consultant Jessica Obeid said. "This is going to have high economic implications."
Short-term solutions
In a bid to ease Lebanon's chronic power cuts, averaging around 20 hours or more depending on the municipality, several energy deals have been arranged with countries in the region. 
Iraq is currently providing Lebanon with one million tonnes of heavy fuel oil over the course of a year in exchange for medical services. The intricate swap deal has the potential to deliver four hours of power per day.
In a U.S.-backed framework financed by the World Bank in a loan form, Egypt will supply the crisis-hit country with natural gas via the Arab Gas Pipeline (AGP) that passes through Jordan and Syria. This energy plan, still under negotiation and restricted by U.S. sanctions on the Syrian government of President Bashar al-Assad, calls for either an exemption from Washington or navigation of the sanctions where Syria is not directly paid for the service it's providing.
In the meantime, while Hatem predicts these deals will provide Lebanon with around half a day's worth of electricity, she regards the arrangements as short-term solutions since the government is not considering improving the power grid's infrastructure. "That's where the real investment should be, everything else is band-aids, especially the Iraqi deal — it would temporarily increase the power supply."
Lebanon will transition to natural gas supplied through AGP to power Deir Ammar plant in northern Lebanon, which generates 465 megawatts of power, Obeid told NOW. 
"We don't know how much we are going to pay for the gas from Egypt — the government hasn't been transparent about the gas deal," Obeid said. "It should communicate to the public the details of this agreement, especially the price which will include transit fees."
While this might be due to the fact that natural gas prices aren't steady in the wake of the global energy crunch, Obeid said there are fears of running power plants on an inefficient and pollutant gas instead of the primary type on grounds of natural gas price hikes. 
"We don't know how much we are going to pay for the gas from Egypt — the government hasn't been transparent about the gas deal," Jessica Obeid, energy policy consultant
Experts believe both deals are merely interim arrangements and the implementation of stringent reforms to the power sector is urgent.
According to energy governance expert and advisory board member of The Lebanese Oil and Gas Initiative (LOGI), Diana Kaissy, the government ought to push for several measures to set the power sector on the right path, some of which are: revamping the electricity grid, transitioning to natural gas — a cleaner form of energy — adjusting and controlling tariffs and appointing a new independent board of directors at the state-owned electricity company which should have been done in 2002 upon rectifying law 462 that regulates the electricity sector.
Two weeks ago, firefighters doused flames that broke out at the Zahrani oil installation, near one of Lebanon's main power stations, preventing it from spreading to nearby fuel tanks and triggering an explosion. 
Energy Minister Walid Fayad said the fire erupted as a result of an "error" while transferring gasoline from one tank to another, according to the National News Agency.
This development accentuates the antiquated and vulnerable infrastructure of Lebanon's electricity sector.
"Certain leaks are taking place because of lack of maintenance," Kaissy added. 
This came after the two main power grids, Zahrani and Deir Ammar, shut down two days prior on account of running out of fuel.
Furthermore, the energy ministry's role includes monitoring the quality of commodities, namely the red-based gasoline, which people have been doubting whether the premium 98-octane unleaded is adulterated or not, Kaissy said. 
Transitioning to renewable energy
As the world heads towards a global energy crisis, the push for renewable energy given its myriad merits overshadows, but developing countries like Lebanon might not have the advantage of an energy transition in the near future.
"It's too early for us to speak about an energy transition simply because we don't have electricity to start with — you speak about [renewable energy] when you have something to transition from," Kaissy told NOW. "This doesn't mean that we shouldn't be taking cleaner forms of energy into account."
"When we generate electricity through solar, wind, or water, it's going to be transmitted to houses through the electricity grid which is not functioning in Lebanon," Kaissy added.
In the sunlit Mediterranean country, solar energy contributes to only 0.26 percent of the state-generated electricity, with hydropower being the most established renewable energy resource in Lebanon representing around 4.5 percent.
"When we generate electricity through solar, wind, or water, it's going to be transmitted to houses through the electricity grid which is not functioning in Lebanon," Diana Kaissy, energy governance expert, LOGI
Investing in renewable energy would help the country reduce currency outflow as Lebanon's reliance on diesel and fuel is what depleted Lebanon's foreign reserves, Danielle Hatem said.
A set target to generate 30 percent of Lebanon's electricity from renewable energy by 2030 is attainable, Obeid believes, since the process would bank on international support. 
"It is easier to get investments for renewable energy rather than petroleum, oil and gas," she said. "There are so many different donors and financial institutes that Lebanon can tap into but it needs political will and strong institutions."
It would take the country around three years to remedy its power sector through improved governance and solid regulations, said Obeid. "But we are not seeing this yet."Sally Abou AlJoud is a multimedia journalist with @NOW_Leb. She is on Twitter @JoudSally.