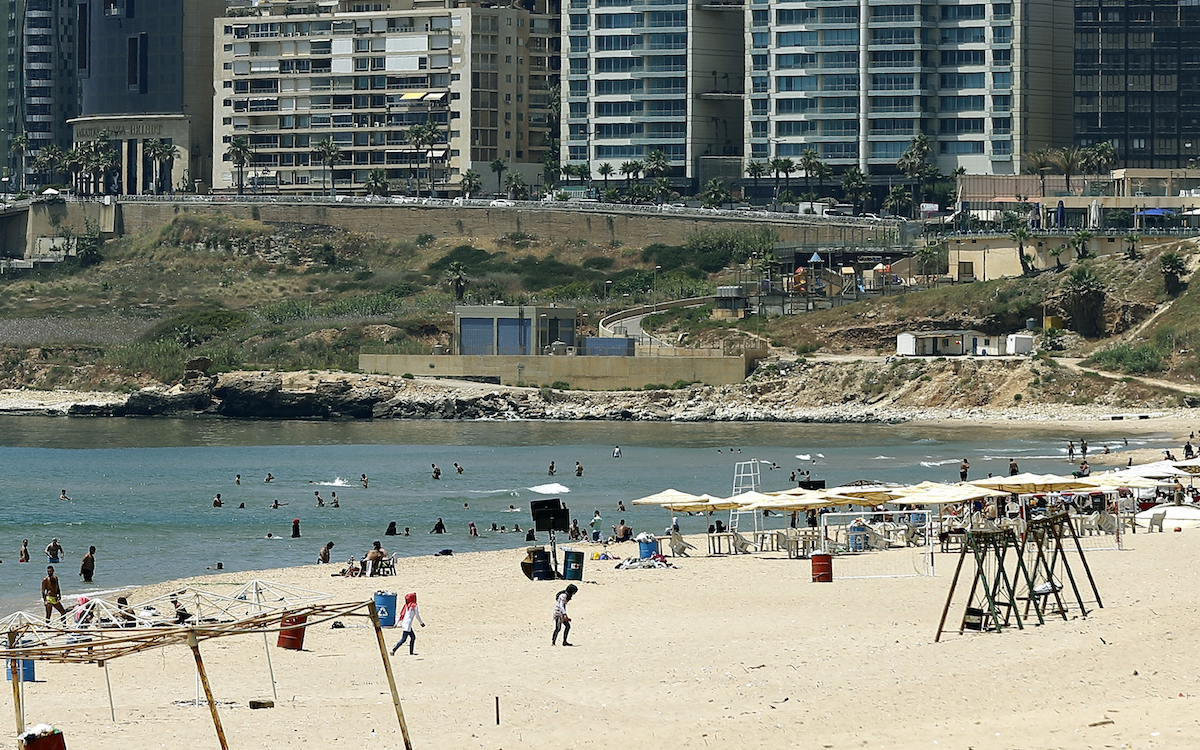 People gather at the public beach of Ramlet al-Bayda in the Lebanese capital Beirut on June 7, 2019. Photo: Joseph Eid, AFP
Lebanon is a popular tourist destination year-round, with restaurants, museums and historical landmarks to explore. However, with an increasing number of coastal violations, it appears that public access to the beautiful shores of the Mediterranean Sea is becoming increasingly difficult. Prices for entrance tickets can range from $3 all the way up to $40 per ticket.
For this reason, those living in Lebanon often find themselves resorting to the scant public beaches remaining that have not yet been violated by officials or businesses, and which are not as well-maintained as they should be.
The financial crisis of 2019 has had a drastic effect on the general public, causing revenue to decrease and currency to devalue. In spite of this, investors still seek to capitalize on what remains of the country's public spaces, which had been few and far between to begin with. Without any legislation in place to prevent or mitigate inflation, rates are on the rise and the people have been forced to take matters into their own hands in order to ensure accountability from those responsible for trespassing over their right to access beaches.
A recent report from the National Center for Marine Studies shows that 60 percent of Lebanon's beaches have clean water quality, these include popular swimming locations such as Anfeh, Chekka, Batroun, Amchit, al-Heri, Jbeil, Fidar, Bouar, Oqaibeh, Safra, Jounieh in the north and  Damour, Jiyyeh, Rmeileh, Adloun, Awali, Naqoura, and parts of Tyre.
Brief breakdown
In the village of Kfar Abida, North Lebanon, demonstrators united in a major mobilization for Abou Ali beach, striving to protect public access. On June 5, the Beach is For All campaign triggered a court decision that halted construction work at the beach permanently. 
The majority of Lebanon's 220-kilometer coastline is privatized, with beaches and private properties occupying nearly all of the shoreline. This accounts for greater than 80 percent of the land area.
Ever since beach resorts first began to sprout in 1975 during a tumultuous period of war, encroaching upon precious shoreline access,  balance has never been fully restored. In their wake, hotels and private beaches – boasting varying levels of opulence – have continued to expand, along with commerce.
Mohamed Shamseddine from the International Institute for Information pointed out that according to legal standards, public maritime properties cannot be sold and are limited to being leased. Even, there are certain stipulations that must be fulfilled e, such as having an adjacent property owned by tenants.
At the onset of the civil war, certain individuals were allowed to take control of large tracts of land without receiving a formal decree. The state has failed to address long-standing issues such as sewage intrusion in ocean water and beach pollution. As a result, not only citizens, but also marine life, beaches and holidaymakers have been negatively impacted by these omissions. 
The encroachments cover an area of approximately five million square meters and are perpetrated by members of all sects, without exception, allowing individuals and companies to benefit unlawfully by investing in maritime properties worth millions of dollars. Only a few of them pay a mere 15 billion Lebanese pounds, equivalent to approximately $156,000 (based on April's exchange rate), annually to the Lebanese government, while the majority of encroachers do not contribute any funds to the public treasury.
Why is this happening?
The prevalence of coastal violations in Lebanon has long been a concern, according to environmental consultant Samer El Khoury. Recently, however, these violations have become more widely known and have been given greater attention. The increased awareness can be attributed to various factors, including the rise of social media platforms that facilitate the sharing of information and images, as well as the efforts of environmental organizations and activists who have been highlighting and campaigning against coastal violations.
Political connections between certain parties and these companies allow illegal encroachments to persist.
Al Khoury asserted that the projects largely have a detrimental impact on the environment. Resort construction and expansion often requires extensive land development, including beachfront areas. Natural habitats can be destroyed, coastal erosion can occur, and marine ecosystems can be disturbed as a result. In fact, this is already a reality in coastal areas such as Batroun and Naqoura. 
Al-Naqoura beach, situated at the border of Lebanon and occupied Palestine, faces a new project that threatens its shores, which online activists have extensively warned against.
The same situation has also occurred in Damour, where lawyers filed a lawsuit alleging the contractors had a license from the Ministry of Public Works and Transport.
In mid-June, after a series of protests against these projects, the Ministry of Public Works confirmed that it would revoke the licenses granted for ongoing work on two properties near the sea in Naqoura and Damour.
Minister of Environment Nasser Yassin sent a letter to the Ministry of Public Works and Transport emphasizing the importance of adhering to the provisions of the decree for the coastal landfilling works in Naqoura and Damour. The intention is to ensure that the potential environmental consequences of these activities are properly evaluated and mitigated.
Green Southerners – protectors of the south
In recent years, encroachments on public maritime properties in the south of Lebanon have become more frequent and pervasive.
An effort to put a stop to this worrying trend is the "Green Southerners" initiative. Not only have they been actively spreading awareness for the cause through online posts with evidence of what's happening, but they've also urged local authorities into action – yet results seem often short-lived.
"We support tourism sector development, as outlined in the Comprehensive Plan for Lebanese Territories. However, the problem lies in unauthorized property modifications, such as recent violations on Iskandarouna beach, Kfarabida, and Damour. These actions harm the environment, the coast, and have negative social and economic effects," member Rim Ghorayeb told NOW.
The initiative usually receives complaints from the most affected residents, and their association's team investigates each case individually to assess the legality and compliance of the construction activities with the legal requirements. They file complaints with the relevant ministries and reports to the public prosecution or general attorneys to take necessary actions to stop them. The response varies, and often bureaucracy becomes a hindrance that is intentionally used to delay the resolution of the issues, giving the contractor time to complete their work and impose a fait accompli.
Then, a different process begins on how to remove the violation, which also varies from one situation to another. While they face a web of interests and corruption deeply rooted in institutions, this remains the main challenge that frustrates their efforts. However, there are still many responsible officials, professionals, and competent individuals within different administrations whom they rely on for following up on these cases.
"Political parties should be at the forefront of this battle to help preserve our environment for future generations," she lamented. The truth however, was far from what had been expected."
No accountability
Nazem Said Ahmad, who was responsible for the work in Damour and obtained a license from the Minister of Public Works, has been included in the US sanctions list due to alleged involvement in money laundering activities associated with Hezbollah. Such connections with one of the most influential parties in the country provide Ahmad with unparalleled leverage, potentially even evading justice if necessary. 
When discussing potential solutions, existing laws and judiciary should hold those responsible for violations accountable through immediate prosecution.
The issuance of a license to Ahmad by the Public Works Ministry is not an isolated occurrence. Similar licenses were granted during the tenures of previous ministers, Ali Hamieh and Ghazi Zaiter. 
Minister Ali Hamieh confirmed that the license was issued based on a permit from the Damour Municipality and authenticated maps, considering that the properties involved were privately owned. Hamieh expressed his surprise at the municipality initially granting the permit and then later halting the work.
Activist Nizar Ghanem emphasized the importance of public mobilization to stop these projects, as the law clearly defines what is permissible. However, Ghanem also highlighted the significant role the media plays in preventing such issues from being ignored.
"Political connections between certain parties and these companies allow illegal encroachments to persist," Ghanem told NOW, pointing out that family ties contribute to the problem, as privately owned lands can be managed without adhering to legal regulations.
The issue of ineffective municipalities was also raised, with Ghanem expressing concern about the lack of adequate finances and resources. He suggested reducing the number of municipalities and providing them with increased funds and resources to improve their efficiency.
"When discussing potential solutions, existing laws and judiciary should hold those responsible for violations accountable through immediate prosecution," Ghanem said. However, he acknowledged that this is not currently the case in Lebanon.
It appears that public outcry remains the most effective means of putting a stop to the encroachment of public property, despite the fact that parliamentarians should be engaged in vital discussions to implement reforms aimed at safeguarding these significant national assets. However, with the prevailing lack of justice and the perpetuation of a system driven by connections and favoritism, disregarding the public interest, it is uncertain whether we will have any public beaches left in a few years' time.
Dana Hourany is a multimedia journalist with @NOW_leb. She is on Instagram @danahourany and Twitter @danahourany.