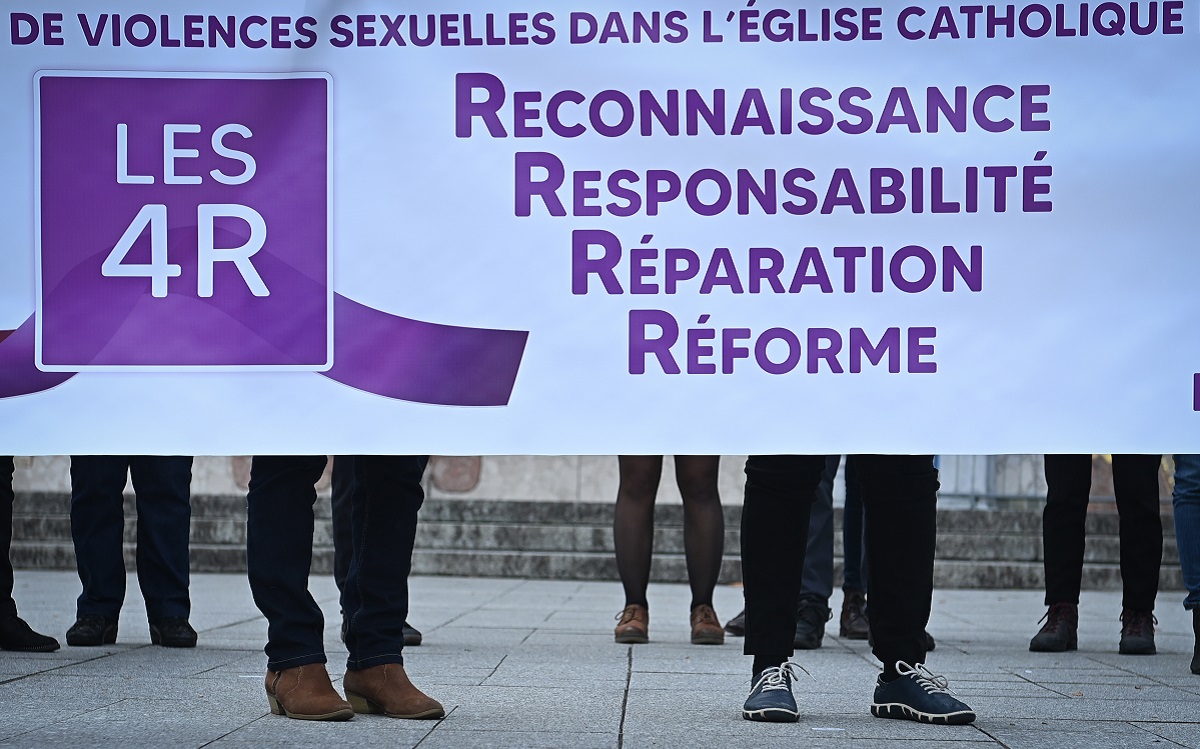 'From words to action' collective members hold a banner reading 'Victims of sexual violence in the Catholic Church demand: recognition, responsibility, reparation, reform' as they take part in a rally on the forecourt of the Notre-Dame-du-Rosaire basilica, in Lourdes, south-western France on November 6, 2021. The annual meeting of bishops began on November 2, 2021 in Lourdes where they have a week to reflect on the follow-up to be given to the revelations of the Sauve report, a month after its publication, on the extent of child crime in the Catholic Church. Photo: Valentine Chapuis, AFP.
He has a personality bigger than life.
According to 58-year-old Celeste Akiki, if anyone was asked to describe Father Mansour Labaki, they would say that he was incredibly charismatic.
Composer, author, philanthropist, Labaki founded two orphanages in Lebanon and another one in France. He was an acclaimed writer and won 15 book prizes, including one from the French Academy and an International prize for Human Rights.
But the Vatican condemned him for child molestation in France and Lebanon in 2012. Celeste Akiki, his own niece, was amongst the victims who testified. The Holy See sent him to serve his sentence of solitary penitence in a Lebanese monastery. 
For the victims, that was not enough. More recently, on November 9, a French court convicted Labaki in absentia and sentenced him to 15 years in prison for child rape and sexual assault.
Many victims emerged over the years in Lebanon and in France, ready to testify.  But the Lebanese judiciary has done nothing to investigate any of the accusations on Lebanese soil and hasn't commented on any intentions to extradite the 81-year-old priest to France to serve his sentence. All to the victims' and their families' dismay.
The Maronite Church has also continued to refuse to recognize the Vatican's decision, despite a statement from the Church saying that Patriarch Bechara al-Rahi "has never been and will never be lenient in any way concerning cases of sexual abuse, which he considers a crime against their victims." 
The lack of action from the Lebanese judiciary comes as little surprise for Lama Karame, president of Legal Agenda, a Lebanese NGO dedicated to judicial education and awareness. 
"Obviously, the judicial reality does not reflect the social reality," Karame told NOW.
"Because of the culture of impunity. This culture of lack of accountability where influential figures are given a kind of symbolic immunity."
Behind closed doors
Akiki comes from a religious Maronite family in Zouk, an area between Beirut and Jounieh.
Growing up she would often have religious figures visiting her family home, including the current Patriarch. Her uncle, Labaki, had a large following at the time due to his sermons, songs and writing. He would visit Akiki's family often.
"He used to consider himself the spiritual guide of the family," Akiki explained. "He was very well-known and very charismatic, so everybody was happy to see him."
However, this is when Labaki's grooming of Akiki began.
It started off with him telling her that she was "his favorite niece", but it eventually started to progress to inappropriate levels.
When Akiki was eight, he once asked her who she thought that he should marry, something he was forbidden from doing as a priest and something that Akiki reminded him of.
After some insistence, Akiki finally relented and gave him the names of two friends who he brushed off almost instantly, arguing that Akiki herself would be the perfect wife for him.
"He would say 'Why not you? You are my favorite niece. You are intelligent, smart, funny, we get along so well. You are the perfect wife for me.' And I would tell him that I'm his niece so we can't get married," she said, adding that he was persistent in the  matter. . 
"It's not for a child to tell an adult that you cannot marry your niece. A priest would not say that and an uncle would not say that. He knows how to groom his victims."
Then, after her father died unexpectedly of a stroke when she was 13, Labaki began visiting more often to comfort the family, she says.
He made me believe that he is the only one who understands me.
Akiki says she was 14 when the sexual abuse started. He forced her into oral sex in her parents' bedroom. 
"I was in shock. I felt that a part of me died that day." 
Akiki claims that the psychological and physical abuse lasted for years, as he also isolated her from her mother. 
"He made me believe that he is the only one who understands me," Akiki said. "He's the only one who understands me and I have to pay the price. I have to pay the price by him forcing me to do things. Even though I don't like it, I have to do it."
As she got older, Akiki explained, she began to realize how wrong it was. While she was living in France, the priest called her and told her that he was going to be holding a press conference and asked if she would like to see him. That's when she said "no" to him for the first time in years.
But, she says, she picked her uncle up after his meeting with the press. When he got into her car and asked if they could go back to her apartment, she told him that was taking him back to his hotel.
"While driving there, he put his hand on my thigh and I threw it away and I took him to his hotel," Akiki said. "He knew then [that I wasn't going to take his abuse anymore]. It took me a few years to get there."
Healing the trauma
Children that go through sexual abuse carry severe trauma into adulthood and Akiki was no exception.  She says living with her trauma was "hell." She eventually decided to seek therapy in the US. 
"Without that therapy, I would have been dead. Definitely. No doubt about it," she stated bluntly.
In 2012, French authorities opened up a case against Labaki, alleging that he had sexually abused three children at the Notre Dame-Enfants du Liban orphanage that he had established in Normandy during the 1990s. The youngest victim was seven-years-old.
At the same time, the Holy See, the Vatican's judicial body, also opened up an investigation into Labaki's actions in both Lebanon and France.
Akiki was called in to testify in both cases.
"I know how difficult it is for a victim of Labaki to say anything," she said. "After therapy, I was strong enough and I had to be there to give all of the details."
Not too long after, the Vatican issued its condemnation of Labaki, the first time the Vatican had ever condemned a Maronite priest.
Labaki condemned the ruling and said that "people in the church were bribed and I have proof of this." He never released any evidence of the alleged bribery, but he continues to deny all the charges.
The Vatican did not defrock him, which is the toughest punishment that can be issued against a priest, stripping a member of the clergy of their right to function as an ordained minister. 
"They were waiting for the French justice to see whether or not they would defrock him," Dalal Mawad, a Lebanese journalist based in Paris, told NOW. Mawad was the one to break the story about Labaki in Lebanon. 
"I'm not sure what this relationship is. Why do they wait for the civilian justices to defrock him because they have defrocked other priests in similar cases."
While the Vatican made its verdict clear, Lebanon's Maronite Church seemed to not be in line.  The Maronite Church has so far not recognized or enforced the Holy See's decision.
NOW asked the Maronite Patriarchy for a comment on the case of Mansour Labaki, but has received no response until the time of publication. 
The spiritual punishment
As per the Holy See's verdict, Labaki is required to remain in solitude in a Lebanese monastery and is not supposed to speak with the press and, more importantly, not leave the monastery.
But Mawad says she has received countless photographs and videos of Labaki going around Broumanna, a town in the Metn District of the Mount Lebanon Governorate,  where the monastery is located. Journalists who knocked at the monastery's door were also told he was not there because "he had institutions to manage". 
"We've been speaking about him roaming freely for many years and we tried to do something," Mawad said. 
"He can do whatever he wants. He's adored. So, he goes and comes back. Whatever he wants," Akiki added. "The thing is, the Vatican tells us that it's the Maronite Church who is supposed to verify and check that Mansour Labaki is respecting the sanctions."
Victims in Lebanon do not feel protected.
In addition to this, Labaki himself contacted Mawad when she was covering the story in 2013 and, since she comes from a Maronite family, threatened her.
Akiki believes that the Church has done nothing to ensure that the Vatican's ruling is respected.
While she says that the Vatican and French rulings send a strong message, she believes that it is only the first step.
In addition, Akiki wants Cardinal Bechara Rai,  Maronite Patriarch of Antioch, to publicly acknowledge the Vatican's ruling and to apologize to Labaki's victims, as they were constantly attacked by Labaki and his supporters.
"Victims in Lebanon do not feel protected," Akiki stated. "If there are, at the moment, victims abused by priests if they see the way that the Church is dealing with the situation, this is a shame. The victims should feel protected if they speak up, [they should feel ] that the Church believes them and protects them and is on the side of the victims. Until now, we have never felt that."
Akiki along with other survivors are working on pressuring the Vatican to defrock Labaki.
Even though Akiki and others would like to see Lebanon extradite Labaki to France, despite Lebanon and France not having an extradition treaty and Lebanon's general lack of cooperation in such matters, she is not hopeful that Lebanese authorities would actually take this action given how closely the country's religious institutions and state institutions are intertwined.
A broken system
When it comes to crimes against children, Lebanon has two sets of laws in the books.
The criminal code covers all crimes and considers crimes against adults and minors the same. However, if a crime is committed against a minor, then the sanctions against the offender are harsher and increase in severity as the age of the child decreases.
In addition to this, according to Article 506 of the Criminal Code, if a person is abused by someone who has authority over the victim, such as a religious figure or teacher, then the sanctions are also harsher.
Then there are the juvenile protection laws which allow for a judge to open up cases and investigate if they believe that a minor is being mistreated. If the judge finds evidence that points to abuse, they then refer the case to the courts for criminal proceedings.
While these two sets of laws seemingly create a system that would find and convict anyone that abuses children, this has not necessarily been the case on the ground.
"In practice, there are certain things that would impede access to justice. The first thing is the question of evidence," Legal Agenda's Karame explained. "If there is no conclusive evidence, courts have a trend of dismissing the case."
There is also the issue of the statute of limitations which is 10 years.
For anyone that was abused, particularly as a minor, the likelihood of them reaching the courts before the statute expires is slim.
As Akiki herself stated, it took years of therapy before she was ready to speak about her trauma.
Some countries have realized this and have removed the statute of limitations for cases of abuse, or extended it until the victims reach adulthood. Lebanon has not done that.
"These countries have realized that victims of sexual crimes, especially if they were children, would take a lot of time to be able to speak about the crimes," Karame said.
The problem with this is that physical evidence is likely then to be long gone, making it hard for the cases to be tried in court. 
According to Karame, a disproportionate number of sexual abuse cases involve people from low-income households, both victims and perpetrators, with very few of the cases involving abusers from a higher class being tried in the judiciary.
As far as Legal Agenda is aware, there are only two other cases of members of the clergy being prosecuted.
In most cases, when an abuser is from a wealthy background or has a high-profile role in society, the cases are dismissed or the abuser is given a more lenient sentence.
"​​As far as Legal Agenda is aware, there are only two other cases of members of the clergy being prosecuted," the lawyer stated.
In the rare instances where the cases are actually brought to the courts, judges are able to use the discretionary power that they have to give these individuals a more lenient sentence.
"[Legal Agenda] found that courts are actually using this power to provide, in some cases, lenient penalties for perpetrators of sexual crimes," Karame said. "We've really seen a wide discrepancy between different courts. Some courts are extremely lenient. Other courts will provide mitigating circumstances whereas other courts have been stricter and have kind of imposed the maximum penalty."
Even when a case is brought forward, officials or politicians are quick to come to the defense of the accused religious figure, and the case quickly changes from the individual abusing a child to a crusade against the entire sect.
Politicizing the cases
Tarek Mallah grew up in the Dar al-Aytam al-Islamiya orphanage after he was placed there when he was two years old.
However, when he turned 14, he ran away.
It was not until 2015 that it came out why he did. He was being raped since the age of nine.
Dar al-Aytam is linked to Dar al-Fatwa, one of the Sunni Muslims in Lebanon's most important religious institutions, and is also funded by the Ministry of Social Affairs.
After Mallah filed his case, the ministry was silent on the matter and did not take any steps to address the issue.
Dar al-Aytam acknowledged that a rape occurred, but said that it was perpetrated by another child residing in the orphanage.
Given that Dar al-Aytam is part of the Sunni institutions, the response in support of the orphanage was quick with some saying that this was an attack on Lebanon's Sunni community.
"Every claim against a priest or a sheikh or whatever religious figure is transformed in the public discourse into an attack on the entire religious group," Karame said. "This is how sectarianism has been used to protect religious figures instead of trying to protect the community."
When victims of child sexual abuse by the institution came forward as adults, voices emerged claiming the Sunni community was being attacked, Karame stated.
Every claim against a priest or a sheikh or whatever religious figure is transformed in the public discourse into an attack on the entire religious group. This is how sectarianism has been used to protect religious figures instead of trying to protect the community.
"The same thing happened with Mansour Labaki because there were voices that came out and said that this was an attack on the Christians in Lebanon and France had a certain conspiracy against the Christians and that this was all political," she added.
Akiki is no stranger to these sorts of attacks. Since she went public about being abused by her uncle, she has received near-constant attacks by Labaki's supporters, some of them part of her own family.
"Most of my mother's family considers me to be an enemy," Akiki said. "They hate my guts. Luckily, there are a few who support me unconditionally but most of them consider me to be an enemy of the family."
This behavior from the family delegitimizes the survivors and preserves the image of the accused.
"There is this practice of first transforming and shifting the issue from an issue with a certain person to an issue against a whole community," Karame stated. "But also imposing these conspiracy theories and delegitimizing the voices and the stories of the victims and transforming them into a worldwide plot against the figure."
In many cases, when it concerns an influential figure, this pressure is enough to prevent them from facing any legal consequences.
The deep-rooted relationship between Lebanon's religious institutions and the state's affairs also creates a certain amount of protection when religious figures are facing charges.
Because of this, Akiki is certain that if Labaki was not charged in France, then his abuse in Lebanon would probably have never been known.
"Isn't it sad that if the sexual abuse by Mansour Labaki did not happen in France, the sexual abuse that he committed in Lebanon would not have been recognized? It's horrible to say," she argued solemnly.
Building an independent judiciary while the current political class remains in power is unlikely, but there are simple changes that can be made to make it easier and fairer when it comes to bringing abuse cases to trial.
Inaccessible judiciary
The current way that Lebanon's judiciary is structured makes it extremely challenging for victims of abuse to bring their cases to the courts and have them actually tried instead of being immediately dismissed due to it either being after the statute of limitations has already expired or a lack of physical evidence.
One simple solution would be to either raise the statute or remove it entirely in cases of sexual abuse.
However, there are other aspects of the judiciary that require changes to make it more accessible for people looking to file charges.
"I think that there is a need to adapt the laws to the nature of the crime," Karame explained. "We cannot treat crimes against minors, especially sexual crimes against minors, the same way that we do with fraud. These crimes are private in nature, they are hard to prove and the legal system needs to be adapted with the difficulties and the nature of these crimes."
Furthermore, in the current system, there are few mechanisms for reporting crimes against minors, and those that do exist tend to involve a complicated process.
The courts are also not currently equipped to protect the identity and privacy of the victim.
"Our courts are not equipped to hear children in private," Karame said. "They're not equipped to really have a child-friendly environment to hear children and to encourage children to go to court. Courts are scary for adults let alone children. This is hard especially today with the collapse of state institutions."
We cannot treat crimes against minors, especially sexual crimes against minors, the same way that we do with fraud. These crimes are private in nature, they are hard to prove and the legal system needs to be adapted with the difficulties and the nature of these crimes.
Another simple measure that courts can take is to consider other forms of evidence in abuse cases rather than just focusing solely on physical evidence.
"Some courts have been considering psychological evidence," Karame stated. "Reports by social workers and psychologists and psychiatrists. But this has not been a uniform practice. Most courts are still requiring physical evidence."
In instances of abuse by religious figures, some people resign themselves with an investigation by a religious institution and a spiritual punishment. 
But for Karame, a ruling by the Vatican or any other religious institution is not enough.
"There is this idea where the church investigation is kind of considered as an alternative to justice which is not true," she argued. "Even if there had been a prosecution and a trial inside the church, this does not mean that the civil courts cannot intervene. It's not enough for Mansour Labaki to pray in a certain monastery in Mount Lebanon without the intervention of the judiciary."
Nicholas Frakes is a multimedia journalist with @NOW_leb. He tweets @nicfrakesjourno.