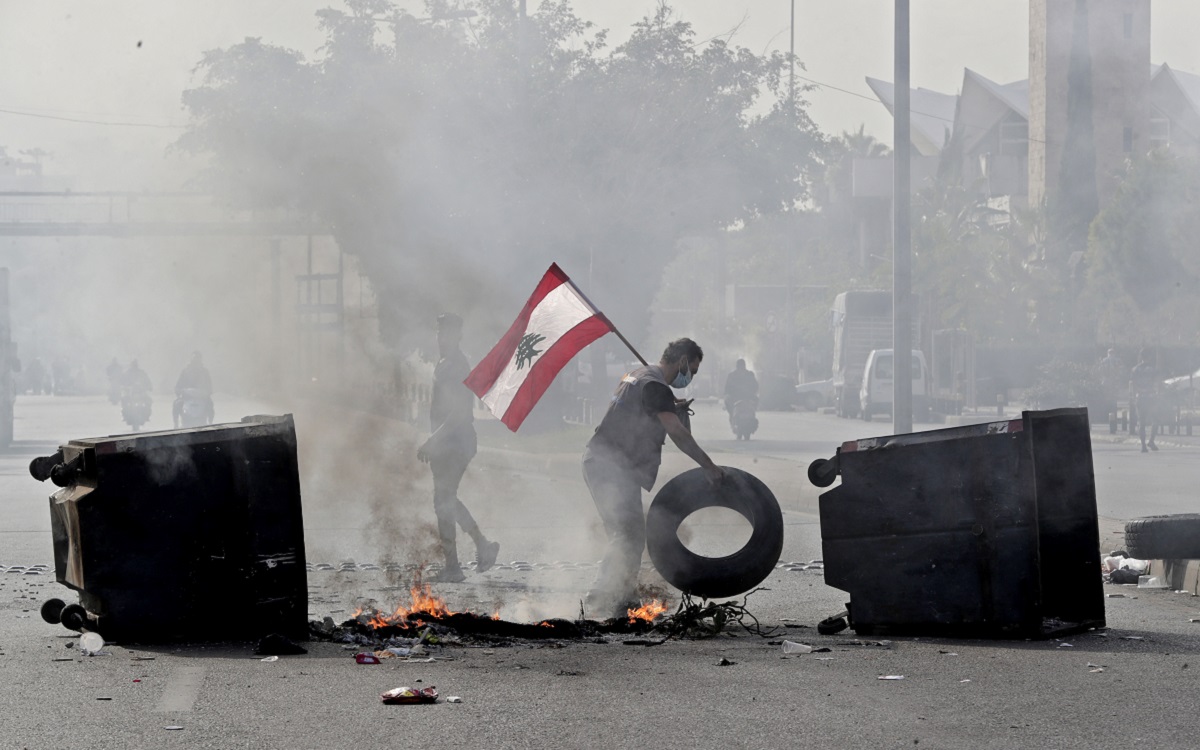 Lebanese protesters block a highway during a protest in the capital Beirut on November 29, 2021, as the country struggles with a deep economic crisis. Photo: Anwar Amro, AFP.
Protesters blocked roads in major cities around Lebanon on Monday as the economic crisis that has crippled the country over the last two years worsens and the Lebanese Lira reached 25,000 to one US dollar. 
The protesters blocked major roads, such as the highway in Zouk, Palma highway in Tripoli, Elia Square in Saida and various roads throughout Beirut like in Corniche al-Mazraa. 
On Friday, November 26, the lira hit an all-time low of 25,700 for one US dollar, prompting some people to panic-buy goods and fuel over fears that prices would increase.
Following the roadblocks, the sound of gunfire could be heard in the Beirut neighborhood of  Tariq al-Jadideh. 
While the Lebanese army said that it has been able to clear some roads, others continue to remain blocked and protesters continue to call for demonstrations over worsening living conditions. 
According to a UN report in September, nearly "three-quarters of the population is living in poverty" in Lebanon.
Much of this poverty has stemmed from the devaluing of the local currency and the hyperinflation that has crippled the country. In addition to this, Lebanon's foreign reserves have been significantly depleted, leading to the effective lifting of most subsidies.
The Lebanese government has said that they will roll out ration cards for the poorest in the country as a way of making essential goods more affordable, but the program has so far failed to find funding.
The government has also been looking at receiving a bailout from the International Monetary Fund, but this requires them to submit figures of their financial losses, something that the government has failed to do up until this point.
With no safety net and no tangible solutions, the economic crisis is only expected to deepen.Follow NOW Lebanon for more updates and also follow us on Twitter, Instagram, Facebook, or LinkedIn.