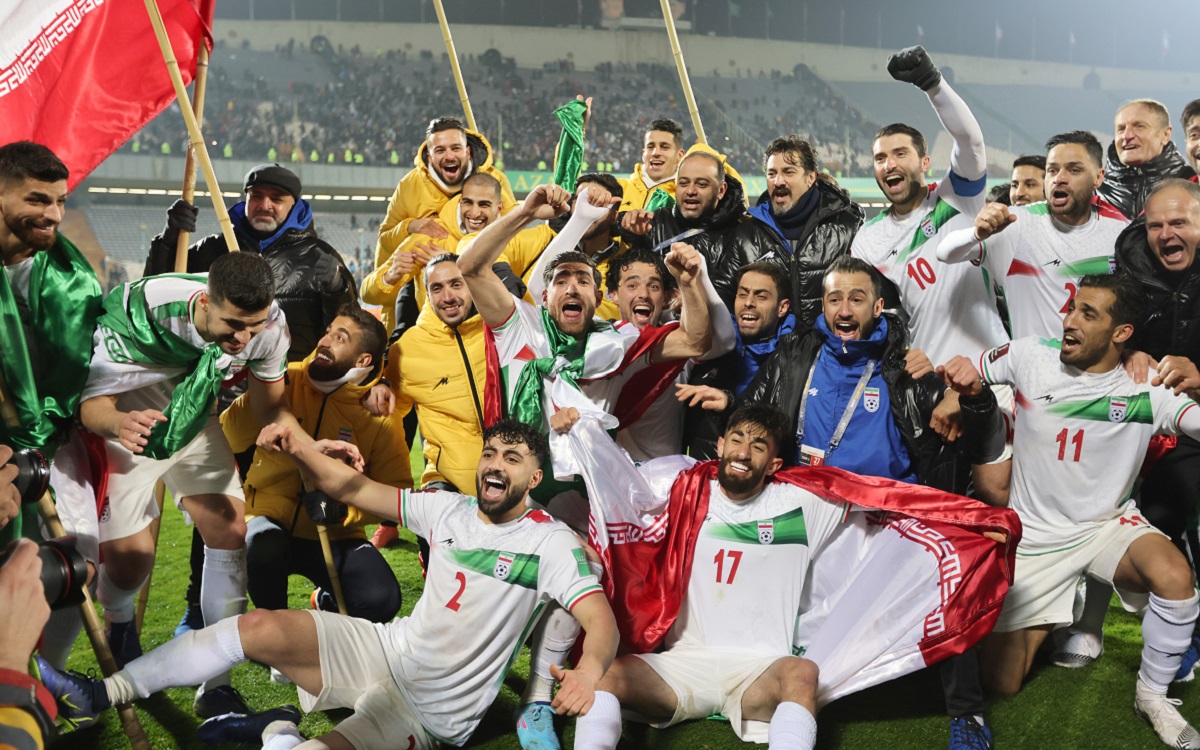 Iran's players celebrate with their fans after qualifying for the 2022 Qatar World Cup after their win against Iraq in the Asian Qualifiers football match at the Azadi Sports Complex in the capital Tehran, on January 27, 2022. Photo: Atta Kenare, AFP.
In March 2020, as the pandemic was setting foot in the world, I met the renowned Iranian activist Masih Alinejad in Oslo. We were both a part of an event organized by the Oslo Women's Rights Initiative and the Nobel Peace Center. 
I had followed Masih's work online for years, with a bit more interest in her because she was an Iranian woman specifically. I spent a week asking her all the questions that I ever had about the country. We connected over issues that we did not think were common. We even scheduled our first live Instagram broadcast from her Instagram page, which now has 6 million followers. I answered in English and she translated my answers to Farsi for her followers. The engagement was insane, we found ourselves sharing more common political and economic issues than we had ever imagined. 
The flow of followers I got from Iran, or of Iranians residing in exile, was big.  Many were eager to communicate, sometimes in Farsi. The language was a serious barrier, but Google Translate made it easier.
On Instagram, hundreds of people wanted to share their frustrations with me, even though I was not Iranian and was in no way in their shoes, nor in Masih's shoes, whose brother is now jailed in Iran as a result of his sister's activism. 
One of the messages I received, one that I will always remember, was from a mother residing in an Iranian village which I shall not name for security reasons. She wrote, and Masih translated: "I lost my son in the November protests, when I open social media and find people talking about Iran, I realize that we are not forgotten, and this gives me hope".
Lack of regional awareness
Over the course of the past few years, Iran and Lebanon have been endlessly tied by Hezbollah, a political party turned militia, under the title of 'resistance of the enemy'. The party tightened its grip on Lebanon between the years of 2004 and 2008, greatly escalated its presence in the region post Arab Spring, and is well known for siding with Bashar Al Asaad, Syria's president, and for seeking more local control in Lebanon through intimidating its opposers.
Iran and Lebanon have also been closely tied through Syria, not only via borders but through the economic crisis that hit all three countries simultaneously. The two countries, however, are mostly connected through the 2019 protests. The 2019–2020 Iranian protests, also known as the Bloody November, were a series of nationwide civil protests in Iran initially caused by an increase in fuel prices, leading to calls for the overthrow of the government in Iran and its Supreme Leader Ali Khamenei.
Worldwide, people have often failed to recognize the agonies of the Iranian people. They have often failed to realize that there's no way out with authoritarian regimes, and that there's no winner, but mostly it's the people who lose, especially when 'big countries' try to play 'let's save the people', which has created more of a mess than ever in our already messy region. 
Not long ago, that same regime executed wrestler Navid Afkari, who confessed to crimes allegedly under torture. He was executed in September 2020 for his role in protesting regime corruption.
Some of us in Lebanon came to this realization after covering Syria excessively, and after losing colleagues, friends, and activists to assassinations. In 48 hours, we will mark the one-year anniversary of the assassination of my mentor, Lokman Slim, a renowned Hezbollah opposer who was always vocal about the Iranian regime and its allies too.
The communication with Iranian people living in Iran, opposing in hiding, or secretly trying to leave, took me back to memories from the beginning of the Syrian war. Back in 2012, when we were in Beirut and escaped a media blackout imposed by Damascus by communicating with media activists who used to send us videos to post online and to write about in English for the international media to recognize and see the horrors created by the Syrian Regime. 
Having lived in this region all my life and being woken up one day to find that my name had been blacklisted and bashed on Twitter by Islamic Revolutionary Guard supporter accounts after my conversation with Masih Alinejad taught me a thing or two about politics in our region.
Politics and life are combined, whether we like it or not. No matter how much one tries to separate, politics makes its way into every aspect of our modern-day lives, especially culture and sports. 
That is why the latest news of Iran securing their place at the 2022 FIFA World Cup in Qatar after beating Iraq is a chance to remind the world that temporary happy news does not erase the horrors caused by the same regime that endorsed and used its football team as a means to show the world its side of the story. 
People in Iran may have taken to the streets to celebrate the victory of their country, it may have like a breath of fresh air. But under that victory there are so many layers and a history to remember. 
One cannot bury the past
Sports and politics are combined and cannot be separated, especially in countries under the rule of authoritarian regimes. Sure, the people are allowed to celebrate and feel that breath of fresh air, but the world needs to be reminded that the Iranian regime endorsed that game, made it possible and even allowed "some women" to attend the match. Displaying the appearance of tolerance and progressiveness benefits the regime, not the people.
Not long ago, that same regime executed wrestler Navid Afkari, who confessed to crimes allegedly under torture. He was executed in September 2020 for his role in protesting regime corruption.
Iran's execution of Afkari was not the first athlete-related execution. Since it came to power in the late 1970s, the Iranian regime has executed many athletes for their political beliefs or due to accusations and confessions made under torture. Celebrating sports is a priority for the regime only when it's convenient, when the athletes are obedient or refrain from politics or happen to be supporters of the regime.  Once an athlete dares to step outside of that box, jail, and possibly execution await.
Silencing ourselves for a momentary celebration, silencing myself for a momentary celebration, is a betrayal to those who have been wrongly killed by that regime, in Iran, Syria, Lebanon and Iraq.
Foruzan Abdi, former captain of Iran's women's national volleyball team, was hanged in Tehran's notorious Evin prison in the summer of 1988. She was arrested in 1981 on charges of supporting the opposition group Mojahedin-e Khalq (MEK).
Habib Khabiri was a member of Iran's men's national football team. He was arrested in 1983 on charges of membership in MEK and executed the following year.
Mahshid Razaghi was a member of Iran's national Olympic football team. He was arrested in 1980 for 'selling anti-government newspapers' and was executed in 1988.
Hooshang Montazeralzohoor was a champion wrestler who was arrested and executed in 1981. 
Majid Jamali-Fashi was a professional kickboxer who was arrested in 2010 on charges of working for the Israeli Mossad and assassinating a nuclear scientist in Tehran. He was hanged in 2012.
These athletes were supposed to serve time in prison but were never released. A fair trial was never an option, at least not to a regime that shot and killed 324 protestors, according to Amnesty International, during the November 2019 crackdown. 
The people of Iran have the right to celebrate because unlike us, hundreds of them don't have the luxury to speak up, nor the means to oppose a regime that would jail your whole family to silence you. 
So, silencing ourselves for a momentary celebration, silencing myself for a momentary celebration, is a betrayal to those who have been wrongly killed by that regime, in Iran, Syria, Lebanon and Iraq.
Luna Safwan is an independent journalist based in Beirut. She is the host of the 'Beyond politics' weekly podcast. She reports on current affairs with a special focus on freedoms, human rights, Syria, migrant workers, and marginalized communities. She tweets @LunaSafwan.
The opinions expressed are those of the author only and do not necessarily reflect the views of NOW.