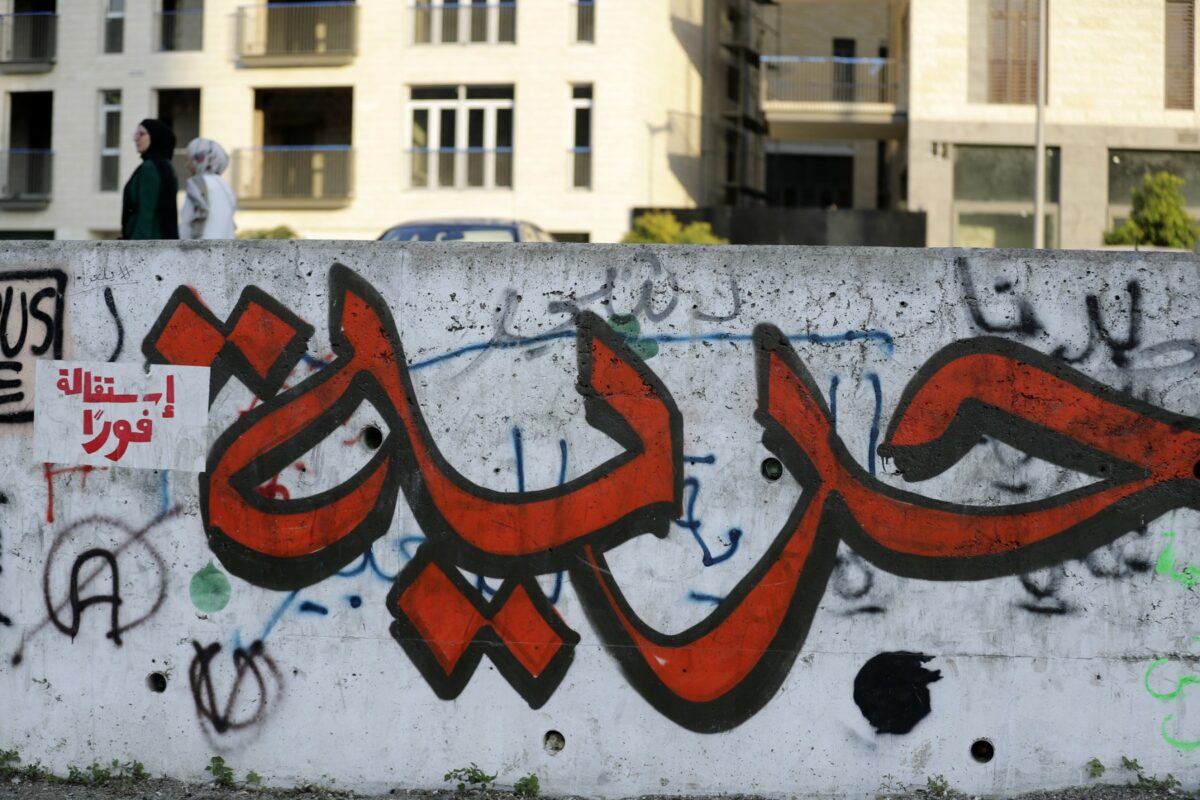 A graffiti reading "Freedom" is sprayed on a wall in Lebanon's capital Beirut on November 5, 2019. Since October 17, the chanting of tens of thousands of Lebanese denouncing the political elite have shaken the normally staid district around two Beirut squares, Martyrs' and Riad Al Solh. / AFP / JOSEPH EID
Several Lebanese journalists and figures have been subject to defamation campaigns and online bullying after criticising Hezbollah's approach to the Israeli war on Gaza.
Amidst the escalating Israeli war on Gaza and the mounting tensions along Lebanon's southern borders between Hezbollah and the Israeli Defense Forces, an inner conflict is unfurling within Lebanese society.
Brawls with journalists are nothing new, especially those daring to voice opposing views to a political party's vast audience. A new defamation campaign, however, has emerged this time around that could potentially negatively impact freedom of press and threaten the personal lives of journalists and activists.
The conflict this time involves the pro-Hezbollah audience and its critics in the media. The online dispute between these two is not new as Hezbollah, like any party is often scrutinized on social media. Nonetheless, Hezbollah's involvement in the clashes with Israel on its southern border has made people more wary of its developing role, which could lead to a bigger war than
Lebanon is prepared for.
The hashtag #لبنان_لا_يريد_الحرب, (Lebanon does not want war) has taken off on social media and has been trending for a few days, echoing Lebanon's desire to steer clear of war. But this seemingly straightforward stance has stirred the pot, sparking internal divisions within the Lebanese community, and raising the risk of conflict with opposing factions.
Why the split?
Over the past week, social media has been flooded with posts featuring Lebanese figures, including well-known journalists, their images marred by the imposition of a Star of David on their faces.
Some of these figures have spoken out, addressing Hezbollah's involvement in clashes with Israel along the southern borders, urging restraint to prevent the situation from spiraling into a broader conflict.
In response, supporters of Hezbollah have issued calls to retaliate against the perceived "traitors"; within Lebanon advocating for Hezbollah's disarmament.
Among those targeted is Lebanese journalist and TV personality Dima Sadek, whose image was adorned with the Star of David, accompanied by the phrase "partners in the killing of children".
Sadek noted that being labeled a traitor is not a new experience for her. However, the addition of the Star of David crossed a line, portraying her as a Zionist or aligned with Israeli occupational forces.
Coming from a leftist, pro-Palestinian background, Sadek clarified that her perspective on the Palestinian cause differs from that of Hezbollah. While accustomed to receiving attacks and messages, she expressed her concern that the recent campaign has escalated beyond acceptable boundaries.
Sadek initially intended to maintain silence on the attacks to prioritize coverage of the situation in Gaza. However, the inclusion of the Star of David in the image compelled her to speak out. She attributed the campaign to Hezbollah's discomfort with the ongoing clashes with Israel and the frustration felt by their audience following the Secretary General's speech on November 6, coupled with the increasing number of casualties along the border.
"In times of frustration, the tendency is to blame someone, and in this case, we are the ones being blamed. It worries me; as frustration escalates, we might become the target of that frustration" Sadek expressed.
Real-life threats
Lebanese journalist Mariam Majdoline Laham also found herself in the crosshairs of this campaign when she took to social media to express her opinion that men from the Sunni sect should refrain from aligning themselves with Hezbollah and the political factions engaged in border conflicts.
In response, an individual claiming to be an "activist"; under the alias "Abou Ali Koubaissi"; released a voice note, launching a verbal attack on Laham and resorting to name-calling. Laham told NOW that the onslaught didn't stop there; she has been bombarded with messages containing death threats and disturbing discussions of sexual assaults.
"We are currently grappling with an unprecedented defamation and hate campaign, and the threats are sounding alarmingly realistic, posing a direct physical threat to us," she expressed.
Laham emphasized the gravity of these threats, stressing the need for immediate attention. "These threats cannot be brushed aside, and personally, I don't feel safe. Fortunately, I have a circle of friends who are also colleagues targeted by this campaign, and we provide each other with strength and support," the journalist said.
According to her, the purpose of this campaign is to prevent Hezbollah from opposition if it enters war with Israel. She believes that creating internal divisions will only benefit Israel.
"This is very disappointing and we refuse to be called zionsits since we are only saying that we want Lebanon to be protected, whereas the Zionists will take over Lebanon without hesitation," she said.
Lebanese journalist Tony Bulous told NOW that Hezbollah could be using this campaign to claim victories with "enemies" on the inside. People have different opinions about political matters, and the Palestinian cause could mean different things to different people, he explained.
"My opposition to Hezbollah does not mean that I'm siding with Israel," he said.
Similarly to Laham, He adds that threats this time could reach actual physical levels and pose real dangers.
Protecting freedoms
Wadih Asmar, the President of The Lebanese Center for Human Rights, found himself labeled a traitor, or "Amil," implying collaboration with Israelis by the Minister of Social Affairs Hector Hajjar. The accusation came about when Asmar questioned the minister about the Syrian regime's failure to facilitate the return of Syrian refugees to Syria, ensuring their safety.
"It just showcases the immaturity of the person and the lack of substantial content this minister has to offer," Asmar told NOW.
Concerning the ongoing defamation campaign, Asmar highlighted the common tactic of discrediting most critics of Hezbollah. He emphasized the critical nature of this division, especially given the looming potential for war in Lebanon.
"Perhaps this campaign helps pro-Hezbollah supporters feel like they're actively supporting their stance against Israel," he suggested.
"However, it redirects attention away from the south and Gaza, creating undue focus on internal conflicts when all eyes should be on the actual warfare unfolding on the borders and in Gaza".
He adds that disagreements and freedom of speech should be protected since killing threats can derail healthy disagreements. The freedom of the press in particular is crucial, since it is currently helping inform the people about what's happening in Gaza.
This is shown in how the western sentiment has shifted towards a pro-Palestinian stance since the act of preserving freedom of press allows for factual information to disseminate and worldwide audiences to mobilize.