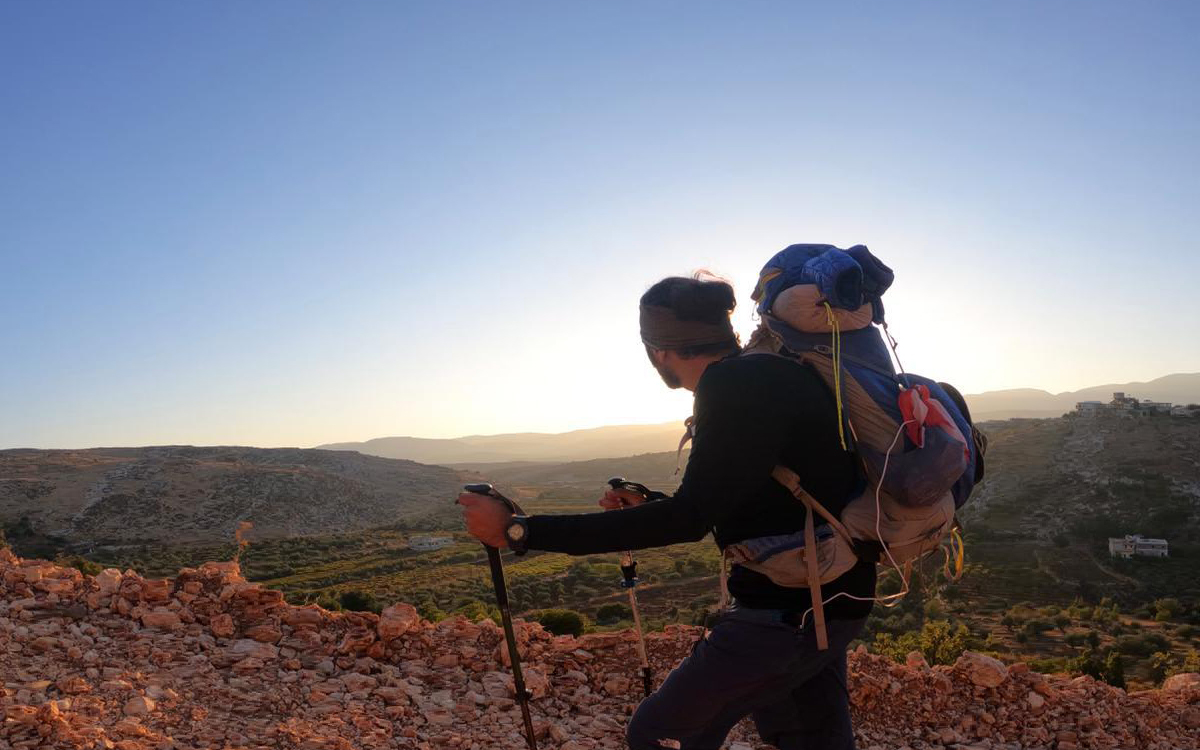 Charbel Satouf during his hike on the Lebanon Mountain Trail, on October 27, 2021. Photo: Courtesy of Charbel Satouf.
If you asked him a few years ago, Charbel Satouf would not have believed that at the age of 25 he would set out to break a record by trekking Lebanon's longest hiking trail of 470 km, from South to North, connected by the western mountain range. 
"It's been a dream of mine since two years ago and I finally found the right time to do it," Satouf told NOW as he hiked 
He started his hike on October 22 with a GPS in hand and a tent on his back, and has only ten days to finish.
In 2005 Lebanese-born hiker and entrepreneur Joseph Karam, who immigrated to the US during the civil war, submitted together with a colleague a proposal for funding to USAID and formed the Lebanon Mountain Trail Association (LMTA). Two years later, the Lebanon Mountain Trail (LMT), connecting well-worn shepherd and agricultural routes with ancient Phoenician and Roman footpaths, officially opened. Divided into 27 sections, the trail explores 76 villages.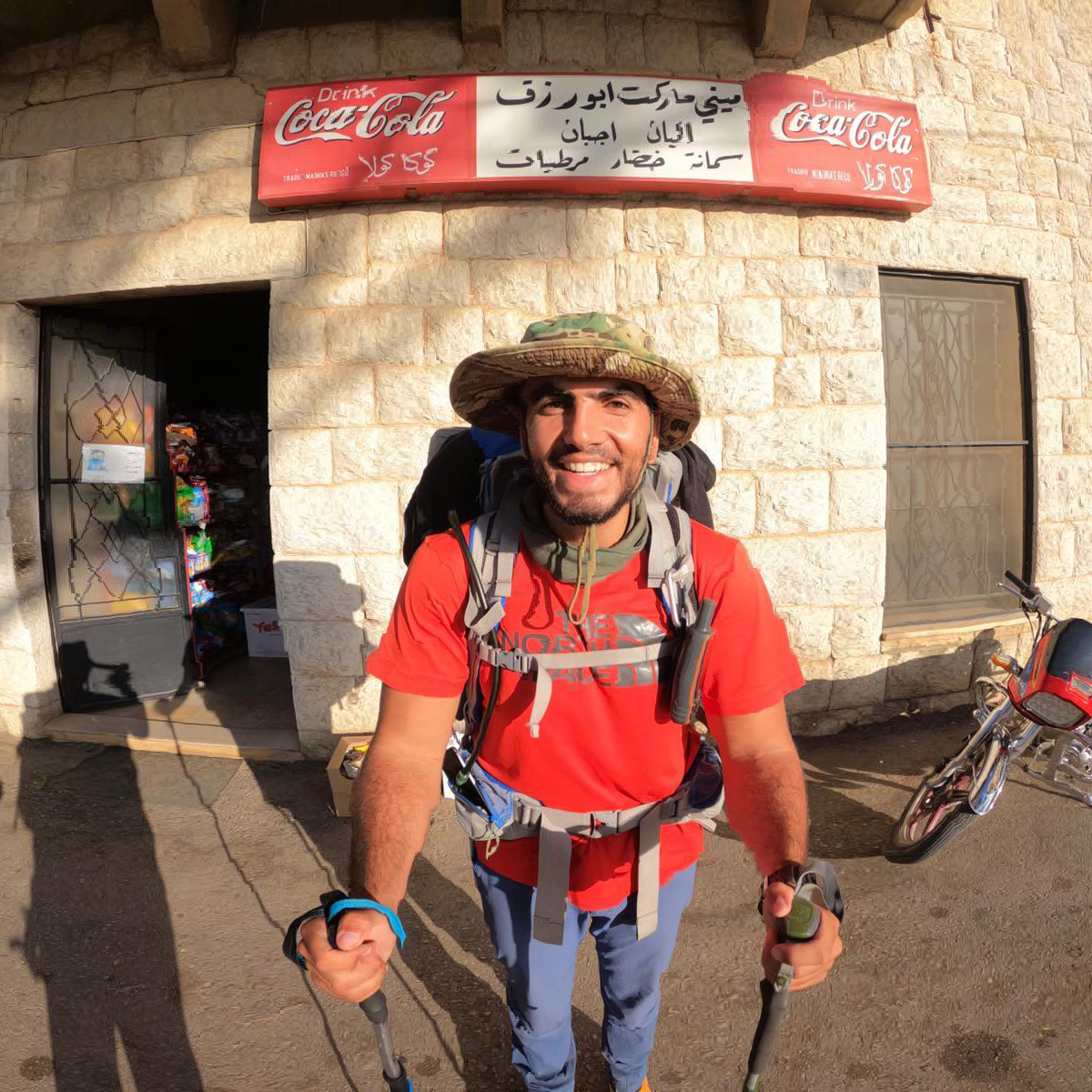 Into the wild
Satouf wanted to be the first backpacker to complete the trail while sleeping in a tent. 
"I do miss my bed and it would've been much easier if I just slept in guesthouses, but I wanted to get the full scope of the experience," he said. 
He hikes in the early mornings. He wakes up at 2 – 3 am, packs his stuff, has breakfast, and then takes off on his hike. His daily trail reaches 45 km. That means about 14 hours of walking. 
With an elevation gain of between 1500 – 2000 meters, the daily trails are physically demanding and Satouf only got 5 to 6 hours of sleep every night. 
"Sleep is important for my body to recover, but I'm also aware of what I eat so that my body stays energetic." 
His diet consists of whatever he could find in the villages he passed by, but it was usually a mixture of protein bars and lots of carbohydrates. His water intake also depends on the nearby wells. But because the rainy season hasn't started yet, not all had water. 
"I make my calculations when it comes to food and water because sometimes I know I won't be passing by any villages so I need to have supplies ready," he explained.
How he got here
Satouf was not always passionate about mountains and hiking. He says that the change came when he was 18. 
"I used to be a chubby kid who didn't do much sports. But then, at 18 I met a group of people who introduced me to rock climbing and mountaineering and I immediately became passionate." 
Satouf started to dedicate every weekend to an outing in nature with his friends. When he wasn't mountain climbing or hiking, he dedicated his time to running a small delivery company that he established. 
He was also part of "wolfpacksummits", a life coaching community that drew its inspiration from outdoor activities. 
"Sometimes they would take me to work with NGOs where I would sit down with children and tell them my story, how I transformed myself and faced my fears. Try to give them courage."
Although the young athlete has been dreaming of this adventure for two years, what lifted his spirit was support from friends.
But the real hard work started six months prior, when he decided to begin preparing his body for this adventure. 
He chose the fall season, as the weather was neither too warm nor too cold. 
"I would get up at 6 am, go for a run next to my house and each day I would add a challenge to the run. I would either add weights or a shorter time limit. I also fixed my diet and went to a physiotherapist," he explained. 
The constant hikes and climbing expeditions also helped his body prepare for ten days of strenuous activity. 
"You teach the body to always give you more."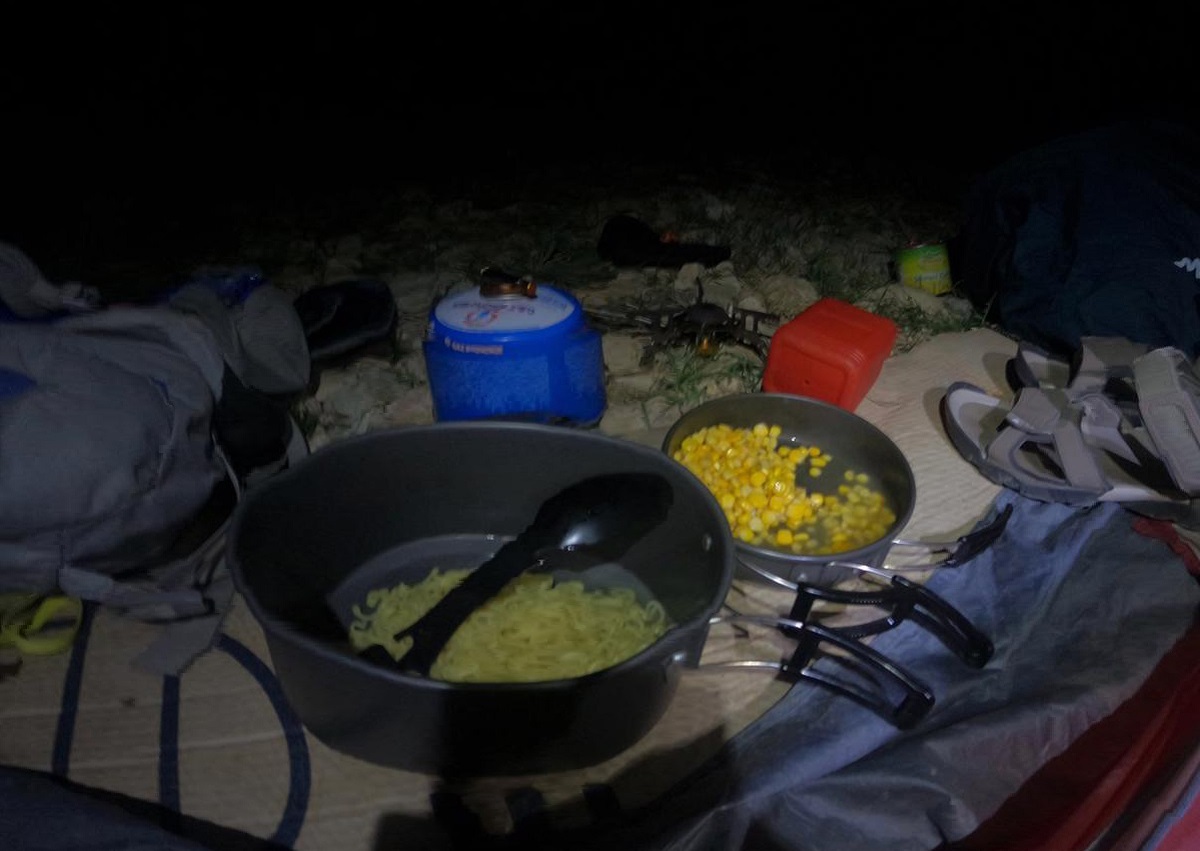 Worth the pain
Although the athlete admitted that breaking a new record felt nice and rewarding, there was also a bigger mental benefit to this experience. 
"You start to realize how much it is all based on mental games. When you push you body's limits you realize what you're capable of and that's really encouraging." 
A confidence boost, a daily sense of achievement and the reminder that you can always push forward. For Satouf these could be applied to any given life situation. 
However, the pain he would experience daily was indescribable, as nothing in his normal life resembled it. 
Adding to that the overthinking one faces when alone. 
"Some friends sometimes join me for 10-15 km to give me moral support but when I'm alone and there is no scenery to distract me, my brain starts to send out doubtful messages,"
"Am I really doing this?, what am I doing this for?, Do I even have what it takes," he described a few.
Such thoughts undoubtedly affect the performance, but so far more than 50% of the trail is done. 
"You start to realize how many things we take for granted in our daily lives and how easy we have it at times,"
Satouf was pointing out the easy accessibility of food, water, and a comfortable mattress. 
He has mountaineering aspirations outside of Lebanon, but the lack of finances constitutes his main obstacle. "I'm applying for jobs abroad so it's a good time for me to finish this achievement while I'm still here," the athlete said. 
Dana Hourany is a multimedia journalist with @NOW_leb. She is on Instagram @danahourany.