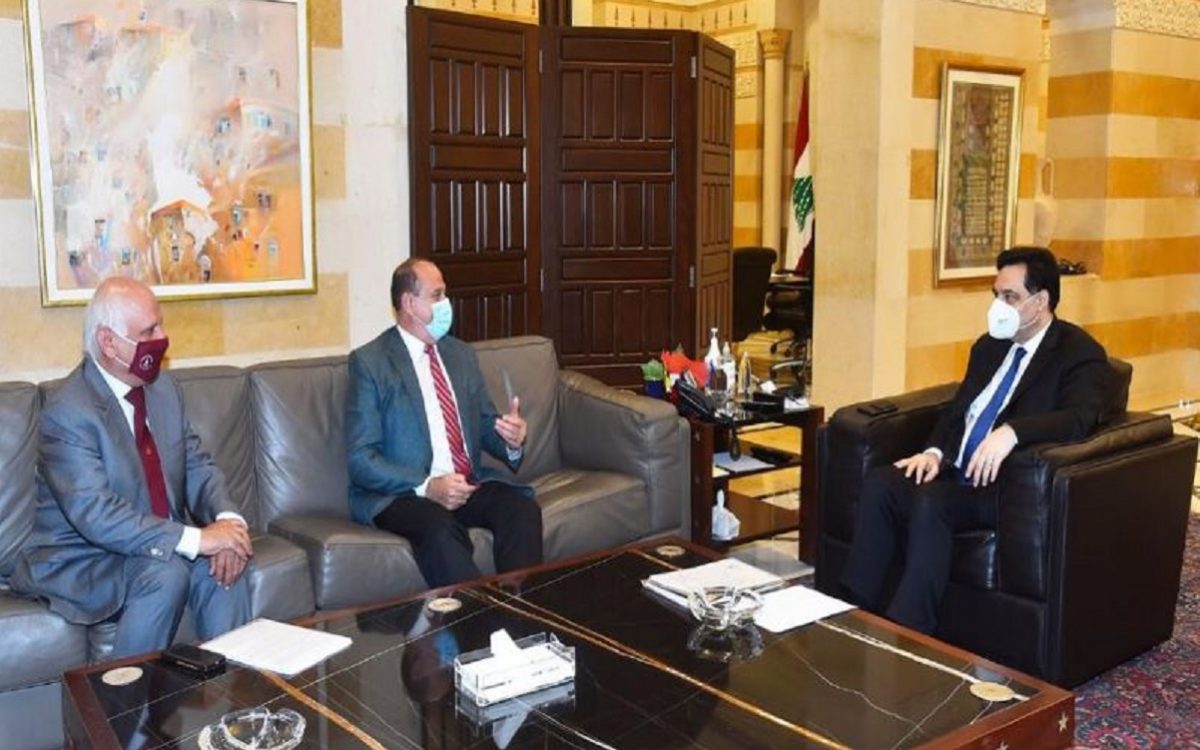 Lebanese caretaker PM Hassan Diab (right) at a meeting with the Caretaker Minister of Industry Imad Hoballah and the representative of the Arwan pharmaceutical company. Photo: Courtesy of the National News Agency.
Lebanon may soon see its own production of the Russian SputnikV vaccine against COVID-19, in the hopes of speeding up the lagging vaccination process. 
Caretaker Prime Minister Hassan Diab chaired a discussion on Thursday on the possibility of the Lebanese pharmaceutical company Arwan producing the Russian SputnikV vaccine. 
In February, Caretaker Minister of Industry Imad Hoballah, accompanied by Russian Ambassador Alexander Rudakov, visited Arwan's factory in Jadra, 35 km south of Beirut, to look into the possibility of the company producing the vaccines. Rudakov said that the pharmaceutical companies in both Russia and Lebanon will cooperate to kickstart the production. 
"We, in Russia, are ready to help the Lebanese people and the Lebanese Republic in all fields, including fighting Corona, and God willing, after visiting the factories, there will be communication with the relevant companies in Russia and with Lebanese companies," the Russian ambassador stated.
Lebanon received on March 26 one million doses of the Russian vaccine SputnikV under an agreement with the pharmaceutical company Pharmaline, owned by MP Jacques Sarraf, the Honorary Consul of the Russian federation to Lebanon. 
Pharmaline was the first private company to import COVID-19 vaccines after months of negotiations with the Ministry of Public Health.
The vaccines were distributed through private clinics to companies across Lebanon at the cost of $48. 
So far, the vaccine rollout in Lebanon has been slow, with only six percent of the six million population receiving the first dose of any vaccine.
Vaccination distribution in Lebanon has been largely limited to those delivered through the UN's Covax program which has delivered to the country the Pfizer and AstraZeneca vaccines. 
On April 6, China also donated 90,000 doses of Sinopharm vaccine which have been used by the Lebanese army and also some journalists.
The private imports of SputnikV have created concerns that some politicians would bypass the slow government rollout and offer the vaccines to their constituents in an effort to spur up support for the upcoming 2022 election.