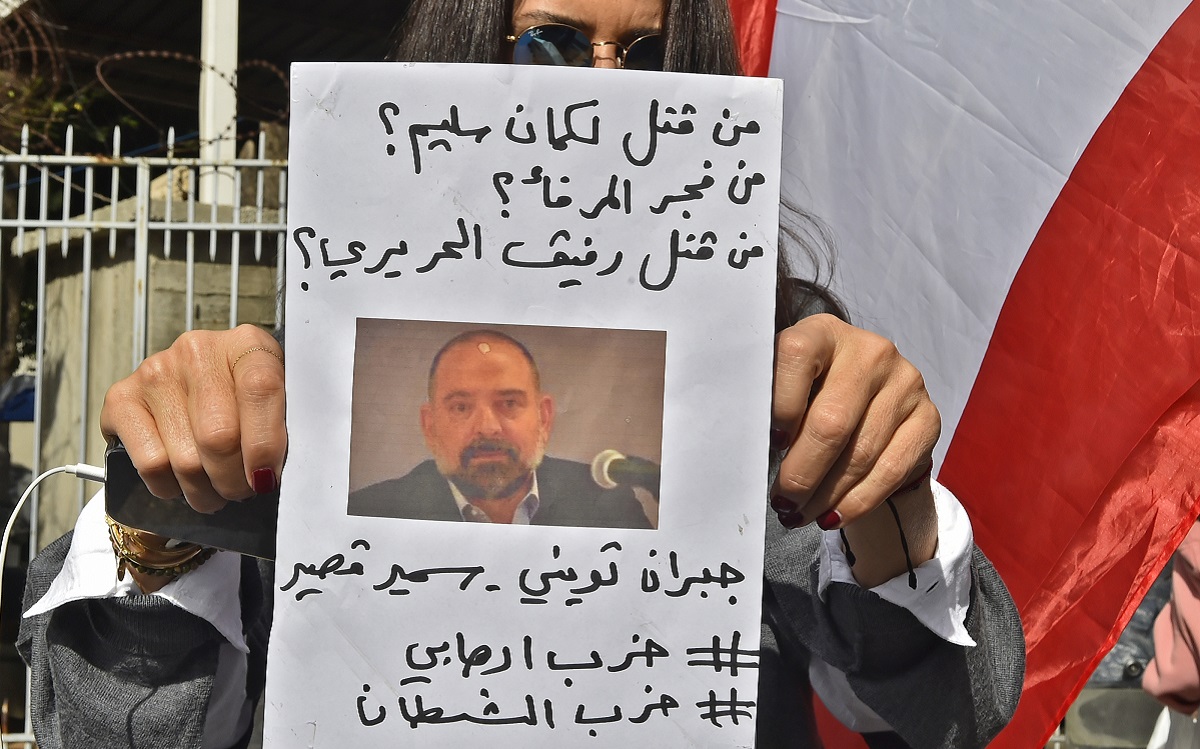 A protester holds a picture of slain prominent Lebanese activist and intellectual Lokman Slim, during a rally in front of the Justice Palace in the capital Beirut, on February 4, 2021. Slogan on the placard reads in Arabic: "Who killed Lokman, who blew up the port, who killed (former prime minister) Rafiq Hariri, (journalist) Gibran Toueini, (author) Samir Kassir,.... the party of terror, the party of Satan." Slim, a Shiite Muslim secular intellectual known for his opposition to the Shiite movement Hezbollah, was found dead in his car in the country's south today. Photo: AFP/STR
To the mother who wants to take her children and leave Beirut this evening because she is afraid of what might happen tomorrow on the streets of the city. 
To the person who is too afraid to stand up for the lives of the dear ones we lost last year because of the #Beirut_blast. 
To those who cannot sleep at night, simply because they do not want to relive the nightmare of August 4 again.
To those who only knew of Lokman Slim six month ago. 
Bravery and courage should not be admired from afar.
I tell you, if you run away from the fight they will come for you.
If not with their guns and knives, they will come for you just like they came for you on August 4 when you were relaxing in your living rooms. 
View this post on Instagram
If you decide to run away from the fight, be aware that when you don't find medicine for your children or your loved ones or when someone shoots you by mistake while you are queuing at the gas station, justice is the only thing that will set us free.
For #Lokman_Slim. 
For the hundreds who died fighting for a better Lebanon.
For the victims of the Beirut Port explosion.
Fīat jūstitia ruat cælum.
"Let justice be done though the heavens fall."
Makram Rabah is a lecturer at the American University of Beirut, Department of History. His forthcoming book Conflict on Mount Lebanon: The Druze, the Maronites and Collective Memory (Edinburgh University Press) covers collective identities and the Lebanese Civil War.
The opinions expressed are those of the author only and do not necessarily reflect the views of NOW.