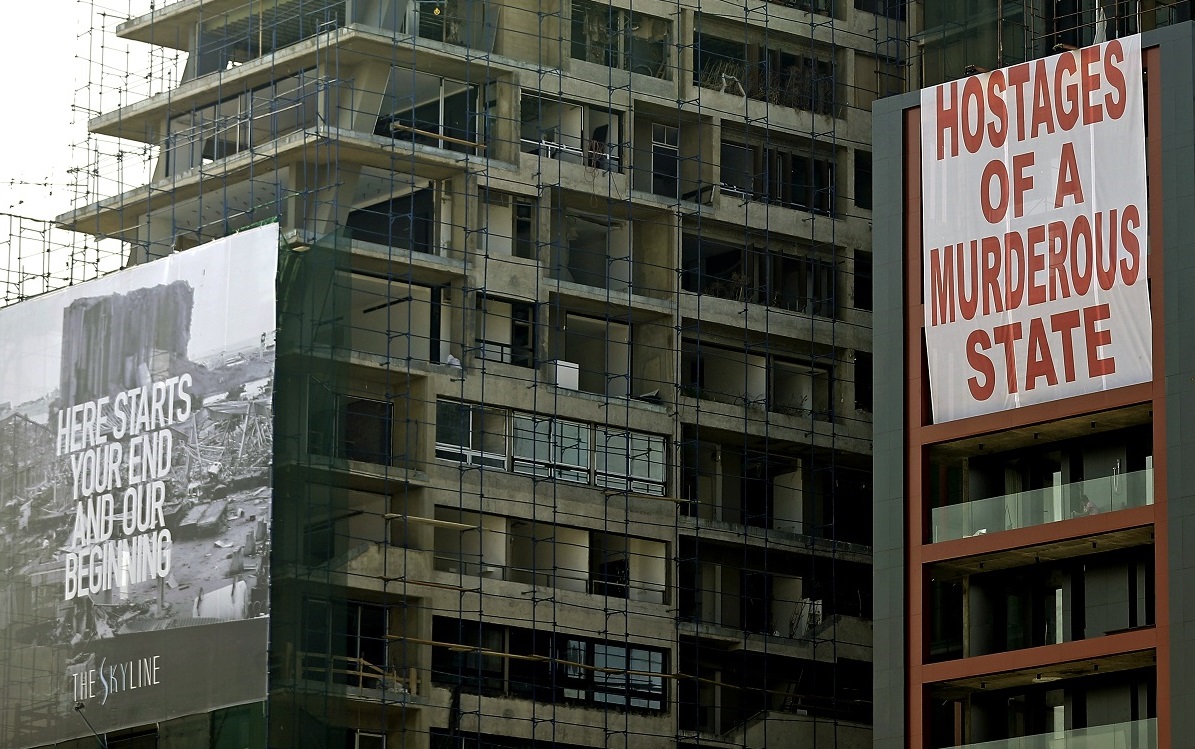 Banners reading "Here starts your end and our beginning" and "Hostages of a murderous state" hang on buildings damaged during last year's port blast on August 4, 2021, as Lebanon marks a year since a cataclysmic explosion ravaged the capital Beirut. Photo: Joseph Eid, AFP.
August 4th.
A date that has hung over every date since. A date that carries with it a weight of immeasurable loss, unfathomable betrayal and seething anger. A date that has frozen in time through recirculated videos, triggering trauma, but reminding us that we are far from ready to forgive and move on.
A lot has been written about 'a year since' the blast, the voices of those who lost so much in a few seconds after 6:00pm, rightly brought forward and amplified, carrying the grief of a city and a nation, character forever scarred.
The government has declared this day a national day of mourning, but many Lebanese vowed to not stay silent and take to the streets as an anger that has only grown with every day the crime has been left unpunished.
Families of the victims and survivors have planned vigils, prayers, ceremonies and marches to honour those who perished in a blast whose shockwave was felt as far away as Cyprus.
As Lebanon's economy continues to tumble into an abyss, with medicine and fuel shortages, and forever rising prices, the negligence of the country's ruling class, many of which are directly implicated in the explosion, continues to hollow out what is left of any kind of standard of living here.
A class so reviled, remains hidden behind its high walls of proclaimed immunity, and overseas bank accounts, continue to avoid prosecution, stalling the lead investigating judge's work at every turn.
We will be documenting the movements of the day. Capturing in still, moving imagery and copy the voices of those who cannot forget and move on.