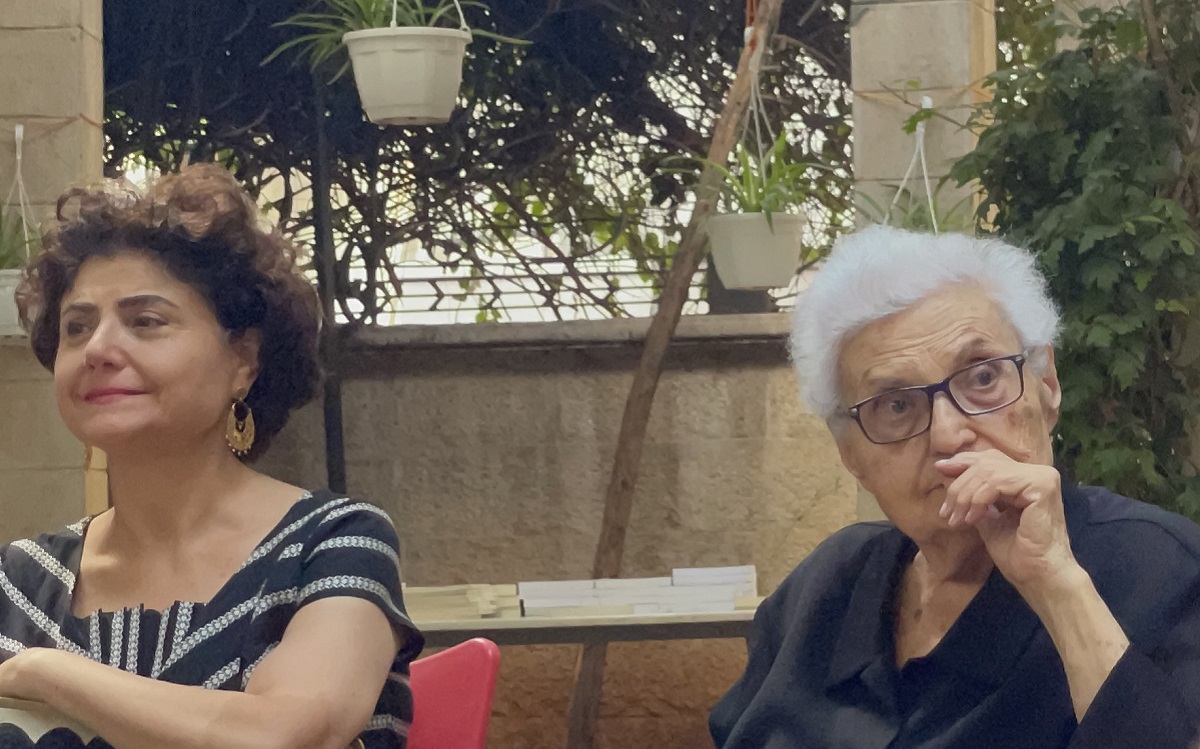 Salma Mershak (R) with her daughter Rasha (L). Photo: Courtesy of Makram Rabah.
A few years back, while sitting in Lokman Slim's garden in Haret Hreik planning out one of our many joint ventures on the history of Lebanon and the preservation of memory, we were interrupted by a graceful old woman who addressed Lokman in a mix of French and Egyptian Arabic. 
Naturally, I was intrigued by this encounter which led me to inquire from my friend of her identity, to find out that the woman was in fact his mother, who was born in Egypt to a protestant father and a Lebanese mother from Mount Lebanon. She met Lokman's father, the prominent lawyer, public intellectual and lawmaker Mohsen Slim, who she married in 1958 and had three children with – Hadi, Rasha and Lokman. All accomplished in their respective fields.   
Fatefully, the wider public was introduced to Salma Mershak only after the brutal slaying of her son Lokman, an ardent anti-fascist and outspoken Hezbollah critic whose intellectual endeavors and projects stemmed from the contributions of his own parents. Salma Mershak's motherhood sought higher education after her children reached school age. She enrolled at the American University of Beirut to pursue a graduate degree, studying and rubbing elbows with greats such as the famous historian Kamal Salibi, Joe Malone, and Constantine Zurayk and many others who shaped her views, and who were equally influenced by hers.
Mershak would later edit and publish a number of publications mainly centered on the intellectual history of the Levant and the Arab world, a world which her ancestors, the "Syrians" community in Egypt, commonly referred to as al-Shawam, played a pivotal role in. Her two seminal works on Nicola Haddad and Ibrahim al-Masri both document the contribution of these trailblazing Syrian intellectuals and the role they played in creating a bridge of intellectual and cultural exchanges.  
Consequently, Salma Mershak did not help only establish a home where the beautiful Mohsen Slim villa is currently located, but she also nurtured and created an incubator which allowed for Lokman and many others unrestricted access to a vast network of public intellectuals, many of whom were friends of the family. Some of these figures later published their works with Dar al-Jadid, a publishing house founded by Lokman,  which his sister Rasha continues to magnificently run.
Following the murder of Lokman in February of last year, the nation was mesmerized by the noble spirit of his mother, his sister Rasha, and his partner and wife Monika Borgmann whose dignified words and grief were far removed from the hatred of his assassins. 
Standing over the grave of her brave son, laid to rest in the garden of his home, Salma Mershak in her soft Egyptian accent reminded everyone of what matter:
Civilized people debate, they may differ in opinion, but resorting to arms is never the solution. We are civilized people, and we are not animals in the jungle. Animals in the jungle eat each other. Violence can never be good for this country, it did not serve me as a mother as I lost my son, my only wish is for you to use your mind not your instinct, that is if you truly wish to build a country which Lokman so rightly deserves. 
While the death of her son was immensely painful, Lokman's mother did not allow her heart or her mind to be filled with hatred, rather it reinforced her liberal and humanitarian ethics, the values her son so eloquently and vividly crusaded for throughout his career.
Perhaps, above all, Salma Mershak and her family of distinguished intellectuals are the real guardians of liberal thought, as well as of the legacy of the area she married into in 1958. Mohsen Slim was a native of Haret Hreik, a small neighborhood at the outskirts of Beirut, in the heart of what is commonly referred to now as the Southern suburbs of Beirut, an area whose vast olive and citrus groves have been replaced by high-rise concrete buildings brought about by the massive wave of internal migration starting as early as the late 1960's. 
Despite her Egyptian background and somewhat elitist character, Salma became rooted in Haret Hreik and opened her home to her diverse neighborhood, which slowly but surely was seized by the forces of darkness that replaced the Athenian model of Philosophy with that of the warmongering of Sparta.
Notwithstanding, Salma, the elegant Slim Villa, and its vast garden gave Lokman a playground as a child and it later served as the location for his publishing house and the UMAM Documentation and Research center erected to serve as a guardian of memory in a political culture that promotes and celebrates amnesia and forgetfulness. The Slims' villa of bright minds and souls with its humanity, diversity and never-ending commitment to knowledge stands as perhaps a last bastion for liberal thought battling the enemies at its gates who wish for their own bigotry and intellectual and religious shallowness to become mainstream.  
Lokman's career and vocal championing of justice, and his commitment to preserving the realms of memory and the untold stories of victims of conflict and violence  stemmed from the milieu which his mother nurtured and still promotes. It was a banner which Lokman bore on his forehead until his brutal assassination by those who gullibly believed that a child born out of Salma Mershak and Mohsen Slim can be silenced. 
Lokman might have left us in body but his smile and his bright mind and legacy will burn forever like the fire that Prometheus stole from the gods and gave to humanity, a warm fire that gently radiated from the eyes and intellect of Lokman's wise mother. 
The article was published in French on Icibeyrouth.com.
Makram Rabah is a lecturer at the American University of Beirut, Department of History. His book Conflict on Mount Lebanon: The Druze, the Maronites and Collective Memory (Edinburgh University Press) covers collective identities and the Lebanese Civil War.
The opinions expressed are those of the author only and do not necessarily reflect the views of NOW.