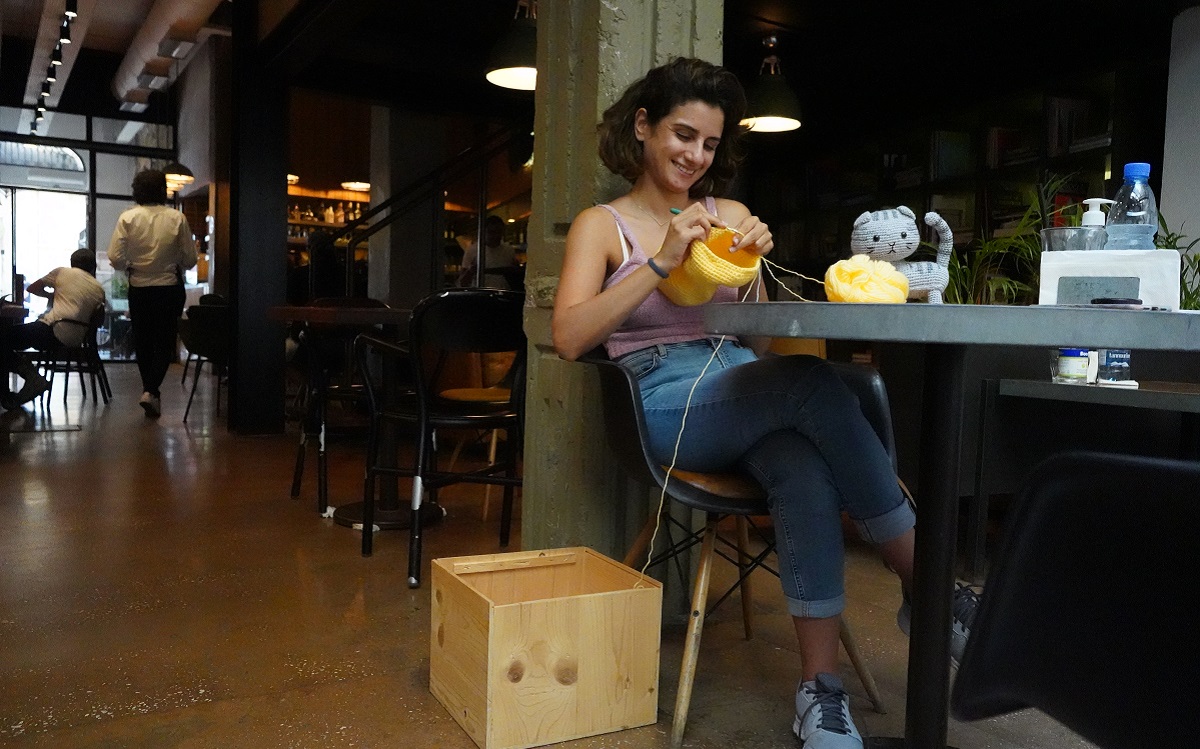 Mirna Shayben, 25, owner of an Instagram shop that sells handcrafted toys, knits while chatting about her business in a Beirut cafe. Photo: Dana Hourany, NOW.
Marwa Othman, a 25-year-old data analyst at an NGO in Beirut, realized that her wages no longer covered monthly expenses. 
When she started her job in 2019, she was earning 1,000,000 Lebanese pounds (roughly $650), which was enough to get by. But when the exchange rate hit 19,000 pounds to the dollar, her wages barely covered transportation expenses. 
"I can barely afford a Mankouche for breakfast and it's crazy to think about my lifestyle before and after the crisis," she said. "You can't get a job in the country you're in, nor can you leave, you feel stuck. But life doesn't stop here, we have to keep going," she added.
Her sister Mira, 19, was also in need of motivation after she was affected by the August 4, 2020 Beirut port explosion. 
The sisters first thought of an ice cream shop, but electricity cuts made it impossible during the summer. Hand-made embroidery seemed less problematic. 
They set up Canvart embroidery, an Instagram-based shop. Mira, a graphic design student, creates the templates, and Marwa handles the business aspects, the orders, and the supplies. 
"You have to be persistent, you have to make a plan, you can't just standstill. I don't want to think that my skills went to waste, I want to develop my potential and even though the country broke us, we can choose to do something about it," Marwa explained.
The Othman sisters were not the only ones to get creative as their monthly wages seemed to shrink by the day. Entrepreneurship or owning a small online shop might not have been on everyone's list prior to 2019, but since the economic crisis reduced most salaries to 90 percent of their original worth, many residents had to come up with a second source of income. 
Online businesses started to appear during the first COVID-19 lockdowns, and the main products were handmade crafts, Othman said. Knowing the ropes of operating a social media shop also mattered in the business surviving. 
"I'm aware that we need at least a year before we can start making a profit but this shop is like my own baby and I'm nurturing it as such," Othman said.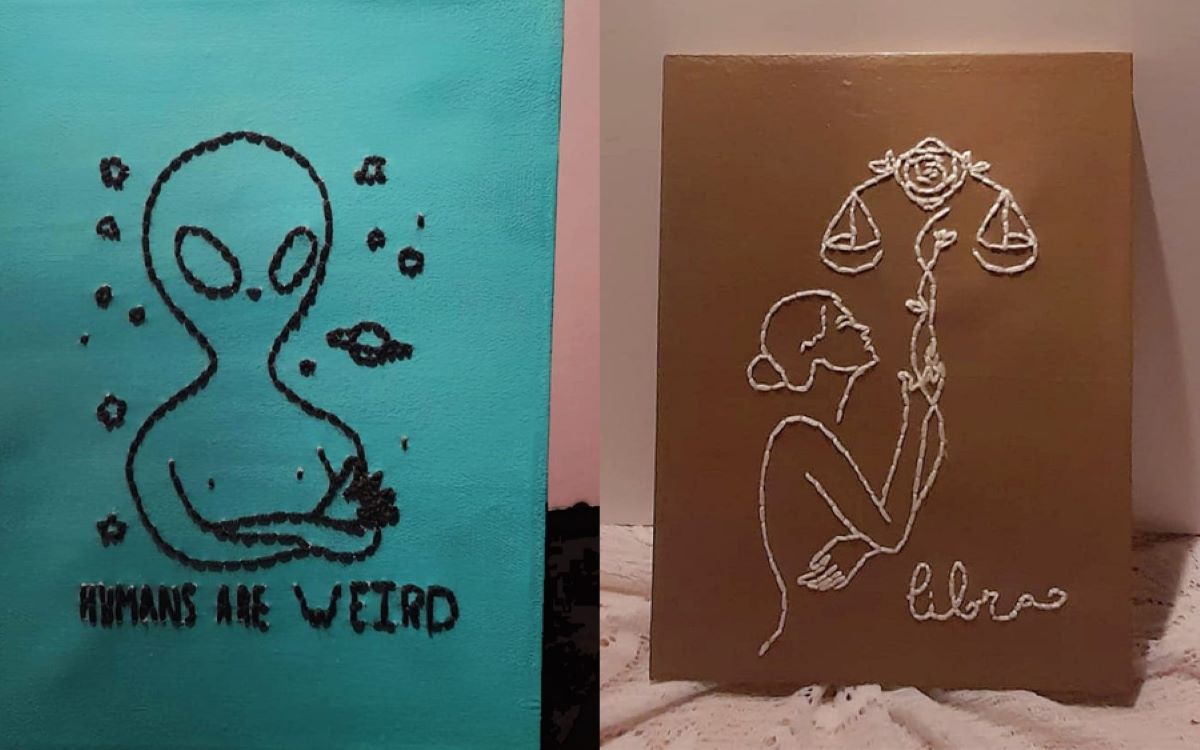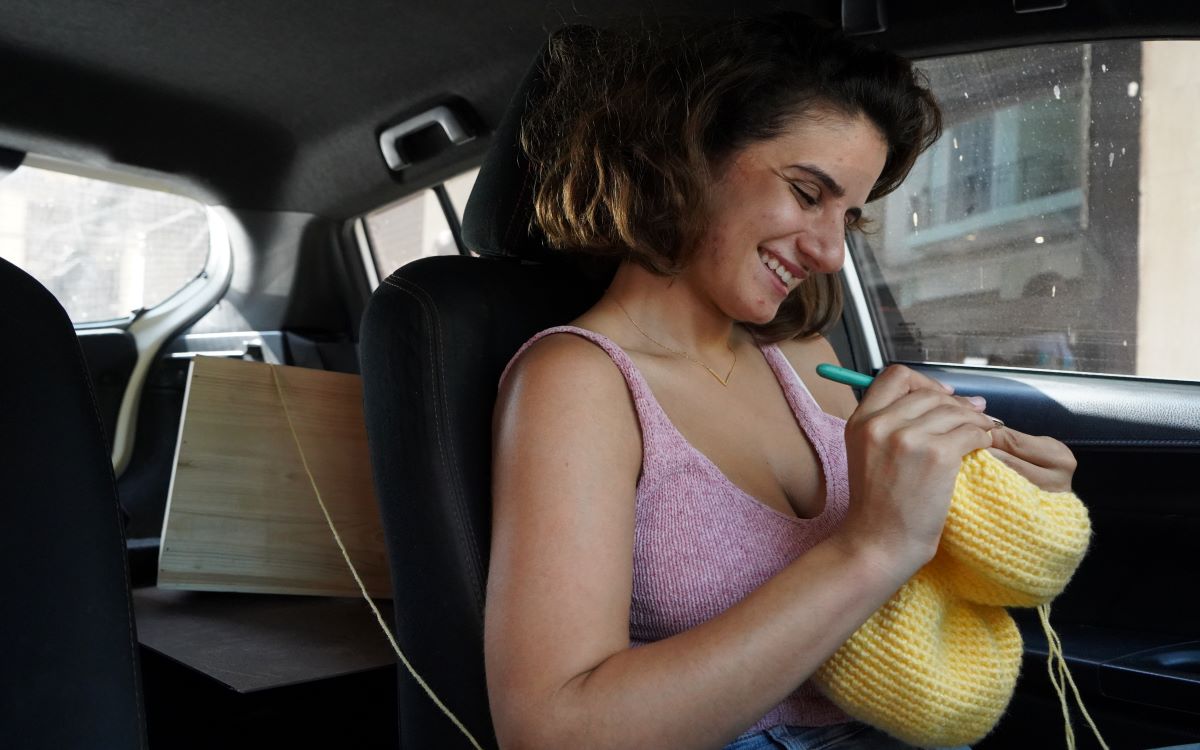 From crisis to profit
Mirna Shayben, a 25-year-old architecture graduate, also decided to start a crafts business after she quit her architecture job. 
After a few crochet sessions with her neighbor and some youtube tutorials, she developed the skill of amigurumi,  the process of making 3D toys using crochet art. Shayben started her online business, Kindknits, in 2019. But when the dollar rate started to increase and everything became expensive, her anxiety took over and the business had to be closed down for a year before she was able to return to it.
"I stopped having sales like before so I closed down the shop and a year later a friend messaged me asking if I was still doing it because she needed a toy as imported dolls were becoming harder to find," Shayben told NOW. 
The young entrepreneur took advantage of the free time she gained during the lockdown to re-launch as new opportunities opened up, imports were scarce and replacements were needed. With their endearing features, Shayben's dolls quickly gained traction in the niche of "emotional shoppers". 
"People liked the idea of buying a customized doll for their loved ones and their kids, it felt very sentimental and made the receiver feel special. My customers can choose whichever shape they'd like, which is something the Lebanese market was lacking at the time. If you want a dinosaur then I can make you a dinosaur," she explained. 
 When expats returned to the country this summer, Shayben's business grew tenfold, as not only did they have the dollars to spend but they also actively sought to support small businesses.
"I've been booked for three months now so there's definitely something I'm doing right," Shayben said. 
It seemed that the lockdown, coupled with the collapse of the economy, drove interest in both producing and purchasing traditional craft and local, handmade products.  
"What social media helped enhance was the number of people that found their desired items right in front of them. Business owners could now target more people and find more clients," social media expert Ibrahim Younes told NOW.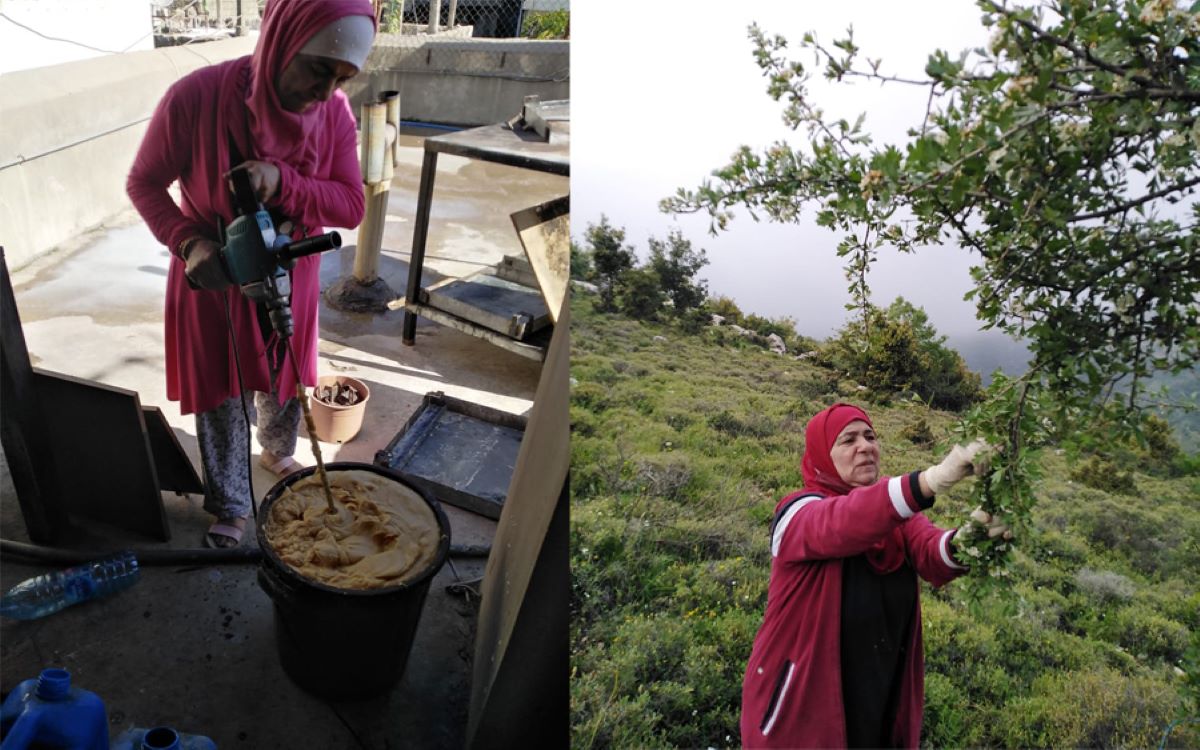 "Feels like home"
Mouneh, or Lebanese pantry foods, consist usually of pickled vegetables such as cabbage, stuffed eggplant, or cauliflower, and different kinds of dairy products, herbs, and legumes. 
Shops selling such homemade items were present predominantly in villages. 
But during the lockdowns, these small businesses were hit severely. E-commerce became a necessity as curfews were imposed on supermarkets, and many people turned to online shopping.  People were unable to travel around the country to buy farm products. Thus, some producers decided to switch to social media platforms and delivery. Everything was one click away, so the possibility of making a profit was high during lockdowns.
This is what 53-year-old Sahjinane Hassoune, owner of Mounet El Beit, did.  Her niece Sally Bero operates the Instagram account while her aunt runs the shop and prepares the food. 
"I opened the shop in the village of Rihane in south Lebanon in 2011 but I had to start an Instagram account for the shop two years ago when COVID hit," Hassoune told NOW.  
"Instagram really helped me gain more recognition and introduced my shop to many new clients that would have otherwise not have known about me," she explained. 
Youness explained that the waves of COVID introduced e-commerce to all age groups, even to the older generations, who were wary about it before. 
"Expats from Brazil for example are usually of older age groups, which is why these products mean a lot to them as nostalgia plays an important part in their shopping strategy," Younes explained. 
Similar to Shayben, expats were a key group in Hassoune's clientele, as they tended to purchase local products while visiting Lebanon, eager to take things that reminded them of home back with them.
With the help of social media
Shayben understood the importance of marketing, and put extra effort into her Instagram account where she would post videos and photos, and engage her audience. This allowed the young business owner to price high using the dollar as she gathered a loyal base made mostly of expats.
"At first I was hesitant to price high and not use the local currency but I do the job of a whole team. I do crochet, photography, marketing, content creating and I self-deliver. I also see that there's a demand so I know that my target audience are the ones who can afford to pay," Shayben explained. 
Shayben was also taking and delivering international orders, something that the Othman sisters were aiming to do as well. 
"You can't expect the government to come and save you, you have to do that yourself," Othman said. 
Dana Hourany is a multimedia journalist with @NOW_leb. She is on Instagram @danahourany.