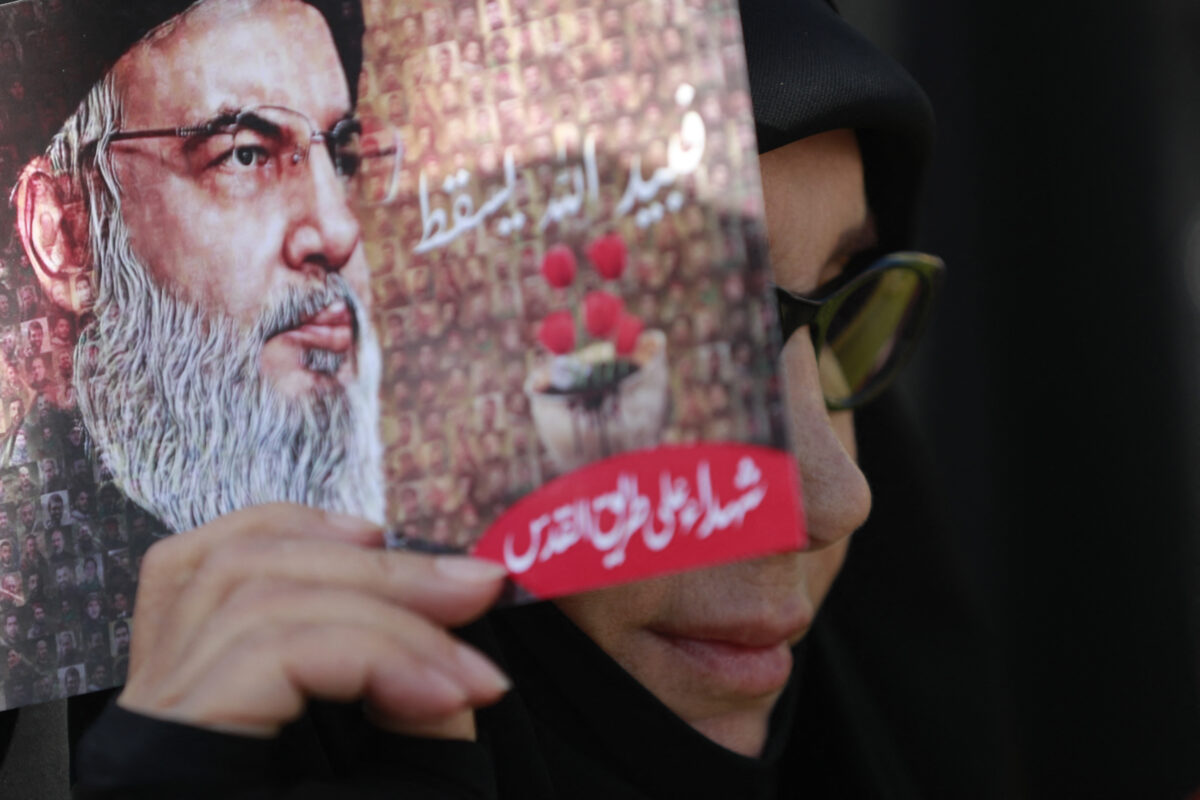 A woman holds up an images of Lebanon's Hezbollah chief Hassan Nasrallah during a rally at a stadium in Beirut's southern suburb on November 3, 2023, amid the ongoing battles between Israel and the Palestinian group Hamas. Lebanon's Hezbollah chief Hassan Nasrallah on November 3, will break weeks of silence since war broke out between Hamas and Israel, in a speech that could impact the region as the Gaza conflict rages. (Photo by Ahmad Al-Rubaye / AFP)
As tensions remain high across the MENA region, Hezbollah's Nasrallah pledged support for Palestinians and decried US hypocrisy and weakness in the face of Israeli attacks, but avoided direct calls for further escalation, attempting to distance the Iranian-led Axis of Resistance from the '100-percent Palestinian' October 7 incursion by Hamas.
Hezbollah Secretary General Hassan Nasrallah spoke to his followers in a public address on Friday, in which he made his first comments on the Israel-Hamas war since the outbreak of the conflict on October 7.
Nasrallah began his speech with praise for the "fallen martyrs" of Hezbollah and others fighting against Israel, as well as the civilians killed, and thanked allies in Iraq and Yemen who launched recent attacks against Israel and the United States.
He referred to the October 7 Hamas attack on southern Israel, calling it "a big event to shake this oppressive… occupying, usurping Zionist regime and its supporters in Washington and London". However, he also stated that the operation was "100-percent Palestinian in terms of both decision and execution" that Hezbollah had not been previously aware of, an assertion which the public at large saw as deceptive, and suggests that Iran and Hezbollah have left Hamas and the Palestinans to their own fate.
He also cited the secrecy surrounding the Hamas attack as proof that the operation was purely related to the Palestinian cause, rather than "any international or regional issue".
"This operation has no bearing on any decision or move to be taken by any other faction within the Axis of Resistance," Nasrallah said, alluding to the Iran-led coalition of anti-Israel forces in the region.
"[Iran has] always been openly adopting and supporting resistance factions in Lebanon, Palestine and in the region," he continued. "However, they do not exercise any form of authority or control over these factions or in their leadership."
Nasrallah placed blame for "merciless aerial bombardments" in Gaza on the United States, accusing American leaders of staying "silent" in the face of "thousands of babies and children [being] torn apart in Gaza as a result of the Israeli missiles", exposing Western "hypocrisy" on issues like democracy and the rule of law.
"The United States is totally responsible for the war raging in Gaza, against unarmed defenseless people," he said.
Exchanges of fire between Hezbollah and Israel have escalated along the Lebanese border in recent weeks, with Hezbollah claiming 57 of its fighters have died in Israeli attacks. Israel has stated that it has lost six soldiers. At least six civilians have also been killed in Lebanon, including a Reuters journalist.
It was anticipated that Nasrallah would use his speech to announce Hezbollah's entry into the Israel-Gaza war. However, he insisted that Hezbollah has been participating since the Hamas attack.
"Some claim that we are about to engage in the war," said Nasrallah. "I am telling you, we have been engaged in this battle since October 8; the Islamic resistance in Lebanon started operation the very next day."
"What is taking place on our front is very important and significant," he continued. "Yet I assure you this will not be the end. This will not be sufficient. We are calling on the Arab and Muslim states to cut off oil and gas and food supplies from Israel."
Without calling for more direct action in opposition to Israel's attacks on Gaza, many are viewing Nasrallah's speech as an appeasement of his followers at home in Lebanon, technically fulfilling Hezbollah's resistance rhetoric while avoiding forcing the country into a conflict it is in no way ready to sustain.
Instead, it appears that the so-called Axis of Resistance is content to offer peripheral support only. For now, the focus appears to be on using the plight of the Palestinians in Gaza as part of a wider strategy to undermine the normalization of Arab-Israel relations that would otherwise threaten Iran's position as a regional power.
"If Iran wants [Hezbollah] to be more involved in this war, [they are] not able to stay aside and be neutral, talking about just supporting [Hamas] from the south [of Lebanon]," said veteran analyst Sam Mnassa. "This is not a Lebanese domestic issue; it's a regional crisis [that] is very critical for the area."
"I think now we are at the beginning of a diplomatic process," he continued. "I'm not expecting an additional escalation of the military operations. You can see now that America [is] talking about the two-state solution in public. I don't think it's easy, or can be done in the near future, but it's difficult to imagine that the war can continue at this scale of killing. Even the Americans are not going to support Israel continuing at this level."
Hezbollah may pose a credible threat to Israel – far more so than Hamas – but committing to greater hostilities could easily backfire, as it did in 2006's July War, where Israel invaded Lebanon in response to the abduction of two IDF soldiers. Such a move could also damage Hezbollah's popular support, which has been waning throughout Lebanon's ongoing economic and political crisis.
So long as both Hezbollah and the IDF restrict themselves to the accepted rules of engagement, both are presently continuing to abide by, neither side has much to gain by escalating the conflict between them. It makes far more sense of Hezbollah to bide their time, engaging in ideological battles at home rather than military ones in Israel.
For some, Nasrallah's speech was less aggressive than expected, but also suggests that the proxy Iranian militia is simply biding its time, waiting to benefit from post-war horse trading in order to further solidify its perceived political strength in Lebanon.