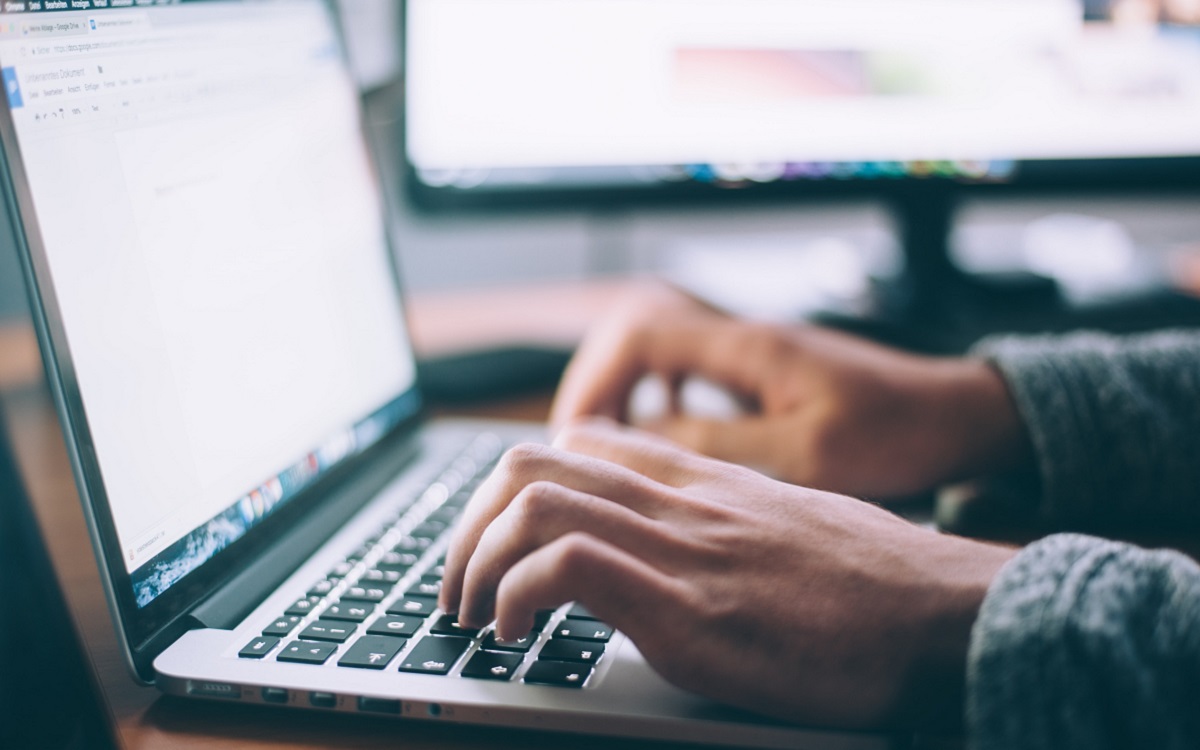 Recruiters say that many times Lebanese job candidates are offered "Lebanese salaries" and consistently less advantageous packages for the same jobs than candidates of other nationalities. Photo: Glenn Carstens-Peters, Unsplash.
Tony, 25, completed a rigorous four interviews for a social media executive position at a Dubai-based company, during which he indicated his starting salary to be $1,200, the same amount he used to get paid at the same position in Lebanon prior to the crisis. 
The young man, who asked to be identified only by his first name fearing retribution from his employer, said he was distraught when the company, established and managed by Lebanese nationals, offered him a mere $400-$600 salary range, then settled at $400.
"I'm beyond shocked. I had an interview with Dubai and they're gonna pay me $400??? (sic) Are the Lebanese this cheap now? Our money lost its value not our work, yet people are using our crisis in their favor. So sad," Tony tweeted, after he received the offer.
Besides being impelled to defy their country's dwindling economy, the Lebanese face the possibility of overseas companies exploiting Lebanon's quagmire to hire low-cost labor. 
The Lebanese pound, pertinaciously pegged to the dollar at the rate of 1,507 by the central bank for more than two decades, was stripped of its purchasing power at a dizzying rate, losing around 90% of its value since October 2019. 
To put it into perspective, Lebanon's official minimum wage is LL675,000 per month, equivalent to $450 before the crisis, now amounts to $29, the lowest minimum wage in the world, according to Bujar Hoxha, CARE Lebanon Country Director. 
So, if a foreign company pays a Lebanese employee $290, that's 10 times their country's minimum wage. 
Exploitation in neighboring countries
Companies based in the region, namely the Arab Gulf States, a destination where Lebanese people have always sought jobs, are turning to Lebanon in search of cheap labor.
Despite Tony protesting the discriminatory pay, the Human Resource director insisted Tony's fresh dollar income would weigh a great deal in Lebanese Lira and if they pay him what he asked for, he would "live like a king." 
But $1,200 isn't enough to "live like a king" in Lebanon, where the manufacturing industry has been on the decline since its civil war. The nation's economy rests on importing most goods such as appliances, electronics, and other items a 21st-century society needs, which must be purchased in U.S. dollars or its lira equivalent on the market rate. 
"I informed them that the Lebanese are not enthusiastic about people taking advantage of the situation and are rather choosing to stay in Beirut."
Jana Haounji, recruiter

Hyperinflation is causing the price of all commodities to skyrocket. According to a report by Lebanon Crisis Observatory, families in Lebanon spend five times the minimum wage every month just to put food on the table, not counting the cost of water, propane gas, and electricity. So, having access to dollars might shield one from relying on food parcels, but a 400$ salary will certainly not break the bank. 
Jana Haounji, a recruiter and human resources professional, says she has been contending for fair pay for her Lebanese clients. 
Last February, she enlisted a Lebanese applicant for an education management position at a company in Saudi Arabia, where they were offered a "Lebanese salary" – the same salary for similar profiles reduced by $300.
"I informed them that the Lebanese are not enthusiastic about people taking advantage of the situation and are rather choosing to stay in Beirut," Haounji said. Through further vigorous negotiations, she was able to bring the salary back to the company's original offer.
"A good salary for a girl"
In parallel to Tony's story is 27-year-old Arwa's struggle to find a decent-paying job abroad. Having graduated from Beirut's prestigious Lebanese American University as a junior architect, she believes her starting monthly salary should be at least $2,000 but she was offered $750 a month in Iraq.
With the reduced pay, comes other surprises – Arwa, who also preferred we use only her first name, would have to work 54 hours across a six day workweek and $150 would automatically be deducted from her salary for food each month.
But what threw Arwa off and pressed her to reject the job offer at what was touted as an exclusive opportunity for Syrian and Lebanese women, was the company manager's statement: "It's a good salary for a girl."
"They are trying to make profit off of our misfortune," Arwa explained. "Both Syrian and Lebanese women are facing a financial crisis."
Tony on the other hand, hesitant, but desperate for an income in U.S. dollars, succumbed and accepted the company's job offer. The hiring committee agreed to pay him a $550 monthly salary after his bold assertiveness in the pursuit of a decent wage. 
"They are trying to make a profit off of our misfortune."
Arwa, job seeker
"It was still wrong, they just wanted to shut me up because I was very persistent," Tony said. "They are Lebanese so they know what's happening in Lebanon and they know how to use me."
Not everyonre is fighting, however. According to Haounji, many of her Lebanese recruits are accepting whatever comes their way without negotiating.
"The situation is that bad, or at least the applicants I am reaching out to terribly want to leave," Haounji said. "Sometimes I feel if I didn't negotiate from my end, they wouldn't." 
Haounji believes recruitments shouldn't be based on nationality, but rather on skills and experience, and that this phenomenon will eventually wind down.
Overworked
On top of being severely underpaid, Tony says he is overburdened with tasks. In addition to operating the company's social media platforms, he supervises his colleagues' work, which Tony believes should not be his responsibility as it wasn't included in the job description.   
The company's employees, whose work is monitored by Tony, are all Lebanese, newly hired, and are taken advantage of to boost the company's profits, Tony suspects.  
To make matters even more difficult, the chief service Tony needs in order to work remotely is a reliable supply of electricity which Lebanon is chronically bereft of. In a country teetering on the edge of collapse, many households receive only two hours of electricity per day and the patchwork of backup generators struggle to provide juice as the fuel crisis deepens. Consequently, Tony has no choice but to rent a desk at an office rental agency for $100 a month, covered by his low salary, to have access to power.  
"This is not worth all the work I'm doing," Tony added.
"I don't have a future if I don't join the protests in Lebanon."
Tony, job seeker
Adding insult to injury, the company enforces on its employees in Lebanon observation of  Dubai's national holidays instead of Lebanon's but continues to pay them a salary in line with Lebanon's economic tailspin.  
Upon requesting a day-off on August 4, to commemorate the Beirut Blast's one-year anniversary and join the protests demanding politicians be held accountable for the massive explosion, the 20 or so Lebanese employees were countered by a threat from the firm's manager. 
The manager told them they "should think of their future" and promised to deduct a day's wage from their salaries if they took it off.
Tony took the risk and decided to work in the morning, attend the commemoration and protests in the afternoon, and then toil away all night. 
"I don't have a future if I don't join the protests in Lebanon," Tony told the manager.
Lack of opportunity in the home country
The currency's devaluation is not the only reason the Lebanese are scouring for jobs abroad. Unemployment is soaring and hundreds of businesses are shutting down, pushing many to look for better prospects elsewhere. Around 40% of Lebanon's youth are neither employed nor in school, according to the World Bank.
Tony, who holds a master's degree in architecture, was forced to switch careers and gain experience handling social media platforms. Architecture jobs dried up in Lebanon after the subsidized housing loan, once supported by the public sector, was put on ice in 2018. Big-ticket borrowers, primarily current prime minister-designate, Najib Mikati, are one of the factors that may have caused this. Mikati, a billionaire and two-time former premier, has been accused of depleting a great portion of the national funds to grow his businesses and assets.
Reduction in worker's wages, especially those paid in U.S. dollars, in exchange for excessive working hours started in the home country with the devaluation of the Lebanese pound before it extended to other countries.
"I have recruited for jobs abroad and successfully hired excellent talent, with both new-hire and hiring company satisfied, only to fall short at the level of visa."
Jana Haounji, recruiter
There are almost 1,000 foreign companies with revenue in foreign currency in Lebanon, according to the ministry of economy and trade. These companies, aware of the lira's value against the greenback, are gnawing at the crisis to make capital out of Lebanese desperation and vulnerability.
Obtaining a job that pays in "fresh dollars," dollars transferred from abroad, free from drastic Lebanese banking curtailments, feels like hitting the jackpot.
"I will be getting paid in dollars – what an important thing," Arwa thought immediately after receiving the contract she turned down. "It's every Lebanese's dream."
Unable to find a decent job within her field, Arwa is reduced to working on graphic design projects, making brochures for companies that pay her an hourly rate in U.S. dollars. She plans on saving every penny to eventually afford a plane ticket to Dubai in quest of a job, where she would use her Jordanian passport to get paid a Jordanian worthy salary and to evade visa constraints she heard Lebanese nationals are facing.
Haounji said the rise of visa restrictions with no concrete reason in certain countries in the Gulf are becoming a recurrent hurdle in the way of Lebanese making it to their new overseas job with no concrete reason behind it.
"I have recruited for jobs abroad and successfully hired excellent talent, with both new-hire and hiring company satisfied, only to fall short at the level of visa," Haounji said.
Tough immigration procedures and exploitative pay are serious impediments for the 77 percent of Lebanese youth wishing to leave their country for a better life. Most of Arwa's friends, she says, have started new lives abroad, and it's a matter of time until the rest follow suit.
"They are exploiting us because we need dollars and we are ready to do anything to get our hands on some," Arwa said. "We have become nothing, we are exploitable labor."
Sally Abou AlJoud is a journalist based in Beirut. She is on Twitter @JoudSally.