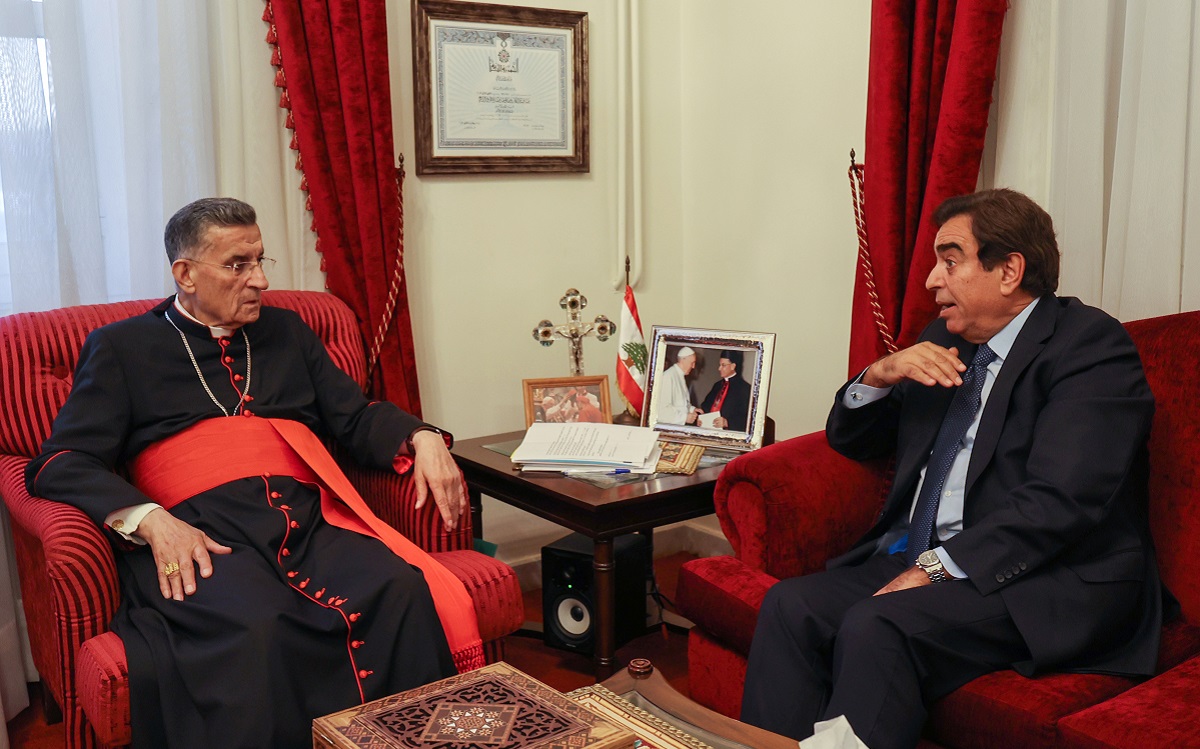 Lebanon's Information Minister Georges Kordahi meets with Cardinal Mar Bechara Boutros al-Rahi (al-Rai) (R) at the Maronite Patriarchate in the mountain village of Bkerki, northeast of the capital, on October 30, 2021. Photo: Anwar Amro, AFP.
Why is this even a debate?
A 'tug of war' between 'two proxies' and 'two elephants' tearing Lebanon apart.
'Iran vs. Saudi Arabia' and their allies on each side, funding political parties and arming respective 'militias'.
'Polarization' and 'division' taking us back to the civil war.
And then, the awkward celebration when each side of the debate calmly explains their positions without shouting or fighting – less on slapstick television shows and more on independent podcasts.
As though two sides on equal footing only know how to fight as Lebanon spirals out of control. The endless balancing act that reinterprets facts on the ground and robs nuance from analysis. Armchair and hot air pontification that feed into academic papers, panel discussions among think tank researchers and regular bylines of foreign policy pundits.
For the sake of avoiding diatribe (and word count limitation), I will restrict myself to looking at three events over the past three weeks.
October 14
Beginning with October 14's tragedy in Tayouneh, and the consequences of a Hezbollah-backed propaganda campaign against Judge Tarek Bitar. A planned protest following his relentlessness and insistence on issuing arrest warrants against former ministers, in particular Ali Hassan Khalil.
The moment the protest turned into clashes among Hezbollah-led allies and local partisans in Tayouneh and Ain El Remmaneh, comparisons between Lebanese Forces' supporters and Hezbollah's foot soldiers emerged. Indeed gunshots were fired, innocents were killed, and it is a terrible reality that weapons are spread throughout Lebanon. This country is a tragic tinder box, but not because 'heavily-armed militias' oppose each other. Yet that spin coverage spun faster than the fighting itself.
Samir Geagea, whatever anyone thinks of his politics, is not a warlord today, and the Lebanese Forces is not a militia. What he and that group had been over three decades ago has no resonance with recent events, and any opportunity to equate Hezbollah with its political opponents is incorrect. Yet an insistence that Lebanese Forces snipers shot from rooftops took hold, despite having been proven false (rather, an Amal supporter mistakenly shot at a Lebanese army soldier). But a narrative of a 'return to civil war' took hold, flooding the front page of too many news outlets and social media feeds. The story degenerated from Bitar's perseverance to a return to Christian-Muslim strife.
Establishment
Youssef Fenianos, Nouhad Machnouk, Hassan Diab…their lawyers can file dismissal cases, yearn for Judge Bitar's removal, time their trips abroad for family visits to overlap with judicial questioning and even sue the state they once headed (let alone a university they partially administered).
These individuals are, indeed, stumbling blocks to due process. They regularly abuse their positions of power. And they time lawsuits to parliamentary immunity.
Going a step further, Patriarch Bechara al-Rai should not be a politician. Neither should Grand Mufti Abdul Latif Derian, or any religious body's leadership better at temple protocol and prayer. The Patriarch should not have visited Speaker of Parliament Nabih Berri to reportedly try and find consensus over the post-October 14 military court summoning of Samir Geagea to give his testimony. But none of this implies that the 'establishment' is the reason the port blast investigation is paralyzed and – in due time – will likely be moved to a military court or stopped altogether. Placing the burden on them placates Hezbollah's detrimental contribution.
There is simply no comparison between Iran's leverage and the GCC's diplomatic and economic fallout in Lebanon.
The current Najib Mikati-led cabinet is not convening due to Hezbollah and Amal's intransigence, condemning the investigation as a US-backed plot mired with conspiracy and making it clear they will resign from the government unless Bitar is removed. Hassan Nasrallah has warned of civil war should the investigation continue unobstructed, and Hezbollah security chief Wafiq Safa threatened Bitar personally. Collateral damage from that group's subjugation of sovereign institutions cannot be simplified and overlooked. Politicians tentatively circumventing and delaying a probe into Hezbollah's security matrix (which puts them under the radar by extension) along with the Grand Mufti condemning former prime minister Hassan Diab's summoning and the Patriarch's above-mentioned visit all reflect the tail end to injustice rather than the source of impunity. Their agency cannot be compared to Hezbollah's capabilities.
George Kordahi
To even posit the idea that Lebanon is torn between 'two proxies' and 'two elephants' following the fallout between Lebanon and GCC states is reflection that is at best, misinformed, and at worst, misleading.
Yes, there are regional powers battling their wars and a decades-long deadly rift between Saudi Arabia and Iran. But when it comes to Lebanon, there is one proxy army, and it is a well-fed elephant. Its Iranian sponsor keeps it alive as Lebanon's economy dies. Its weapons flow in from across the Syrian border, through Beirut's airport and port. It sends its fighters to preserve the Assad regime and trains militias in Iraq and Yemen. It assassinates local opponents that confront their prerogative. It avoids a special tribunal's verdict and refuses an international investigation into the port blast. And it ends October 17's momentum through violent intimidation.
There is simply no comparison between Iran's leverage and the GCC's diplomatic and economic fallout in Lebanon. George Kordahi's choice of words regarding Saudi Arabia's fighting in Yemen five months prior to his nomination as minister of information is obviously not the only issue at hand. Saudi Arabia may be pushing the Lebanese prime minister to make a choice: either he stays in power and persuades Marada head and Kordahi-backed Samir Frangieh to accept Kordahi's resignation, or he resigns in opposition. But this type of pressure is limited.
At the time of this writing, Mikati and Kordahi remain in their positions. And without undermining GCC motives in the region, when it comes to Lebanon, their footprint is largely limited, and their moves are reactionary. The fact is the GCC has already abandoned Lebanon, both diplomatically and increasingly economically. Sending ambassadors home and banning imports is an additional step in that direction, and a form of collective punishment. And at the same time, not nearly on par with Iran's four-decade investment in building Hezbollah. Equating respective repercussions on Lebanon's sovereignty is, on every level, wrong.
Perceived objectivity too often yields deceptive comparison. Warped ideology shifts responsibility from a proxy army to its regime allies and nominal foes. Obfuscation is not scrutiny. And when it comes to Hezbollah's preeminent role in Lebanon's downfall, there is no debate.

Ronnie Chatah hosts The Beirut Banyan podcast, a series of storytelling episodes and long-form conversations that reflect on all that is modern Lebanese history. He also leads the WalkBeirut tour, a four-hour narration of Beirut's rich and troubled past. He is on Facebook, Instagram, and Twitter @thebeirutbanyan.
The opinions expressed are those of the author only and do not necessarily reflect the views of NOW.