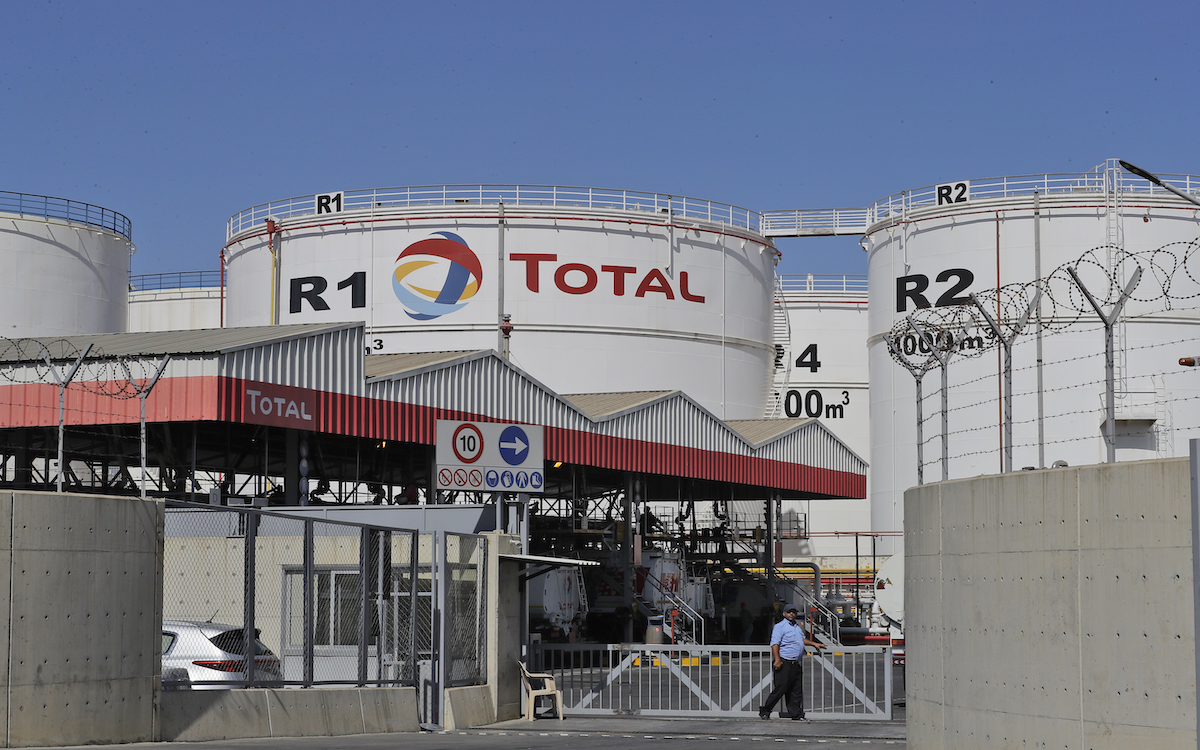 Fuel trucks fill up at a distribution station of French oil giant Total in the Lebanese capital Beirut on September 27, 2019. Photo: Joseph Eid, AFP
After the signing of the maritime agreement between Lebanon and Israel on October 27, Lebanon's future has become tied to TotalEnergy, the French multinational company which will head the consortium operating on Bloc 9.
Total will be in charge of drilling the exploratory well into the ocean's floor, and if any gas is to be found, to carry out the extraction operations through an offshore platform. Alongside it, Italian company ENI (which holds 30 percent of shares) and QatarEnergies (35 percent of shares) will bring capital.
Flexible diplomacy
During the negotiations, France's diplomatic ballet remained under the radar of most media attention. This is surprising given that TotalEnergies was at the heart of the negotiations and unofficially served as an intermediary between Lebanon and Israel – and that French president Emmanuel Macron reportedly saved the negotiations at a crucial moment, notably thanks to his good contacts with both the Israeli PM Yair Lapid and Lebanon's armed Shiite party, Hezbollah.
On October 5, a meeting took place at Hezbollah's headquarters in Beirut's southern suburbs between French ambassador to Beirut Anne Grillo, the head of Hezbollah's parliamentary bloc Mohammad Raad, and Hezbollah's foreign affairs chief Ammar Moussawi, in addition to other officials at the embassy.
And when the Israeli side threatened to withdraw from the negotiations after receiving the Lebanese amendments to the deal on October 6, "the active interference of Emmanuel Macron, who had been following the issue very closely lately, helped to unblock the process at the last minute," a source at the Élysée had stated.
Intensifying French presence in Lebanon
France's discrete yet effective diplomacy towards Lebanon is nothing new, but it seems to be intensifying. "Installing Total in Lebanon clearly is part of the French foreign policy expansion in the eastern Mediterranean, securing Lebanon as its stronghold," Laury Haytayan, MENA director of the Natural Resource Governance Institute and Beirut-based oil & gas expert, told NOW.
Since the Beirut Port explosion on August 4, 2020, President Macron has stepped up French aid to the crisis-ridden country: every Lebanese remembers him taking to Beirut's still glass-littered streets, talking to inhabitants who were utterly abandoned by their own president and politicians. Since then, he has visited the country multiple times, and France is now keeping many Lebanese hospitals, schools and even the army alive with its donations.
At the same time, French multinational company CMA-CGM was awarded management of both Beirut and Tripoli's ports in two different tenders, which many claim were biased. "The criteria were designed so that only CMA could win the bid and take over Lebanon's ports," Laury Hayatayan said.
But no such foul play was involved in the tenders for Lebanon's gas fields, which started in 2013 but stretched until 2017 because of Lebanon's presidential vacuum.
"The tenders for Qana were actually very transparent and open. Total and ENI were both interested, so instead of competing, they decided to apply together, for the sake of stability," Haytayan explained.
Total's pledge
It is unclear if Total, being a private company, enthusiastically embraced its role in the geopolitical disputes around the maritime agreement, or if it was pressured by France.
"Ultimately, it's not certain that they see any real value in Qana, this small field with no proven reserves, in a highly unstable area of the world, with no preexisting oil and gas infrastructure," said Laury Hayatayan.
And the icky diplomatic part is not over for Total: the private company will have to negotiate with Israel in the future to settle which share of Bloc 9's profits it will receive as compensation for "giving it" to Lebanon.
Out of all profits made in Qana, 17 percent will go to Israel and the rest will be split up between Lebanon and the consortium. For Total, although the compensation to Israel will not be paid from their own pockets, the investment is enormous. 
"The exploratory drilling in Block 4 in 2020 cost up to 100 billion dollars and ended up without any spoils," Diana Kaissy, oil and gas expert in the MENA region, member of the Lebanese Oil and Gas Initiative's advisory board and of the International Transparency Initiative' executive board, told NOW.
The exploratory drilling in Bloc 9 will cost the same, without any guarantee of profits, and the company will have to rebuild its Beirut office, which was destroyed in the port explosion. 
Everywhere France goes, it brings Total in its suitcase, and vice-versa: every country where Total is active, France will engage diplomatically with.
If Total was to have any doubts about fulfilling its side of the agreement, Macron himself offered a guarantee. "You can count on Total's commitments; I will follow up on the matter," he said in a phone call with Michel Aoun, Lebanon's former president.
Total and France, a love story
This fusion between business and national interests prompted comments, one Israeli columnist even affirming that the French government is willing to "requisition" TotalEnergies whenever the country's interests are at stake. "While it is true that France is not a shareholder in the company, the fact remains that the state is involved in Total," Michael Darmon wrote.
This is nothing new, though. 
"Total clearly is at the forefront of France's energy policy," Marwan Abdallah, executive director of the Organization for Petroleum and Energy Sustainability, a Beirut-based and youth-oriented NGO, told NOW.
"Everywhere France goes, it brings Total in its suitcase, and vice-versa: every country where Total is active, France will engage diplomatically with," he added.
The French duo was heavily criticized for this melting together of national and private interests.
Total "hires former senior civil servants and politicians, or on the contrary encourages its executives to return to the civil service, with the result of maintaining the confusion between the interests of Total and its shareholders and those of France," criticized the Observatoire des Multinationales, a French NGO, in a press release.
The report criticizes a "revolving door mechanism," and denounces "constant back and forth of senior officials between Total and various ministries and key institutions."
Furthermore, human rights activists and environmentalists accused the French state of using its force and diplomacy to back up critical Total projects worldwide, the most notable being in Uganda and Tanzania.
There, Total is planning the 1400-kilometer-long East African Crude Oil Pipeline, which is heavily criticized for endangering a natural park and indigenous lands. In Uganda, the French State is an active supporter of the authoritarian president Yoweri Musevini, assisting him militarily and economically.
In Myanmar, Total is accused of having paid the military dictatorship more than $229 million in taxes through tax havens and offshore accounts in 2019, strengthening the regime while it was perpetrating a genocide against the Muslim Rohingya minority.
The eastern Mediterranean puzzle
Albeit less violent, a similar strategy of collusion between French private companies and the French state might be on its way in the eastern Mediterranean.
With Lebanon's ports, France won control over a geostrategic piece of its larger Mediterranean policy puzzle in 2020. Now, its expansion continues to new sectors, including oil and gas.
"In the eastern Mediterranean, there is a clear competition between Turkey, Iran, Russia… And France plays a role of appearing on top of all the ongoing conflicts, while not taking sides too aggressively," explained Abdallah.
France's position as moderator was showcased in Lebanon's maritime deal. But the Republic has also shown a more aggressive side during its "battleship diplomacy" in Cyprus last year.
The conflict over the island has been ongoing since 1974, with Turkey and Greece each controlling one-half of it.
Total has been present on the Greek side since 2018, and when Turkey intensified its threats towards Greece two years ago, France intervened, sending frigates to protect Cyprus' coasts – and its oil and gas projects.
"It will be very interesting to see how this conflict will evolve after the Lebanon-Israel border agreement. With it, France has sent a very clear message that all border disputes in the region could now be renegotiated under its sponsorship, no matter how tricky they are," affirmed Kaissy.
Syria's thorn in Lebanon's eyes
Now that Lebanon's southern maritime border has been delimited, it has turned to resolving similar issues in its north – where a maritime border dispute is still ongoing with Cyprus and Syria.
Eight blocks are set to be awarded to oil and gas companies by the end of December, all of which could hold energy reserves. Most of these border Cyprus's territorial waters, meaning that Lebanon needs to agree on precise demarcations before it can give the blocs away.
In the south, Line 23 was accepted by both Lebanon and Israel. Cyprus still needs to recognize it.
The day after the signing of the deal between Lebanon and Israel, a Cypriot delegation headed by Tasos Tzionis was received in Beirut. "There is no problem between Lebanon and Cyprus that cannot be solved," said the special envoy.
But to the north, Bloc 1 and 2 are being disputed. Syria claims its exclusive economic zone to include 750 to 1000 square kilometers of what Lebanon sees as its own.
After the deal with Israel and the positive contact with Cyprus, a triumphant Lebanese delegation was meant to travel to Damascus to settle the issue. The meeting, however, was canceled last minute by Syrian President Bashar al-Assad: a blow to Lebanon's regained optimism.
"Negotiating with Syria will be tricky. Total cannot serve as an intermediary because of the Caesar act, but perhaps France could use its good contacts with Russia," Abdallah believes.
France, Total and Russia, a mysterious trio
Total's main Russian partner, Novatek, – of which Total owns 14 percent – was meant to participate in the consortium for the Qana field in Lebanon.
But after the Ukraine invasion was launched, Novatek stepped down from the consortium, leaving one slot open. 
Did it face pressure? Would its presence endanger the deal because of the American hostility towards Russia? Nothing is known.
Nonetheless, it is now Total Russia's administrator, Dimitri Lobadowsky, who now administers both Novatek's and Total's shares – a move which has been criticized as opaque by Lebanese observers.
Total participates in the immensely lucrative arctic Yamal gas enterprise, together with its operator, Novatek.
What is happening is that Lebanon is running full-fledged forward on gas now, it's like the gold rush. And we are not considering other forms, although Lebanon has a huge potential for renewable energy.
There, it has been accused by the French newspaper Le Monde of making profits out of the production of kerosene used by Russian warplanes in the Ukraine invasion, including those which committed the Mariupol massacre in March.
Total firmly denied this and has, since then, disengaged from the project – but it remains active in Russia, to the contrary to its counterparts like British Petroleum (BP) and Shell, who decided to end their activities in the war-mongering country.
Russia is a cornerstone of both Total's and the French state's global strategy. Russia represents one-third of Total's gas production.
A secret deal between Total and Novatek?
Since the maritime agreement stipulates that there must be three commercial entities present in the consortium at all times – a standard procedure – Novatek's empty slot was temporarily awarded to Daja 216, a subsidiary of Total specially created for the occasion, holding 35 percent of the shares.
This entity and its shares will be taken over by QatarEnergy, which replaced Novatek in the consortium.
At the same time, no Lebanese nor Israeli companies are allowed to be present in Bloc 9, due to the agreement. So Total Lebanon E&P, which Total had created to explore and produce gas in Qana, was rendered unusable.
Hence, Total created a similar entity to operate in Qana: Daja 215, which holds 35 percent of the shares and will be in charge of exploring and exploiting Bloc 9.
Both Daja entities are registered under the supervision of Lobadowsky, vice president of Total's E&P Financial Operations. As such, he is not only a board member of Total Gabon, but he also administers exploration and production operations in numerous countries, including Russia.
Secrecy surrounds this aspect of the deal, as well as Total's role in negotiating with Novatek.
"I have asked both Total and the Lebanese government for more information, but there is no transparency in this issue," said Haytayan. 
"Was there a deal between Total and Novatek? This is an interesting question because both Total and Macron don't have a clear-cut position on Russia," she added.
Abdallah similarly suspects a deal of having taken place "under the table". 
"Novatek dropped out of the consortium really peacefully, without causing Total any trouble – they probably got a deal somewhere else in the world to compensate," he guessed. "The French usually work in a very synchronized, smooth way with the Russians, there is no competition."
But as most details of the negotiations are kept secret, there is no proof in this matter. TotalEnergies has not answered NOW's questions as of yet, having a reputation of being inaccessible to the press and to observers.
Natural gas: Lebanon dips into a global trend
One possible reason as to why France is conciliant with authoritarian regimes such as Russia, Myanmar or Uganda could be its addiction to fossil fuels exportations, especially natural gas.
The French oil and gas industry generates more than 90 percent of its revenues from exports. The French ministry of economy also maintains the idea that natural gas is necessary for the energy transition, despite it being a fossil fuel, the exploitation of which contributes directly to global warming.
Lebanon is similarly hooked on fossil fuels, which represent 95 percent of its energy – only 5 percent is renewable, coming from the Litany River dam, Kaissy explained.
And Total is clearly not a model in this regard. France's most polluting company, it emits 1 percent of all worldwide emissions yearly – more than all of France.
Total has announced a goal of carbon neutrality (zero net emissions) for its global operations by 2050 or earlier. Yet, 90 percent of the firm's investments were directed toward fossil fuels in 2018, and it has announced plans to make gas the "pillar" of its strategy – it "could represent nearly 60 percent of our hydrocarbon production in 2035," the multinational group affirmed.
As such, Total's investments in Lebanon are just a small drop in a river of natural gas investments.
"What is happening is that Lebanon is running full-fledged forward on gas now, it's like the gold rush. And we are not considering other forms, although Lebanon has a huge potential for renewable energy," criticized Kaissy. 
"We shouldn't be only looking at gas, we should look at what actually is the proper energy mix that suits Lebanon, and start planning accordingly," she added.
Following Total and France, Lebanon has chosen a model which is likely to deepen the country's deep-seated corruption and its dependency on fossil fuels, while allowing other countries to achieve their geopolitical goals. Is it worth it? The next months and years will tell.
Philippe Pernot is a journalist and photographer with NOW Lebanon. He studied political science in France and Germany, and he focuses his work on social movements such as feminism, ecology and anarchism, as well as on minority rights and discrimination. Follow him on Instagram.