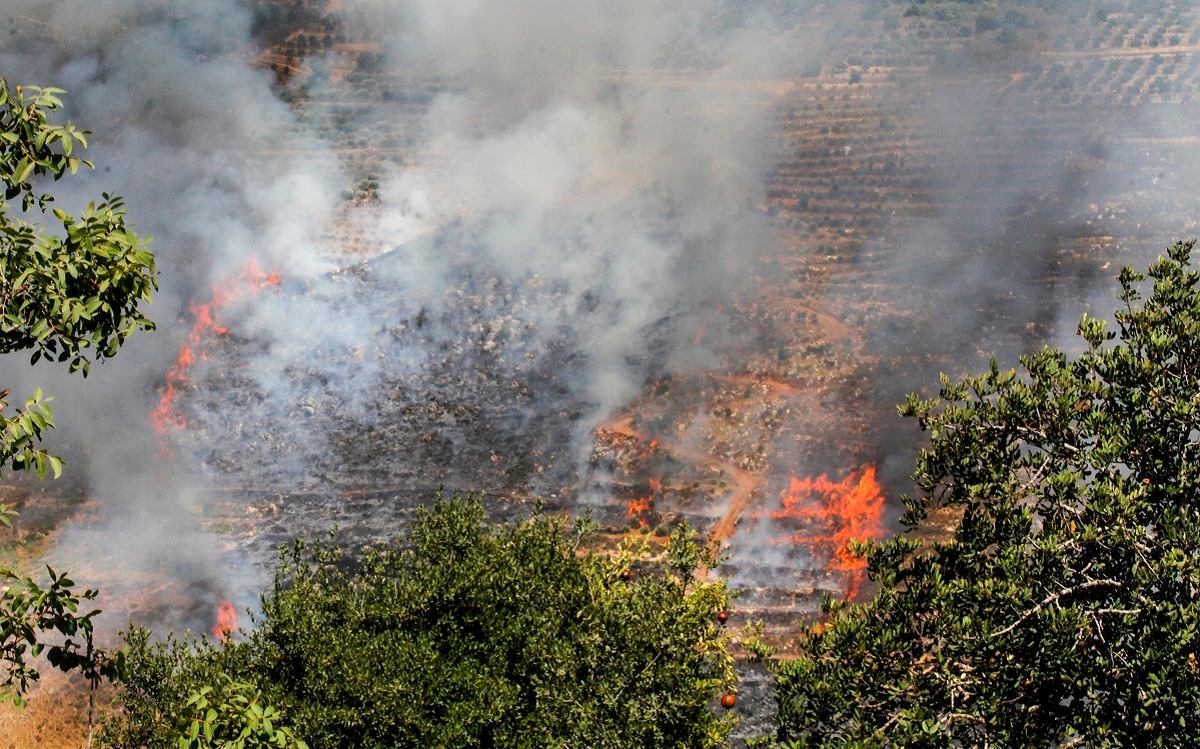 Smoke billows in the towns of Ibl Al-Saqi and Kfar Hamam in southern Lebanon, from shelling by Israeli forces on August 4, 2021. Rocket fire from Lebanon hit northern Israel prompting retaliatory shelling, the army said, as tensions rise between Israel and arch-foe Iran. Photo: Mahmoud ZAYYAT, AFP.
Israel fired several missiles into southern Lebanon after three missiles were fired from the Lebanese border into Israel with no group claiming credit for the attack.
In Israel, two of the missiles landed near Kiryat Shmona with no injuries being reported outside of four people that were treated with stress-related symptoms.
The Israeli military responded by firing several missiles at Lebanon, hitting the bombs striking Kfarshouba and Sadana, a town just outside Shebaa, starting a fire between the Hebariya and Shebaa areas.
Lebanon's Civil Defense attempted to extinguish the fire but was unable to due to the heavy Israeli bombardment on the area.
The United Nations peacekeeping task force in Lebanon, UNIFIL, urged calm and "maximum restraint" on both sides in order to avoid any further escalation in the conflict on the day marking the one year anniversary of the devastating Beirut port explosion that claimed the lives of over 200 people and injured thousands more.
Lebanese MP Qassem Hashem was quick to condemn the Israeli response, saying that "what the villages of the Arqoub area, the Marjeyoun Valley and some villages are being subjected to, is a blatant assault on national sovereignty and a violation of international resolutions and covenants, and this is what we have become accustomed to in recent times of repeating Israeli practices in various forms."
The MP also called on the Lebanese government to submit a formal complaint in order to "expose the Israeli barbarism and its permanent practices towards our homeland and our people."
Israeli Defense Minister Benny Gantz stated that the Israeli government would "not allow the social, political and economic crisis in Lebanon to turn into a security threat to Israel."
This heightened aggression between the neighboring Mediterranean countries comes at a time when tensions are rising between Iran and Israel.
Several days ago, Israel, along with other nations, accused Iran of using drones to attack a tanker linked to Israel off the coast of Oman which killed two crewmembers.
Israel hinted at possible retaliation.
Iran denied any involvement in the incident and added that they would "respond to any possible adventurism." 
This was the third time in recent months that Israel and Lebanon fired missiles at each other, with the first two instances being carried out by Palestinian groups.
However, analysts have noted that these military operations would not occur without the tacit approval of Hezbollah, the Lebanese political party and militia that controls the south of Lebanon.