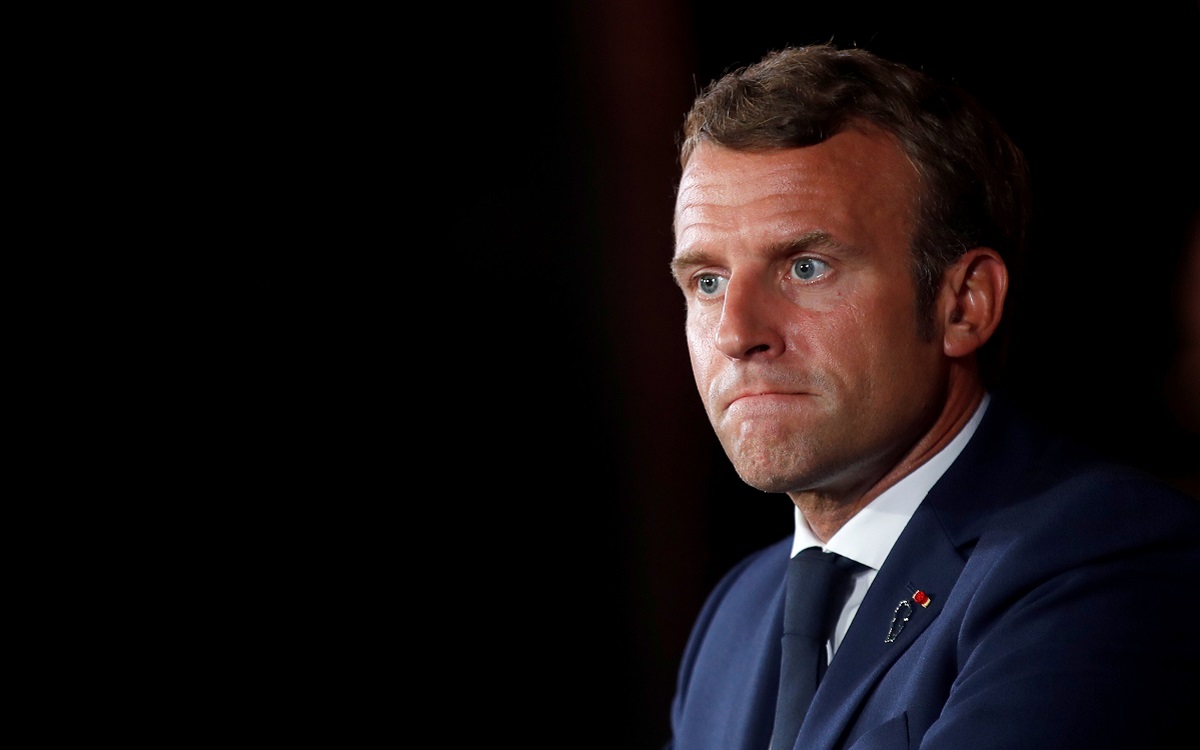 French President Emmanuel Macron looks on as he attends a news conference at the Pine Residence, the official residence of the French ambassador to Lebanon, in Beirut on September 1, 2020. Photo: Gonzalo Fuentes, AFP/Pool.
French President Emmanuel Macron arrived in Beirut two days after the port blast destroyed large swathes of the city. At a moment no Lebanese politician dared to show their face in public, he walked down a shattered Rue Gouraud – Gemmayze's main thoroughfare – named after general Henri Gouraud's presiding role during the First World War as Ottoman authority gave way to French administration. 
Amidst rubble, blood, torment and tears Macron promised that France would never leave Lebanon's side.
We watched him gather many of the country's post-civil war former militiamen-turned-political-elders at La Résidence des Pins. 
Tail ends of a century of France's legacy in Lebanon. In the backdrop, a famous photo of Gouraud's proclamation of Le Grand Liban on September 1, 1920 along the palatial steps. A snapshot instilled of a territorially expanded Mount Lebanon to coast and valley, and a cross-confessional experiment that would give way – in the middle of the Second World War – to elusive independence.
And in the foreground, a roundtable of misery. The usual suspects were chastised by Macron, who warned that if they did not reform, they would lose control. Either the regime gets its act together, or it is tossed to history's dustbin, adding to the protestors' demands, heard for months on end.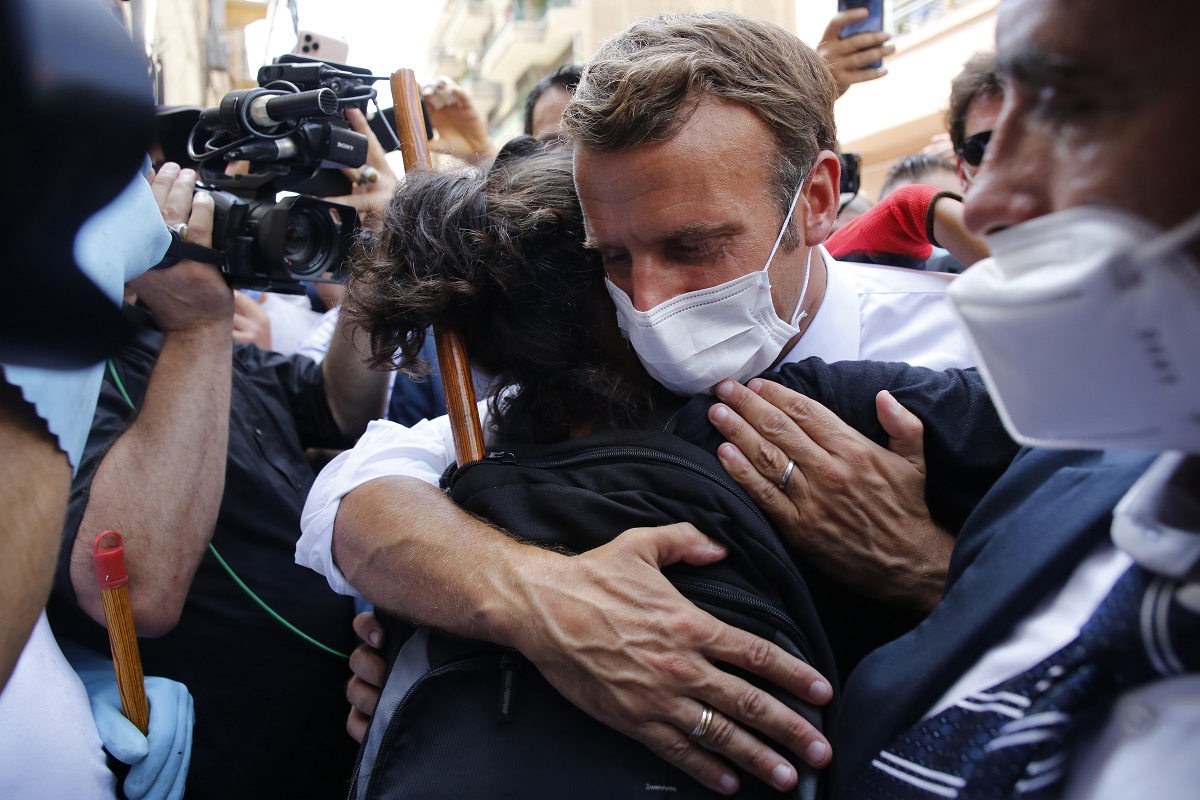 On parle
The old and inefficient way we govern – inherited from centuries of Ottoman dominion and enshrined by two decades of French rule – we can update ourselves.
In fact, it is no one's responsibility but our own.
Endless academic research papers, think tank panel discussions and NGO initiatives on how to caress sectarianism's insecurities while learning from secularism's advantages are, in the end, a sideshow. Our society's concerns reflect our multi-layered history and multitude of identities. And pluralism is one of our strengths. The long and arduous job of channeling communal differences into sounder ways of political expression has been on pause for over half a century. And that has nothing to do with the way we were born. Our nascent cosmopolitanism is real, with or without a French midwife.
It is how we grew up, independently, in the 20th century that brought us to our knees. An adolescence that barely hit maturity before losing the most important tool to chart our destiny: sovereignty.
Our adulthood has been mired by cycles of wealth and despair. A rollercoaster ride that lets us shine at times, while losing most of our modernity to invasion, occupation and war. And a guarantee that the 21st century shall not fare better, far better expressed by Samir Kassir in his 'Histoire de Beyrouth': "extravertie dans sa prospérité, la ville l'est encore dans sa ruine."
Our sovereign foundation has been left out of Macron's calculations or resolution to Lebanon's problems.
Our sovereign foundation has been left out of Macron's calculations or resolution to Lebanon's problems. I use the word resolution here, somewhat chidingly, because there is no practical path for successful reform within a country burdened by its perpetual battlefield role for rogue regimes.
Instead, at La Résidence, weeks from Greater Lebanon's centennial, Macron sidestepped conflict resolution for a typical crisis managerial role. A position many leaders, including Macron, have tried and struggled with before ultimately fading. Short-term ideas meant to alleviate some suffering, while accepting an abnormal state of affairs where a foreign-backed militia holds more sway than the local population. Avoiding a foundational flaw that ensures continued failure.
And since hindsight is '2020', neither reform nor regime change has happened.
Macron treated the main contributor to our post-war status quo as 'one in the same' –  ignoring what Assad's soldiers and intelligence inherited when they left Lebanon,  looking away from indirect control over all security matters, ranging from border control, airport access and port oversight, and  leaving foreign policy out of the discussion. The hardest question Macron asked Mohammad Raad in a private meeting two days after the largest non-nuclear blast in modern history was whether he could prove his Lebanese identity. As challenging an accomplishment as offering Fairouz an award or planting a cedar tree.
Je m'excuse
Macron lectured, pressured, threatened European Union-backed sanctions (their framework is in place and yet to be implemented) and scolded Lebanese leaders to get over their differences and work together. And it took thirteen months before Hassan Diab's caretaker government gave way to Najib Mikati's currently paralyzed cabinet, following Hezbollah's demands to remove Judge Tarek Bitar from the port blast investigation. Regardless of his determination and valiant effort, Bitar's work, inherited from dismissed Judge Fadi Sawan, has been effectively stalled and suspended, and threatened directly by Hezbollah.
Hezbollah is not a political party. They are an Iranian-sponsored proxy army based in Lebanon, with a veneer of civic engagement. Their local politics is the least important domestic weapon they use for influence. To even consider such an important component to the IRGC's external military as on par with other Lebanese groups completely ignores the reasons why our state collapsed.
The leaders Macron engaged with are collateral to generations of political violence, spared individuals that navigate such moments in order to retain relevance. Most importantly, they shield the proxy from serious scrutiny. In return, they are offered rampant abuse of the power sharing system born out of 1920, enhanced in 1943 and cosmetically altered in 1989. Their idea of governance is better defined by state plunder and rampant corruption. But their longevity and ability to stay well into the 21st century is what happens to any country at war.
Not civil war, any longer, but a consistent warzone. Our territory secured Syrian and Iranian regimes' influence in the region. Yes, negligence and ineffective state control over sensitive transit sites allowed 700 tonnes of ammonium nitrate to detonate in 2020. But saving Assad's life is what brought over 2,700 tonnes in 2013.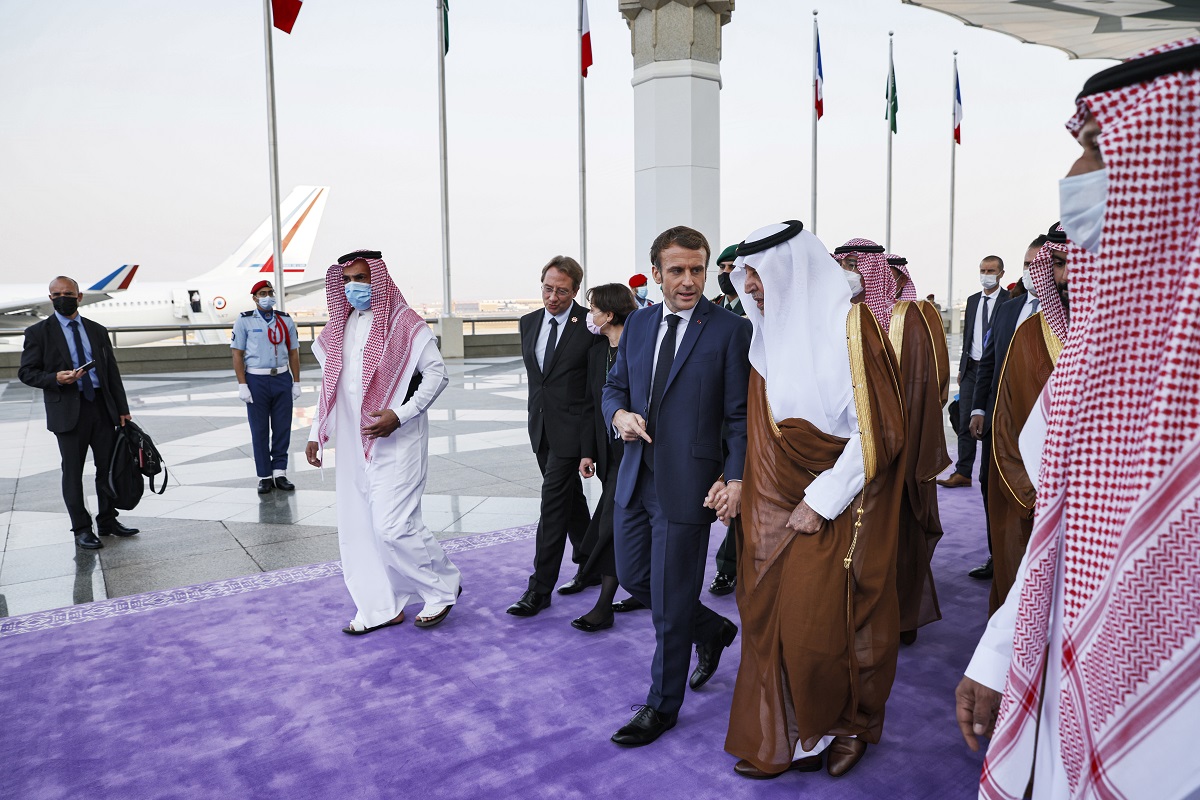 Au revoir
Fast forward to December 2021.
On one of the first visits of a Western leader to Mohammed Bin Salman following Jamal Khashoggi's murder in 2018, Macron pushed for the Saudi regime to reengage Najib Mikati's government in light of George Kordahi's resignation. A free fall (and that is being polite) from expectations when he first arrived after the port blast. And the latter-day attempts of another crisis management leader on their way out of Lebanon, searching for marginal success and far more concerned about presidential elections at home than another country's problems.
Sixteen months that showed there is no eagerness, or willingness, to help end Lebanon's nightmare. Macron, himself, witnessed the price we paid for storing the Syrian regime's preferred barrel-filled weapon. He was emotional with us on Rue Gouraud. He cried with us, embraced us…his anger was real. I trust his feelings were sincere. And hours later he mistakenly bet on reform taking hold in a country still ruled by political violence.
And on our centennial, from declaration to diminished role, one thing is certain: France let go of Lebanon.
Ronnie Chatah hosts The Beirut Banyan podcast, a series of storytelling episodes and long-form conversations that reflect on all that is modern Lebanese history. He also leads the WalkBeirut tour, a four-hour narration of Beirut's rich and troubled past. He is on Facebook, Instagram, and Twitter @thebeirutbanyan.
The opinions expressed are those of the author only and do not necessarily reflect the views of NOW.