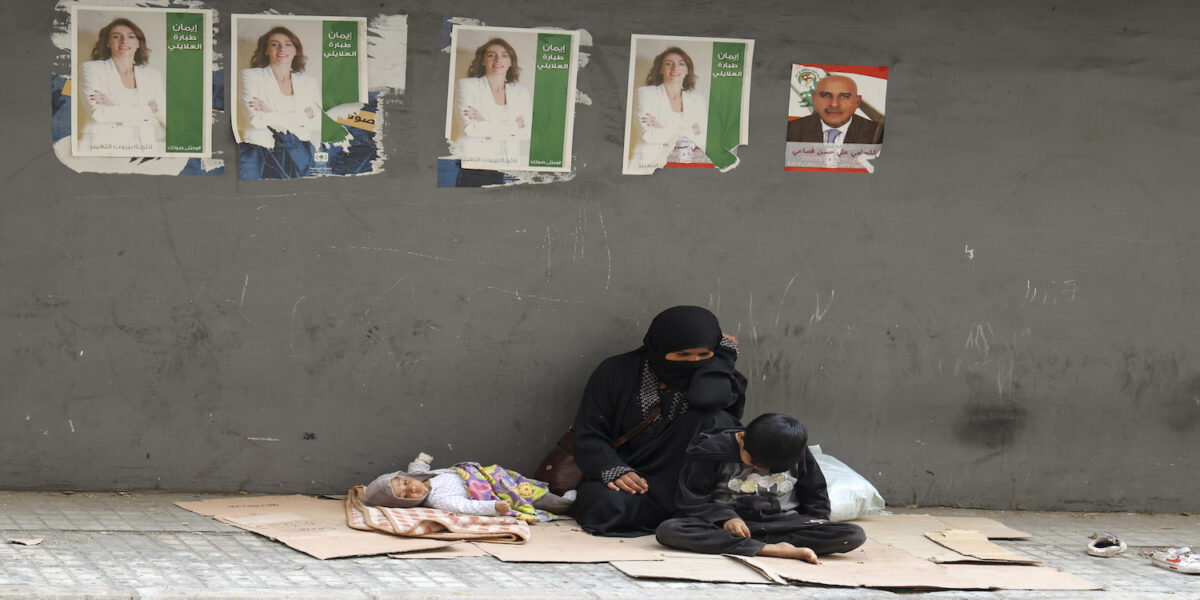 A beggar and her children sit on the sidewalk beneath electoral posters under the Cola bridge in the Lebanese capital Beirut, on April 27, 2022. Photo: Anwar Amro, AFP.
In cash-strapped and crisis-stricken Lebanon, new data reveals an 18 percent uptick in murders and an 8 percent surge in suicides this year, compared to the same period last year. 
Thank you for reading this post, don't forget to subscribe!
The research was conducted by Beirut-based research center Information International, which based its data on the information provided by the General Directorate of Internal Security. 
Although the report also notes a 6.5 decrease in theft incidents, murder cases rose an alarming 68 percent while suicides rose at least 42 percent in July 2022, compared to July 2021.

According to the resource center for gender equality, ABAAD, violence against women and domestic violence, in general, have spiked since the onset of the  COVID-19 pandemic.
However, with a compounding economic crisis, worsening living conditions, and inflation leading to exorbitant prices that make even phone calls an expensive task, experts worry about further institutional and social violence that threatens future generations and reinforces a culture of impunity. 
"Violence can still get worse or take a different course where violence becomes institutionalized within groups, organizations, vigilantes groups, and even militias. Violent impulses will be exploited and channeled under political headlines," head of the Lebanese Psychiatric Society, Joseph El-Khoury told NOW. 
Meanwhile, women and children continue to suffer the most.
Easiest targets 
Hana Khodor was five months pregnant when she was allegedly set on fire by her husband in Tripoli, north Lebanon in mid-August. She died 11 months later at a hospital at only 21 years old. 
The reported motive was the husband's disapproval of Khodor's choice to keep the child that he wanted aborted due to his economic worries. They already had two children.

That same week, in Akkar, also in north Lebanon, a video of a mother of three being beaten and verbally degraded by her husband was widely shared online. The victim, Ghina Alawi, was filmed kneeling on the ground, wearing pajamas, and being abused by her husband who had allegedly sent the video to her family as a form of intimidation. 
Women have endured decades of abuse in Lebanon where they have been shot, stabbed, strangled, and even stoned to death by their own families or partners.
The differing factor this time is the effort exerted on social media to highlight these incidents, pressuring the security forces to take action.
"Giving up the right to violence is a condition to living in a society — what is known as 'the social contract' — so regaining this right can only be a symptom of the current crises but also a cause of further disintegration."
In light of the several counts of alleged rape and molestation of children reported in early July in Al-Qaa village in Bekaa, the Lebanese Army Intelligence arrested the suspect and held him in detention. The mayor of Al-Qaa, Bachir Mattar, announced that "the municipality and the local community will provide psychological support to child victims."
A similar incident was reported in August when two brothers sexually assaulted children of Syrian and Lebanese nationalities, as well as animals, with video evidence found on their phones. 
Although arrested, local media reports show that a "person of strong connections" stepped in to protect and release the suspects. 
Furthermore, several cases of physical abuse were recorded among Syrian refugee children that occurred either at home or during work hours — often at jobs where they were hired illegaly. According to the Lebanese Code of Labour, the minimum working age is 14 for "safe" work, which requires no harm done to the children's physical or psychological wellbeing.
Lebanon's elderly are not spared either. Twitter users posted a video of an elderly woman being beaten by another woman in Ras Al Nabaa, Beirut. The abuser was later revealed as the old woman's daughter.
Upon The Internal Security Forces intervention, preliminarily findings showed that "the daughter was doing inappropriate and irresponsible behavior that puts her life and those around her at risk… the daughter vied to take care of the mother and will ensure to provide the medical care necessary."
However, no follow-ups nor persecution orders are available on any of the stated cases.
What's happening? 
Lebanon's compounded crises include inflation, widespread shortages of basic essentials such as bread, water, medicine and electricity, as well as a faltering local currency that has lost more than 99% of its value. 
"While these are not the primary reasons behind the rise of violence, they are essential triggers," Leila Hamdan, case management technical coordinator at ABAAD told NOW. "Violence is pre-existent in our society but is now becoming more prominent due to the widespread of everyday triggers."
El-Khoury, on the other hand stresses that frustration or difficulties in the professional or social sphere can translate into aggression and violence in the household where there are less  consequences — a phenomenon titled 'displacement' in psychology.
Hamdan added that abuse is taking many forms, from sexual assault and physical abuse, to child marriages — particularly within refugee families — and denial of resources. 
"Some families deny girls their right to education in favor of their brother's education," she said. 
However, she notes that women have been showing more courage and confidence in their personal effort to break the cycle of violence by either speaking up or seeking help within NGOs.
"Some women, though, sometimes backtrack their steps and revert back to their abusers as they fear the repercussions and restrictions imposed by the religious authorities when filing for divorce or demanding custody over children," she said. 
In Lebanon, however, religious courts that follow each sect's religious orders and texts handle all personal affairs, including marital problems. This limits the capabilities of NGOs. 
Furthermore, the open-ended strike by the judiciary and the lack of resources at security institutions, including power and fuel for police cars, further challenges the work of NGOs, Hamdan asserted. 
El-Khoury contended that the issue in fact lies with the institutions' choices to tolerate or excuse violence, where unpunished violence and the prevalence of double standards will lead to a culture of self-preservation and weaponization that will be difficult to revert for generations.
"Giving up the right to violence is a condition to living in a society — what is known as 'the social contract' — so regaining this right can only be a symptom of the current crises but also a cause of further disintegration."
The most vulnerable 
A recent UNICEF report reveals that much of the progress made towards achieving children's rights to health, education, protection, play and recreation has been eroded by the economic crisis and the aftermath of the COVID-19 pandemic. 
"The report, based on a UNICEF study on child poverty and a child-focused rapid assessment (CFRA), shows that children are keenly aware of the effect the crisis is having on their lives and the country. Many no longer dream of a better future in Lebanon and believe emigration is their only hope," UNICEF stated.
Indeed, gender-based violence and child protection expert Zeina Allouche told NOW that the traditional family fabric in where parents provide and children enjoy a normal childhood is disintegrating, reinforcing a vicious cycle of poverty and violence that requires immediate government intervention.
Eighty-four percent of households struggle to afford the household's necessities and 36 percent of caregivers report feeling less tolerant towards their children's behavior and adopting a more aggressive attitude, according to the report's data.
UNICEF stated that children felt disappointed and doubtful of their parents' ability to provide basic needs. 
The increasing number of child laborers as more adults become unemployed has further strained the traditional parent-child relationship. 
Indeed, gender-based violence and child protection expert Zeina Allouche told NOW that the traditional family fabric in where parents provide and children enjoy a normal childhood is disintegrating, reinforcing a vicious cycle of poverty and violence that requires immediate government intervention.
"It's important to note that parents are also the victims of corruption and the state's failure. The government's absence and the rampant impunity are bound to endanger the safety of women and children" she said.
Abused children, lost future 
Allouche claims that children at risk of abuse require case management and professional follow-ups to aid in their transition into a proper state of survival. She stresses that children cannot be labeled as "survivors" without adequate and multifaceted support that will release them from an unfortunate cycle of trauma.
"Once trapped in their trauma, children will recreate the cycle of abuse. They need to be supported on their long journey of healing, where poverty, if not addressed, can compound their suffering," the expert said. 
She notes that Syrian refugee children are at higher risk of violence due to rampant racism and a lack of service providers and NGOs concerned with child protection.
Hamdan, on the other hand, says that vocally advocating for women's causes and expressing support for a woman's choice to speak up are essential factors in female empowerment to break from abuse. However, work done on men's behavior plays an integral role in limiting abuse. 
In their Men's Center, ABAAD provides support for individuals, families, or couples to reinforce familial connections and help men establish coping mechanisms that deter them from violent urges. 
"Men with violent tendencies come to our center admitting to their problem and desiring to find a solution. Through couples therapy or developing positive communication skills, some men respond positively. Others leave and return after a while, so there's definitely a positive change underway," Hamdan said. 
However, all experts agree that in light of the state's absence and failure to invoke laws to protect victims of violence, the phenomenon imposes a threat to Lebanon's social safety and to the wellbeing of future generations. 
Dana Hourany is a multimedia journalist with @NOW_leb. She is on Instagram @danahourany and Twitter @danahourany.