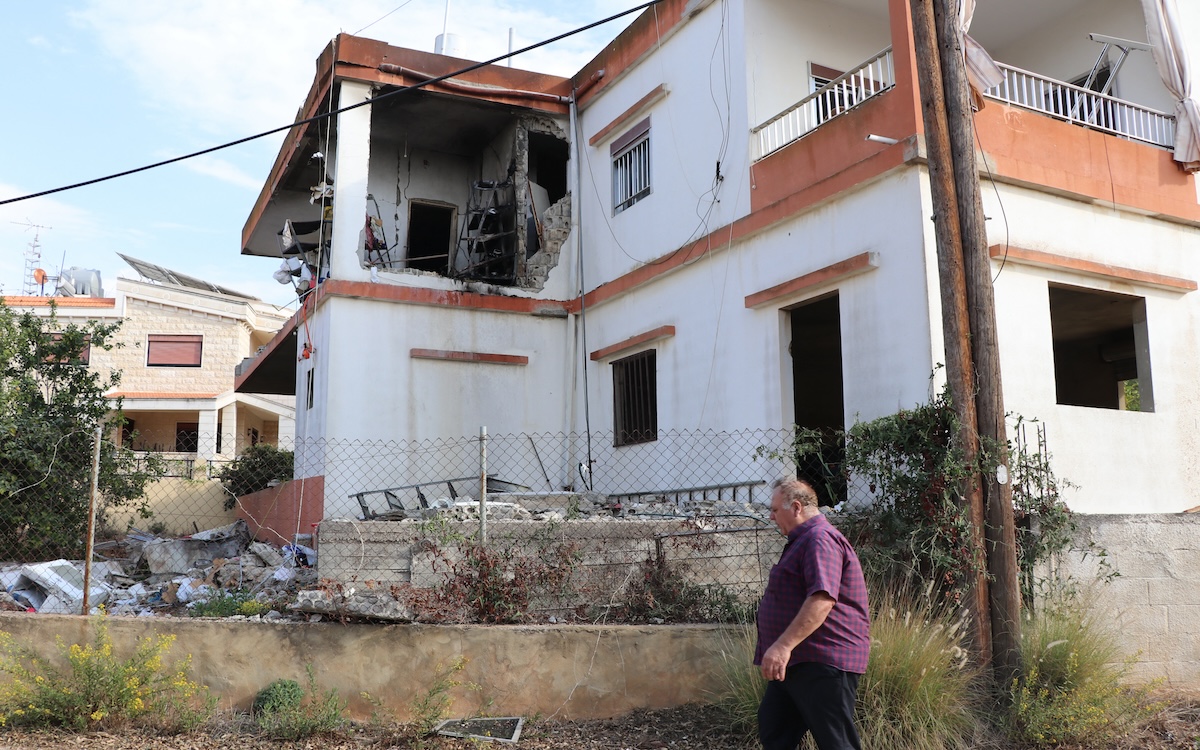 A man inspects the damage to a house in the village of Alma al-Shaab, close to the southern Lebanese border with Israel on October 30, 2023, amid the ongoing battles between Israel and the Palestinian group Hamas in the Gaza Strip. Photo: AFP
Thousands of residents living in the South of Lebanon have had no choice but to leave their homes as a result of continuous shelling and increasing tensions with the Israeli military and the Lebanese armed group, Hezbollah. 
The current conflict is edging towards a dangerous escalation beyond borders. While Hezbollah has not joined the conflict officially, the heightened tensions between Israel and Lebanon are already impacting nearby communities situated near the shared border. 
To escape, a number of families found shelter in schools, while others relocated towards Beirut or opted to live with relatives or friends. Additionally, some have rented apartments within locations perceived to be at lesser risk of impending danger.
Almost 20,000 people have fled southern Lebanon since October 7 when an armed conflict between Hamas-led Palestinian militant groups and Israeli military forces began. 
"We grabbed all our necessities, dressed the children, and made our way to Tyre," Rasha Jaber told NOW in a phone interview.  
"If our house turns into ashes, we can rebuild it, but if my children do, it will be too late, so this sacrifice is all for the sake of my family's safety," said Jaber. 
The family is among nearly 4,000 people who have fled tense areas near the Israeli border and escaped to the southern city of Tyre, according to local officials.
Around half are staying in three public schools that have been converted into makeshift shelters. As refugees from nearby towns seek shelter in Tyre, municipal workers and NGOs struggle to figure out how to accommodate them without help from the government. 
Flashbacks of the 2006 war have returned with the growing uncertainty in Lebanon, causing concern among Lebanese who believe that a war today would be even worse and more intense than that which took place in 2006. 
Hezbollah's leader, Hassan Nasrallah, has declared that his organization has around 100,000 members, and Israeli officials have threatened that they would 'return Lebanon to the stone age' if a war breaks out. During the previous war, over a thousand civilians, predominately Lebanese, tragically lost their lives. 
"My husband has refused to leave the house but I decided to take my children and stay in Beirut with my sister and her husband to protect them, renting an apartment is not feasible at the moment as everyone is demanding $500 or more," said Fatema Nasr from Yater, a town in South Lebanon's Bint Jbeil. 
Nasr told NOW, "I do not want my children to go through war and live in trauma as we did, the thought of war makes me panic, especially in the crisis we are living through and the events that we have already gone through."
A different scenario 
People are bracing for a war Lebanon cannot afford. Internal displacement in Lebanon may intensify the economic crisis faced by a country already grappling with poverty and resource scarcity. There is a noticeable concern that the inevitable increase in demand for resources from displaced communities will put undue pressure on host communities already struggling to cope with rising financial turmoil. 
The surge in rental costs in various locations across the country has caused frustration and condemnation from both Southern residents and social media personalities who have voiced their concerns about landlords exploiting people's plight. 
Property dealers that NOW has reached out to have confirmed that furnished double-bedroom flats have seen their prices escalate from $500 to a now-demanding $1000 in some areas like Hamra, Choueifat, and Aley. 
Social networking sites are witnessing momentum in the supply of apartments for rent in all regions, and hotels and guesthouses in some areas have witnessed a surge in their bookings. 
Rami Antoun, a lawyer specializing in real estate and property, provided NOW with insight into the challenges of renting during times of conflict, particularly when certain areas may be under threat. 
"While the Lebanese constitution upholds the sanctity of property rights, the challenges of fluctuating supply and demand can impact an individual's ability to set a price. The true test of morality comes in setting ethical rental prices. However, special provisions can be made at the governmental level to ensure public interests are met during times of crisis, including setting specific rental values alongside monitoring pricing," Antoun said. 
Many from South Lebanon currently grapple with high poverty rates, coupled with low wages. Many individuals rely on financial help from relatives abroad. In this light, experts predict that the prospect of conflict would only escalate the already strained situation in the country. 
People are also being cautious in their shopping habits, with some stores experiencing an increase in wholesale purchases, particularly of grains and canned goods. This is because, in the event of war, civilians may not be able to move freely, especially if bridges are blocked, as happened in 2006.
Some are also stockpiling essential items such as extra gas cylinders, flour, and fuel for transportation and heating, in fear that essential commodity prices will rise. 
Najat Houjaire, a teacher who lives in Khiam, a village in south Lebanon, told NOW, "We cannot afford to go anywhere, rent prices are extremely expensive for us to afford and we do not want to be a burden on anyone, especially that I have 3 children." 
"We have experienced war before but not in such economic difficulties, so we are taking the necessary precautions and trying to bulk buy essential items like flour, oil, and grains in case a war breaks out and we become isolated," Houjaireh added.  
The Minister of Economy for Lebanon, Amin Salam, has confirmed to media sources that the Ministry is fully prepared to reroute vital supplies based on shifting demographic trends due to current displacement. 
The Ministry is currently strategizing various channels, such as UNIFIL, to secure alternative passageways and avoid a disastrous repeat of 2006's marine blockade. The definitive objective is ensuring an influx of weekly imports of wheat and grain while operationalizing ports situated in the South. A food import pathway connecting the southern Lebanese borders could materialize through the port of Sidon. 
Rodayna Raydan is a Lebanese-British journalist. You can follow her on Twitter @Rodayna_462.