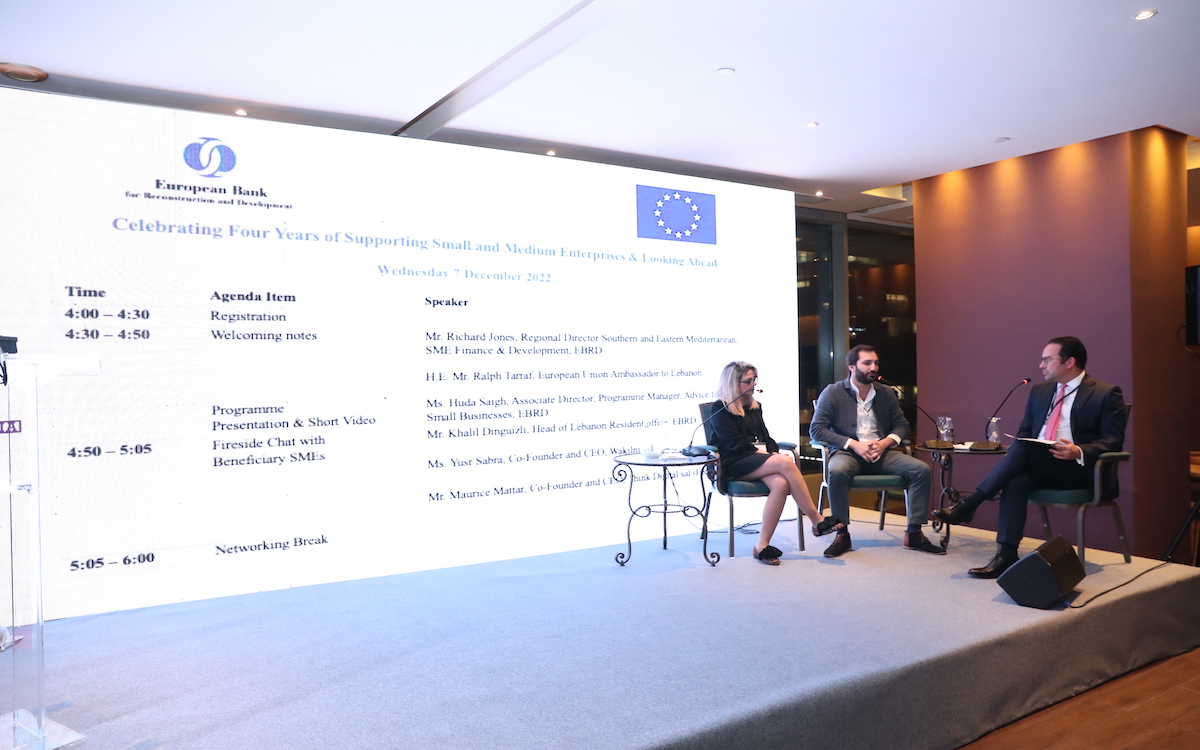 Fireside Chat with beneficiary SMEs. Photo: EBRD Lebanon
For the last four years, the European Bank for Reconstruction and Development (EBRD) and its Advice for Small Businesses program has been helping Lebanese companies to grow and improve, despite increasingly harsh economic conditions in the country.
Thank you for reading this post, don't forget to subscribe!
Lebanon's continuing liquidity crisis has ravaged the country's economy at every level. The collapse of the Lebanese lira has obliterated public purchasing power and triggered meteoric price increases across the board. Around 80 percent of the population now lives in poverty, with many having either lost their savings or had their bank accounts frozen.
This has produced an extremely hostile environment for small businesses in all sectors.
"Small and medium enterprises (SMEs) are the backbone of Lebanon's economy, [but they are] in dire need of support," EBRD Regional Director Southern and Eastern Mediterranean Richard Jones told NOW Lebanon. "Innovation is essential for enterprises in key productive sectors to gain competitiveness, grow and make use of opportunities."
Supported by funding from the European Union, the Advice for Small Businesses program helps SMEs – on a cost-sharing basis – to improve their business practices through collaborations with both local consultants and international advisers. In assisting the development of these companies, they hope to promote economic growth and engender greater economic stability.
"The program works with each company in a tailored way," explained Huda Saigh, Associate Director and Program Manager for Advice for Small Businesses. "We make sure that we understand the priorities for each company, and we work with them on finding the right expertise."
"We are sector agnostic," she continued. "However, it is demand-driven and we try to focus on productive industries, so the largest [proportion] of companies that we have worked with are in the food and beverage sector, which is one of the strongest industries we have in Lebanon. The rest are quite broad."
The EBRD's activities focus on cost-cutting, supporting the transition to a green economy and promoting equality of opportunity in underserved communities. They have also provided over 30 workshops and training initiatives in the past four years to their beneficiaries, working with almost 180 companies. 
Despite the dire economic and financial situation in Lebanon, around 50 percent of the enterprises that have worked with the Advice for Small Businesses program have benefitted significantly, with outcomes ranging from increasing turnover and expanding their workforces, to improving productivity and increasing their exports.
When Yusr Sabra co-founded her courier company, Wakilni, she started with a small team of just four people. However, a quickly expanding client list and delivery schedule left her with concerns about maintaining the people-focused company culture that had initially served her and her team so well, so she reached out to the Advice for Small Businesses program for help.
"I always thought that the culture was helping with our effectiveness and efficiency of work," Sabra said. "As we were growing, I started losing that one-on-one touch. I wanted to see: How do you maintain the same culture? And how do you actually improve this culture, as the organization is growing?"
"[Now, we] cover all of Lebanon," she concluded. "We're currently expanding into Jordan, we have a small operation in Cyprus, and we also have a local partner that we're working within the UAE. If you make it through the challenging times, then you are at an advantage in more stable times."
Maurice Mattar, Co-Founder and CEO of Think Digital, helped to create one of the first e-commerce companies in Lebanon, but found that many suppliers and brands were reluctant to partner with unproven online stores over physical locations. To develop his enterprise further, he also turned to the Advice for Small Businesses program.
"Usually, we say that you have a first-mover advantage, but it's also a double-edged sword because the market is not always ready or educated for this type of innovation," explained Mattar. "In 2016, when we started, e-commerce represented less than one percent of retail sales in Lebanon. We also faced some challenges in recruiting the right talent; finding people with the right digital skills for e-commerce. We didn't really have the means or the resources to hire experts."
"After COVID, a lot of brands reached out to us," he added. "We were – before 2018 – 100 percent reliant on Lebanon as a market, [so we] worked on exporting to other markets. Today, exports are about 80 percent of our business."
Little in the way of government support remains in Lebanon for companies that have been adversely affected by the events of the last few years, most notably businesses whose premises were damaged or destroyed by the Beirut Port explosion on August 4, 2020. Without the ability to finance their recovery, many have been forced to close down for good.
For those remaining, operational costs have soared. Between Lebanon's own lack of large-scale manufacturing infrastructure and the country's pre-existing reliance on imported goods purchased with US dollars, companies dealing in Lebanese lira have been severely impacted. Even vital necessities like fuel and electricity are in short supply.
All of these issues have precipitated another serious problem for the Lebanese economy, the 'brain drain' happening as many young professionals and technical experts leave the country in search of better prospects and greater job security overseas.
"As we planned this event, we questioned the words we were using," said EU Ambassador to Lebanon Ralph Tarraf, addressing the press at the EBRD's four-year anniversary. "Is this a time to celebrate, or to talk about achievements, or the reality that the country [is] going through? We asked the companies we worked with, and we reflected on how – with every crisis – they endeavored to find a solution."
"Many rebuilt better after their premises were destroyed by the Beirut Port explosion," he continued. "Everyone looked to expand to new markets [but], even as they look to expand, they maintain their roots and commitment to this country. Each of these steps is a reason to acknowledge their strength and persistence throughout their efforts."
At present, Lebanon's economic recovery is throttled by political inaction. While aid from the International Monetary Fund has been approved, the release of these emergency funds is contingent on as yet unmade governmental reforms.
With state officials either unwilling or unable to proceed, it falls to other international actors to provide what little aid they can under difficult circumstances.
"In the midst of every crisis lies great opportunity," said Jones, "but even the most vibrant of private sectors cannot thrive in a dysfunctional economic situation. We all know how dysfunctional Lebanon's economy is, and how urgent it is to implement necessary structural reforms."
"We will continue supporting Lebanon's private sector through thick and thin," he concluded. "There can be no economic recovery without a dynamic and competitive private sector. It will be key to rebuilding the economy, creating jobs and preventing – or even reversing – the brain drain."
Robert McKelvey is a British freelance journalist based in Beirut who covers art, culture and humanitarian issues across the Middle East. He can be followed on Twitter @RCMcKelvey.