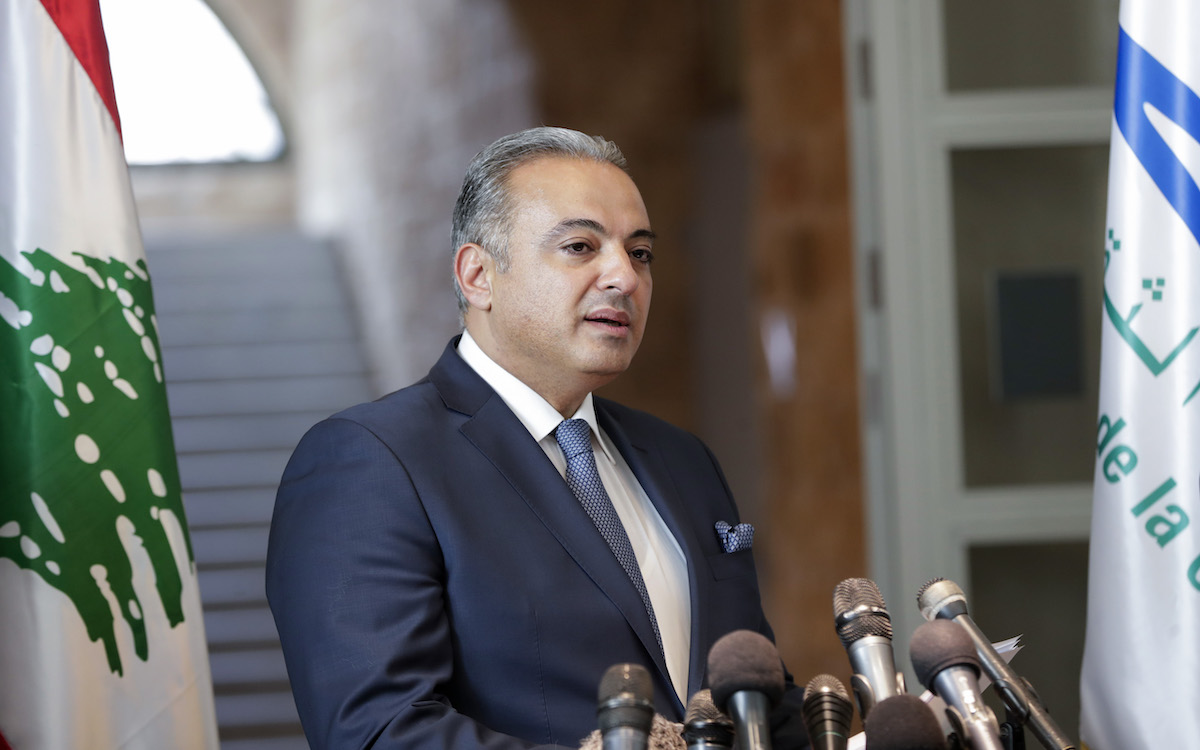 Lebanon's Culture Minister Mohammad Mortada speaks during the reopening ceremony of the National Library in Beirut on February 10, 2022, upon completion of restoration work in the aftermath of the summer 2020 port explosion. Photo: Anwar Amro, AFP
Among Lebanon's most pressing concerns that have plagued the country since 2019, the recent  Barbie movie seems to have taken center stage.
The catalyst for this frenzy was the Lebanese Minister of Culture, Mohammad Mortada, who declared on Wednesday, August 9th that the film advocated "homosexuality and sexual transformation" which ran contrary to values connected with faith and morality. Similarly, Kuwait pronounced they were protecting ethics and traditions when making their own decision to ban the movie.
This aligns with a consistent pattern exhibited by the minister who has consistently championed a conservative, religious attitude along with a pro-Iranian flair, placing significant emphasis on fighting "immorality" which he associates with LGBTQ+ rights and all stuff related.
This ignited a culture war among the Lebanese where those with a conservative religious view agreed with the minister and those who were proponents of LGBTQ rights, saw a danger in an already inflamed situation. The minister, who has held his position for two years, is facing significant backlash. However, he remains adamant in his stance.
Directed by Greta Gerwig, the project had been in development for an extended duration. Receiving stellar reviews by critics, the film was applauded as "a visual feast" that succeeds as both a gleeful escape and a battle cry. 
Drawing its origin from Mattel's iconic Barbie fashion dolls series, this live-action film is one of many computer-animated films and specials. Featuring Margot Robbie and Ryan Gosling in leading roles, Barbie and Ken take viewers on a captivating journey of self-discovery after Barbie experiences an existential crisis. It has become not only one of 2021's highest-grossing movies with $1.19 billion worldwide but also marks itself as the director's highest-grossing solo movie.
Once known for being an oasis of openness within the Arab world, Lebanon has surprised many with the recent attempt to ban the movie. 
In response to this, the Ministry of Interior asked the nation's Censorship Committee to analyze the film and present their suggestions. After carefully reviewing it, the Film Censorship Committee concluded that there were no reasonable grounds for prohibiting Barbie. 
The actions of the Mortada in igniting a culture war and launching offensive remarks against the LGBTQ community in Lebanon could have far-reaching consequences. Many experts are alarmed at how this situation is contributing to an increasingly restrictive environment with regard to freedoms in Lebanon.
The war on "Barbie"
Barbie's release in the Middle East, which was initially set for August 31, has been moved up to August 10 in some Arab countries, providing hope that any censorship issues had been solved. This matter sparked various debates on social media as Lebanon is not the only country to have a ban on the Movie about the famous doll – Algeria and Qatar also have similar restrictions in place. In order to adjust films for regional standards, delays are common while production companies attempt to both censor and review them.
Though it is co-starring Kate McKinnon, a lesbian, and Hari Nef, a transgender actor, the movie "does not make any direct references to LGBT themes.
Just recently, Hassan Nasrallah, the leader of Hezbollah, made dangerous homophobic comments that echoed similar ideals by extremist Christian groups in the country.
However, people have pointed out that with the click of a button, users can watch uncensored versions of any film online and that many adulterous, "immoral" content is shared widely on social media platforms, which people have easier access to than the Barbie movie.
Furthermore, the Minister of Culture has been heavily criticized for his role in the debate that has raged on Lebanese platforms. His duty is to safeguard Lebanon's cultural diversity and protect its culture, yet he finds himself at the center of this contentious issue.
"Never in my life have I imagined a film can be shown in Saudi Arabia and not Lebanon," stated Monika Borgmann, president of the Lokman Slim Foundation, in conversation with NOW. "I also believe Lebanon has other problems than banning a movie. It's ridiculous and dangerous for the LGBTQ+ community and freedoms in Lebanon."
Widad Jarbouh, a journalist with the Samir Kassir Foundation's Skeyes Center for Media and Cultural Freedom, emphasized the profound impact of diversity in expression and the importance of liberty in shaping culture.
"Freedom of expression in a country affects the creativity and greatness of artists, and oppression is one of the most detrimental factors for culture and the arts," Jarbouh pointed out. "We can't set limits on creativity and expect everyone to fit into one box. Through these freedoms, we allow people to coexist, each with their different and diverse cultural backgrounds."
The waning freedoms
Mohammad Mortada was born in 1972 and in 1996, he began his career as judge at the Mount Lebanon criminal court. He is also part of the North Lebanon Primary Chamber. 
Over the course of nine years, from 2009 to 2018, Mortada was a part of the Supreme Judicial Council. 
For more than a decade, from 2008 to 2019, he was associated with al-Hikmah  University in Beirut's Faculty of Economics and Business Administration. He served as a professor there during this time.
In 2021, the Amal Movement selected him for the position of Minister of Culture in Prime Minister Najib Mikati's new government. Moreover, he is supported by Hezbollah.
A significant number of the minister's tweets carry a distinct pro-Iranian tone, coupled with a noticeable religious perspective that addresses both the Muslim and Christian communities. In his recent posts, he emphasizes the imperative to combat homosexuality and characterizes the promotion of homosexuality as a "Zionist plan," which he asserts is prohibited by both religious groups in Lebanon. 
On August 16, the minister shared that he had submitted a proposal for a 'draft law' designed to strengthen measures against the promotion of sexual deviance, the encouragement of such behavior, and the propagation of ideas that condone the exploitation of children.
Culture plays numerous roles in shaping and reflecting the state of our society. However, we're observing an increasing clampdown on these freedoms, hinting at a future marked by further suppression.
According to Borgmann and Jarbouh, this matter transcends the boundaries of the film ban and extends to potential future censorship targets.
"There have been several films banned this year for similar reasons, and we are witnessing a gradual erosion of Lebanon's reputation as one of the more open-minded countries in the region. This could significantly impact our international standing," the journalist stated.
Borgmann highlights that freedom of speech and expression should not be subjected to religious criteria that enable control and censorship.
"Culture plays numerous roles in shaping and reflecting the state of our society. However, we're observing an increasing clampdown on these freedoms, hinting at a future marked by further suppression," Borgmann noted. 
Culture wars
Some of Mortada's history includes his involvement in advocating for the removal of Judge Tarek Bitar from the Beirut blast investigation. Additionally, he participated in a conference held in Tehran, focusing on the subject of "media martyrs."
A photo he posted on social media depicting Qasem Soleimani embracing Imam Hussain after the attack on Salman Rushdie in 2022 was accompanied by a caption that concluded with the following statement:
"Were it not for the ayatollahs and the jihad of their children and allies […] many women would have been captives of Satan and his helpers."
One individual who engaged in dialogue with the minister regarding the Barbie ban was Member of Parliament, Mark Daou. He conveyed to NOW that the recent statements and endeavors by the Minister of Culture were "efforts to impose a specific ideology rooted in particular religious interpretations, extending beyond a mere film to touch upon issues like women's clothing, their liberties, and more."
The cultural landscape that defines Lebanon differs greatly from the narrative advocated by the minister.
He further elaborated that this phenomenon is not transitory; it signifies a societal initiative aimed at imposing a particular identity.
"The cultural landscape that defines Lebanon differs greatly from the narrative advocated by the minister," Daou noted.
Daou emphasized that countering this requires ongoing dialogues, the dissemination of awareness and information across mainstream and social media, and ensuring an environment where all perspectives can be voiced, thus preventing a situation where one group's voice drowns out another's. This encompasses the roles of both the judiciary and public and political institutions.
"Observing these discussions is indeed a positive development, as they address subjects we sometimes tend to evade. We are a modern society that should recognize our rich diversity of opinions and expressions that can engage in reasoned discourse," Daou said..
However, given the significant position held by the minister and the substantial support he commands, his future actions could be potentially hazardous to groups already vulnerable, such as the LGBTQ+ community and their supporters. This not only casts a shadow over freedom of expression in Lebanon but also poses a challenge to the essence of diversity and the freedom to exist without being coerced into a predetermined identity.