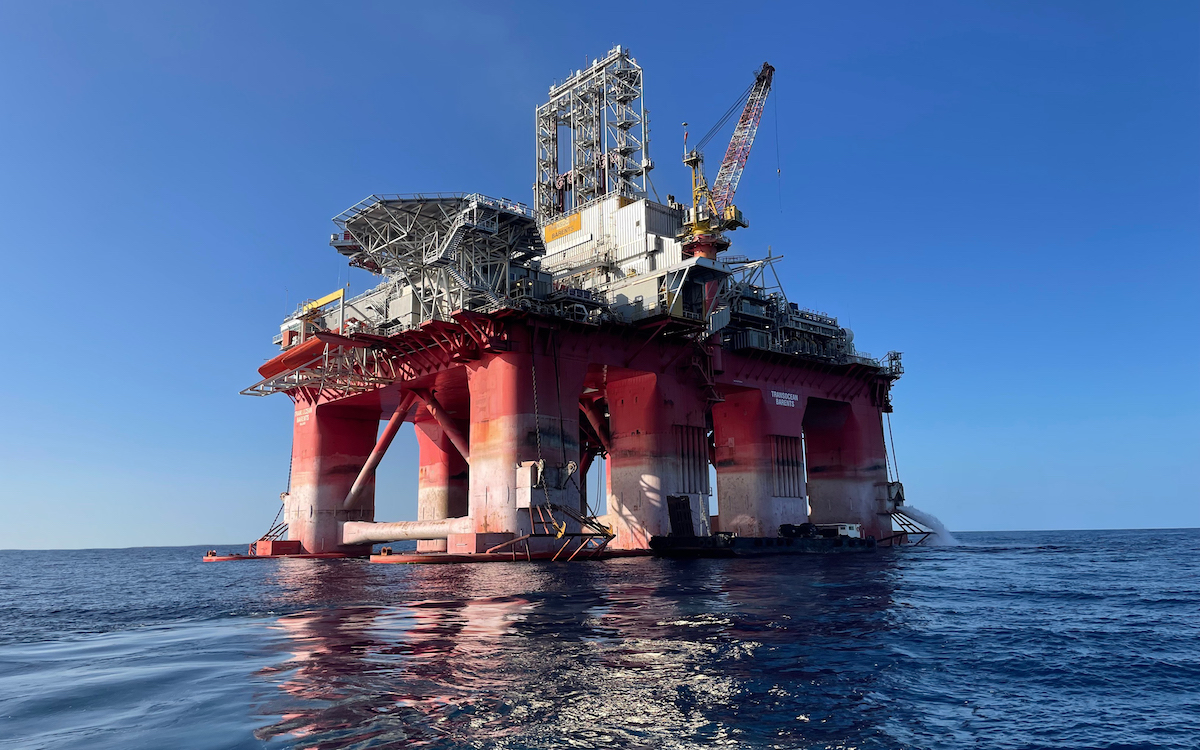 This undated handout picture provided by French giant TotalEnergies on August 16, 2023, shows the drilling rig Transocean Barents reported to have arrived to Lebanese territorial waters for offshore gas. Lebanon and Israel struck a "historic" deal late last year over a maritime border dispute involving offshore gas fields after years of US-mediated talks, in a step that facilitates hydrocarbon production. Photo: TotalEnergies, AFP
As the TransOcean Barents, a drilling vessel chartered by the TotalEnergies/Eni/QatarEnergy consortium, to develop the promising Qana gas field in Lebanon's Block No. 9, arrives in Lebanese waters next week, the region's complex geopolitics means that getting even a significant gas find to market would be far from a walk in the park. From a corporate perspective, QatarEnergy is strengthening its ties within the East Med with little financial risk, adding to its non-operator stakes alongside US major ExxonMobil in Egypt and Cyprus. Qatar's portfolio of international oil company partners has allowed Qatar to pursue an expansionist foreign policy.
The readiness of the government to manage the industry and oil excavation remains in doubt, as the electricity sector remains a bastion of corruption and has drained some $25 billion in reserves according to a forensic report on the central bank of Lebanon.
Many in Lebanon hope gas and oil discoveries will help it reverse a crippling economic crisis that has cost the local currency more than 98 percent of its value, eroded the country's foreign reserves and caused rolling blackouts across towns and cities. The drilling became possible after the United States mediated a deal that set a maritime border between Lebanese and Israeli waters for the first time. A mechanism for the consortium to exploit possible discoveries that extend south from Block 9 past that border was also established. That exploitation would be done on behalf of Lebanon but with a royalties system set up for Israel. 
The Lebanese have been paying not only that double electricity bill, but the expensive debt of that electricity utility because it produces very expensive electricity, and it sells at a cheap cost and it has very high losses. The debt of the electricity utility has been paid for by the state, and the state has been covering that loss every single year through Lebanese depositors and other deposits. The electricity debt is also a high contributor to the debt in the country. Debt to GDP ratio is at almost 194 percent in Lebanon, the economy is collapsing, and the electricity sector has contributed 40 to, 43 percent of the public debt.
If Qana is a flop, the drillship will likely make its way to Cypriot waters in October to explore an appraisal well on the 2022 Cronos discovery on Cyprus' deepwater Block 6, where it previously gave a 2.5tcf gas-in-place reserves estimate. The Transoceans Barents rig is from the sixth generation of advanced drilling rigs, capable of operating at a water depth of 3,048 meters and a total depth of 9,144 meters. Notably, the planned well to be drilled in the Qana field does not exceed a water depth of 1,650 meters and a total of 4,400 meters. Eni (50 percent op) and partner TotalEnergies (50 percent op) will drill Cronos-2 immediately after their drilling of Lebanon's Qana prospect. That said, with Lebanon's power sector being one of the key bastions of political corruption and sectarian patronage, there would no doubt be major political hurdles to even a domestic gas sales deal. Lebanon also lacks the necessary domestic gas infrastructure, with the only power plant currently capable of burning gas being the 460MW Deir Ammar facility in the country's north. This plant was supposedly going to receive around 60mn cfd following a deal between Lebanon, Syria and Egypt, but Beirut has so far failed to meet the conditions set out by the World Bank in order to help fund the agreement.
Hence the discovery of a significant reserve in Qana will consolidate the consortium's place in the geopolitics of the region. Should drilling prove successful, the Italian firm envisages a tie-back to its 21.5tcf Zohr field on the Egyptian side of the maritime border and onto the Zohr onshore facilities at Port Said.  
Total and Eni are partners at seven Cyprus blocks, as well as blocks 4 and 9 (Qana) off Lebanon (Total 35 percent op, Eni 35 percent op, QatarEnergy 30 percent op).
Qatar Energy acquired the 20 percent in Block 4 and 9 relinquished by Russian firm Novatek in September last year, as well as 5 percent each from Total and Eni.
Italy's Eni sees an upside in falling output at its flagship Zohr field. It eyes using spare capacity for tie-back development of its 2.5tcf Cronos discovery on Cyprus Block 6, where Q4 appraisal drilling is planned.
Any decision on the fate of Cronos and Eni's other Block 6 finds will need to wait until appraisal drilling is complete, which, in all likelihood, will be in early 2024. By the start of next year, it will also be clearer whether Eni's recent drilling activity at Zohr, where it has recently drilled two further development wells, taking the total to 20, will have helped the Italian firm boost or at the minimum stabilize output from the giant field.
Maan Barazy is an economist and founder and president of the National Council of Entrepreneurship and Innovation. He tweets @maanbarazy. 
The views in this story reflect those of the author alone and do not necessarily reflect the beliefs of NOW.