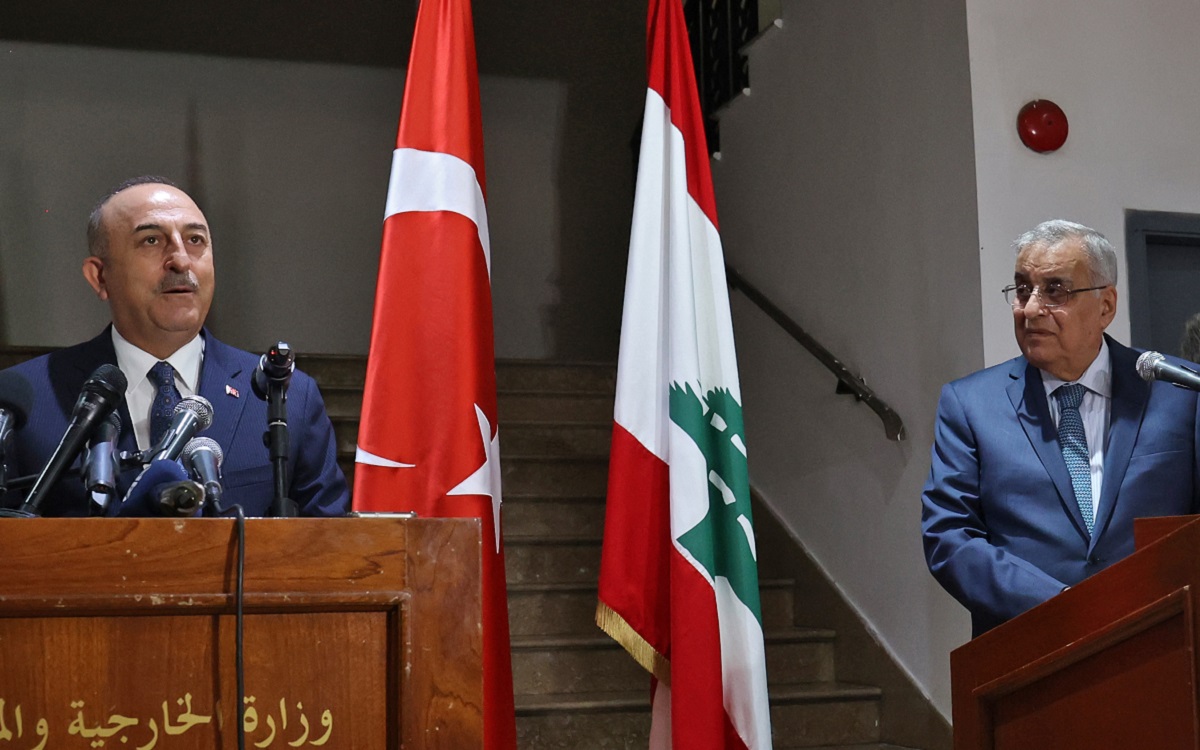 Turkish Foreign Minister Mevlut Cavusoglu (L) and his Lebanese counterpart Abdallah Bou Habib hold a joint-press conference in Lebanon's capital Beirut, on November 16, 2021. Photo: Anwar Amro, AFP.
Turkey is ready to help Lebanon overcome its differences with the Gulf countries, the country's foreign minister, Mevlüt Çavuşoğlu, told journalists in Beirut on Tuesday, after meetings with several Lebanese dignitaries. 
"We are saddened by the crisis between Lebanon and the Gulf Arab countries," the Turkish foreign minister stated. "We hope that this issue will be resolved through negotiations and Turkey is ready to do its part."
Çavuşoğlu invited Lebanese Prime Minister Najib Mikati to visit Turkey and said that Ankara was making preparations. No date was announced.  
The Turkish FM and his Lebanese counterpart, Abdallah Bou Habib, signed a memorandum of understanding to improve trade relations between Lebanon and Turkey, which would help Lebanon following the loss of hundreds of millions of dollars in exports to the Gulf.
"We discussed how to develop tourism and energy fields, and the first destination for the Lebanese people is Turkey, and the Turkish people's love for Lebanon is well known," Çavuşoğlu said.
The crisis with the Gulf began after an interview that Information Minister George Kordahi gave prior to his appointment resurfaced where he defended the Iran-backed Houthis, saying that they were protecting themselves against Saudi aggression.
Since then, Saudi Arabia, Bahrain, Kuwait, United Arab Emirates and Yemen have broken off diplomatic relations with Lebanon with Kuwait saying that it will no longer issue visas to Lebanese citizens.
Turkey also emphasized the importance of maintaining security and stability in Lebanon and that Turkey supports "the army and security forces for the sake of Lebanon's stability and security."
The topic of rebuilding Beirut's port following the August 4 explosion also came up in their discussions with Turkey offering to assist in its reconstruction as well as helping in Lebanon's waning infrastructure.
"We talked about the reconstruction of the port, and we affirmed that we are ready to contribute to the issue of infrastructure and superstructures," Oglu said.
Following the Beirut blast, Turkey provided Lebanon with medical and food support, sending 20 physicians and around 400 tons of wheat, along with $5 million.
As thousands of Lebanese have left the country in 2021 due to the ongoing financial crash that lead to increased shortages, especially in medicine, fuel and electricity, many chose to relocate to Turkey, one of the few countries where they do not need a visa.
They also discussed the problems surrounding Lebanon and Turkey supporting Syrian refugees who fled their homes due to the civil war that has engulfed the country for 10 years. There are around 3.6 million Syrians in Turkey either under temporary protection or international protection and an estimated 1.5 million Syrians in Lebanon.
"Lebanon and Turkey are suffering from the burden of Syrian displacement, so efforts must be unified and approached to the issue of displacement, and demand from the international community a fair sharing of the burden or work to return the displaced to their country," Bou Habib stated in a press conference following the meeting.
Nicholas Frakes is a multimedia journalist with @NOW_leb. He tweets @nicfrakesjourno.