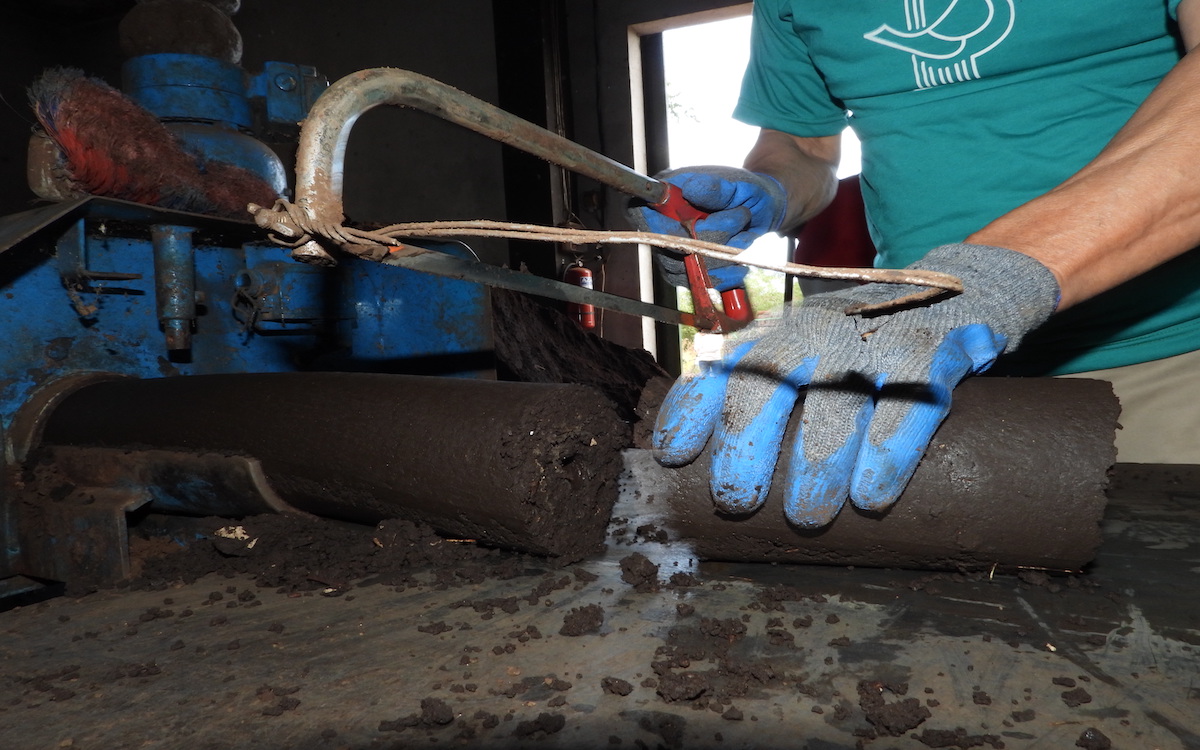 Heating in winter has been a source of concern for many Lebanese citizens in light of the worst economic crisis in the country's history, resulting in a rise in fuel and firewood prices amid a 95 percent decline in purchasing power in the country. 
In the courtyards of olive pressers, large quantities of peat are collected, and were usually disposed of at the end of the season, either transported to landfills or thrown in rivers. This practice persisted for many years, contributing to environmental pollution. Eventually, however, the Lebanese realized that the waste could offer a viable cost-efficient and environmentally friendly alternative for heating. Producing briquettes and sustainably managing forests help prevent fires and pollution caused by agricultural waste. It also helps mitigate issues resulting from CO2 emissions from both fossil fuels and forest fires, while simultaneously transforming waste into an economic and rural development opportunity.
The process
Biomass briquettes in Lebanon are mainly created from olive pomace and agricultural and forestry pruning residue. The process involves drying olive waste, and then shaping it into cylindrical briquettes consisting of 70 percent pomace and 30 percent woodchips. The resulting product appears to be crafted from natural materials.
According to Rajeh Abou Ghaida, who owns an olive press in Hasbaya, although "peat" is considered "firewood for the poor" and a means of heating for people with limited incomes, the significant rise in fuel prices has increased its manufacturing cost this year, noting that its price remains relatively affordable compared to the prices of fuel and wood logs. 
Strong ignition ability
It is easy to ignite biomass briquettes and they provide heat for a long time, Youssef Temraz, a retired teacher in the Beqaa Valley, told NOW.
"I switched to eco-briquettes last year as fuel prices and wood logs have become out of reach, and we need a reliable, sustainable and cheaper source of warmth as well as a source that can be used for cooking.
According to Temraz, one briquette of peat weighs one kilogram and produces four times the heat of cooking gas, while remaining flammable for up to four hours.
Environmental benefits 
Biomass briquettes have positive environmental impacts throughout their entire life cycle, from raw material extraction, processing, manufacturing, distribution, use, and disposal.
In an interview with NOW, Nijad Saed Eddine, an agricultural engineer in the Shouf Biosphere Reserve, explained more about the environmental benefits of Eco-briquettes. 
According to Saed Eddine, the product is made from olive pruning residues and is utilized as a source of heat in traditional Lebanese settings. It was introduced as an alternative to fossil fuels that were previously used in similar stoves for the same purpose.
Saed Eddine explains that eco-briquettes have numerous benefits. Prior to their popularity in Lebanon, farmers had difficulty disposing of residue after the pruning season. Burning the residue in the fields not only increased the risk of fire but also resulted in wasted renewable energy. With eco-briquettes, the waste can now be effectively utilized and the risk of fire is minimized.
Over one million briquette pieces were manufactured within the Chouf Biosphere Reserve and distributed to more than 1,000 families to assist in combating extreme temperatures. The briquettes were provided free of cost.
The Kfarfakoud Briquettes Center, established by the Biosphere, is part of the Reserve's adaptive forest landscape restoration plan, which involves managing abandoned coppice woodlands and transforming them into old-growth stands to enhance their ecological value.
Saed Eddine has stated that by collecting biomass and woodland pruning waste, the occurrence of autumn fires in the Reserve has decreased. This effort has also resulted in the support of three briquette factories in the region.
The proper utilization of olive pomace can make it an important source of clean energy, but if it is not used appropriately, it can become a polluting source for the environment. It's important to note that if olive pomace is left in a landfill, it can produce methane gas due to prolonged exposure to sunlight, which can react with anaerobic bacteria.
Social Opportunities 
Individuals in rural areas are hired to perform a range of tasks necessary in the production of eco-briquettes, including pruning lifeless branches, gathering fallen tree debris, compacting materials into cylinders, and utilizing specialized aerators to dry them out.
Biofarm is a diversified company dedicated to investing in various industries that promote sustainability for the mid and low-income sectors of society. Currently, the company is focused on biomass industrial activities, specifically through their Biowood products.
In an interview with NOW, Ihab Hammad, founder of Biowood and head of Jbaa municipality, emphasized the environmental benefits of their initiative. He also highlighted the positive impact on community sustainability through economic circulation. The project not only promotes nature preservation but also supports the local economy.
According to Hammad, they currently offer over ten work opportunities, where individuals from low-income sectors are employed to complete the work at the factory located in Jbaa Chouf. 
It appears that the demand for peat has increased significantly, having doubled twice from last year, with a ton of peat costing about 90 dollars. There is also high demand for compactors and briquette presses, according to experts interviewed. The sale of wood briquettes is now in competition with wood logs, which cause deforestation. As a result, more investors are turning towards producing eco-briquettes in regions abundant with olive tree lands.
Rodayna Raydan is a Lebanese-British journalist. You can follow her on Twitter @Rodayna_462.