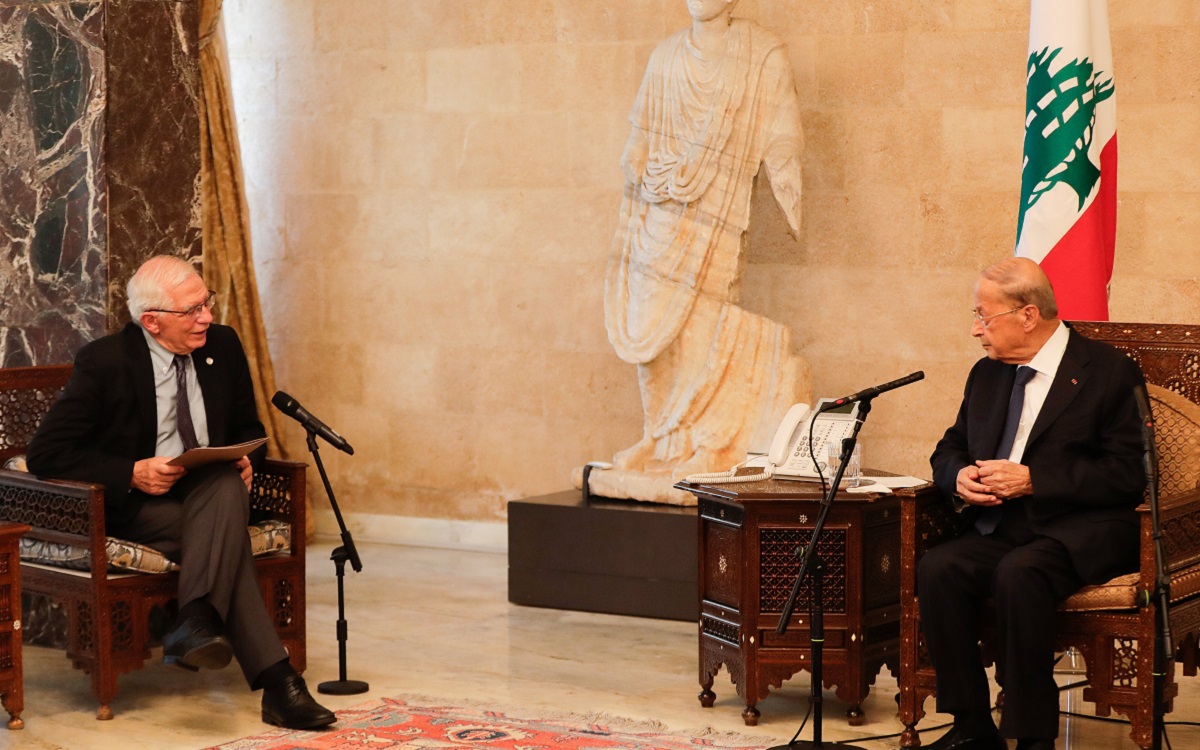 EU Foreign Policy chief Josep Borrell (left) with Lebanese President Michel Aoun (right) during a meeting at Baabda palace. Photo: Anwar Amro/EC - Audiovisual Service
Lebanon's best bets for pressure on its ruling politicians to give up absurd claims and form a government are France and, possibly, even the Vatican. 
Despite the blog posts he's been writing about Lebanon from a distance, EU foreign policy chief Joseph Borell's visit comes late. During his first sojourn to the country last weekend, Borrell met with political leaders left and right, and warned that the EU can't just sit without doing anything at the sight of Lebanon crumbling, while sectarian political factions and politicians continue to bicker over a blocking third in a long-awaited cabinet. 
Borrell, however, should have also met with some of the new and emerging political party representatives and civil society activists who make up a second political layer in Lebanon – the layer that actually gets things done and is technically the engine of society. He should have put those meetings on his public agenda and should have illustrated that the EU understands how things function in Lebanon. 
But just like every other foreign diplomat, he met with the good old bigshots, not the "little people". Not lending an ear to these change-makers shows the EU's foreign policy's blind spot: while insisting on political constructions, it misses the importance of social dynamics, grass-root democratic processes and entirely overlooks drivers of social and political change.
It also means that Lebanese civil society and the groups that call for change need to produce political movements that not only protest but are also capable of generating real policy, including foreign policy. They need to be seen on the political stage and not just on the streets. 
The EU acts on emergencies
So far, humanitarian aid has been Europe's main foreign policy tool towards Lebanon. These aid packages were only triggered by the possible imminence of unregulated migration of Syrian refugees towards Europe's South. 
Hesitating to get involved politically only means respecting sovereignty at the literal, formal level. In fact, political involvement may mean in the Middle East context, including Syria and Lebanon, support for human security, which is much more important than outdated realpolitik principles. Doing nothing is much more dangerous. 
The EU will impose sanctions on Lebanese politicians if they don't move to form a government, Borrell said in Beirut during the weekend. Of course, this may actually happen. But with the speed the EU is known to move on these files, it would probably leave any potential targets in the ruling political class enough time to move money and assets. 
Borrell probably expects something to happen at the mere threat of these sanctions. But we all know that this is naïve. Sanctions will have to occur.  The process will require the coordination of several EU institutions, time, investigations, assessments, and a myriad of reports.  But even when they are imposed, they would be virtually symbolic. 
The day after he left Lebanon, EU's foreign policy chief Josep Borrell told journalists at the Foreign Affairs Council in Luxembourg that the main three topics to be discussed with member states were the political crisis in Belarus, the situation in Iraq, and the pandemic in South America. 
Lebanon and Turkey came as a package, fourth, and Borrel expressed it as such: "I came back from Lebanon and Turkey." This is not accidental, as boats with desperate refugees are still fleeing these countries to seek refuge in Greece and Cyprus, two countries themselves still recovering from economic crises. 
For Europe's southern states, Lebanon's disintegration is indeed very bad news.
But the pandemic and consequent lockdowns' effect on the economy in several member states have shifted the attention from this foreign policy file, while the current point of focus is Spain, rather than the Eastern Mediterranean.  
The habit so far, proven by a decade of reactive rather than proactive measures, is to keep the Syrian conflict on the humanitarian agenda rather than the political agenda. For the EU, Lebanon is tied to Syria and its refugee problem and is not a political issue in itself. 
This will not end well, as migration triggers a rise in blood pressure and incites Euroscepticism in the EU's southern members, especially Greece and Italy. But politicians in Brussels only react to emergencies and, by default, do not think in perspective. 
It will take time and an even bigger emergency for the EU to react and mobilize on Lebanon. 
Back to who can help Lebanon
For decades, Lebanese politicians reaching consensus over the formation of a government, or anything political for that matter, required a foreign broker power. Rarely has anything ever been solved in-house. 
But the US links Lebanon only to its interests of negotiating a new nuclear deal with Iran and, obviously, Lebanon is relevant because it hosts Hezbollah. But Washington has left the process of pulling Lebanon out of the economic crisis and the formation of a government to France's care. It was evident at a meeting in February between US State Secretary Anthony Blinken and French Foreign Minister Jean Yves Le Drian, when the French Foreign Ministry insisted on the Lebanon crisis in the press release. 
Meanwhile, traditional regional backers of political factions in Lebanon are also hesitating to interfere more than with an ambassador's statement of support for the formation of a government because they know the country is bankrupt and the old political parties are close to being obsolete. Someone new needs to show up to take over. 
Many Lebanese political leaders have been visiting Russia in the past months, seeking support for a new consensus. Not much help will come from Moscow as traditionally, Russian foreign policy means the use of its veto in the UN Security Council and its military capabilities, including psy-ops and disinfo tactics, and the threat of both. Moscow is not interested in supporting the process in Lebanon, but keener on exploiting the result, whatever it may be, whenever it may be. 
French Foreign Minister Jean Yves Le Drian carried Lebanon's file for the past year at every foreign policy meeting in Brussels asking to put the issue on the agenda. This is not being said to raise a statue for the man. 
But colonial or postcolonial responsibility, guilt issues, orientalism, nostalgia, opportunism, or whatever the reason may have been, Paris wanted to get things done in Beirut and wanted Brussels to have its back on it. At every meeting, Le Drian asked Borrell to impose sanctions on Lebanese political elites. Weeks before Borrell's visit, in April, Le Drian told EU foreign ministers to act on Lebanon and asked for sanctions. Borrell said the EU would need a detailed report and thanked the French minister for his constant briefings. 
Maybe Le Drian would have been more successful in carrying that Lebanon file to Rome rather than Brussels.
Vatican's more personal approach
Because, meanwhile, Pope Francis has been trying to use his own foreign policy tools to pressure the Free Patriotic Movement leadership to behave in a Christian manner and give up its absurd ambitions for a blocking third and form a government to save the country. 
Both president Michel Aoun and FPM leader Gebran Bassil have sought the Vatican's acceptance, especially since they have tried to brand themselves as the defenders of the Christians in Lebanon. Pope Francis visiting Lebanon would be a great political victory for the FPM, as its constituency is really keen on a visit. 
By receiving Prime-Minister designate Saad Hariri, but not Bassil, Pope Francis has sent a clear "parental" message: the visit is not going to happen unless you change your ways.
Maybe the Vatican meeting on July 1, hosted by Pope Francis, under the pretext of a day of prayer may be more successful. 
But the lesson in all this is that Lebanese civil society needs to raise more awareness and push itself forward on various foreign policy agendas. Politicians and diplomats will not do that themselves, as it is not in their interest. It is up to civil society to carry this burden and make itself visible in various capitals as a valid dialogue actor in Lebanon.  
So far, France is the best bet. But even there, the tendency is to deal with the old political establishment rather than the real drivers for change who have the capacity to push the country forward. Lebanese civil society needs to produce strong political voices that can carry foreign policy tasks in order to rally international support. Otherwise, Lebanon's foreign policy goals remain captive by the same old elites who are uninterested in changing the status quo. 
Ana Maria Luca is the senior editor of NOW. She tweets @aml1609.