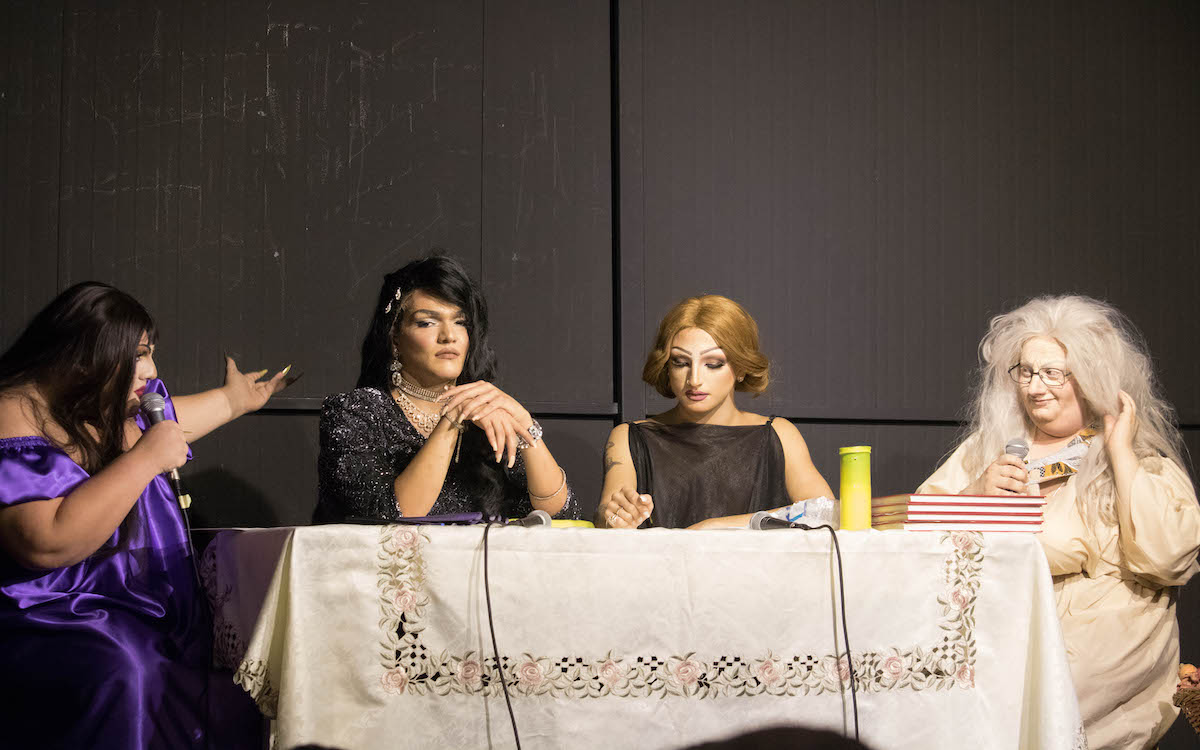 Performance in the now destroyed Madame Om in Beirut, Lebanon. Photo: Nicholas Frakes, NOW.
After the explosion, the laughter came to a halt.
Diva, a 24-year-old drag queen from Beirut, recalled the feeling of responsibility as she discussed the events following the Beirut port explosion.
"We had a serious role to play as a queer community who is isolated and unacknowledged by the Lebanese society," she told NOW. 
Mar Mikhael and Gemmayze were long regarded as a safe space for the LGBTQ+ community and, when the explosion occurred, Narcissa, a 28-year-old drag queen described it as "the end of the world". 
She added that many queer people used to work in the most heavily affected areas. After the explosion some lost their jobs, others lost their houses and many lost both. 
She recounted how on August 4, the day of the explosion, she and other drag queens had a rehearsal for a show that was set to take place on the 7th at Madame Om. The bar no longer exists. It directly faced the port. The group had decided at the last minute to cancel the rehearsal due to coronavirus concerns for themselves and others. 
Now, with much of the LGBTQ+ community struggling as Lebanon's many crises deepen, they have had to band together in the hopes of surviving.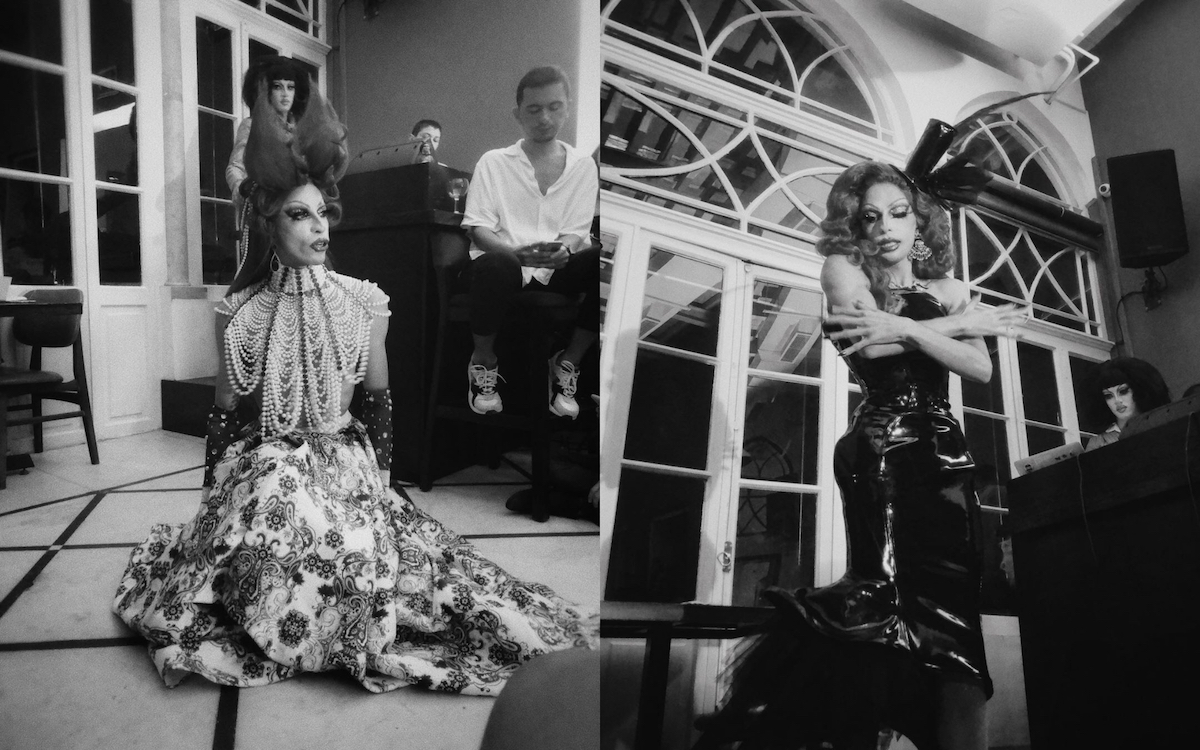 United they stand
80 percent of the drag community in Beirut relies on shows for an income, and according to both Diva and Narcissa, the entire community had been working on establishing a drag nightlife. It was starting to become a sustainable source of income, but the pandemic hit. 
The NGO Queer Relief Fund started as a way for the queer community which its founder 35-year-old, Sandra Melhem, described as being marginalized, to ask for help within the community "as they tend to shy away from asking for help from heterosexual organizations." 
"Everything exploded in our faces, not just the buildings," Melham recalled to NOW.
"You feel like your entire future collapsed, I've been part of the queer community for over 15 years and you feel like everything you've worked for disappeared in the blink of an eye".
However that did not stop Melhem from gathering the strength to reach out to people she had met through her job as the founder of a prominent queer-friendly club in Lebanon, Ego, where many famous American drag queens, such as Pearl and Raja, who were contestants on RuPaul's Drag Race, have performed.
"If we don't mobilize all these connections we've made then these connections are useless," she said. "Is it only in times of laughter that we're all connected?" 
According to Melhem, the initiative was aiming to raise $11,000 on gofundme, as they had a lot of people reaching out for help through social media. 
However, to their surprise, the day after they started the page, they realized that they had already surpassed their initial goal, and as more people asked for help, they decided to raise the ceiling to $65,000 which they were also able to raise. 
A significant portion of the money raised came from the international queer community.
"We also had many volunteers that stepped in to help. Eventually, we were about 70 people, a lot of them were nurses, engineers, medics, architects or just regular people all from the queer community," Melhem stated. 
Due to the vast array of volunteers, they were able to provide medical services, help with home renovations, provide clothing, food and even pay rent anywhere from a couple of months up to an entire year.
However, for the transgender community things were not as easy.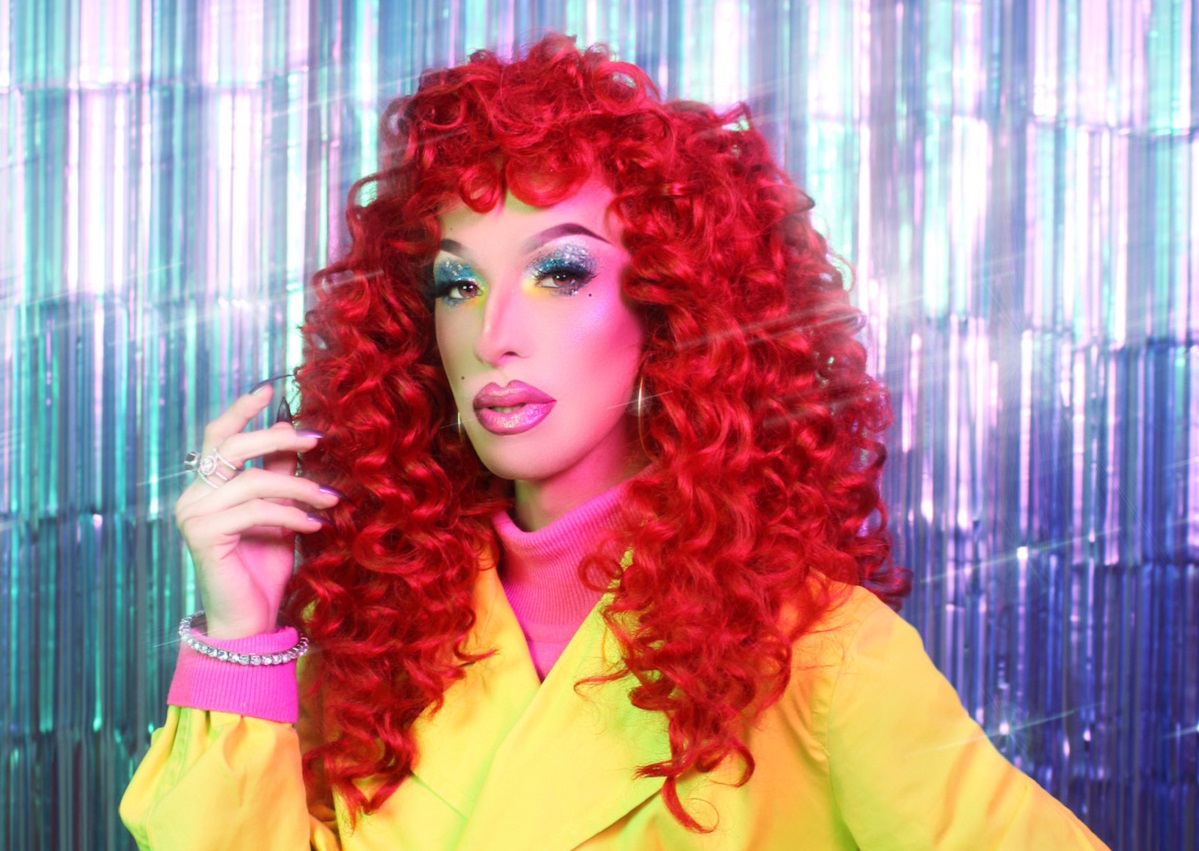 No money, more problems
Lea Zraika, a 32-year-old trans woman and trans activist who works for Arab Foundation for Freedoms and Equality told NOW that "as much as we tried to help them, it won't be enough." 
According to Zraika trans people usually reside in Carantina and Burj Hammoud, the former being heavily affected with many in the trans community losing their homes. 
"The funds we usually get are donations and the problem with donations is that they run out and that's what happened," Zraika said.
She recalls an incident where a trans woman was suffering from gangrene and ended up dying on a hospital bed because, despite all their efforts, they were not able to get her all the medical treatments needed on time. After she died, the woman's brother called asking for money to bury his sister. 
"There's this issue of sustainability because even if we helped them today with food, it doesn't mean that they'll get help tomorrow," she explained. "What happens to me tomorrow?"
Zraika added that many trans individuals resort to sex work as a primary means of income. 
Both Melhem and Zraika collaborated to provide aid to the queer community as a whole, however, they agree that the trans community continues to be among the worst affected even pre-covid and pre-explosion. 
"For [Lebanese] society, trans people don't exist and if they ever do have exposure on Lebanese TV or media it's usually in a bad light," Zraika said. "This takes a toll on their mental health and leaves them with constant stress but they don't have time to focus on their mental wellbeing because if you had to make sure you had food for the next day then, of course, that's your priority."
Clubs without people
The nightlife in Lebanon used to provide a safe haven for trans people, moments of reprieve from daily life, where they are often subjected to verbal and physical harassment. 
Drag shows also benefited heavily from nightclubs, as they allowed a tolerant physical space for the queens, whose work pushes societal boundaries. 
"Eight years ago, people used to be disgusted [by drag], and now drag queens are almost like stars," Melhem exclaimed. "Drag is an art form that shows queer culture and it's playful and fun, you can use this type of art to push the limits of someone who is not part of the queer community and open them up."
Melhem hopes to reopen her nightclub in two weeks for weekends and make it an affordable place for the queer community.
However, even with more and more venues reopening, drag queens are still faced with an economic crisis that has affected this community gravely.
A particular set of skills
As Lebanon's economic crisis worsens by the day, Narcissa stated that "the drag community is suffering in peace."
The drag queen explained that she is still able to shop for items necessary to her drag persona, but it is increasingly expensive.
"We used to buy wigs online and now we can't," she said. "The tailor got more expensive, drag-friendly makeup brands closed or got way pricier, even fabric is more expensive now if we want to make our own garments". 
To compensate for lost revenue, some drag queens are using the skills they have learned working in drag performance to make a living, such as utilizing make-up skills or sewing clothes.  
Diva, a fashion student, says that she receives requests for a similar dress or swimsuit to those she has worn during her performances. 
While some drag queens are capable of utilizing their skills to make ends meet, many in the trans community are not able to secure a normal job, or even normal education according to Zraika.
"Many trans people get kicked out of their homes and lack the funds to get an education or even school and universities reject trans students as they want to avoid issues," the activist explained.
Zraika acknowledged that even with the current help they are providing from food vouchers, sanitizers, and mental health services, the issue of trans people in Lebanon is beyond food and shelter and is a matter of integration and getting a safe exposure in society. 
Due to the limits imposed on their educations and extreme prejudice in society, a significant portion of trans Lebanese will turn to sex work to get by.
Despite there not being any light at the end of the tunnel, Melhem remains optimistic that Lebanon will find a way out of the crises.
For Diva, the idea of going back on stage and performing again is almost overwhelming. 
"We as drag queens miss people and people miss us," she exclaimed! "We need to help people get out of this somberness even if it's just for an hour!"
Dana Hourany is a multimedia journalist based in Beirut. She is on Instagram @astartescircle.