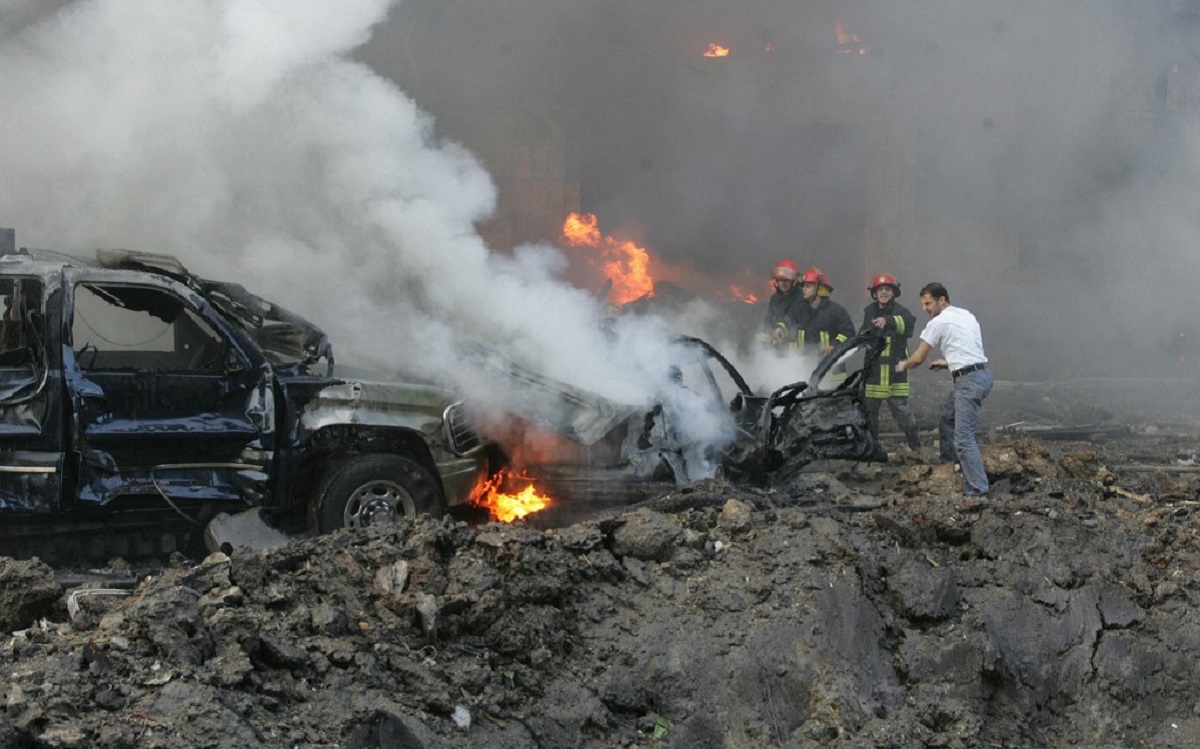 Firemen try to extinguish the fire engulfing one of the cars of the convoy of former Lebanese prime minister Rafiq Hariri at the scene of a massive explosion in Beirut on February 14, 2005. The Special Tribunal for Lebanon, which tries suspects over the 2005 Beirut bombing that killed former premier Rafiq Hariri and 21 others, risks closure over severe funding shortfalls, it warned June 2, 2021. Photo: Joseph Barrak, AFP
Families of victims of assassinations in Lebanon expressed outrage on Friday at an announcement that the Special Tribunal for Lebanon canceled a trial of one of the killers of Lebanese former prime minister Rafic Hariri as it battles a funding crisis that could force its closure.
Lebanon urged the UN on Friday to explore alternative funding for the court. 
"Taking into account the ongoing acute crises that Lebanon suffers from… (we) would be grateful to Your Excellency for urgently exploring different and alternative means of financing" the Special Tribunal for Lebanon, Hassan Diab wrote in a letter to UN chief Antonio Guterres, AFP reported. 
The Hague-based court was scheduled to begin a trial on June 16  against Hezbollah suspect Salim Ayyash for three other attacks targeting politicians. 
But a day after the tribunal announced that it would shut down without an urgent cash injection by the end of July, the court said the Ayyash hearing had now been "canceled due to lack of funds".
"It also suspended all decisions on filings presently before it, and on any future filings, until further notice," the court said in a statement.
The court said it "reiterates its urgent call upon the international community for its continued financial support".
Families of George Hawi, Marwan Hamadeh and Elias Murr held a press conference and stated that they want to "confront those who are killing justice and those who obstruct the course of justice in these assassinations."
"We are killed twice, once when the victims were martyred and once when their cases were deliberately abandoned because the Special Tribunal for Lebanon is our only hope for justice," said Nara Hawi, wife of former Lebanese Communist Party leader George Hawi who was assassinated on June 21, 2005.

"We asked to exempt Lebanon from its contribution to the Tribunal, and we asked for an advance from the United Nations General Assembly, but it was not enough, and the Lebanese state is diplomatically unable to achieve its exemption from payment," she added. 
International affairs experts in Lebanon said that the court facing closure for financial reasons is an indication that regional powers are not willing to contribute to the tribunal funding efforts. 
1. The idea that Lebanon in its current financial crisis should fund this court just does not compute for obvious reasons.
2. The idea that wealthy "friends of Lebanon" countries cannot quickly settle the relatively low budget (for them) tells you what is going on regionally. https://t.co/EIWHlrdipy

— Karim Makdisi (@KarimMakdisi) June 3, 2021
Constantly under the spotlight
The Lebanon tribunal has faced criticism in the past for securing just one conviction since it opened in 2009, despite an overall cost so far of between $600 million and $1 billion.
Ayyash was sentenced in absentia to life imprisonment over the 2005 bombing that killed Hariri and 21 other people. Three other suspects were acquitted.
Prosecutors have appealed against the acquittals.
The court announced last year that it would hold a separate trial for Ayyash over attacks in 2004 and 2005 on Druze MP Marwan Hamade, former Lebanese communist party leader George Hawi and then-defence minister Elias Murr.
Hawi and two other people were killed in the attacks, while Murr, Hamade and three other people were injured.
Ayyash remains on the run, with Hassan Nasrallah, the head of the Shiite Hezbollah movement, refusing to hand him over, alongside three other defendants who were eventually acquitted.
But the fate of the proceedings against him is now uncertain as the court runs short of cash. 
The hybrid court has an internationally appointed staff, but applies Lebanese law and draws 51 percent of its budget from donor countries and 49 percent from crisis-hit Lebanon.
The court said that "the challenging circumstances generated by the global Covid-19 pandemic and the concerning situation in Lebanon" had already forced it to slash its 2021 budget by 37 percent compared to previous years.
"Despite taking significant cuts of staff and across the board reductions, without additional funding, the Tribunal will be forced to close its doors in the coming months", Court Registrar David Tolbert said.
Lebanon is in the grip of a severe economic crisis, with the World Bank saying Tuesday that it was likely to rank among the world's worst financial crises since the mid-19th century.