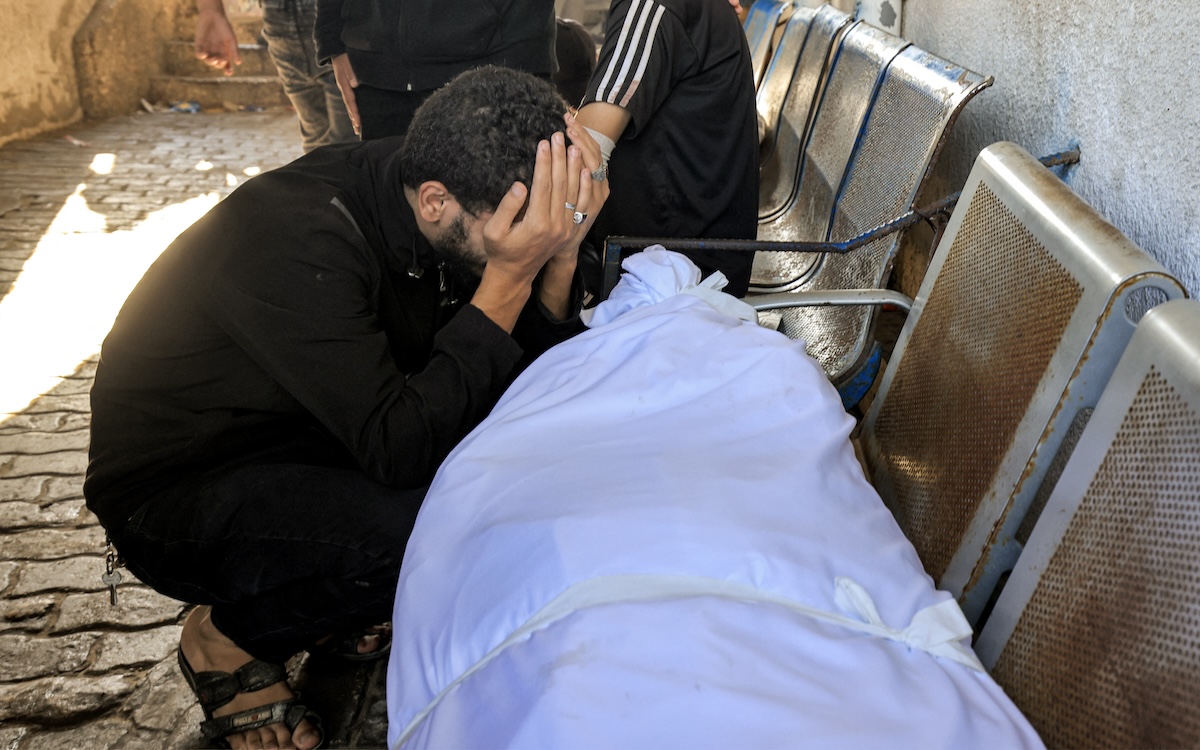 A man reacts by one of the wrapped bodies of victims who died in an overnight strike at the Ahli Arab hospital in central Gaza on October 18, 2023. A blast ripped through a hospital in war-torn Gaza killing hundreds of people late on October 17, sparking global condemnation and angry protests around the Muslim world. Israel and Palestinians traded blame for the incident, which an "outraged and deeply saddened" US President Joe Biden denounced while en route to the Middle East. Photo: AFP
Over 500 individuals were massacred in an Israeli airstrike last Tuesday night, with the missile hitting Gaza's Ali-Ahli Arab hospital. Israel has denied responsibility, attributing the attack to a misfired rocket from the Palestinian Islamic Jihad. They claim to have previously issued evacuation warnings to the hospital.
This incident marks a distressing escalation in the Gaza conflict, which has seen an unprecedented rise in casualties since it began on October 7. The hospital not only provided medical care but also served as a sanctuary for those displaced by ongoing Israeli attacks. Despite Israel's alleged warnings, the hospital staff had stated on social media that they could not and would not evacuate.
In response, anger has erupted across the Middle East, with protests in Morocco, Tunisia, Jordan, Lebanon, and even Idlib, northwest Syria. This incident coincides with President Joe Biden's upcoming trip to the Middle East, aimed at preventing an escalation of the conflict. President Biden has been throwing political support behind Israel since the attacks of October 7, adopting the Israeli narrative at every step, and has even sent warships to the region. 
In Lebanon, Hezbollah announced "a day of rage" and the country announced a day of bereavement on Wednesday, October 18. This led to protestors carrying Palestinian flags gathering angrily near the American embassy in Awkar on Tuesday night, and many others at the French embassy, where they placed the Palestinian flag on its facade.
A regional summit planned for Wednesday in Amman, where President Biden was to meet with Jordan's King Abdullah II, Palestinian President Mahmoud Abbas, and Egyptian President Abdel Fattah el-Sissi, has been canceled by Jordan's foreign minister.
These developments highlight a growing escalation and uncertain diplomacy, not just in the Middle East but also resonating worldwide. All eyes are now on Lebanon's borders, watching for potential Hezbollah retaliation and Israel's response. Iranian officials have warned of potential large-scale retaliation. However, the stakes are high, as Lebanon is ill-prepared for another conflict like the one in 2006.
Even after the Al Ahli hospital attack, Israel continued to bomb Palestinian civilians and infrastructure in Gaza. Israel has yet to open the Rahaf crossing, where much-needed aid from Egypt is still pending. With little to no action from the outside world, the reality of the people of Gaza is deteriorating – no water, no food, no shelter, no fuel, no safety. 
In conclusion, this situation leaves people, especially in the Arab world, as mere witnesses to an unfolding tragedy, demanding immediate intervention from world leaders. Western leaders have refrained from denouncing Israel directly. President Biden's visit may not yield immediate results, as the damage continues. The urgent call is for a ceasefire before the bloodshed of innocent Palestinian civilians engulfs all of occupied Palestine.
Dana Hourany is a multimedia journalist with @NOW_leb. She is on Instagram @danahourany and Twitter @danahourany.