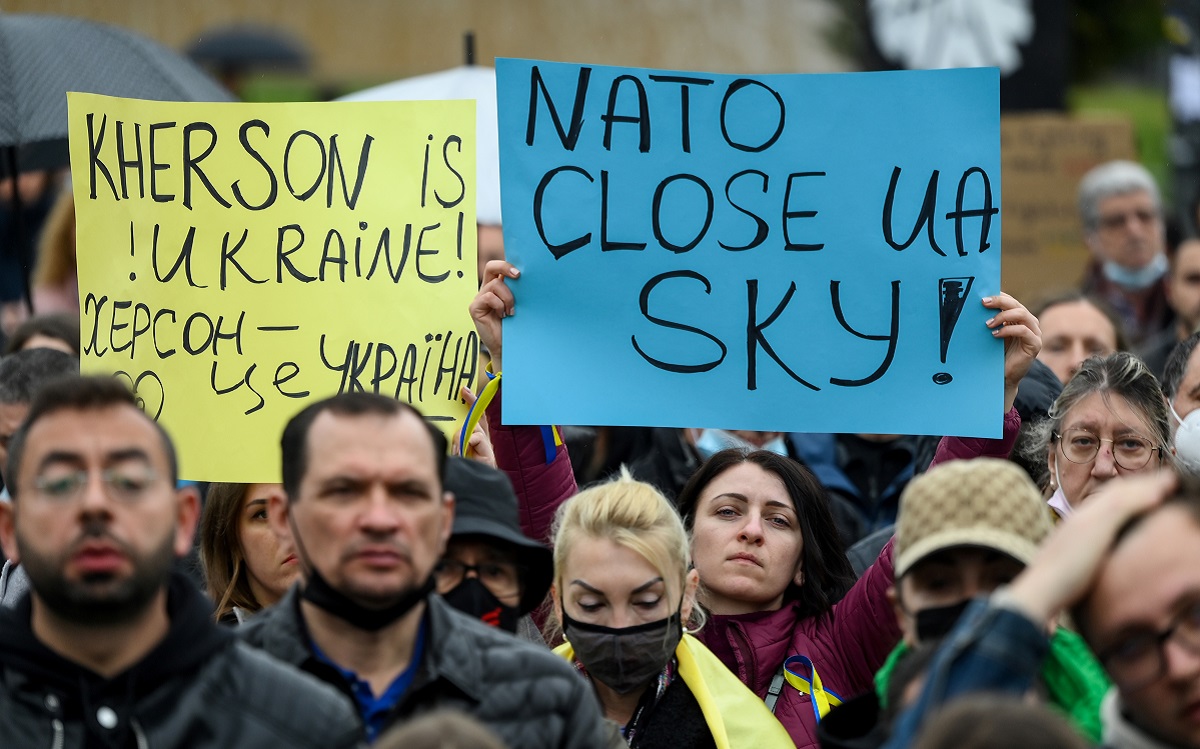 Protestors hold signs reading "Kherson is Ukraine!" and "NATO, close Ukraine's sky" during a demonstration in support of Ukraine and to protest against Russia's invasion of the country, on the Plaza Catalunya square in Barcelona, on March 6, 2022. Photo: Lluis Gene, AFP.
On March 2, after days of intense fighting, Russian troops and tanks broke into Kherson, a southern Ukrainian city on the Dnieper River near the Black Sea, and made their way into the city council. Kherson's Mayor, Igor Kolykhayev, said in an interview that "there is no Ukrainian army here. The city is surrounded."
Right before the takeover, 20-year-old George Fadel, a student at the naval academy in Ukraine, said he had plans to return home, especially after hearing the threats Russia was making at the beginning of February. 
"My academy needed a paper from the Lebanese Embassy that said I was in danger so that they would allow me to leave without missing classes," Fadel said. 
Upon obtaining permission from the academy, he promptly booked a plane ticket back home on February 24th. It was a day too late. He took a taxi and ventured into a four-hour journey to Odessa – a city neighboring Kherson, where his plane was set to take off from. As they were nearing their destination, Fadel said he suddenly overheard missiles being shot from fighter jets 20 meters above the ground. 
"I saw everything happening right in front of me. The taxi driver and I panicked, we didn't know if these were Ukrainian or Russian planes. At that point, I decided to turn back and go to my apartment in Kherson because I didn't know anyone in Odessa that could shelter me," Fadel said. 
Once back in Kherson, Fadel and five other Lebanese students from the naval academy were forced to lock themselves up in their dorm with as little as a few kilograms of rice and bread that they managed to buy with their bank cards before they stopped working.
"We don't eat to feel full, we eat to not pass out," Fadel said.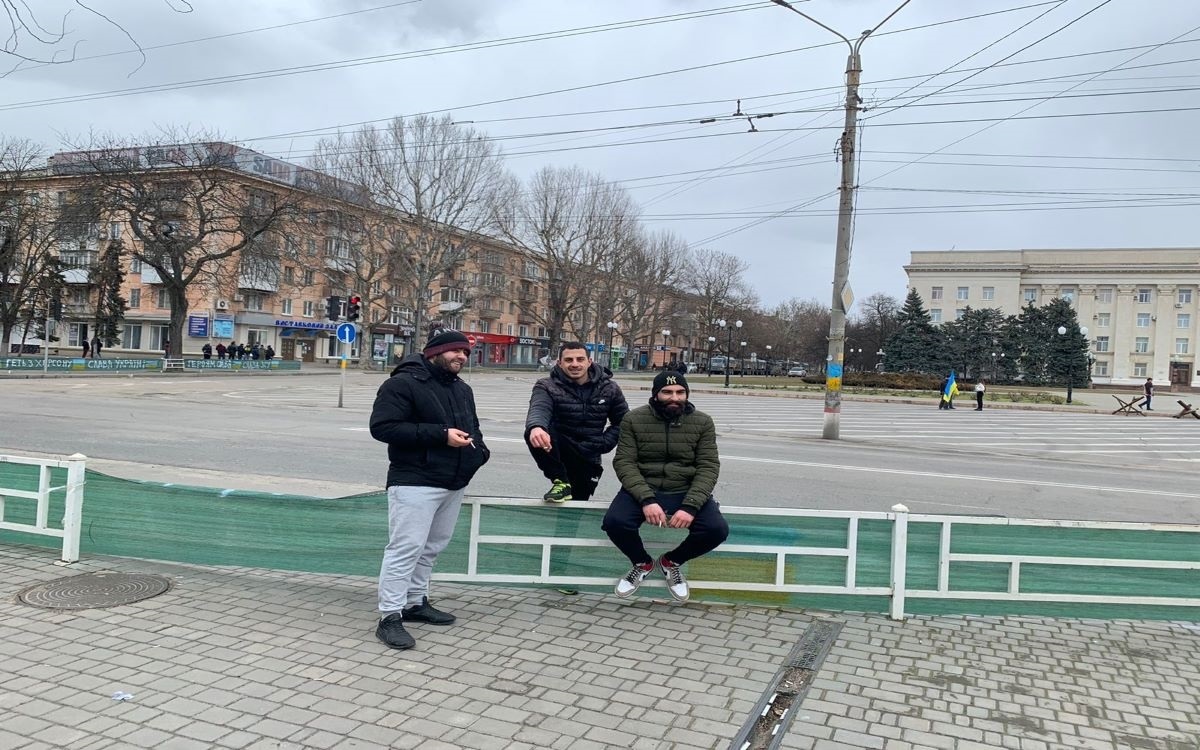 Starving
Fadel left Lebanon for Ukraine on December 20, 2020, to study at the Ukrainian State Maritime Academy. He said he wanted to become a general. Lebanon has a naval academy located in Jounieh, North of Beirut, but Fadel said he would have never been accepted without connections with high-ranking officials. 
He said that, while the students were not in the line of fire, they still risked starving to death. The food reserves they purchased lasted for only two days. After that, Fadel said the group remained without food and water for three days.
"I tried my best to hide the gravity of what was happening from my parents, but on video call one day, my mom was eating in front of me, and as she noticed pain in my eyes watching her, she began crying." 
His mother fainted after the call, he said. The group managed to get more food thanks to a stranger who saw them looking frantically for a supermarket that accepted bank cards and offered them a bit of cash. The students are now surviving on three eggs and a small bottle of water per day.
They didn't know for how long they would still be able to communicate with relatives. Power and internet could be cut off at any time, and they expected no help from the Lebanese authorities. 
"I tried contacting everyone but to no avail. The Lebanese Embassy in Kyiv said we were under Russian rule now so they couldn't help us, the one in Moscow said it was out of their hands at the moment and Lebanese officials told us they can't get involved," Fadel said.
Trying to escape
The six Lebanese students attempted to escape on February 27, when they found a taxi driver that posted an ad on Facebook. "He asked for $4,000, and we told him we'd give him one half at the beginning and one half when we arrived at the closest border," the student said.  In order to secure the money, the students sold their laptops and jewelry. 
With an armed taxi driver and with knives hidden in their pockets for self-defense, Fadel said they took off on a long car ride through riots and what he described as "mass hysteria" that hit the streets of Kherson as warning sirens sounded across the city.  
As they arrived at a Russian checkpoint, the car in front of them refused to stop, and its passengers were shot dead on the spot.
"We saw the blood splattering, and the car blew up right in front of us. When it was our turn to pass, the troops pointed their guns at us and started to shoot, so we immediately returned home," the student said.
Since then, Kherson has become relatively peaceful, the student explained. They spend their days waiting and looking for food. 
The daily struggle
Fadel explained that they go out at 6:30 – 7 in the morning after the Russian-imposed curfew ends, and they are able to go outside to look for ATMs, money transfer stores, or supermarkets that take bank cards. 
After hours of scouring for food, they come back and research ways to escape the occupied city. At one point during the weekend, when food reserves were running low, Fadel said he saw no other option but to approach Russian troops and plead for help.

"I walked for an hour and 10 minutes to the nearest military base and showed the first soldier my passport, I told him I'm on neither side, I'm just a foreigner looking to go home," he said. 
Fadel described the Russians as being friendly and welcoming, with some even speaking Arabic, as they had previously fought in Syria alongside Hezbollah, he said. 
"I sat down with one of the generals and asked if he could help. He said that they couldn't escort us outside the city because the neighboring border cities were under heavy attacks, and if something were to happen to us, it would be their responsibility." 
He said that the general told him to wait for a few more days to see if one of those cities would fall under their control and then the road would become safer for us to cross. As for the food, he added that the Russians promised to help after they got more reserves from their officials. 
"Everyday around 3000 people die here, who is going to care about six men from Lebanon? People will feel sorry for us for a bit and then move on. We can only rely on God to save us," Fadel said. 
Dana Hourany is a multimedia journalist with @NOW_leb. She is on Instagram @danahourany and twitter @danahourany.