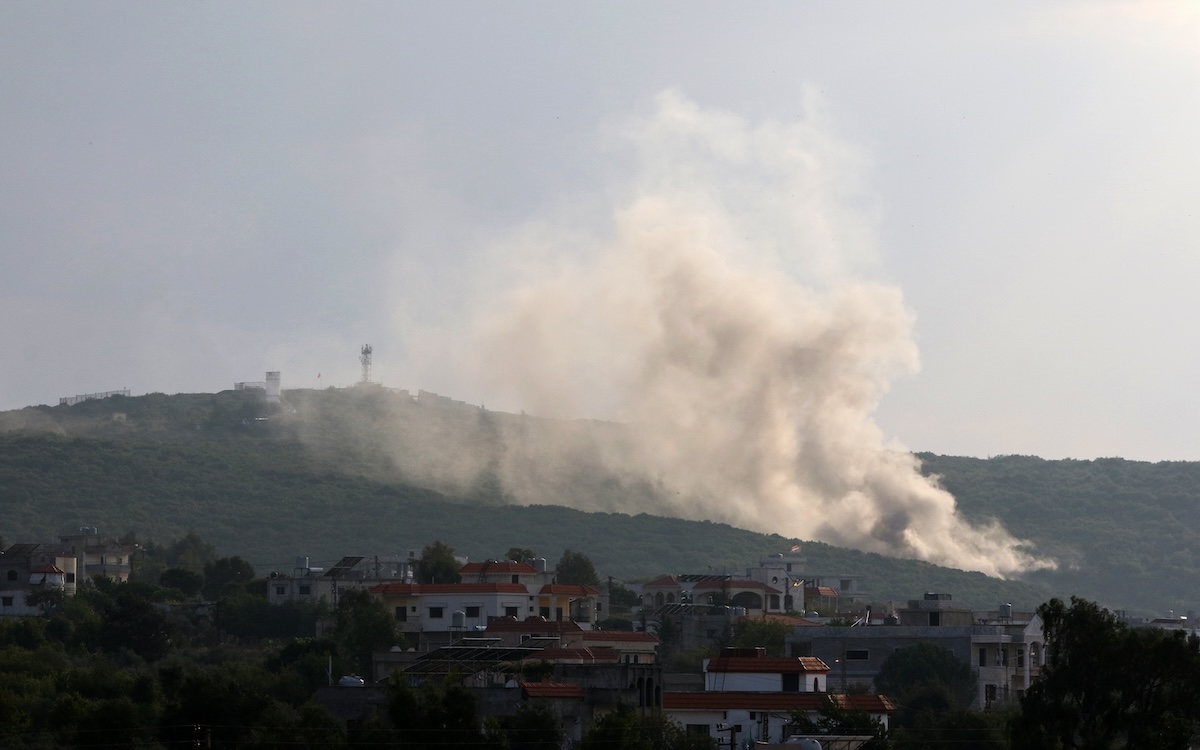 Smoke billows following Israeli artillery bombing on the outskirts of the Lebanese border village of Aita al-Shaab, from an Israeli military position overlooking the area (background), on October 9, 2023. Israeli soldiers "killed a number of armed suspects" who crossed the border from Lebanon, the country's military said on October 9 as further south it fought a devastating war with Gaza militants. A local Lebanese official, Abdullah al-Gharib, told AFP Israel was shelling the southern border area. Photo: Mahmoud Zayyat, AFP
Israeli forces exchanged fire with the Lebanese armed group Hezbollah on Sunday, a day after the launch of Hamas's surprise Operation Al-Aqsa Flood in the south of Israel, raising concerns of escalation into a broader regional conflict.
Over 800 Israelis and around 500 Palestinians have been killed since fighting broke out on Saturday. Hamas claimed its actions were a counterattack against violent Israeli incursions at al-Aqsa Mosque, in particular targeting female worshippers, stating: "Today is the day to end the enemy's time." They also noted previous warnings towards Israel regarding al-Aqsa and worshippers' safety.
In response, Israel has launched artillery attacks and airstrikes against the Gaza Strip, claiming that Hamas had placed military assets among civilian infrastructure.
Gaza has been under a full Israeli land, sea and air blockade since 2007. Hamas – and other Palestinian groups – have called for an end to this blockade, and have organized protests at the fence that separates the territory from Israel.
Hezbollah, a longtime ally of Hamas, released a statement saying that it had fired guided rockets and artillery onto three posts in Shebaa Farms 'in solidarity' with the Palestinian people. Hezbollah has also said it was in 'direct contact' with the leaders of Palestinian resistance groups, and called the attacks on Israel a "decisive response to Israel's continued occupation and a message to those seeking normalization with Israel".
Shebaa Farms was captured by Israel in the 1967 Six-Day War. Both Syria and Lebanon still claim the Shebaa Farms as Lebanese territory.
In response, the Israeli military said on Sunday it launched artillery into an area of Lebanon from which mortar fire was launched across the Lebanese-Israeli border and carried out a drone attack against a Hezbollah post in the area of Har Dov, another area of Shebaa Farms. On Monday afternoon, families in several border towns in southern Lebanon started fleeing north as Israeli shelling continues in the area.
Israeli shelling intensified after four militants crossed over the border and clashed with Israeli troops on Monday. Several rockets were fired from near the Lebanese border earlier. A Hezbollah spokesperson denied the militant group's involvement in the operation.
The Israeli forces said they were 'prepared for all scenarios' and would continue to protect the security of Israel. The United Nations peacekeeping mission in southern Lebanon has also increased its presence in southern Lebanon, following developments in Israel and Gaza, including 'counter rocket-launching operations'.
In Lebanon
No War: A number of Lebanese politicians – including MPs Camille Chamoun and Mark Daou, and former Minister May Chidiac – have cautioned Hezbollah against becoming involved in regional conflicts and taking Lebanon into another war.
Chidiac in particular has taken a very strong position, stating "We are not neutral" and emphasizing Lebanon's national exhaustion and inability to sustain further conflicts. She also criticized Iran's attempts to unify militias and revealed meetings between Hamas and the Iranian Revolutionary Guard where details of Hamas's offensive were reportedly 'fine-tuned' and then approved by Iranian officials in Beirut.
All three politicians have also highlighted the need to prioritize Lebanon's own stability and well-being, as the country's now years-long economic crisis continues.
Mohammad Deif – Chief Commander of al-Qassam Brigades, Hamas' military wing – has called upon other 'resistance groups' in Lebanon, Syria, Iraq and Iran to join the offensive against Israel. 
Lebanese Foreign Minister Abdallah Bouhabib insisted that the Lebanese government had received assurances from Hezbollah that it would not join the fighting unless Israel harassed Lebanon directly.
Infestation: A widespread outbreak of bed bugs in France has led to growing concerns of a similar problem in Lebanon, due to frequent air travel between the two countries. Thanks to the lack of proper preventive measures at Beirut Airport, these tiny insects – no larger than 7mm – could easily be carried on visitors' clothing or luggage. 
In France, as many as one in every 10 homes is infested. Bed bugs are also a persistent problem in public spaces like cinemas, and even hotels.
Bed bugs are nocturnal and feed on human blood. Although they do transmit diseases, their bites are irritating and – if scratched at – can lead to painful welts or, in very serious cases, secondary skin infections. Some people are also allergic to bed bug bites. Doctors advise washing any bites with soap and water, and seeking medical advice for severe reactions.
The longer an infestation persists, however, the more difficult it becomes to remove. Anyone with reason to believe that they have bed bugs in their home should take immediate action, using hot water or steam to clean any clothes or bedding that may be contaminated.
School's Out: The start of the Lebanese public school year has been delayed by weeks due to both teachers' strikes and slashed Education Ministry funding.
The Education Ministry had previously announced that school classes would resume on October 9, already delayed from their usual pre-crisis start date in September.
Caretaker Education Minister Abbas Halabi stated that he has put together a 'comprehensive plan' that will extend the academic year to 10 months and that school days will be longer to compensate for the delayed start. However, the Ministry still requires funding and changes to the law to enable these proposed changes to class schedules.
Because they are still paid the majority of their salaries in Lebanese lira, teachers have been demanding improved pay and benefits since the beginning of the economic crisis in Lebanon.
For Syrian students – who attend Lebanese schools via a morning-afternoon shift system – a new start date for classes has yet to be determined.
Syrian Refugee Surge: Lebanon has seen a marked increase in the number of Syrian refugees attempting to enter the country. 
With more than 1.5 million Syrians already living inside the country, state officials have expressed concerns that this latest influx will strain Lebanon's already limited resources. 
Lebanese security forces have undertaken broad crackdowns against Syrians in recent weeks, with thousands arrested as they attempted to enter the country illegally and many others deported. There has also been a rise in attacks on Syrians within Lebanon by Lebanese citizens, sparked by anti-immigrant rhetoric blaming Lebanon's crisis on Syrian refugees.
A violent clash erupted on Thursday between Lebanese and Syrian nationals in the Dora suburb northeast of Beirut, leaving several injured. The event was sparked by a traffic collision between two Lebanese nationals, which quickly escalated after the intervention of Syrians.
Civil rights groups have warned repeatedly against the repatriation of Syrians, asserting that conditions are still not safe yet in Syria. Deportees may face arrest and torture at the hands of regime forces.
Human Rights Watch (HRW) has also accused the Lebanese army of arbitrarily arresting Syrians, and summarily deporting them.
In the region
Shelling in Syria: At least 15 people have been killed in northwestern Syria – including four children – by shelling by government forces, assisted by the Russian military.
The White Helmets civil defense group reported that forces loyal to President Bashar al-Assad launched 'systematic artillery and missile attacks' on at least 15 villages and towns near Idlib and Aleppo, starting on Thursday and then carrying on into Friday. 
According to the group, these strikes hit marketplaces, residential areas, schools, a mosque, a Syrian Civil Defence center, an electricity facility and a fuel station.
Around 15 people have been reported killed, with more than 80 injured overall, including 27 children and 19 women.
Armed Response: Israeli Defense Minister Yoav Gallant has authorized the allocation of weapons and ammunition to inhabitants of Israeli towns located close to the border of Gaza and Lebanon.
The move is seen as a proactive measure to equip local residents with the means to defend themselves, particularly in light of increasing cross-border tensions with Hezbollah in the wake of Hamas's offensive in southern Israel.
This action is believed to be part of a broader strategy to reinforce the security infrastructure in these 'high-risk' areas.
Rekindling Relations: The United Arab Emirates announced plans to reopen its embassy in Beirut, which was previously closed in 2021 as part of a response by several Gulf countries – including the UAE and Saudi Arabia – to critical comments on the Yemeni war made by former Information Minister George Kordahi. 
The announcement came during a meeting in Abu Dhabi between Emirati President Sheikh Mohammed bin Zayed and Lebanon's caretaker Prime Minister Najib Mikati, where both agreed to take the necessary steps to reopen the UAE Embassy in Beirut and establish a joint committee to develop a mechanism to facilitate the issuance of entry visas for Lebanese citizens to the UAE.
Sheikh Mohammed and Prime Minister Mikati also discussed ways to build bilateral ties in various fields, as well as the latest developments in Lebanon, with Sheikh Mohammed expressing his wish for Lebanon to enjoy 'stability, security and prosperity'.
Many countries in the Gulf have historically been allies of Lebanon. However, support has tapered off in recent years, due to the increasing influence of Hezbollah – and their backers in Iran – in the country.
Emirati-Lebanese relations have been particularly affected. Dozens of Lebanese nationals, mostly Shiite Muslims, have been detained in the UAE in the past years because of alleged ties to Hezbollah. Earlier this year, the UAE joined other Gulf nations in recommending citizens avoid traveling to Lebanon. The warning came amid heavy fighting in Lebanon's largest Palestinian refugee camp in the south, between rival groups.
A new deal: Azerbaijan has expressed readiness for new negotiations, after refusing to join peace talks with Armenia in Spain in response to other parties opposing participation in Turkey.
While Azerbaijan had insisted on Turkey's participation in the talks, this was strongly opposed by both Germany and France.
Azerbaijan also condemned 'pro-Armenian' statements by French officials and French Foreign Minister Catherine Colonna's visit to Armenia, statements about supplies of weapons and ammunition, and accusations against Azerbaijan by EU Council President Charles Michel.
At the same time, Azerbaijan insisted that it is ready for tripartite meetings in Brussels soon, in the format of the European Union, Azerbaijan and Armenia.
What we're reading
Spikes in Violence: The economic crisis in Lebanon has led to an increase in violent incidents, particularly towards women and children, with incidents ranging from attacks on bars in major cities to a disturbing increase in cases of domestic violence. NOW's Dana Hourany wrote about rising levels of abuse that are spreading across the country with alarming speed.
The Bees' Knees: A group of women in Lebanon have responded to the country's economic difficulties by taking up beekeeping. Once thought of as an obscure hobby, this trade has become a vital lifeline for many women now struggling to make money. NOW's Rodayna Raydan wrote about the growing Lebanese agro-food sector allowing women to establish sustainable small businesses for themselves.
Lebanon+
Podcasts: In the latest episode of Sarde after dinner, Médéa Azouri and Mouin Jaber sat down with clean energy entrepreneur Assaad Razzouk about veganism, what is killing the planet and what is going on with climate change.
After taking a break, Ronnie Chatah is back with a new episode of The Beirut Banyan where he spoke with author Katherine Pangonis to discuss her books, the history of Tyre and the Phoenicians.
Until next week, follow NOW Lebanon on Twitter, Instagram, Facebook, and LinkedIn. And stay safe!