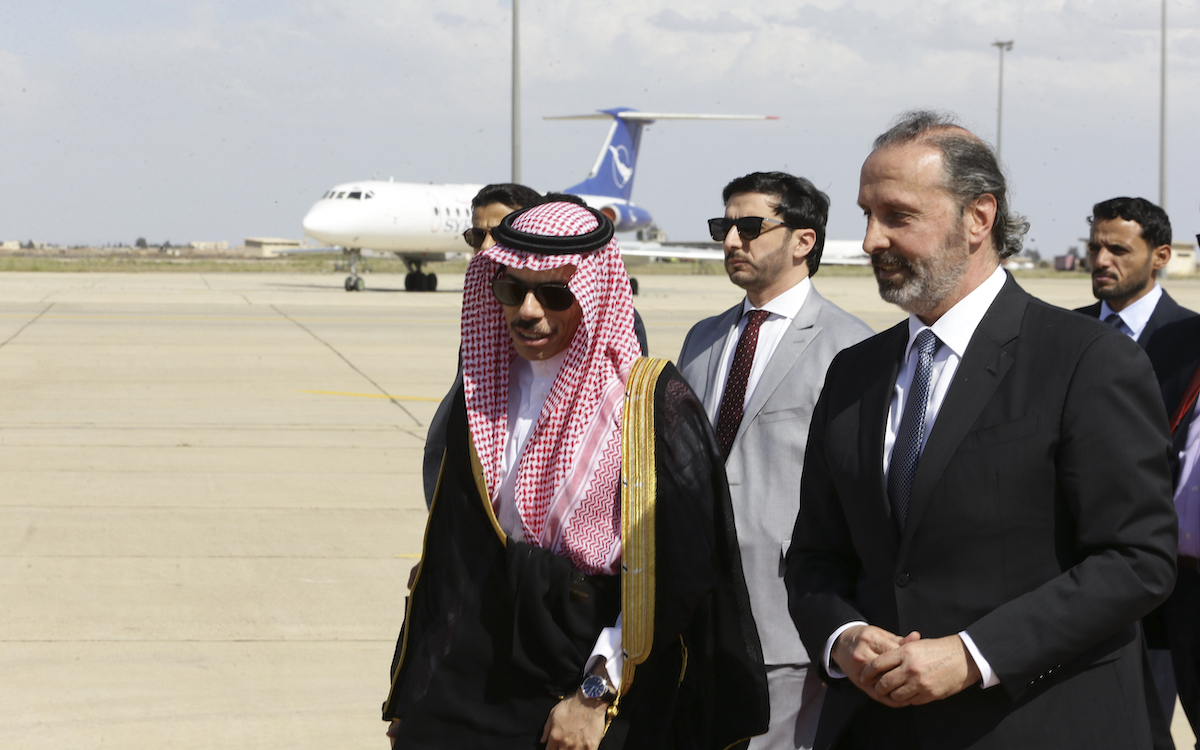 Syrian State Minister for Presidential Affairs Mansur Azzam (R) welcomes Saudi Foreign Minister Faisal bin Farhan at Damascus Airport, on April 18, 2023. Bin Farhan's is the first visit to Syria's capital by a Saudi official since the start of the country's civil war in 2011. Photo: Louai Beshara, AFP
On April 13, Lebanon marked the 48th anniversary of the start of the bloody 15-year civil war that ravaged the country from 1975 until 1990, when the heads of the warring militias signed the Taif Agreement in Saudi Arabia.
The Taif Agreement brought an end to the bloodshed that forever changed the face of Lebanon. However, that is about all that it did.
The war that started out with Christian militias fighting with Palestinian militias quickly devolved into a sectarian conflict with the capital being split into a Muslim West Beirut and a Christian East Beirut.
These sectarian tensions were never resolved, even though the war came to an end. In fact, they have only continued to be exploited in the decades since.
Gebran Bassil, the leader of the Free Patriotic Movement, and his ministers have continued to boycott cabinet meetings, with Bassil claiming that caretaker Prime Minister Najib Mikati, a Sunni Muslim, is only attempting to seize more power while there is no president – now at 169 days – who is supposed to be a Maronite Christian.
Hezbollah, which opposed a sectarian Lebanon in its founding document and even initially opposed the Taif Agreement since it did not establish a specific date in which the sectarian system would be ended in Lebanon, ironically has also come to utilize the sectarian divide in Lebanon to their own benefit, sometimes going as far to argue that attacks on them are attacks on the Shiite community as a whole.
Even the concept of federalism in Lebanon reeks of sectarian overtones as it essentially argues for the Shiite to be excluded from Lebanon so that they can form their own state, and is practically an excuse for the Christians to have their own country.
This is not to say that federalism is a mainstream political theory in Lebanon, but, given the widespread dysfunction in the country, it has re-entered the discourse as of late, demonstrating how sectarianism is far from a distant memory in Lebanon.
A growing number of people in Lebanon are rejecting the notion of a sectarian divide, but as long as the political leaders in the country continue to exploit the country's history and stoke tensions, Lebanon will remain divided.
In Lebanon
A day of death: April 18 is the anniversary of three monumental moments in Lebanon's history.
The first is the 1983 bombing of the US embassy in Beirut which killed 63 people.
This marked a huge shift in US policy when it came to Lebanon and was essentially one of the big moments that saw the US show increasingly little interest in Lebanon.
The attack was claimed by the Islamic Jihad Organization, although many have argued that Hezbollah operatives were actually behind it.
The second is the 1996 massacre in Qana where countless internally displaced refugees were killed by Israeli bombs while they took shelter at a UN base.
Israel denied that it was intentional, claiming that it was a mistake, but UN personnel investigating the massacre quickly found that this was not the case and argued the bombing constituted a war crime, one in which no one was held accountable.
The last is the death of Bassel Fleihan, a former cabinet minister and Rafik Hariri's former close advisor, in 2005.
Fleihan was severely injured in the February 14 car bomb that killed Hariri. While he initially survived, he ultimately succumbed to his injuries.
The Special Tribunal for Lebanon ruled that Hezbollah operatives were responsible for the killing, although the men found guilty are unlikely to serve any jail time.
Travel ban lifted: Judge Ghada Aoun said that she was lifting the travel ban on Lebanon's Central Bank Governor Riad Salameh.
This will allow Salameh to travel to Paris next month to attend a hearing by French authorities that are looking into alleged financial crimes perpetrated by him and his brother.
Salameh is also under investigation in Switzerland, Germany and Luxembourg for similar crimes.
The Central Bank governor has repeatedly denied the charges levied against him.
Nasrallah addressed Israeli strikes: After a week of waiting, Hezbollah's Secretary-General Hassan Nasrallah finally addressed the Israeli airstrikes on Lebanon during his annual Jerusalem Day speech.
During his speech, Nasrallah said that Hezbollah was "studying" an appropriate response to the Israeli incursion into south Lebanon but gave no indications as to what that would be.
A Hezbollah response would have to be very careful as to not start a war with Israel, something that neither side is actively looking for at the time.
UK sanctions: The British government announced that it was imposing sanctions on a man who allegedly helps to finance Hezbollah.
The government also said that it was freezing the assets belonging to Nazim Ahmed in Britain.
Hezbollah has long been sanctioned by the West, but it has done little to put a stop to its regional and global activities.
When it comes to financing, Hezbollah has a vast global network that ensures a steady stream of funds.
Opposition lawyer on trial: Nizar Saghieh, co-founder of the Legal Agenda, has been called before the Beirut Bar Association in what many are calling an attempt to silence the activist and lawyer.
This came after the Beirut Bar issued a ruling that lawyers cannot speak with the press without first receiving authorization from the association's president, which Saghieh vocally.
Saghieh has argued that everyone should have the right to express themselves whenever they want, and that it is unjust for lawyers to have to receive permission to express their opinions.
It is also worth noting that Saghieh has been very outspoken about a variety of issues, making him the target of criticism by the ruling political elite and their supporters.
A new banknote: Lawmakers in Lebanon are reportedly getting ready to propose the issuing of new banknotes to be put into circulation, including the half-million and one million lira notes.
This comes as there are proposals to amend two articles in the Monetary and Credit Law.
While the issuing of the new notes would lower the number of notes that people have to carry as inflation continues to skyrocket, it could also contribute to the worsening exchange rate and inflation.
There is no specified date as to when the new denominations, if any, would go into circulation.
Challenges to Lebanon's municipal elections: During a Parliamentary session on Tuesday, April 18, MPs voted to postpone the municipal elections, a move that was widely expected, as the government is currently ill-prepared to organize in time for the first round on May 7.
This decision is also widely expected to be challenged, especially as the Lebanese Forces has argued that Parliament is not allowed to legislate during a special electoral session.
It is not clear if such a challenge would be successful.
Municipal elections were scheduled throughout the month of May.
In the region
Syria back in the fold: As Syria has continued to restore relations with countries in the region, President Bashar al-Assad had a huge victory when it was announced that Saudi Arabia would be re-establishing ties with Syria.
The Saudi foreign minister, Prince Faisal bin Farhan, arrived in Damascus Tuesday, reportedly to invite Syria to the next Arab League summit on May 19.
Algeria and Tunisia have also said that they will restore diplomatic relations with Syria.
After more than a decade of civil war, for all of which Syria and Assad's government were essentially ostracized from the region, Syria has quickly started to return as another normal country in the region as more and more countries are deciding that it is no longer in their interest to keep Syria on the outside with Qatar being the exception.
The next big step for Assad and Syria would be its readmittance to the Arab League, but the League remains divided over what to do.
Coming together: It is not just Syria that is rekindling friendships in the region.
Qatar and the United Arab Emirates announced on Tuesday that they would be reopening their respective embassies in each other's countries in the coming weeks.
The two had reestablished diplomatic relations in January 2021 after a four-year blockade of Qatar but they had failed at reopening diplomatic missions since then.
Should both countries succeed at reopening their diplomatic missions, it would be another in a growing trend of countries in the Middle East that are deciding that it is better to work together than compete.
Shah's son in Israel: Reza Pahlavi, the son of Iran's last shah before the Islamic Revolution in 1979, is expected to visit Israel this week in what he says will be a "message of friendship from the Iranian people."
Pahlavi's visit was praised by Israel's intelligence minister, Gilia Gamliel, who said that the "crown prince symbolizes a leadership different from that of the ayatollah regime, and leads values of peace and tolerance, in contrast to the extremists who rule Iran."
It is unlikely that Pahlavi, who has called for a peaceful revolution in Iran, can galvanize any significant support to overthrow its Islamic government, especially as his father was known to live a very extravagant life and brutally repressed the people.
Prisoners freed in Yemen: The International Committee of the Red Cross said that hundreds of prisoners have been released in a prisoner exchange as hope continues to grow that there could soon be an end to the ongoing war in Yemen.
This has been the most significant prisoner exchange in years, involving over 800 prisoners on all sides being released.
While the action seems to signify that the war may soon be coming to an end, it is still a long road before any agreements are signed.
Saudi Arabia has a significant interest in ending the war which has posed a major burden on the Kingdom.
In other news
Fighting in Sudan: Two military leaders in Sudan have been fighting it out for the last few days to see who would be the ruler of the country.
The fighting has already cost more than 200 lives.
Power in Sudan was supposed to be handed over to a civilian government this year but, with the military seizing power, it has become increasingly evident that this will not be the case any time soon.
Both sides in the fighting have agreed to a 24-hour ceasefire although it is not clear what will happen after it ends.
What we're reading
Safe spaces: Girls in Lebanon have an ever-diminishing number of safe, public spaces where they can go. NOW's Robert McKelvey wrote about the charity looking to provide these spaces for young girls.
Breaking a fast: In Jerusalem, al-Aqsa's compound has long provided a space for Muslims to break their fasts during the hold month of Ramadan. The New York Times's Raja Abdulrahim wrote about how worshipers continue to head to the iconic compound even as tensions continue to rise.
Exploiting tragedy: After the devastating February 6 earthquake in southern Turkey, Northwestern Syria was in rubble. A Reuter's investigation by Suleiman al-Khalidi, James Mackenzie and Parisa Hafezi discovered that Iran exploited the tragedy to transport weapons into Syria.
Since the start of the civil war in Syria, there has been a slow attempt at holding officials in the Syrian government accountable for the crimes that they have committed against their people. The New York Times's Katie Benner and Adam Goldman found that the FBI has been building a case against Syrian officials following the execution of Layla Shweikani at the hands of the government.
Lebanon+
Podcasts: Have you ever wondered about the Arabic language? Well, Mouin Jaber and Médéa Azouri have you covered in the latest episode of Sarde after dinner where they discuss everything anyone would want to know about Arabic with linguist and director of Cornell's Arabic program, Munther Younes.
In the latest episode of The Beirut Banyan, Ronnie Chatah spoke with Diana Moukalled, a journalist and co-founder of Daraj Media, about journalism in Lebanon, the origins of Daraj, and Moukalled's career.
Until next week, follow NOW Lebanon on Twitter, Instagram, Facebook, and LinkedIn, and subscribe to our weekly newsletter. And Happy Eid al-Fitr to all of those celebrating this weekend!