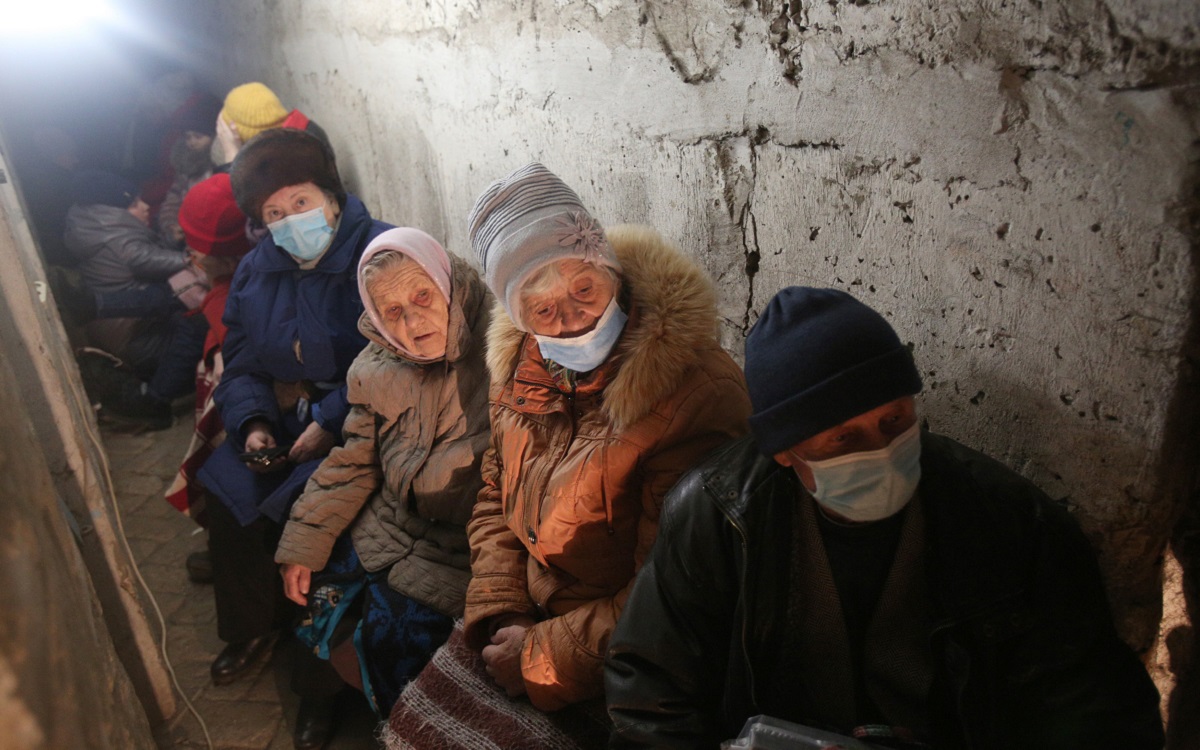 Residents of Severodonetsk, Donetsk region, wait hidden in their basement during the heavy shelling by Russian forces and Russia-backed separatists on February 28, 2022. Photo: Anatolii Stepanov / AFP.
War is upon Europe, and in some minds, wars are not created equal. 
Since the invasion of Ukraine by Russia on February 24, some journalists and commentators have taken it upon themselves to point out that this war is not like the other wars that we have seen in the Middle East and elsewhere over the past few decades. 
This is a war in Europe. In a "civilized" nation. 
"Now the unthinkable has happened to them. This is not a developing third-world nation. This is Europe," one correspondent said during a broadcast.
"To put it bluntly, these are not refugees from Syria. These are refugees from Ukraine," an NBC correspondent said. "They're Christian. They're white. They're very similar." 
The "hot takes" on Twitter were not much better.
"One thing Putin grossly underestimated was the power of the Internet," Nick Bilton, a Vanity Fair correspondent, tweeted, seemingly forgetting the Arab Spring and civil war in Syria. "This is arguably the first war we've seen (actually seen in real-time) take place in the age of social media, and all of these heart-wrenching images make Russia look utterly terrible."
"It just occurred to me that this is the first major war between civilized nations in my lifetime," Michael Knowles, host of the Michael Knowles show on the Daily Wire, said.
Cue the collective groan from those living in the Middle East who have faced constant bombings because of these "civilized" countries. 
The response to these blatantly racist statements was swift, with many quick to point out that all of these comments went back to the idea that if you are a predominantly white country, then you are a modern nation that values human rights and the idea of such conflict on their doorstep is unimaginable.
However, if you are a non-white majority country, then you are a backward, third-world country where war, violence, death and a disregard for human rights is not just simply commonplace, but a fact of life. 
"Umm…I guess a lot of people didn't hear about Syria or Libya," Nabih Bulos, a foreign correspondent for the LA Times, said in response to these comments.
Still, the obviously racist comments continue to roll in with little regard being shown as to the offense that these statements cause.
Some, like CBS's Chris D'Agata, have apologized for it and owned up to their mistake. Others, though, continue to be either oblivious or ignorant about it.
I guess all of those companies who donated money in the wake of George Floyd's death did not end up curing racism.
Please hold: After the bombs first started falling on Ukraine, embassies and countries from around the world worked to ensure that they get their citizens out of the country in as smooth of a process and as quickly as possible.
Lebanon had another idea.
Despite Lebanon's foreign ministry saying that there would be a hotline and a crisis team to help extract the around 4,500 Lebanese from Ukraine, few, if any, of their calls have been answered.
"Calling the hotline does not mean a quick response," Ali Daher, Lebanon's ambassador to Ukraine, said.
Instead, some Lebanese have had to rely on the unexpected to help them get out of the country.
An unexpected helping hand: According to Israeli media outlets, the Israeli government has helped Lebanese, Syrians and Egyptians to flee Ukraine, despite Lebanon and Syria still technically being at war with Israel.
According to Lebanese and Syrian laws, it is illegal for citizens of these countries to interact with Israelis, but many of those found it impossible to cross the border out of Ukraine, partially because of their race, and have only been able to do so with the help of Israelis.
Neither the Syrian nor the Lebanese government have released any statements about the alleged help by the Israeli government.
Tough words: Unlike its neighbors Syria, which has taken a strong pro-Russia, anti-West stance, and Israel, which has been sitting on the fence and refusing to take an obvious side, Lebanon decided to go all-in with the support of Ukraine.
"Lebanon condemns the invasion of Ukrainian territory and calls on Russia to immediately stop military operations and withdraw its forces from it and to return to the logic of dialogue and negotiation as an ideal way to resolve the existing conflict in a manner that preserves the sovereignty, security and concerns of both sides and contributes to sparing the peoples of the two countries, the European continent and the world from the tragedies and strife of wars," the Ministry of Foreign Affairs said in a statement.
The Russian ambassador did not take Lebanon's opposition to the invasion of Ukraine too kindly, saying that he was "surprised" by the statement because it purportedly violated "the policy of dissociation and by taking one side against another in these events, noting that Russia spared no effort in contributing to the advancement and stability of the Lebanese Republic."
Even amongst Lebanese politicians, there was some condemnation of the government's statement.
"What foreign policy is Lebanon following and where is Lebanon's interest in that? Please clarify for us foreign minister," Ibrahim al-Moussawi, a Hezbollah politician, wrote on Twitter.
While Russia said that Lebanon's backing of Ukraine will not affect their relationship, the Russian ambassador to Lebanon added that "we always look at who stands with us and who stands against us in difficult times."
It is not all condemnations, however, with Ukraine's ambassador to Lebanon, Ihor Ostash, thanking the Lebanese government for its support.
A near miss: Lebanon's Internal Security Force announced on February 23 that they had foiled three planned attacks by the Islamic State after they had arrested members of the terrorist organization.
According to the ISF, the group was planning on using suicide attacks in predominantly Shiite areas, such as Lailaki and Ouzai in Beirut's southern suburbs.
The planned attacks come amid growing concerns over a revival by IS in the region, as well as the possibility of the group capitalizing on the worsening economic crisis to recruit people into their organization with the promise of a steady income.
In recent months, dozens of Lebanese have left the country to join IS in Iraq and Syria, some of whom are among the suspected militants killed by Iraqi forces in the past few weeks.
Nicholas Frakes, in December, wrote about why some Lebanese in Tripoli might be inclined to join an extremist organization such as IS.
On the (border) fence: In non-Ukraine-related news, according to President Michel Aoun, the statements that Lebanon was going to make concessions to Israel over the maritime border demarcation negotiations were, in fact, false.
Previously, there was talk that Lebanon would adhere to Line 23 of the negotiations rather than a later line, such as 29.
So what is the big deal about accepting one line in an agreement?
Well, by accepting Line 23 versus Line 29, Lebanon would be losing an estimated 1,430 square kilometers of territory to Israel.
While Lebanon may not end up with all of the territories that it wants by the end of the negotiations, by using Line 23 as a starting point for negotiations, experts in the field have said that Lebanon is already selling itself short and would only stand to lose more territory as negotiations continue.
The Lebanese government has not been clear about which line it plans on accepting, but the government has previously spoken about being open to accepting Line 23.
Elections
Keeping a close eye: The European Union announced on February 23 that they would be sending an election observer mission to Lebanon for the upcoming May 15 elections.
"The EU has been committed to assisting Lebanon's electoral process by providing significant financial, technical and political support for their preparation. The holding of elections is first and foremost a right and an expectation of the people of Lebanon, as well as a sovereign responsibility that the Lebanese government must follow through," EU High Representative and Vice President Josep Borrell said.
György Hölvényi will be the chief observer for the mission for the fourth time.
The EU has previously supported Lebanon's elections in 2005, 2009 and 2018.
Lebanon's choice: MP for Batroun and son-in-law to President Aoun Gebran Bassil announced his electoral program on Saturday, February 26, saying that "life must remain the Lebanese's choice, not just their destiny."
Bassil made the announcement at the launch of the Civil Lebanon Document Project, saying that the current Lebanese system has failed the people and country and that it was time for the system to either be reformed or developed.
The politician also spoke out against outside influence in Lebanon and the importance of the Lebanese being able to work together and agree so that outside powers would have less room to influence the country.
Bassil's party, the Maronite Christian Free Patriotic Movement, is currently closely allied with Hezbollah, a Shiite party that is backed and funded by Iran.
Election fears: The Lebanese people remain skeptical that the scheduled May 15 elections will actually happen
In the past, politicians have had no problem postponing them, such as with the 2013 elections which were postponed until 2018.
However, Lebanese politicians continue to insist that the elections will be held as scheduled.
MP Alain Aoun told the National that it would be "suicide" for them not to be held.
Deputy Speaker of Parliament Eli Ferzli added that the only real reason that they would not be held was if there were major security concerns.
"We are in a situation where we need to regain the confidence of the international community and of the Lebanese public," Aoun stated. "It would be suicide to cancel such an important vote."
Lebanon is currently facing an ever-worsening economic crisis and is in negotiations with the World Bank, International Monetary Fund and the international community to desperately needed funds that would go towards pulling the country out of the crisis.
Many view the elections as an important precondition for any final agreement.
Lebanon+
All aboard: Lebanon's Ministry of Transportation said that Spain will be financing a project to help get Lebanon's railway system working again after it went out of commission in 1975 following the start of the 15-year civil war.
Transport and Public Works Minister Ali Hamie said that he expects a deal to be signed within three weeks.
The Spanish government, if a deal is reached, will fund a Spanish firm to draft a feasibility study that would survey the current infrastructure.
Hamie said that he hoped the master plan would attract potential investors to finance the rehabilitation of the railway.
Podcasts: In this week's episode, Sarde After Dinner sits down with journalist Mouafac Harb to discuss sectarianism, the idea of Lebanese exceptionalism, sovereignty and more.
Ronnie Chatah met with Ramzi Abou Ismail in a podcast crossover between Chatah's the Beirut Banyan and Abou Ismail's the Happy Hour, where the two discuss lost sovereignty and capturing the moment.
NOW's own podcast, the Story Behind the Story, also released its second episode with Sally Abou al-Joud taking listeners behind her recent story Bottom Dollar and how Lebanon's economic crisis reached the point where it is at today.
Till next Monday, follow NOW Lebanon on Twitter, Instagram, Facebook, and LinkedIn, and subscribe to our weekly newsletter.