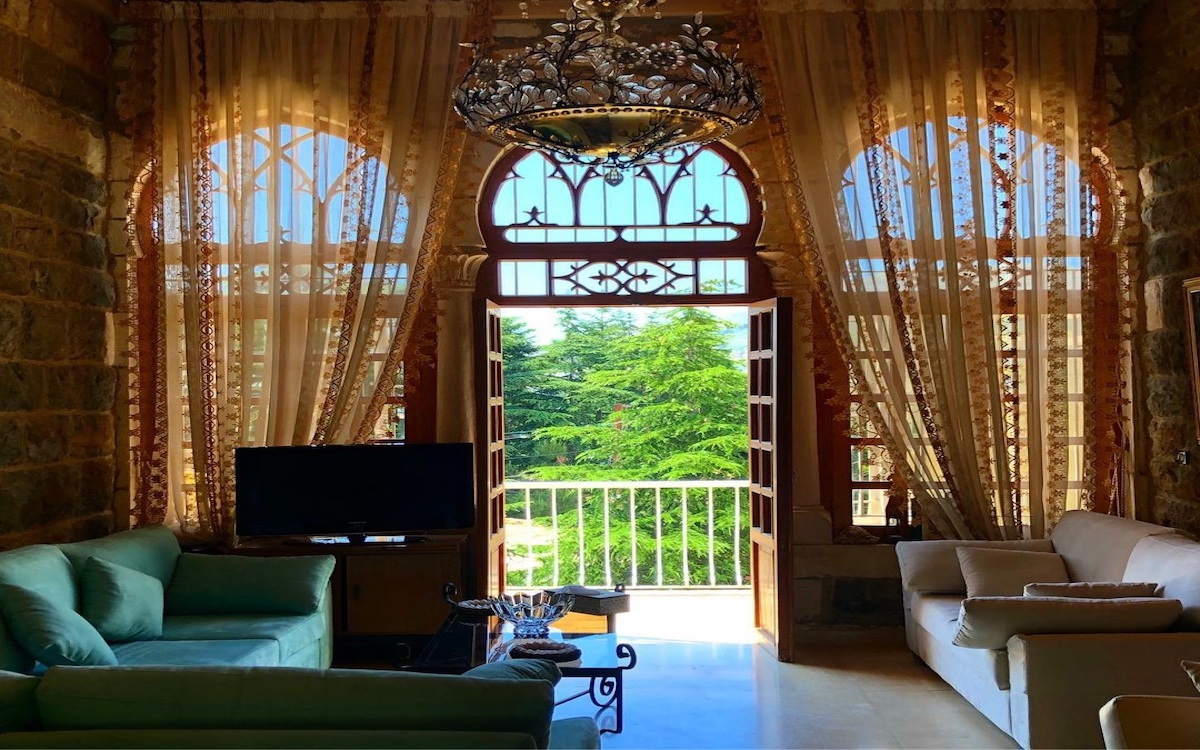 Despite the significant financial crisis currently plaguing Lebanon, guesthouse investments are steadily increasing due to a rise in rural tourism. This growth provides much-needed revenue for some of the country's struggling citizens, while empowering local communities, talents, and crafts.
Many homeowners are capitalizing on the rise in rural tourism by constructing or renovating guesthouses with a traditional aesthetic.
Online accommodation platforms such as Airbnb and Booking showcase numerous listings of beautiful homes, featuring breathtaking views of Lebanon's scenic hillsides and delicious breakfasts.
At certain guesthouses, visitors can partake in outdoor activities, such as biking, hiking, and picking fruits and vegetables. Additionally, some of these guesthouses offer the opportunity to experience the Lebanese tradition of artisanal mouneh making, which involves processing various fruits, vegetables, herbs, flowers, and animal by-products on an annual basis in rural Lebanon.
"We were inspired by the market and the demand for guesthouses in Lebanon, specifically in villages," Majd Talal Bou Saleh, the owner of REEF, a guest house in the village of Batloun in the Mount Lebanon region, told NOW.  
For Bou Saleh, shedding light on the beauty of his village while meeting people from different nationalities was also impetus to invest in a guesthouse. His guesthouse as hosted visitors from Germany, Sweden, Spain, and Belgium, as well as many Lebanese looking to escape the bustle of the city. 
Lebanon boasts of guesthouses with captivating and enduring tales that have drawn visitors from all corners of the globe due to their genuineness and rich history. One such guesthouse is Nadia's Home, a 150-year-old traditional Lebanese dwelling located in Hasroun, North Lebanon, which was transformed into a guesthouse after the former owner's death.
 "My grandmother always had a positive spirit and loved hosting people, her doors were always open to everyone and we wanted to keep her house lively by welcoming people from all over the world," Celine Sarraf, Nadia's granddaughter told NOW.
For Sarraf, the market and the demand for guest houses have inspired them to move faster and accommodate a home away from home for their guests. 
Throughout the summer, Nadia's Home remains bustling with visitors from diverse cultural backgrounds, including Lebanese nationals and foreigners such as French, British, Italian, and Canadian guests.
Sustainable tourism
There are some such guesthouses that are dedicated to preserving the indigenous culture of Lebanon by promoting rural tourism and helping to keep the country's traditions, customs, handicrafts, and cuisine alive. 
"This has become a draw for tourists, as it showcases the country's unique culinary heritage," Eco-tourism expert George Attieh told NOW. 
Exploring rural areas through tourism also allows visitors to discover the natural reserves and diverse biological features that define them, also adding incentives to safeguard these areas. 
According to Omar Abi Ali, who serves as the eco-tourism coordinator at the Shouf Biosphere Reserve, rural tourism can offer significant benefits to communities struggling with the economic challenges facing Lebanon. By providing viable job opportunities – often for individuals and communities who may otherwise struggle to secure employment – and commercial prospects, this type of tourism can help support the livelihoods of local populations. Individuals are able to secure jobs within their locality, while villages are able to depend on rural tourism to generate crucial income for their communities.
Thanks to these guesthouses, the community's women have found employment and are producing traditional Lebanese food preserves using locally sourced, seasonal agricultural products.
These guesthouses also provide women in particular with enhanced opportunities to integrate into social and economic life by welcoming visitors into their homes, selling their handmade artisanal products, and preparing traditional Lebanese dishes with ingredients from local farmers.
"Thanks to these guesthouses, the community's women have found employment and are producing traditional Lebanese food preserves using locally sourced, seasonal agricultural products," Attieh said.
Here to stay
It appears that the popularity of guesthouses is not going away anytime soon, whether it's due to entrepreneurs eager to start their own businesses or simply visitors wanting to unwind.
Sireen Amar, head of hotels and accommodations at the Ministry of Tourism in Lebanon offered NOW further insight into the rising prevalence of guesthouses in the country.
"We found 130 guesthouses in various Lebanese regions through recent national surveys," Amar said.
"Rural tourism is highly supported by us," she remarked. "It effectively disperses tourism and diverts tourists from crowded areas, while creating job opportunities and economic activity in other regions."
"We make sure that these guesthouses are licensed and registered to operate as a legal accommodation and hospitality service," Amar said when asked what the Ministry of Tourism in Lebanon is responsible for regulating and ensuring that these guesthouses meet certain requirements. In order to ease the process of obtaining a guesthouse license, we have made the application very accessible and straightforward."
Lebanon's tourism sector is one of its leading economic sectors, contributing significantly to the growth of income and employment opportunities across the country. 
According to the sources interviewed, the sharp rise in demand for guesthouses came after the Covid-19 Pandemic. Many, foreigners and Lebanese alike, have been opting for extended stays in peaceful and remote areas, prioritizing nature and tranquillity, particularly during Lebanon's current economic crisis. Such tourism is believed to have a positive impact on local communities, the economy, and the environment.
Rodayna Raydan is a Lebanese-British journalist. You can follow her on Twitter @Rodayna_462.